Thank you to our contributor Kurt Sevits for writing this post.
Construction is underway on the LL Hawkins Apartments and Slabtown Marketplace, the first major development of the Conway Master Plan, which aims to redevelop several blocks in NW Portland. Plans for Block 296 include renovating an existing warehouse that will become a New Seasons grocery store and constructing a new 6-story mixed-use building that will house retail and apartments. Cairn Pacific and Capstone Partners are developing the project, with design work by Holst Architecture and GBD Architects.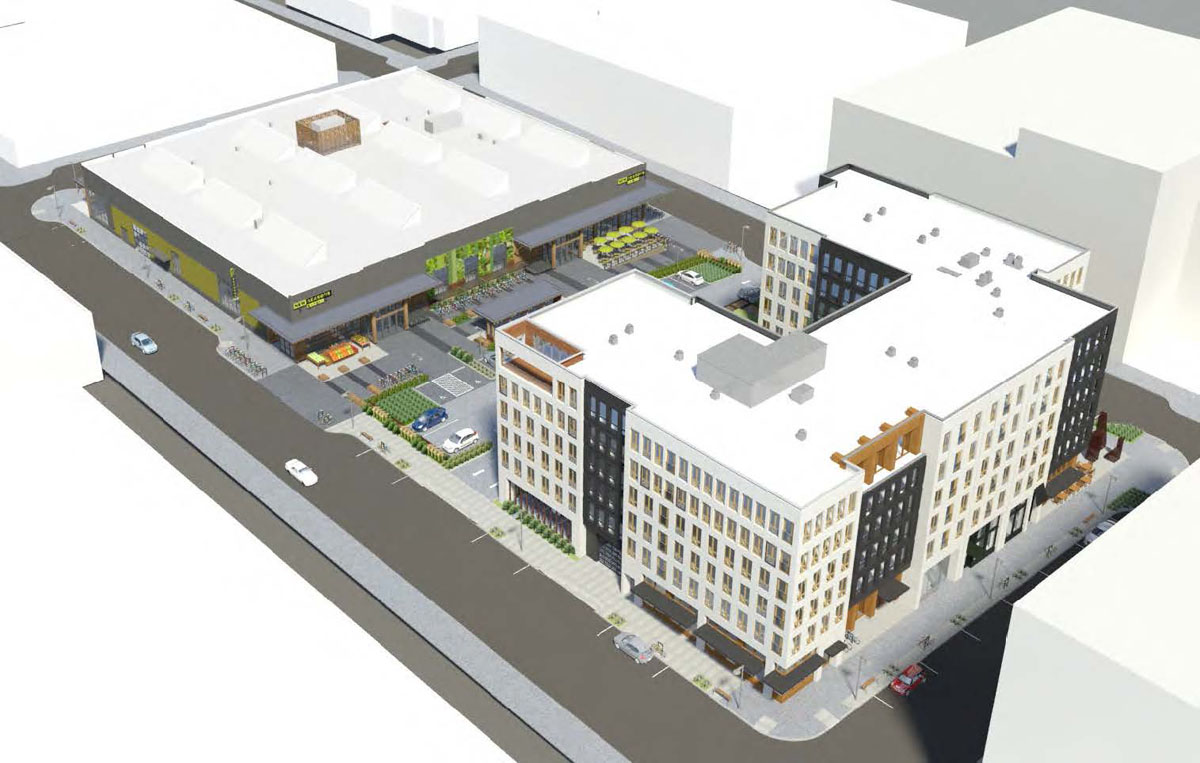 Block 296 is a 91,400 square foot site located between NW 21st and 22nd Avenues and Quimby and Raleigh Streets. Prior to construction, the block housed a 36,000 square foot warehouse and a surface parking lot. The site will essentially be split into two blocks of equal size, divided by a 60-foot-wide pedestrian accessway, in accordance with the Conway Master Plan.
The warehouse on the site will be renovated to serve as a New Seasons grocery store in addition to some retail spaces facing NW 22nd Ave. The grocery store's main entrances will be facing the pedestrian accessway. Surface parking will be available directly across the pedestrian accessway.
The surface parking lot on the site is being replaced by a six-story mixed-use building called the L.L. Hawkins. The 129,151 square foot building will include ground-floor retail and 114 apartments. A below-grade parking garage will include 76 parking spaces for the building as well as parking for 88 bicycles. Additional bike parking will be available within the building.
The area of NW Portland that includes the Conway development features blocks that are twice as long as standard city blocks. Block 296 and the rest of the Conway Master Plan call for 60-foot-wide pedestrian walkways through the middle of these blocks to align with the rest of the city's standard block size of 200 ft. by 200 ft. Block 296's accessway includes landscaping, seating and bicycle parking.
The Design Commission approved Block 296 in Aug. 2013. Construction on the project is expected to be wrapped up later this year, with the L.L. Hawkins planning to open to tenants in the fall.
Plans, Elevations and Sections