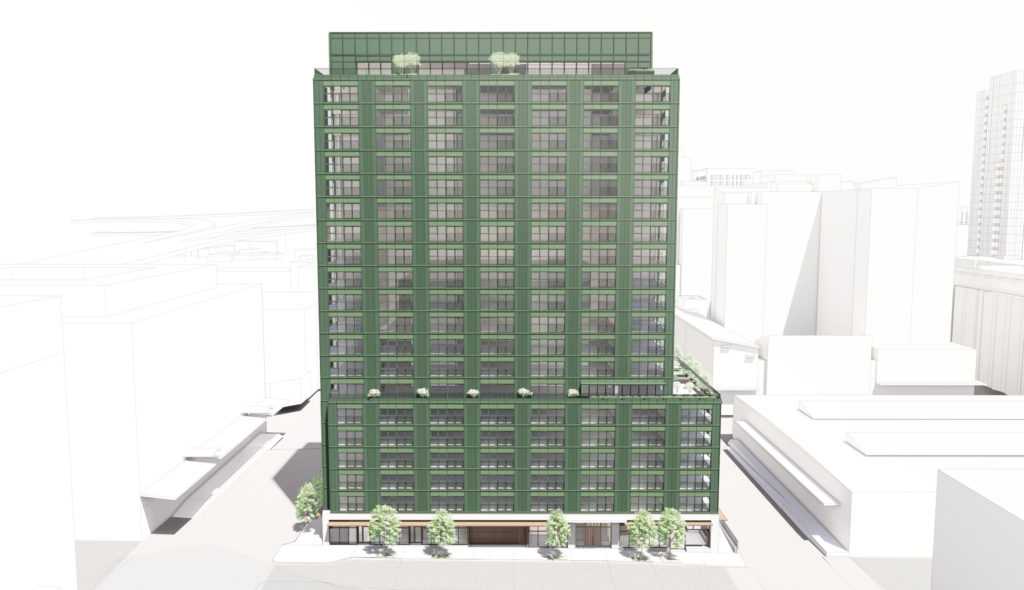 Metro Reports have moved to Portland Maps Reports. Next Portland covers the highlights of the Early Assistance applications, Land Use Reviews and Building Permits processed each week. This post covers January 31st, 2022 to February 6th, 2022.
A project at 2315 SE 12th Ave has been submitted for a Type II Design Review:
Construction of a new 6-plex.
A project at 2215 SE 12th Ave has been submitted for a Type II Design Review:
New 6-Plex, With A Total Of 5,578 Square Feet Of Floor Area.
Welby at 1325 NW Kearney St has been submitted for a Type III Design Review by Bora Architecture & Interiors:
DZ HEARING -The applicant seeks Design Review approval for a new 21-story mixed-use building on a half-block site in the Pearl District of Central City. No Modifications or Adjustments to required Zoning Code development standards are requested in this application. The building is proposed to be 230-feet, 8-inches tall. The code allows buildings up to 250-feet at this site. The applicant intends to transfer 160,200sf of Floor Area Ratio (FAR) to supplement the base FAR allowed on the site. The FAR transfer process is allowed by the Zoning Code. The program includes 4 ½ levels of below grade parking accessed from NW Kearney Street; commercial tenant spaces at the ground level; an ADA accessible loading dock on the NW 13th frontage, and housing on levels two through twenty-one. Affordable units will be provided through the Portland Housing Bureau¿s Inclusionary Housing program. Roof decks are proposed at levels seven and twenty. Per Table 825-1, Design Review is required for new development in the Central City Plan District. 
Early Assistance has been requested for project at 5480 NE 36th Ave:
New development. 15 unit apartment building. No on-site parking. Stormwater managed on-site through the use of drywells.
A Pre-Application Conference was scheduled by Leeb Architects to discuss alterations to the Northbound 30 Collaborative at 2135 NW 29th Ave:
A Pre-Application Conference to discuss adding 5 residential buildings to a development project for which 8 residential buildings have already received land use approval. The 5 proposed buildings will contain between 14 and 19 dwelling units each for a total of 85 additional dwelling units. Buildings will be approximately 18,000 square feet and will be of similar size and design to the previously approved 8 buildings. A total of 47 new parking spaces are proposed in a combination of standard and mechanical spaces. No onsite loading space is provided. The proposal involves removing 3 conditions of approval from the previous land use review (20-111860 DZM) and requests 1 modification to onsite pedestrian standards associated with one of the new buildings. 
A project at 4611 N Minnesota Ave was submitted for building permit review by Fosler Architecture:
PDOX PS – new 3-story, 23-unit apartment building with associated site work. ***Separate mechancial permit required to meet ventilatoin requirements of OSSC1202.5***