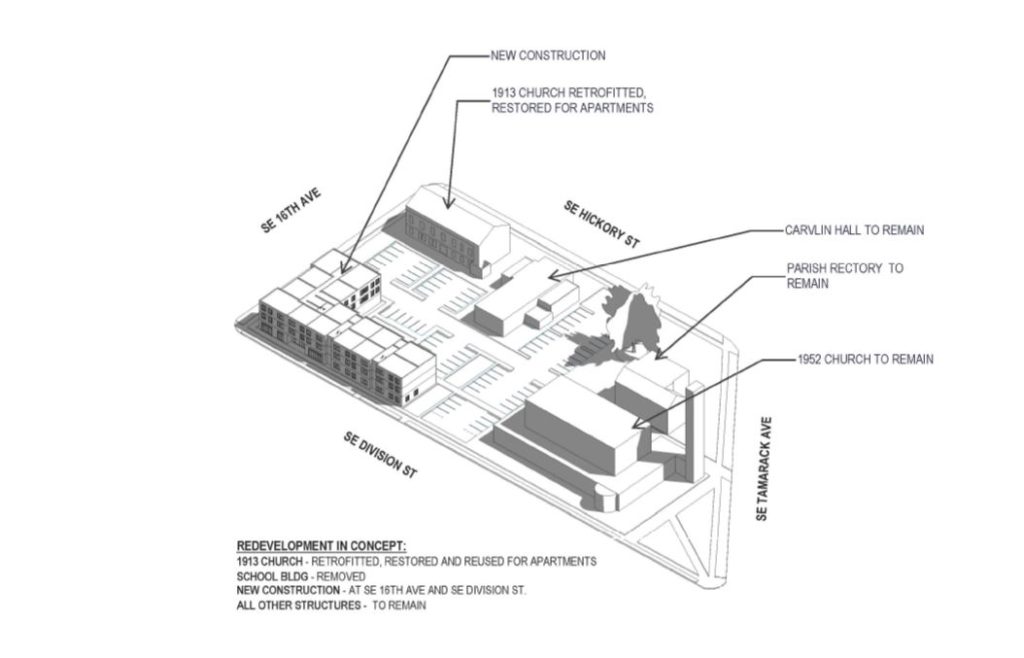 Every week, the Bureau of Development Services publishes lists of Early Assistance applications, Land Use Reviews and Building Permits processed in the previous week. We publish the highlights. This post covers January 11th, 2021 to January 17th, 2021.
A Pre-Application Conference has been scheduled by SERA Architects and Catholic Charities to discuss the St Philip Neri Affordable Housing at 2408 SE 16th Ave:
St Philip Neri redevelopment project is a total of 50-unit affordable, permanent supportive housing project located on the St. Philip Neri Parish at 2408 SE 16th Ave, Portland, OR 97214 in the Hosford Abernethy Neighborhood District. This redevelopment stems from the City of Portland¿s Expanding Opportunities for Affordable Housing Initiative which rezoned the St. Philip Neri Parish parcel to an RM2 allowing for medium density affordable and permanent supportive housing on the site. A total of 50 units of permanent supportive housing will divided between the adaptive reuse of the existing 1913 Church housing 13 units and a new 3-story construction along the SE Division Street housing 37 units and supportive services spaces. The project will be in collaboration with Catholic Charities of Oregon and the St. Philip Neri Parish and will be specifically targeted to serve families in the community who are most in need. The stormwater will be managed on site via bio swales and
stormwater planters.
A Pre-Application Conference has been scheduled by McGuirl Design & Architecture to discuss a project at 1541 SW Market St:
Scope of work: Demolish non-conforming office building. New 9-story structure with basement. Multi-family as an Affordable Housing Project. Stormwater disposal to utilize flow through planters
A project at 4385 and 4405 N Vancouver Ave has been submitted building permit review:
PDOX PS – construct new 3 story 10 unit apartment building with basement and associated site work

PDOX PS – construct new 3 story 10 unit apartment building with associated site work
A project at 3114 SE Belmont St has been submitted building permit review:
New 5-story 25 unit apartment bldg. and associated site work. w/20-217527-MT, 20-217530-CO