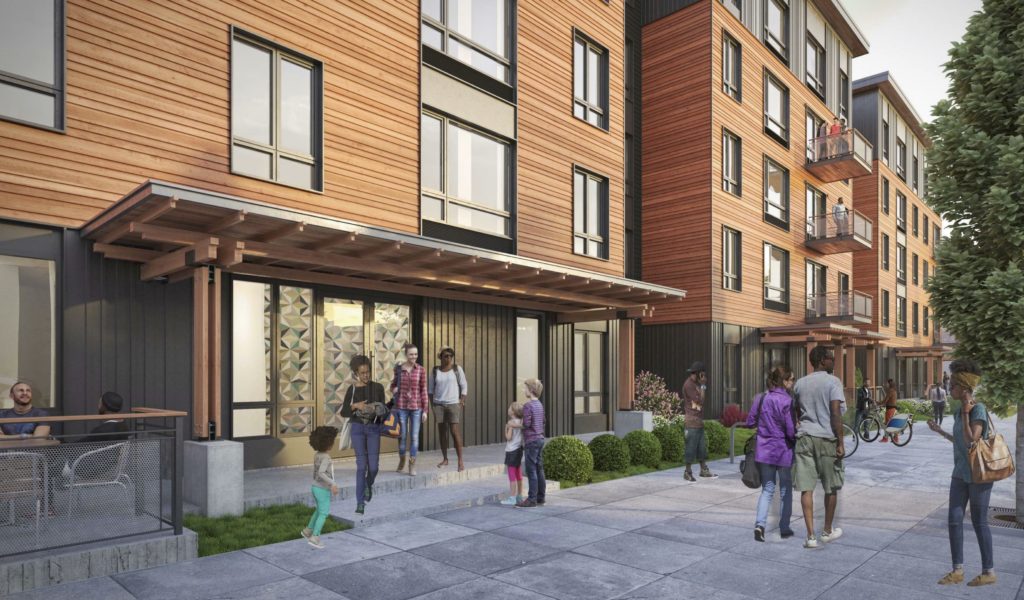 Every week, the Bureau of Development Services publishes lists of Early Assistance applications, Land Use Reviews and Building Permits processed in the previous week. We publish the highlights. This post covers March 18th to March 24th, 2019.
Design Advice has been requested by Ankrom Moisan Architects for a project at 701 NE 7th Ave:
New 7-story mixed-use project to include two levels of parking and a mix of studio, 1-bedroom, 2-bedroom, and 3-bedroom units (480 units in total proposed). Ground floor includes parking, retail and residential amenities such as a residential lounge, fitness area, leasing offices, bike storage, and pet area/wash. Proposed stormwater disposal will connect to public sewer.

Design Advice has been requested by Ankrom Moisan Architects for the Morningstar at Laurelhurst, located at 3150 NE Sandy Blvd:
The five-story development has assisted living and memory care units in a single building each caring for the specific needs of its residents. A total of 113 units is proposed. Structured parking with approximately 70 parking spaces is proposed.
Early Assistance has been requested for a project at 3675 SW Troy St:
49 unit apartment building including 5 live/work units.
A Pre-Application Conference has been scheduled by ZGF Architects to discuss the OMSI Masterplan:
OMSI is working on a CCMP, and hopes to have it approved by the end of 2019.
A Pre-Application Conference has been scheduled to discuss a project at 7606 SE Flavel St:
Multi-family planned development on existing site wit a total of 22 multi-family units and 2 existing single-family dwellings ( with an ADU to be added – Option 1). 16 new multi-family units, 4-6 units with a garage (depending on option). Parking for other new units to be provided in parking lot. Existing 6-plex to remain with existing parking to remain.
A building permit was issued to LRS Architects for the renovation of the former Premier Gear & Machine Works building at 1715 NW 17th Ave:
Core and shell upgrades to the existing building including seismic, roof replacement, new skylights, interior stairs, new elevator and addition of a second level inside the existing building footprint.
A building permit was issued to Ankrom Moisan Architects for the N Williams Center at 2140 N Williams Ave:
New 5 story Type III B affordable family apartment building