Design Advice has been offered for the Modera Nicolai, a six-story residential building designed by SERA Architects for Mill Creek Residential Trust. The building will include approximately 200 residential units and below grade parking. The development would be subject to the city's inclusionary housing rules, which require the provision of affordable housing or the payment of a fee-in-lieu.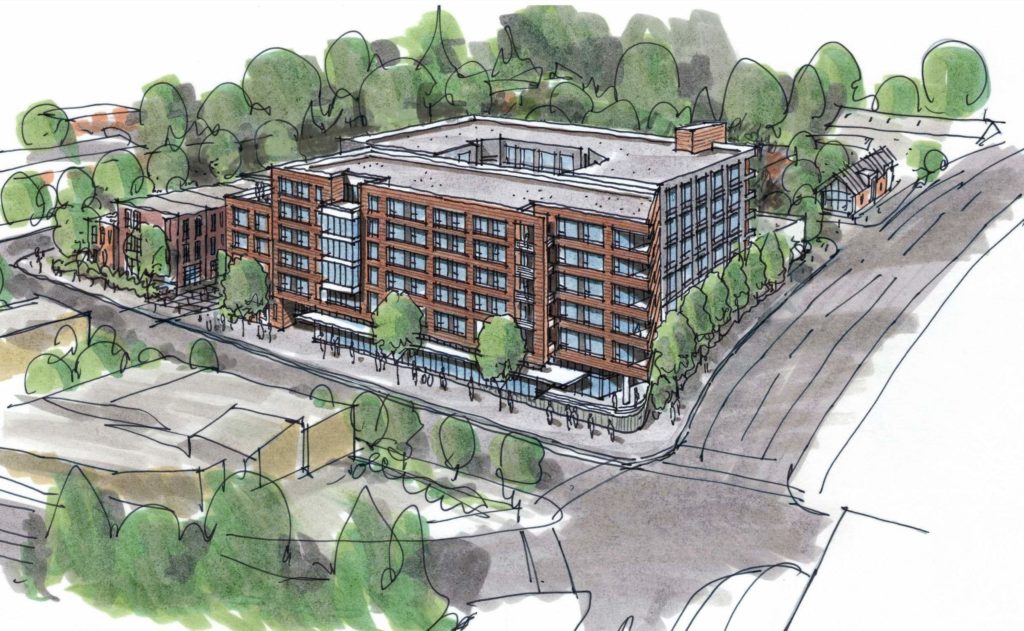 The project site is an approximately 300′ x 300′ block in the Northwest District, bound by NW Nicolai St, NW 29th Ave, NW Wilson St and NW 30th. The Modera Nicolai would be located on the northeast portion of the block, on a parcel equivalent in size to a downtown block.
The south of the project a separate development ($) of for-sale row houses facing NW Wilson St is proposed, designed by Potestio Studio for Cairn Pacific. Future development on the remaining parcels could include smaller residential apartment buildings and an office building.
The project is arranged in a doughnut shaped plan, with a courtyard at the center. The east wing of the building would be clad in weathering steel, in a nod to the industrial character of the district to the north. The C-shaped west wing would be clad in chevron shaped metal wall siding. Vinyl windows and steel balconies would be used on both portions of the building. The building would sit on a board-formed concrete plinth. At the corner of NW Nicolai and 29th the building would come to a "dynamic form" at the corner, with two options presented to the Commission for dicussion.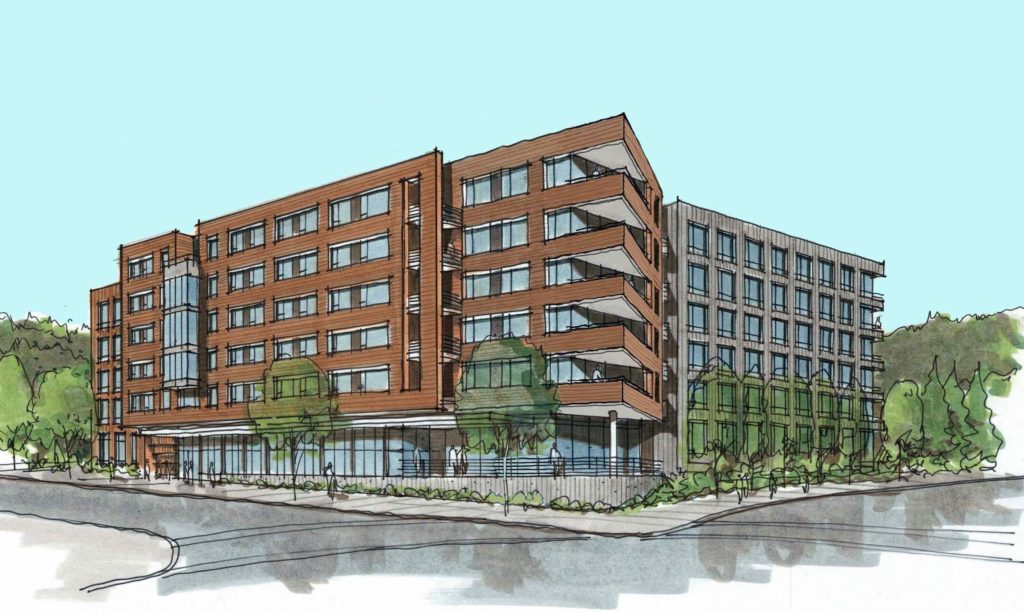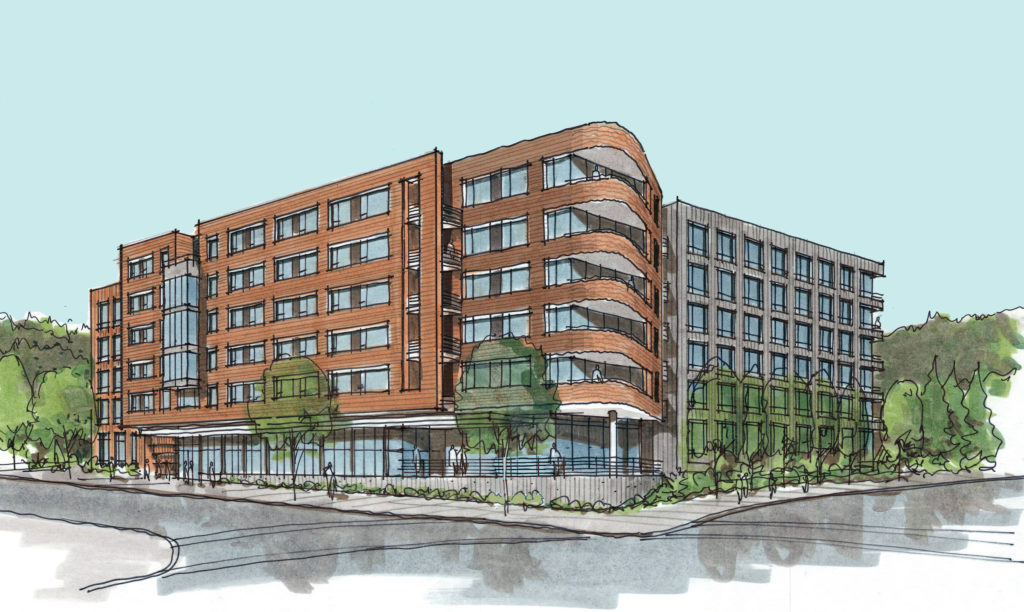 The project received Design Advice on February 21st, 2019. The Design Commission expressed support for the two wing massing concept, and the strong corner element. Much of the discussion focused on the ground level experience on NW Nicolai, as noted in a summary memo:
The 7' solid plinth is not an appropriate response at the corner ground level. Provide a stronger, grander and taller architectural expression to hold the base of the corner (look to the two-story base treatment at the main lobbies at the Field Office). Drop the floor level to sidewalk grade and provide a space which can be flexible over time, and program it with an active use. This might be a good place for the main entry lobby. Modifications to Ground Floor Windows would not be supportable here.
Other areas of discussion included the materials, with advice provided to use pre-weathered steel to avoid staining adjacent surfaces, and to avoid the use of a horizontal box rib that could collect soot and dirt for nearby industrial and vehicular activity.
In order to gain approval the project will be required to go through a Type III Design Review, with public hearing in front of the Design Commission.
Drawings
Plan | Vicinity

Plan | Site

Plan | Parking

Plan | Ground

Plan | Levels 2 to 5

Plan | Level 6

Elevation | East (NW 29th)

Elevation | North (NW Nicolai)

Elevation | South