A revised concept for a theater addition to the Lloyd Center has been presented to the Design Commission. The proposal would include the construction of a new 70,000 sq ft theater building with 13 screens. The existing 145,000 sq ft east anchor building, most recently occupied by Sears, would be renovated for office use. The project is being designed by LDA Design Group of Burbank, California, with landscape architects 505 Design.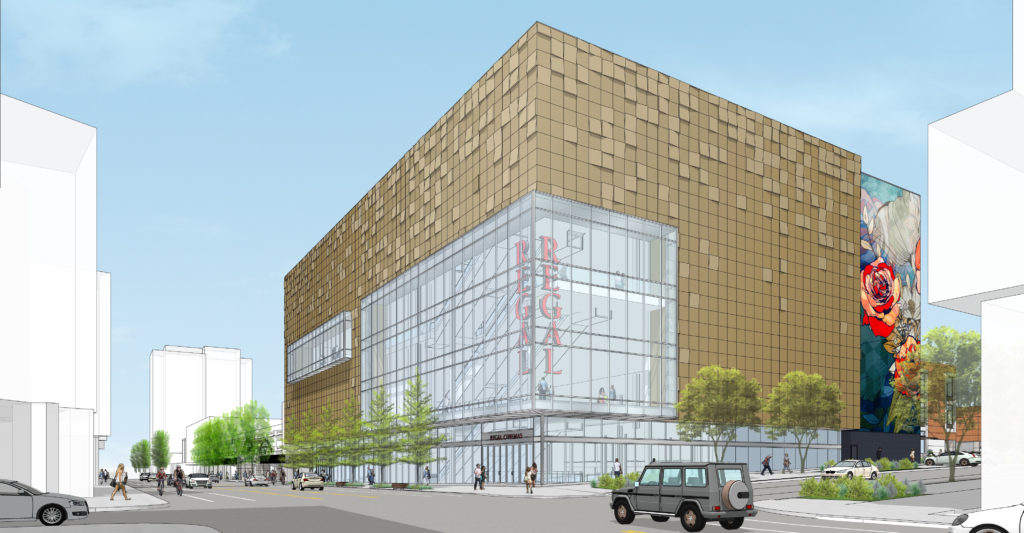 The existing east anchor building was built for JCPenney in 1960, and then later expanded by Sears. The sale of the Sears building to Cypress Equities, the owners of the larger Lloyd Center, was first reported by the Oregonian in November 2016.
The theater addition is one of a number of recent and ongoing remodel projects at the Lloyd Center, including the new entry and plaza and the Live Nation Concert venue at the former Nordstrom location. The new theaters will replace the existing cinema and associated parking, which is set to be displaced by the Byline development.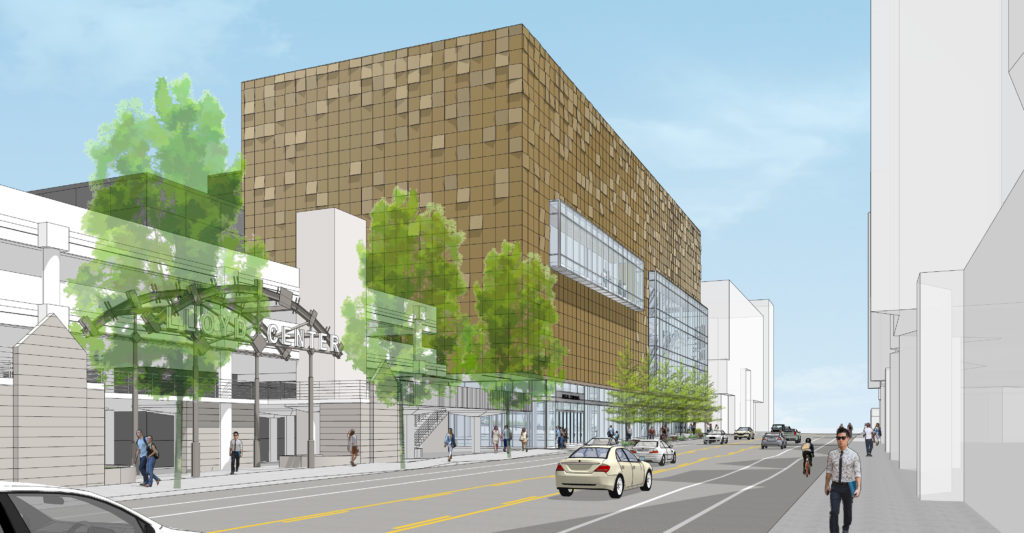 An earlier proposal for the theater addition was approved by the Design Commission and submitted for building permit, however the mall owners received feedback from potential tenants that the office space created in the former Sears building would have been too dark.
In the revised proposal, the new theaters would be located at the far southeast corner of the mall, adjacent to the existing anchor building. The original brick cladding on the anchor building would be restored, with new windows added to its north, east and west elevations. An atrium with a glazed roof would be cut through all four levels of the structure, bringing natural light down through the new office space.
The theater addition would rise to a height of 106′-4″, with two levels of stacked theaters. In keeping with the original proposal, the theater addition would be clad in Dri-Design metal panel, in a champagne color. 15% of the panels will be canted, creating a pattern designed to represent falling rain.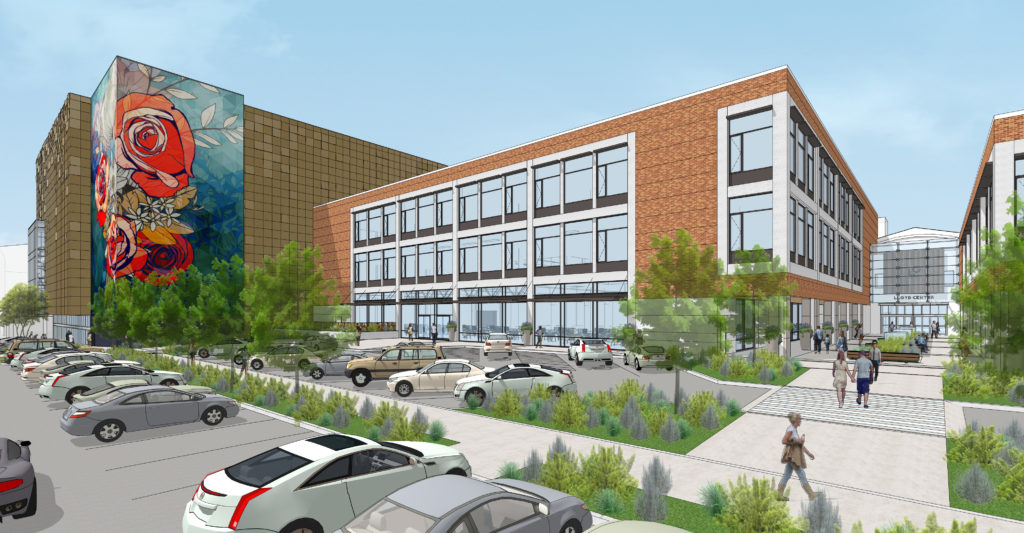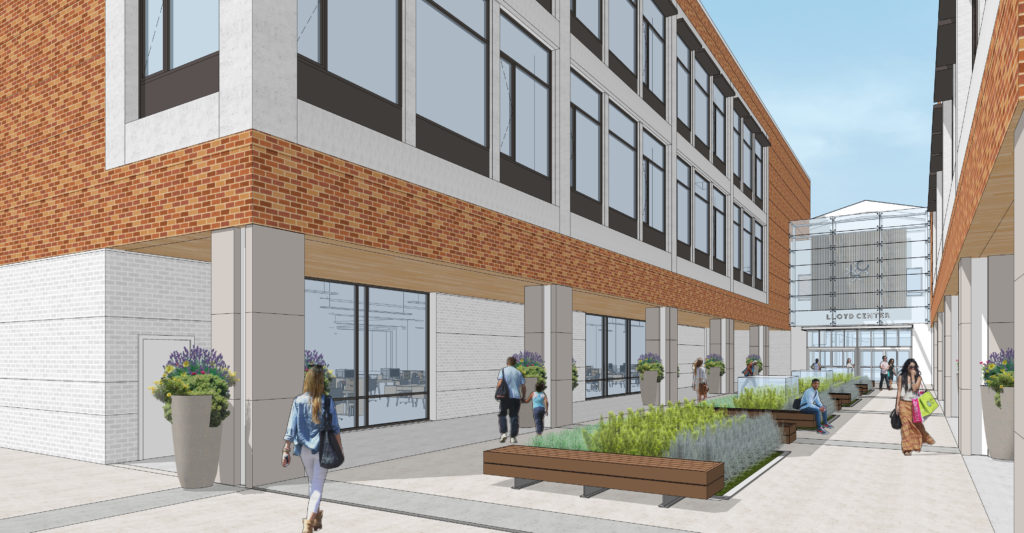 The revised proposal for the Lloyd East Anchor received Design Advice on February 28th, 2019. As noted in a summary memo, the Commission "supported the overall changes in design approach from [the] previous approved proposal." Praise was given for the creation of a theater lobby directly fronting onto NE Multnomah St, instead of at the top level of the parking deck. The Commission also reacted positively to the design of the new level 2 entry to the mall, between the former Sears and Marshalls spaces.
Areas identified as needing further design resolution included the stucco stair tower at the corner of the theater, conceptually shown with a rose mural, and the pedestrian realm along the east frontages facing NE 15th.
In order to gain approval the project will be required to go through a Type III Design Review, with public hearings in front of the Design Commission.
Drawings
Plan | Site (Existing)

Plan | Site (Proposed)

Plan | Theater | Level 1

Plan | Theater | Level 2

Plan | Theater | Level 4

Plan | Theater | Level 5

Plan | Theater | Roof

Plan | Office | Level 1 (Multnomah)

Plan | Office | Level 2 (Halsey)

Plan | Office | Level 3

Plan | Office | Level 4

Plan | Office | Roof

Elevation | Theater | South

Elevation | Theater | East

Elevation | Theater | North

Elevation | Theater | West

Section | Theater | East / West

Section | Theater | North / South

Elevation | Office | East

Elevation | Office | North

Elevation | Office | West