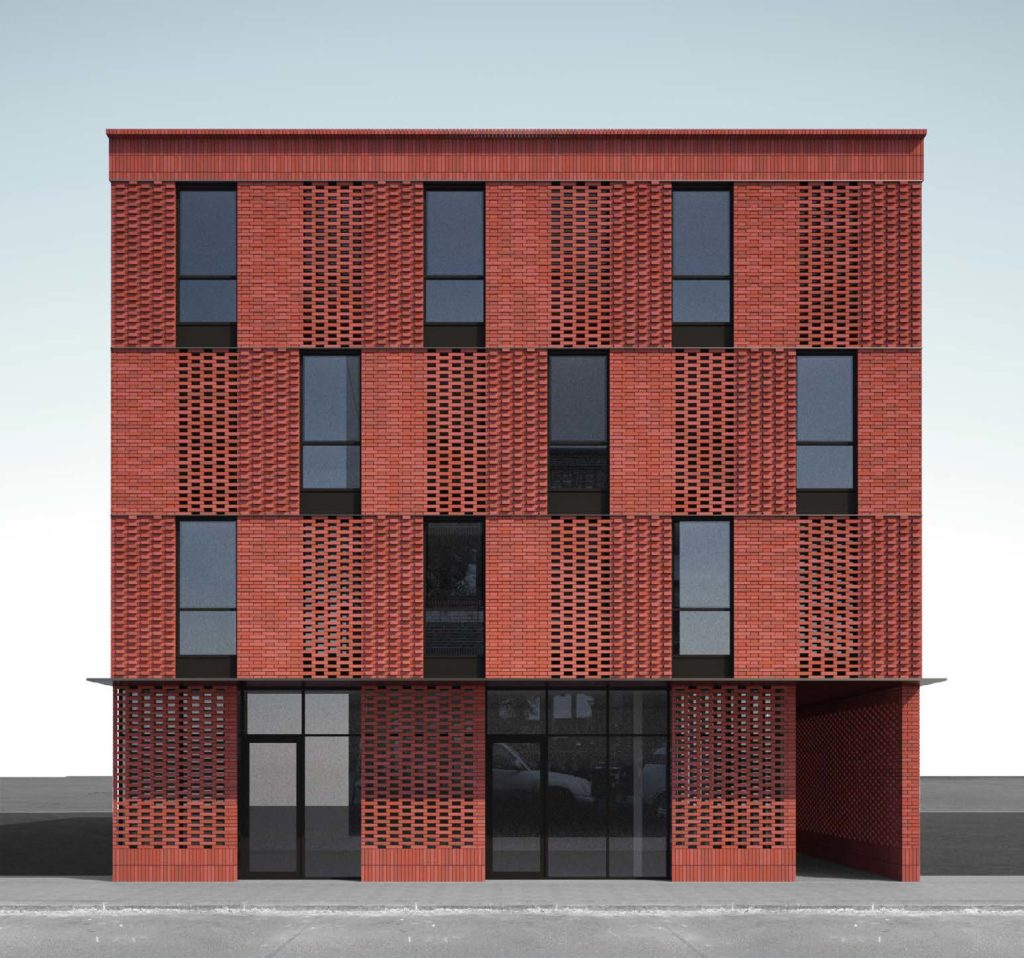 Every week, the Bureau of Development Services publishes lists of Early Assistance applications, Land Use Reviews and Building Permits processed in the previous week. We publish the highlights. This post covers July 12th, 2021 to July 18th, 2021.
Design Advice has been requested by Mackenzie for a new DoveLewis Emergency Animal Hospital at 1947 NW Overton St:
New three-story commercial lease space development with below-grade parking garage. As an initial tenant, DoveLewis Emergency Animal Hospital will be expanding to this site on the first and second floors, with as-yet unidentified tenant(s) occupying the third floor. Green roof over 60% of roof area for on-site stormwater management with 180 cubic foot stormwater retention tank.
A project at with two buildings at 4039 N Williams Ave has been submitted for building permit review:
PDOX PS – West building – new 4-story 17 unit apartment building. Ground floor includes lobby, trash/mechanical/electrical/riser rooms, and apartments. Upper 3 floors are apartments. w/ 21-064088/94-CO and 21-064105/11-MT

PDOX PS – East building – new 4-story 13 unit apartment building. Ground floor includes retail, lobby, and apartments. Upper 3 floors are apartments. w/ 21-064088/94-CO and 21-064105/11-MT
A building permit was issued to Wright Architecture for the Oregon Park apartments at 831 NE 29th Ave:
PDOX PS – new 3-story 19 unit apartment building with associated site work
A building permit was issued for a project at 3210 SW 12th Ave (previously 1139 SW Gibbs):
PDOX PS – construct new 3 story 12 unit apartment building with associated site work w/20-190945-MT
Building permits were issued for a project at 5531-5541 N Greeley Ave:
PDOX PS – Construct new 3 story (12) unit apartment building: building 1 of 2 south side building: bike storage under separate permit (20-165640-CO)

PDOX PS – construct new 3 story (12) unit apartment building: building 2 of 2 north side building: bike storage under separate permit (20-165640-CO)
A building permit was issued for a project at 4064 N Mississippi Ave:
New construction of 4 story mixed use building with 15 market value units; two retail spaces ground level; associated site work (tenant improvement separate)