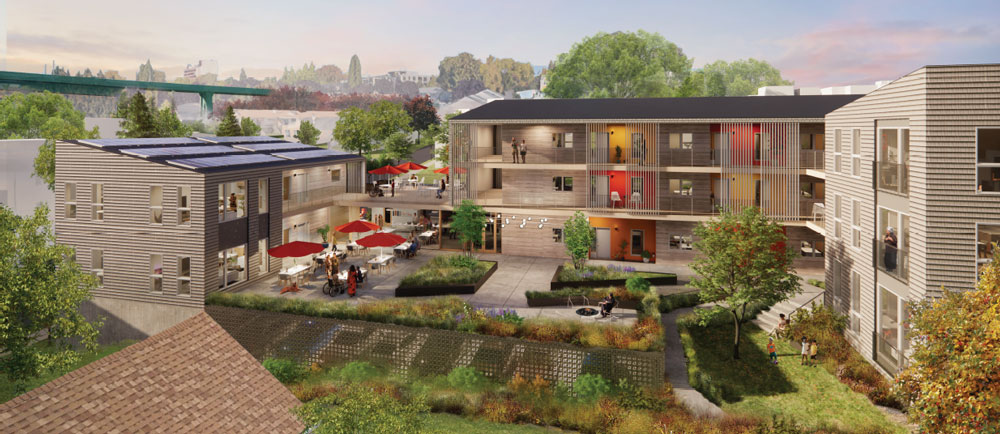 Metro Reports have moved to Portland Maps Reports. Next Portland covers the highlights of the Early Assistance applications, Land Use Reviews and Building Permits processed each week. This post covers March 14th, 2022 to March 20th, 2022.
Early Assistance was requested by Emerick Architects for the Center for Native Arts and Cultures at 800 SE 10th Ave:
This project proposes a renovation of the Historic Yale Union Laundry Building, located at 800 SE 10th Avenue. The property, listed on the National Register of Historic Places (#07000759, July 2007), was built in three phases between 1908 and 1929. The renovated building will be occupied by the Native Arts and Cultures Foundation (NACF) for use as the organization's headquarters, to be renamed the Center for Native Arts and Cultures (CNAC). The new work will include a theater and cafe, exhibition/event space, studio space with specialized production areas for artists, common lounge space, office space, and supporting storage areas. New work will restore the exterior with limited alterations, and renovate/alter all areas of the interior. A new covered trash enclosure served by floor drain connected to the sanitary sewer is proposed. The existing building¿s footprint is unaltered in the proposed work, and a portion of the roof is proposed to be treated as an area offset to the proposed regrading of the existing parking lot on site.
Early Assistance was requested by Mahlum Architects for the Cathedral Park Cohousing at 8522 N Edison St:
Proposal for 3-4 story multi-family cohousing project. Using design standards. See attached scorecard.
Building 8 of the Northbound 30 Collaborative at 2123 NW 30th Ave was submitted for building permit review by Leeb Architects:
NORTHBOUND 30 APTS – BLDG 8 – New 5 story, 17-unit apartment building with private automated parking garage; includes associated site work *** w/22-122900-MT ***
A project at 8125 N Princeton St was submitted for building permit review by Geza Development:
Single PDF – new 3 story apartment building with 12 units.
A building permit was issued for the Prose Apartments at 110 N Tomahawk Island Dr:
PROSE APARTMENTS – New five-story apartment building with 284 units and 368 surface parking spaces; includes associated site work *** w/ 21-035103-CO and 21-035104-MT ***