The Design Commission has approved The Woods, a 6 story mixed use building proposed for the Eliot neighborhood by the sustainably minded design-build company SolTerra. The building will include 50 residential units and over 2,000 sq ft of retail space. Parking for 13 vehicles and 60 bicycles is proposed.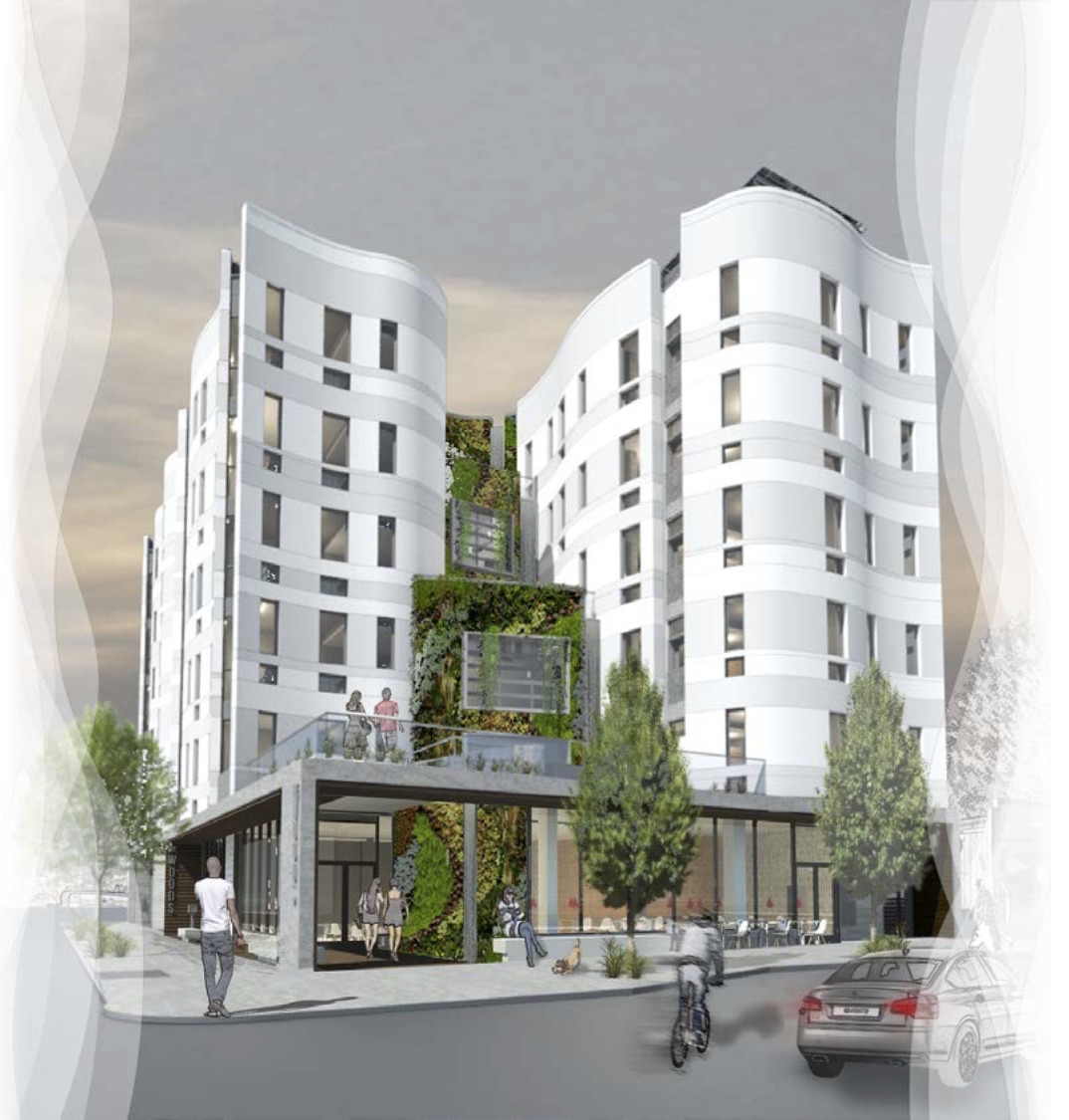 The project is proposed for a vacant 6,867 sq ft site at the corner of N Williams Ave and N Fargo St. The Cook Street Lofts are currently under construction on the same block, and the Cook Street Apartments are under construction one block to the north.
The building designed is intended to reconnect its residents to nature, with a "U" shaped plan inspired by Oneonta Gorge. A 5 story green wall will rise from a second story exterior courtyard, with an integrated cascadubg waterfall. The roof terrace at the top of the building will include raised planters and an ecoroof. Vertical slots along the exterior walls will included cable trellises that plants will climb up.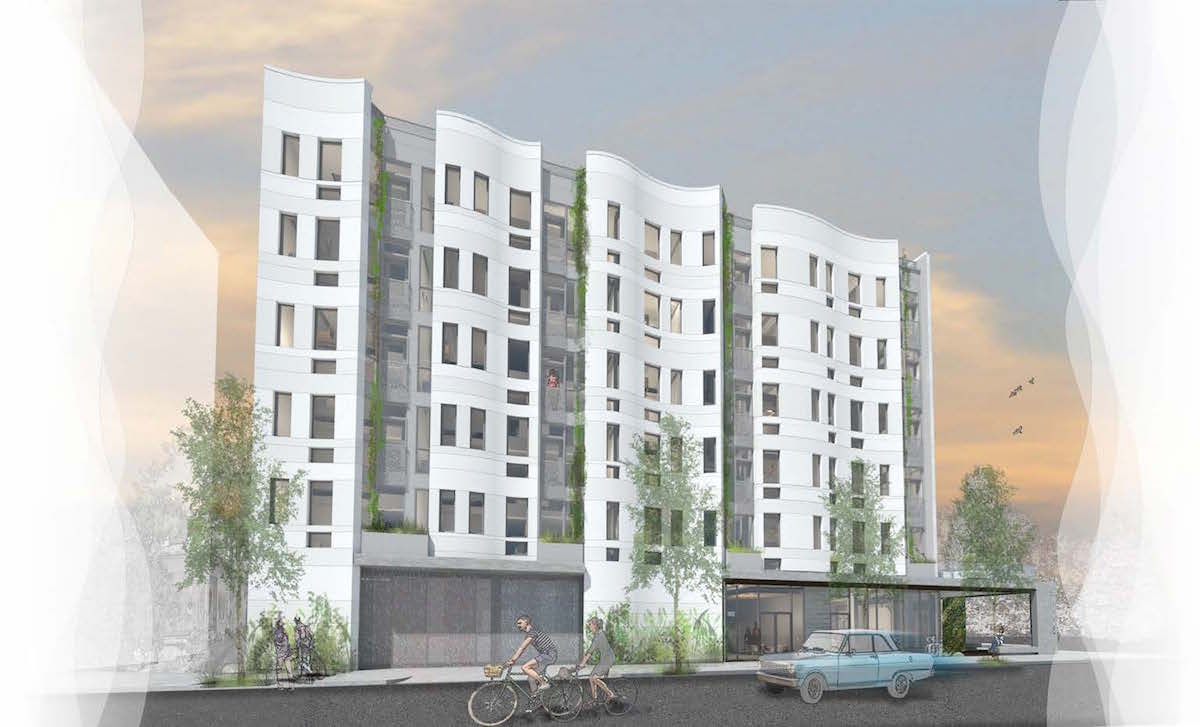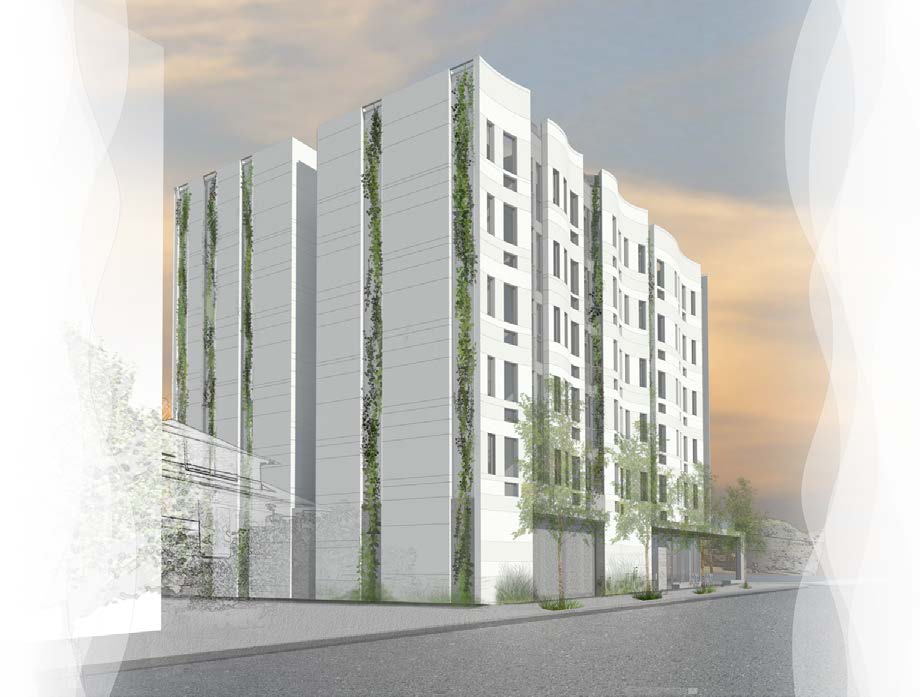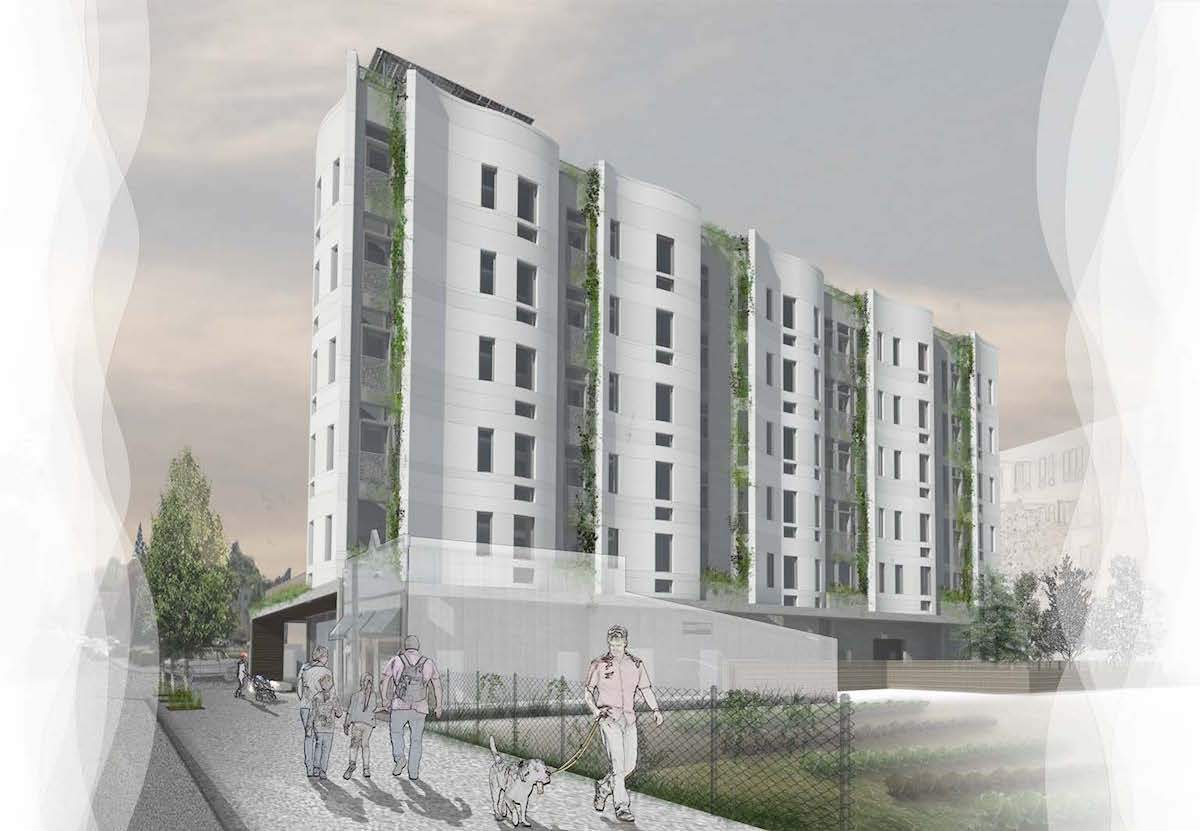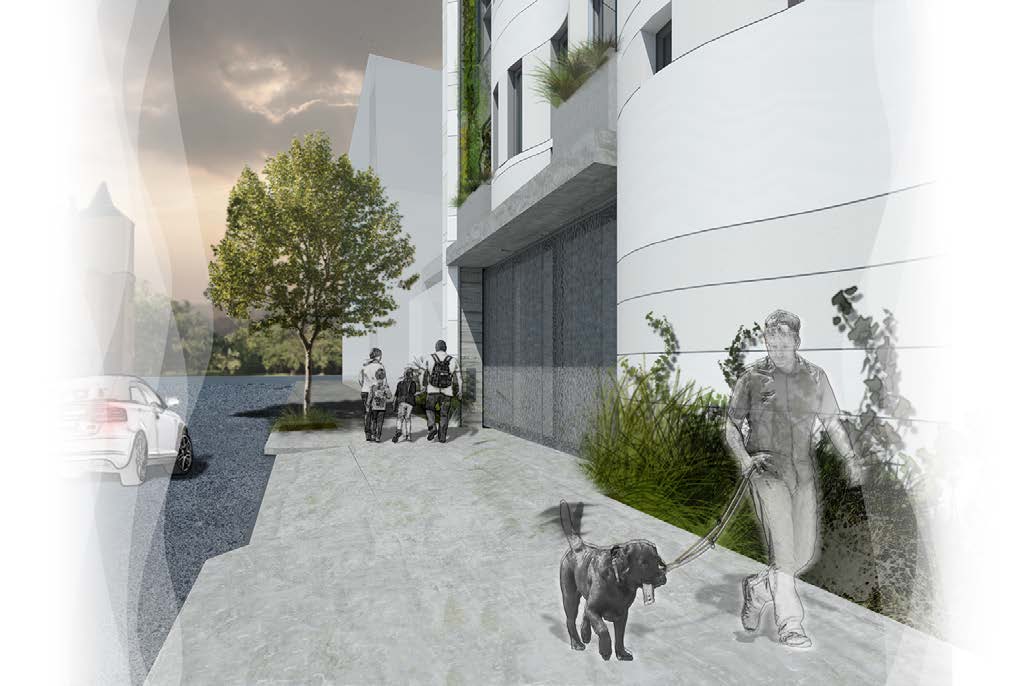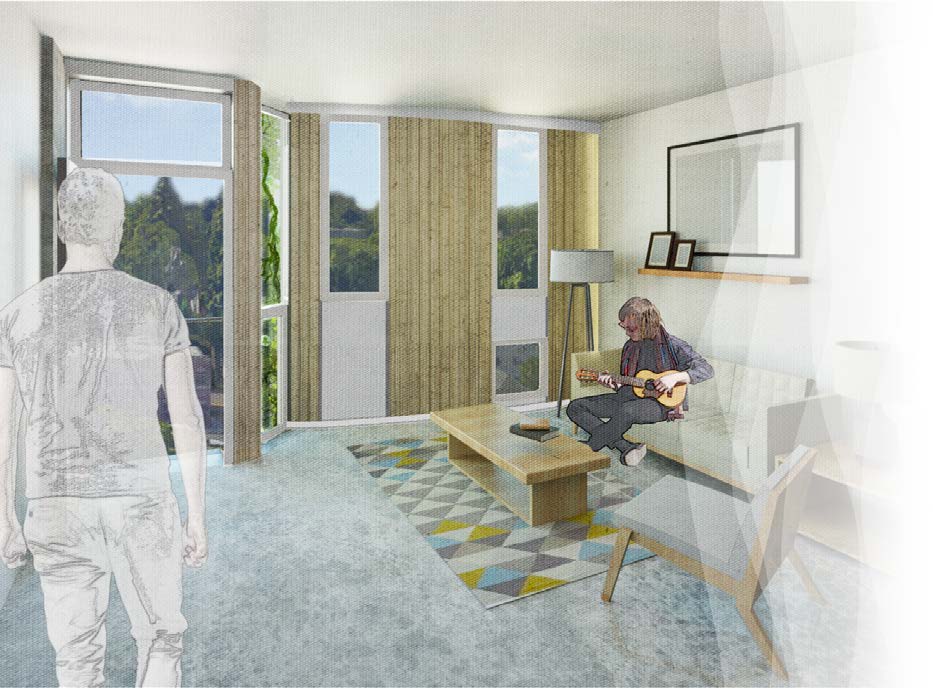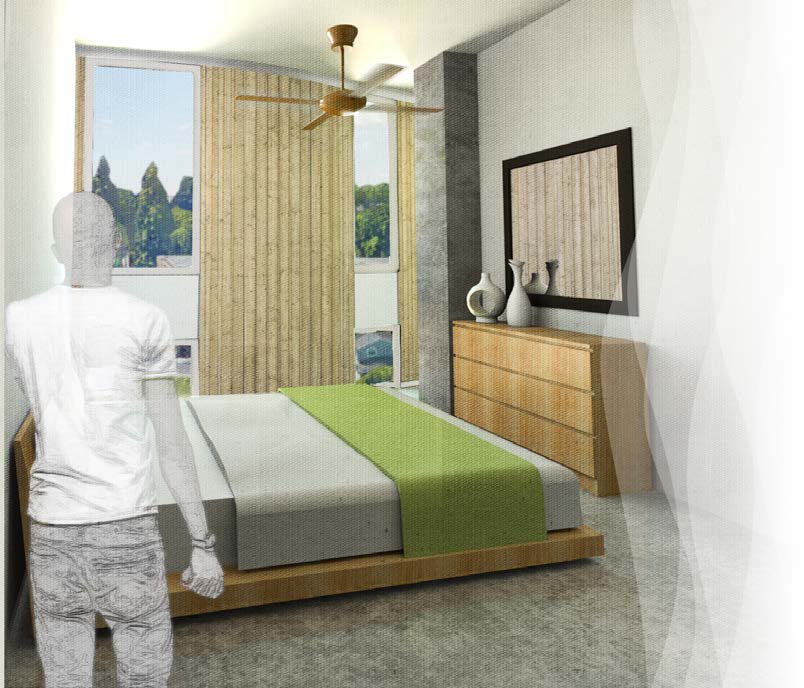 The project was originally submitted for Design Review in October 2014. Due to the project's location the Design Review was processed a Type II procedure, where the initial decision by the Bureau of Development Services staff. A Notice of a Type II Decision [PDF] was published in June 2015, denying the application. The decision was then appealed to the Design Commission, who reviewed the project three times. Since the first and second iterations presented to the Design Commission the project has signficantly changed. Curves that originally occurred in plan now occur in section. Stucco has become the dominant material, with bamboo siding no longer occurring on the project. The west elevation, which would have been clad in aluminum panels, will now also be stucco. At the final hearing the Design Commission thanked the applicants for their willingness to work with the Commission and respond to their feedback. In the Final Findings, Conclusions And Decision Of The City Of Portland Design Commission [PDF] the project was found to be a "unique and dynamic proposal":
The Williams-Vancouver has seen significant change in recent years. While the additional density was envisioned by the Albina Community Plan, large scale projects such as this still seem somewhat out of place. As such, staff desires to ensure the highest quality development so that the neighborhood can look upon the changing environment with a sense of pride and welcoming. The proposed building is certainly ambitious and somewhat novel and thus demands the highest quality materials and detailing to ensure its longevity and success. The revised design addresses prior concerns regarding form and detailing and has resulted in a unique and dynamic proposal.

The design review process exists to promote the conservation, enhancement, and continued vitality of areas of the City with special scenic, architectural, or cultural value. The proposal meets all of the applicable design guidelines therefore approval is warranted.
The project will now need to obtain for building permits before construction can begin.
Plans and Elevations