A major renovation is planned for the Mont Blanc Building in the Irvington neighborhood. The existing warehouse will be converted by North Rim Development for use as commercial catering kitchens and creative office space. At the ground floor the building will include 4 catering/commercial/production kitchens, along with 8,500 sq ft of office/retail space. The second floor will become 9,900 sq ft of office space.  The design for the project is by Richard Brown Architect.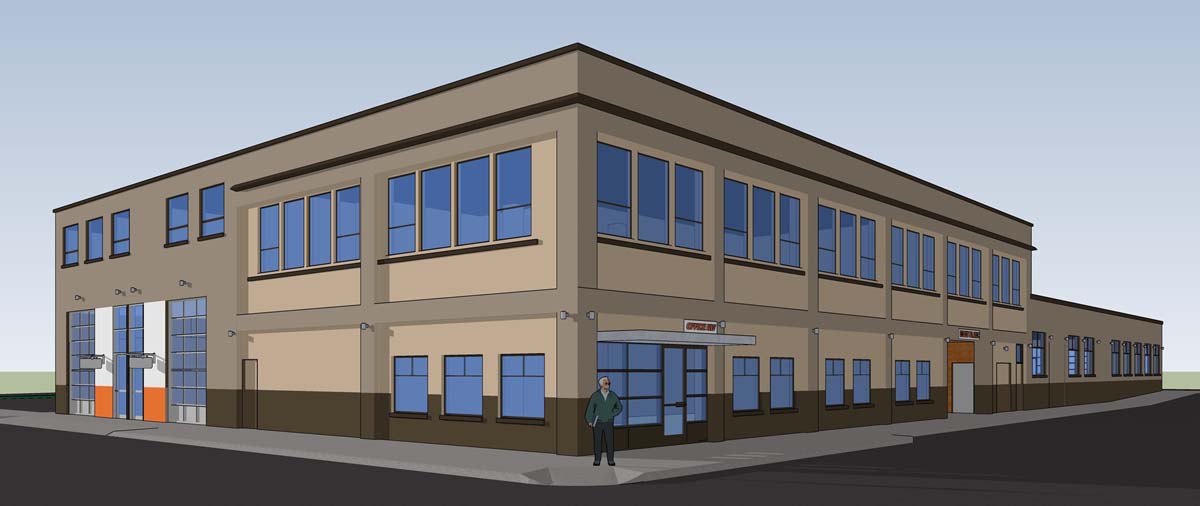 The building at 1808 & 1836 SE 7th Avenue was built in two parts, in 1913 and in 1928. It is a contributing structure in the Irvington Historic District, however a series of alterations were made to the building prior to its historic designation. These include the addition truck loading bays and windows being blocked off with concrete masonry units.
Exterior alterations proposed as part of the renovation include adding new windows to the infilled window bays; replacing the metal roll up doors with storefront windows and roll up glass doors; replacing windows at the ground level with new larger windows with a lower sill; and adding new canopies and signage.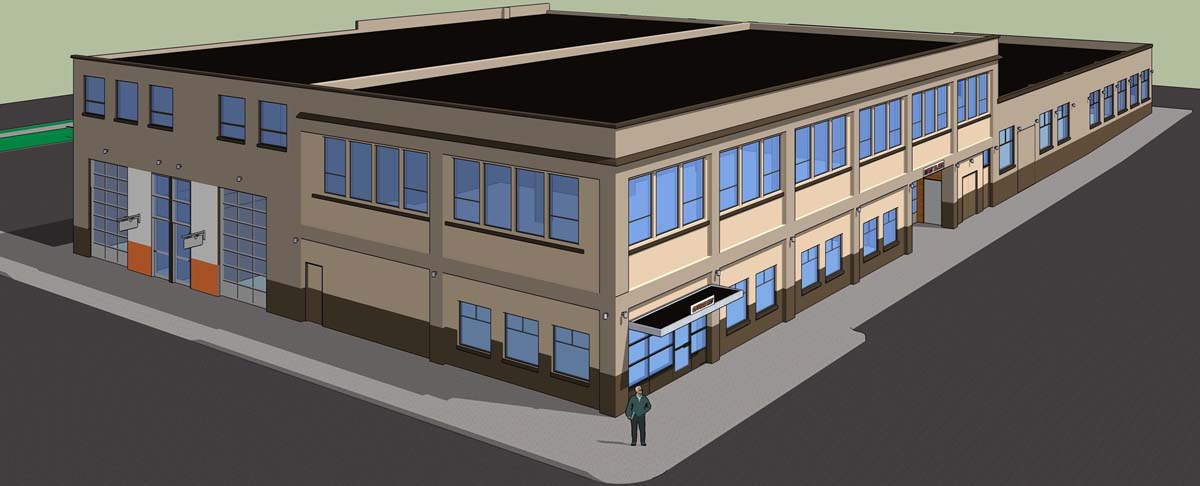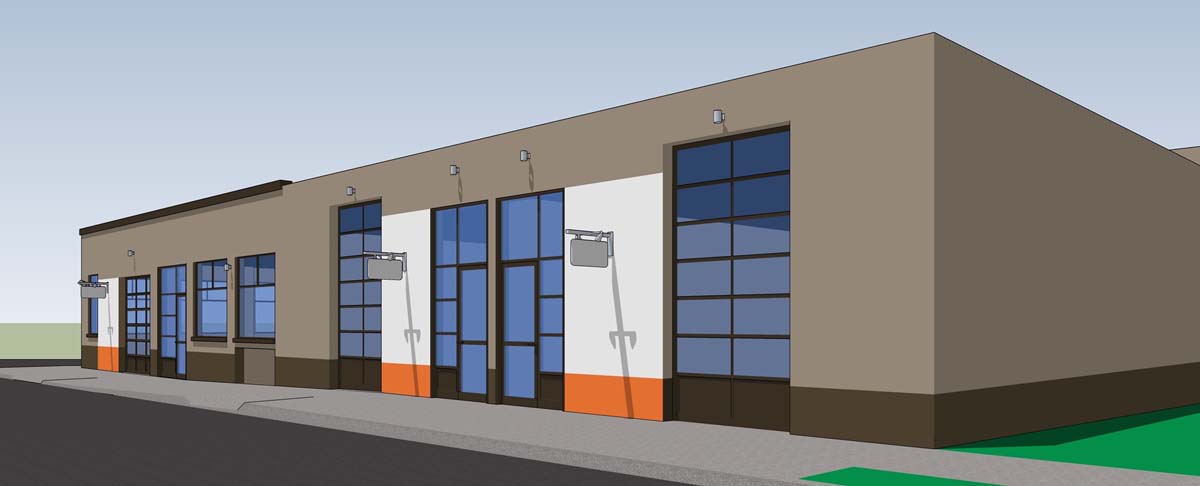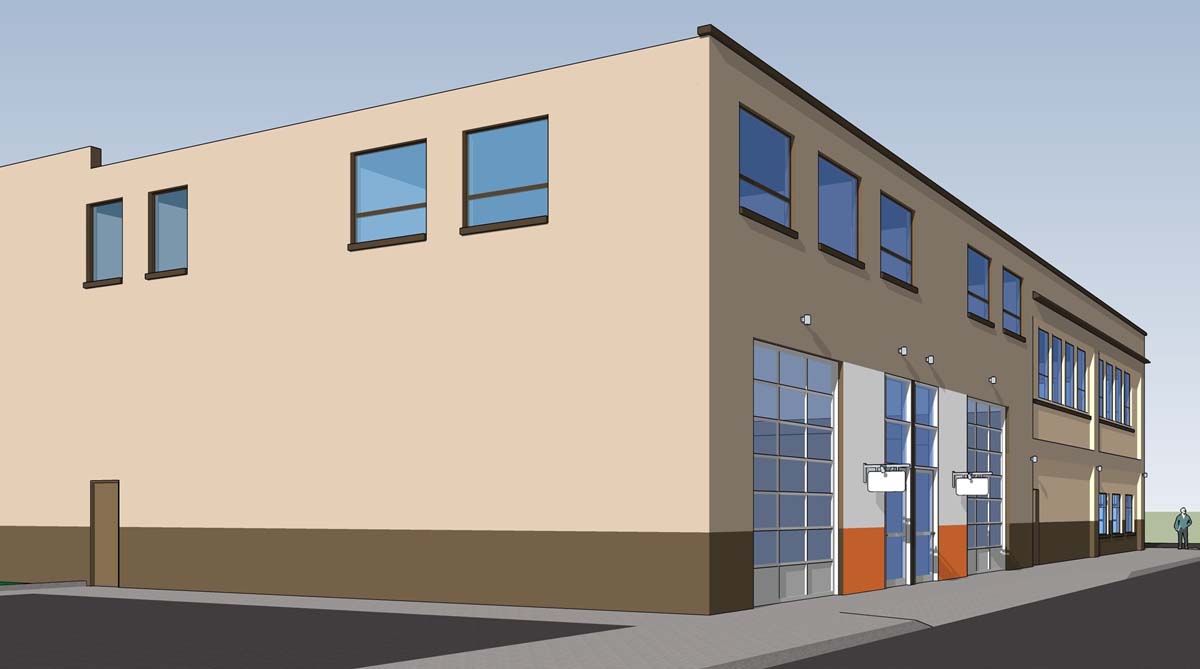 A Historic Resource Review for the renovations was approved [PDF] by the Bureau of Development Services in May 2015. The review concluded that the project warranted approval due to the fact that the changes will improve the building while retaining its architectural character.
The proposed exterior alterations—including new clear glazed storefronts, new clear glazed overhead doors, new aluminum sash windows to replace infill CMU (in the style of the historic steel sash windows), new exterior lighting, new signage, and new rooftop mechanical systems— to the existing warehouse complex, a contributing resource within the Irvington Historic District, retains the overall historic character, materials, and primary architectural features of the warehouse while overlaying a new set of compatible architectural features that reflect the changing nature of the uses within.

The purpose of the Historic Resource Review process is to ensure that additions, new construction, and exterior alterations to historic resources do not compromise their ability to convey historic significance. This proposal meets the applicable Historic Resource Review criteria and therefore warrants approval.
A building permit for the project is currently under review. The proposed office and kitchen space is currently leasing.
Plans and Elevations