Thank you to our contributor Kurt Sevits for writing this post.
Construction is well underway on The Union Apartments, formerly known as the Block A Apartments. The six-story building in the Lloyd District will include a mix of housing and ground-floor retail. Design is by GBD Architects.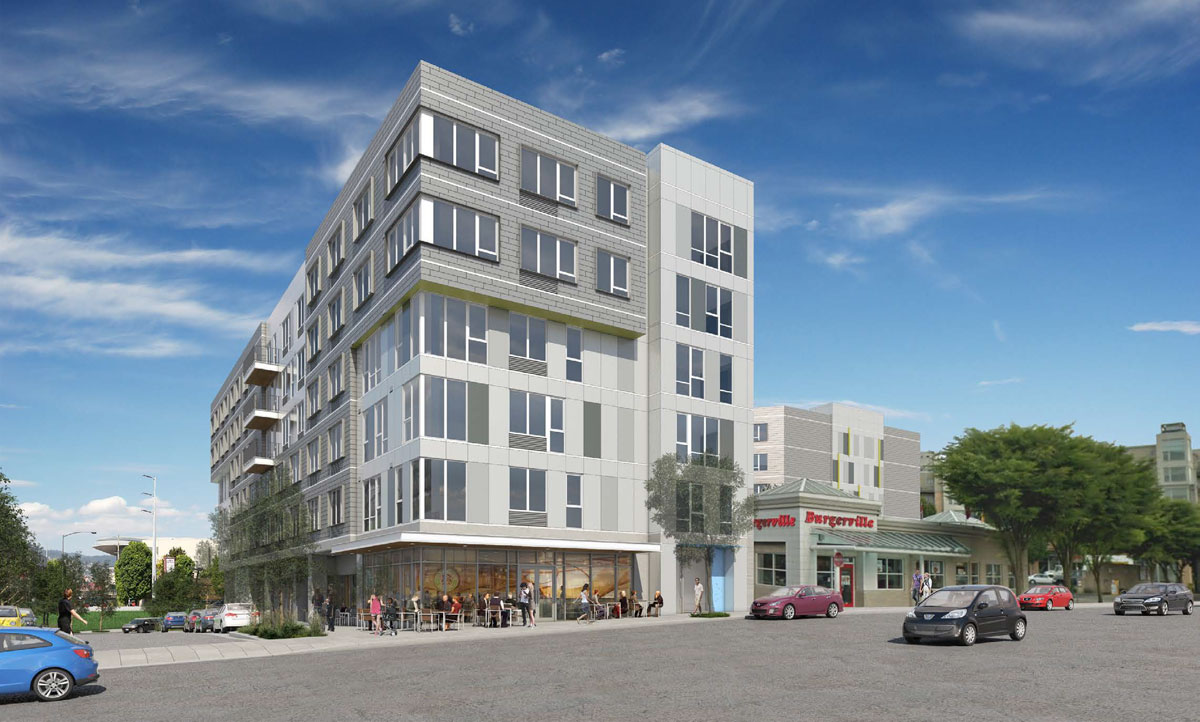 The site is located just north of the proposed Convention Center hotel, on the northeastern portion of the block bounded by NE Martin Luther King Jr Blvd, NE Multnomah St, NE 2nd Ave and NE Holladay St, directly across Holladay from the Oregon Convention Center. The site, seen below in 2011, currently houses a Burgerville restaurant facing MLK. The Union is being built around it.
The lot underwent a consolidation and a shared private driveway will connect Multnomah and MLK, separating The Union from the portion of the block that will house the Convention Center hotel.
Plans for The Union include 186 residential units, 12 of which will be walk-ups accessible from NE Multnomah St and the private driveway on the south side of the lot. The driveway also provides access to the parking garage, which will have spaces for 97 cars and approximately 300 bikes.
The ground floor of the building will include 3,600 sq. feet of retail space on the northwestern and southeastern corners of the development. The second floor will feature a rooftop courtyard along the eastern side of the building.
Construction materials include metal lap siding and fiber cement board on the upper floors. The ground floor consists of cast-in-place concrete, aluminum storefronts and cedar lap siding. The building is varying shades of gray, with natural wood and bright lime-green accents.
The Design Commission approved the project in 2013, granting the developer several modification requests, including reducing the amount of public plaza area required by superblock regulations in the district.
According to The Union's website, the building plans to open in the fall.
Plans, Elevations and Sections