This is an updated version of a post originally published on July 8th 2015.
Construction is underway on the North Hollow Apartments in Goose Hollow. The 6 story building by SERA Architects for developers Molasky Group and Trinity 3 Investments will include 121 residential units, one 900 sq ft retail space and 65 vehicular parking spaces. 184 bicycle parking spaces will be provided. The ground floor of the building will be primarily residential units, however these have been designed in such a way that they will be easily convertible to retail spaces should the demand for retail in the area increase. Through a 10 year property tax exemption passed by the City Council in December, 24 of the units will be reserved for households earning no more than 80 percent of Portland's median family income.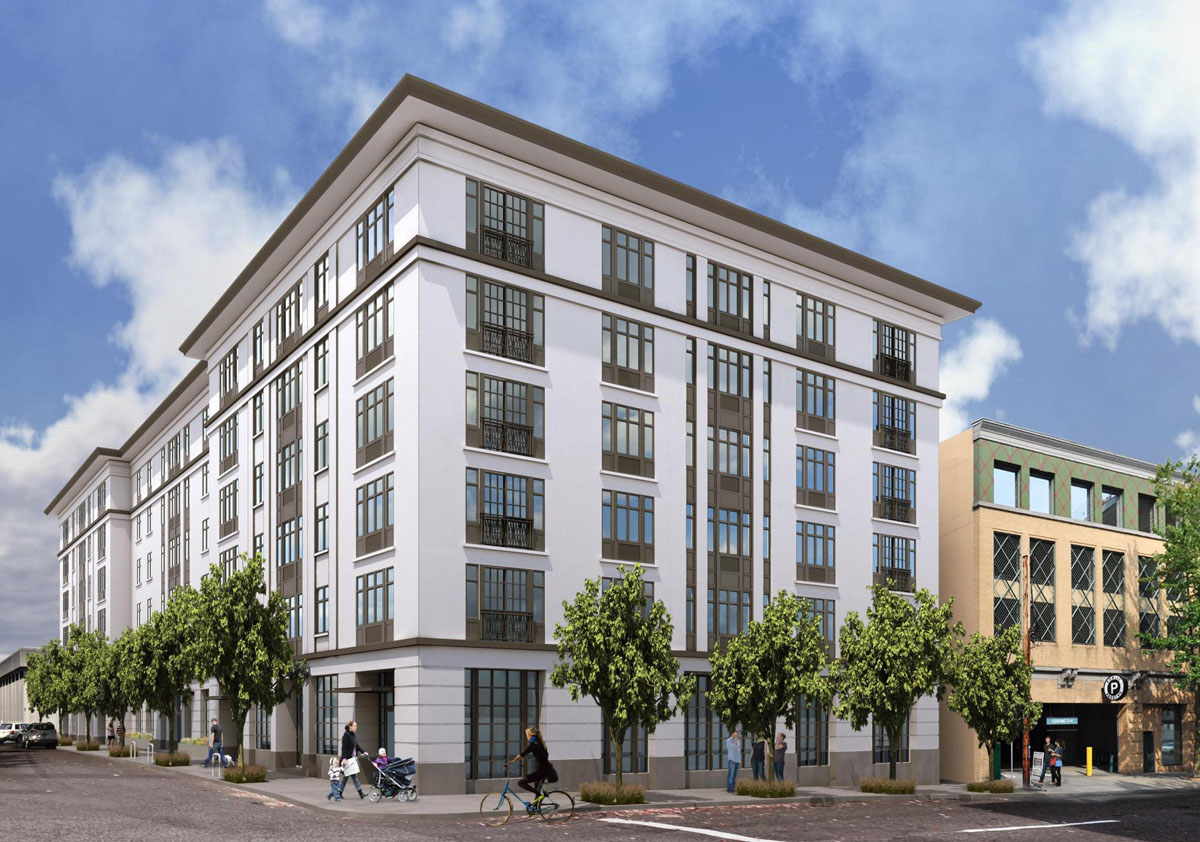 The new apartment building will be located on a half block site at the corner of SW 15th Ave and Taylor St. The site was most recently occupied by a low rise office building built in 1927, which has now been demolished. The remainder of the site was used for surface parking.
The primary building material will be stucco, with small areas of fiber cement panel. Black vinyl windows will be used at the upper floors, with black aluminum storefront windows at the ground level. The use of stucco is designed to complement nearby historic apartment buildings such as the Lafayette, the Commodore and the Lownsdale.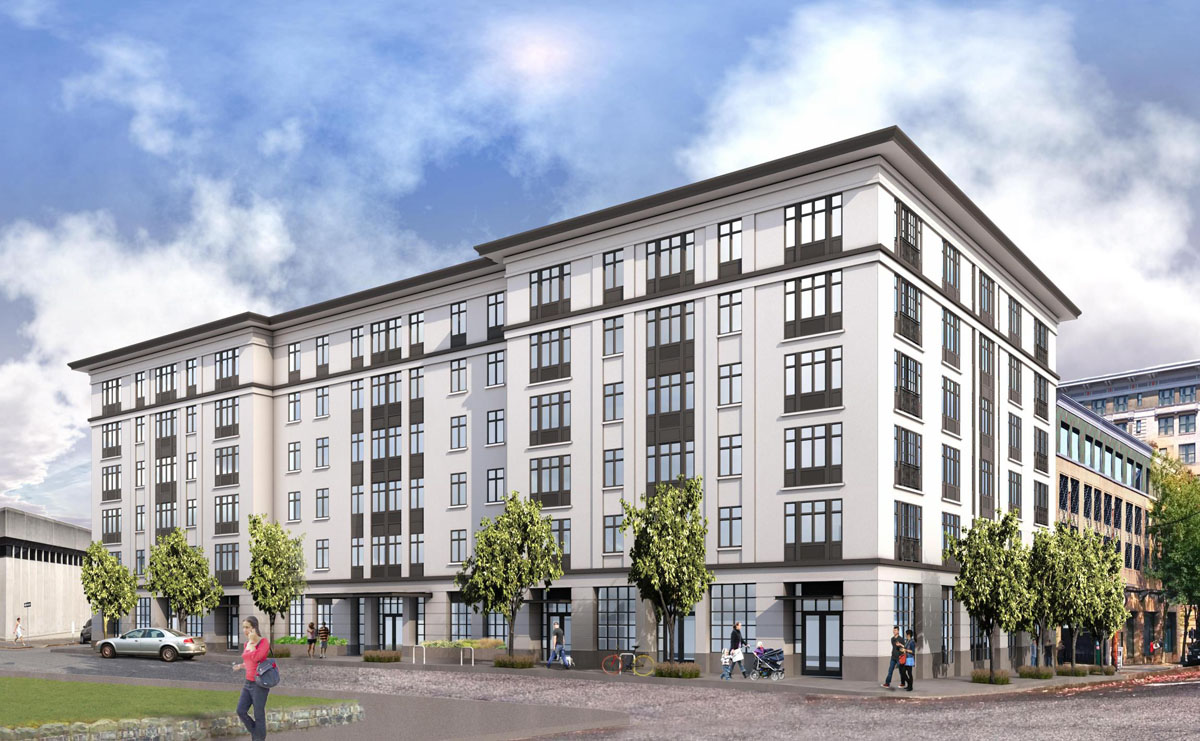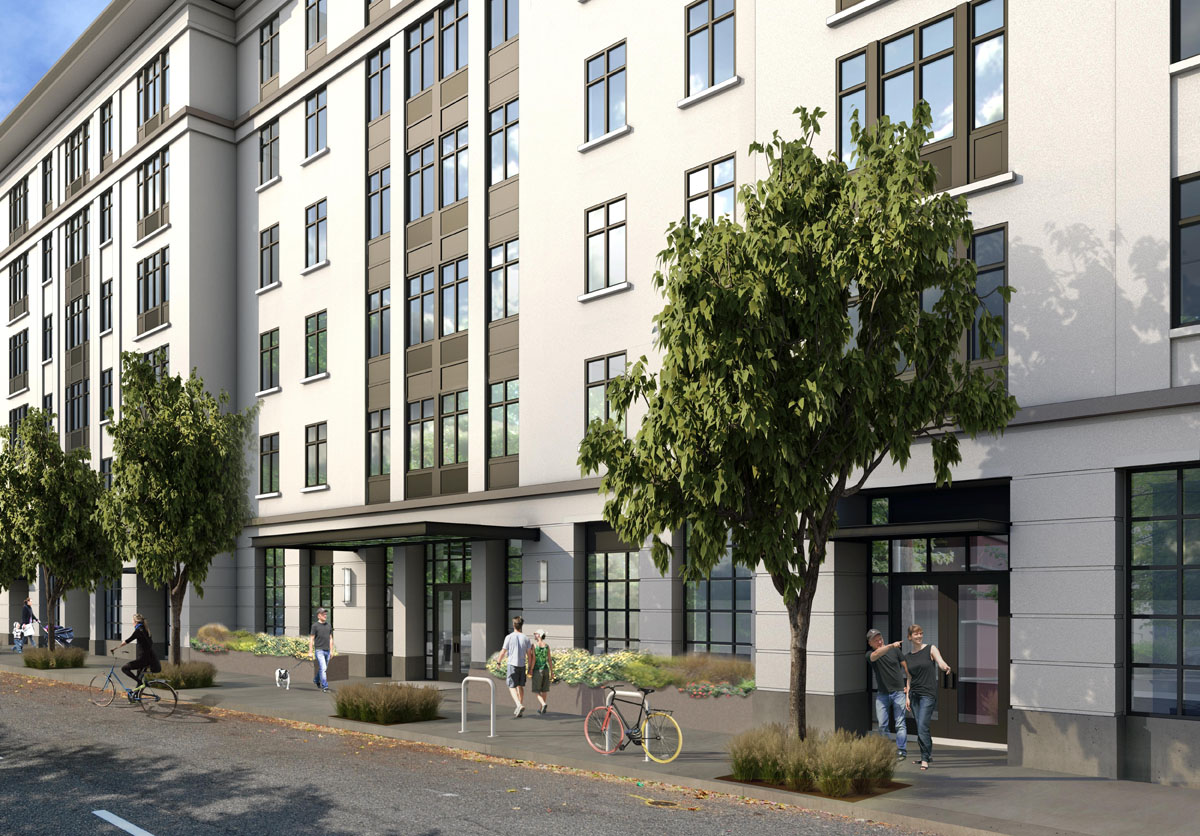 The project was approved through a Type III Design Review in November 2014. In the conclusion to the Final Finding and Decision of the Design Commission [PDF] the project was found to be a "respectful" addition to the neighborhood:
The proposed building is designed in a simple and traditional order, making it a quiet and respectful future addition to the Goose Hollow neighborhood. The materials are high quality and the fenestration is ample and sufficiently recessed to create an interesting play of light and shadow. The design review process exists to promote the conservation, enhancement, and continued vitality of areas of the City with special scenic, architectural, or cultural value. The proposal meets the applicable design guidelines and modification criteria and therefore warrants approval.
Drawings were submitted to the City for the building permit review in May 2015. A permit for the excavation and shoring was issued in November 2015, and work began on site shortly afterwards.
Plans and Elevations