This is updated version of a post by contributor Kurt Sevits, originally published on August 18th 2015.
Construction is underway on the Modera Belmont, a six-story mixed-use building by SERA Architects and Mill Creek Residential Trust. The U-shaped building will include 200 residential units above ground-floor retail, with a courtyard facing SE 6th Avenue. A basement level will include parking for 105 vehicles, while bike parking will be split between the basement and ground floors for a total of 302 spaces.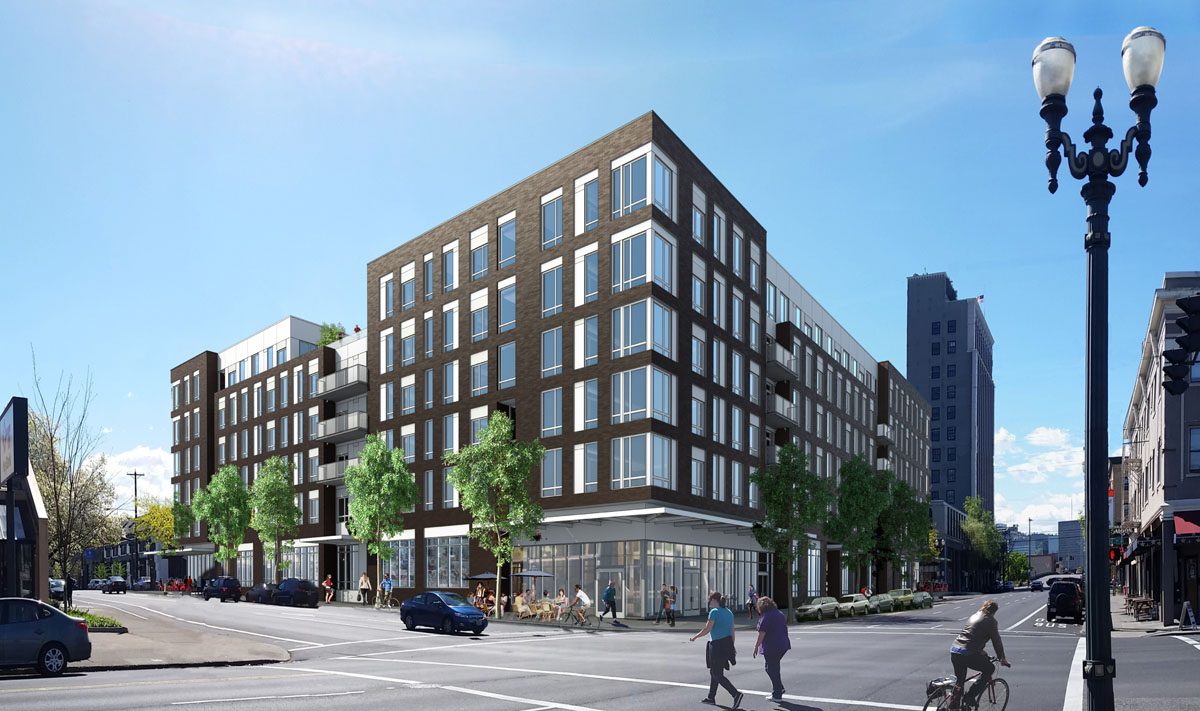 The building will take up the entire block bounded by SE 6th and 7th avenues and Belmont and Morrison streets. The lot was most recently home to the Oregon Ballet Theatre, as well as surface parking. The Portland Business Journal reported in Oct. 2014 that OBT was selling the site to Mill Creek to relieve some of its debt. The ballet has now relocated to an existing building in South Waterfront.
The building previously located on the site was built in 1940 as the East Portland branch of the First National Bank of Oregon, to a design by Barrett and Logan. In the 1984 Historic Resource Inventory, the property was evaluated as potentially eligible for listing in the National Register as part of a Historic District.
The design of Modera Belmont has changed significantly since its original concept as presented at design advice in February. In response to concerns from the Design Commission, the entire building was redesigned to incorporate mainly brown brick and white metal panels rather than the original variety of metal panels and fiber cement board.
Since the redesign, a number of other changes have been made to the design, including converting all of the street-facing live-work units on the ground floor to retail space. The designers also have made alterations to the exterior of the building, adding balconies and changing the shapes of the cutouts so as to better break up the facade of the building.
Two 6th-floor units facing 7th Avenue were removed in favor of a terrace, providing more variation in height along that side of the facade.
The Design Commission gave the project final approval to the project on August 6th 2015, stating that as designed, the building is a much better fit for the neighborhood than the original proposal:
"The most recent revisions and conditions of approval imposed at the August 6th hearing, result in a building that is more compatible with the smaller scale, materials, and details of the 1/4 block, masonry buildings in the surrounding area and adjacent historic district, as well as a more coherent composition. As revised, the Modera Belmont project will be a significant contribution to the diverse architecture and active pedestrian environment that characterizes the Central Eastside sub district."
The first building permits for the Modera Belmont were issued in December 2015.
Plans, Elevations and Sections