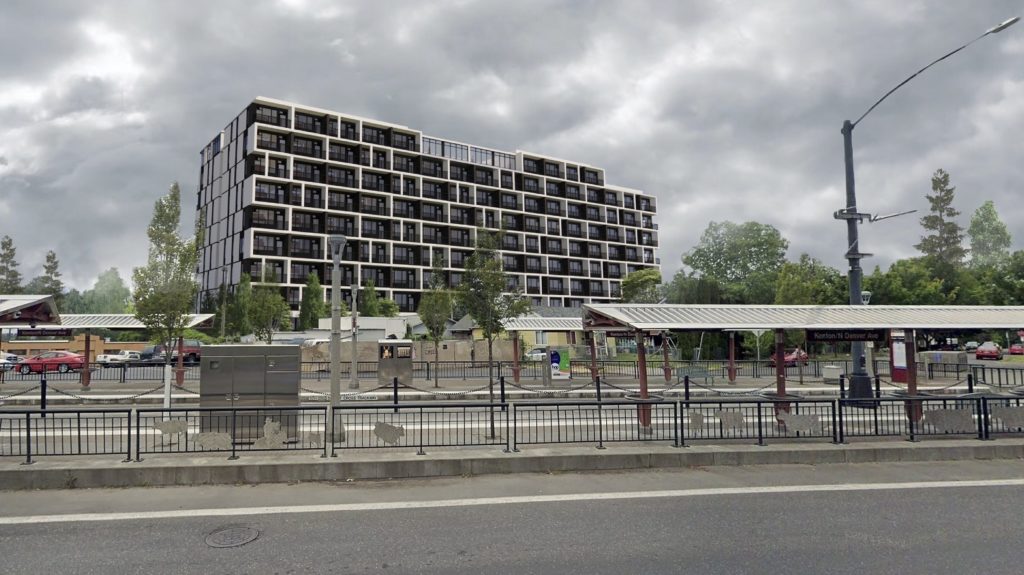 A 290-unit affordable housing development in Kenton is currently going through the Design Review process. The eleven story mass timber building, designed by Wright Architecture, will have its first land use review hearing in front of the Design Commission on Thursday, March 17th.
Metro Reports have moved to Portland Maps Reports. Next Portland covers the highlights of the Early Assistance applications, Land Use Reviews and Building Permits processed each week. This post covers November 22nd, 2021 to November 28th, 2021.
The Argyle Apartments at 1838 N Argyle St have been submitted for a Type III Design Review by Wright Architecture:
DZ HEARING – Type III Design Review for construction of approximately 290 residential units in an eleven-story building in the Kenton Plan District. The project site includes two parcels totaling 25,000 SF adjacent to the Kenton / North Denver Avenue MAX light rail station. The project includes main entrances along both street frontages, outdoor areas at the ground level and the rooftop, individual balconies, and common spaces through the building. A composite rain screen cladding is proposed above a concrete base with metal storefront systems at the ground level. Because the proposal is for new development in the Design Overlay Zone, Design Review is required.
Early Assistance has been requested by Todd Lasher Architect for a project at 807 NE Alberta St:
This project includes two new buildings, site improvements and a new stormwater facility. The east building is proposed as a four floor apartment. The north building is to be a one level retail space with a retail basement. site improvements include bike parking, landscaping new trash enclosure, drywells for stormwater and ramps for ADA access. No change to existing building. 2 to 3 large trees will be removed.
A building permit was issued to Holst Architecture for 3000 Powell:
3000 POWELL – 125,890 gsf new multi-family residential project consisting of 206 units of affordable housing and community space, outdoor amenity and play area, 26 surface parking stalls (including 2 ADA stalls) and 2 type B loading spaces ***review 21-025156-MT