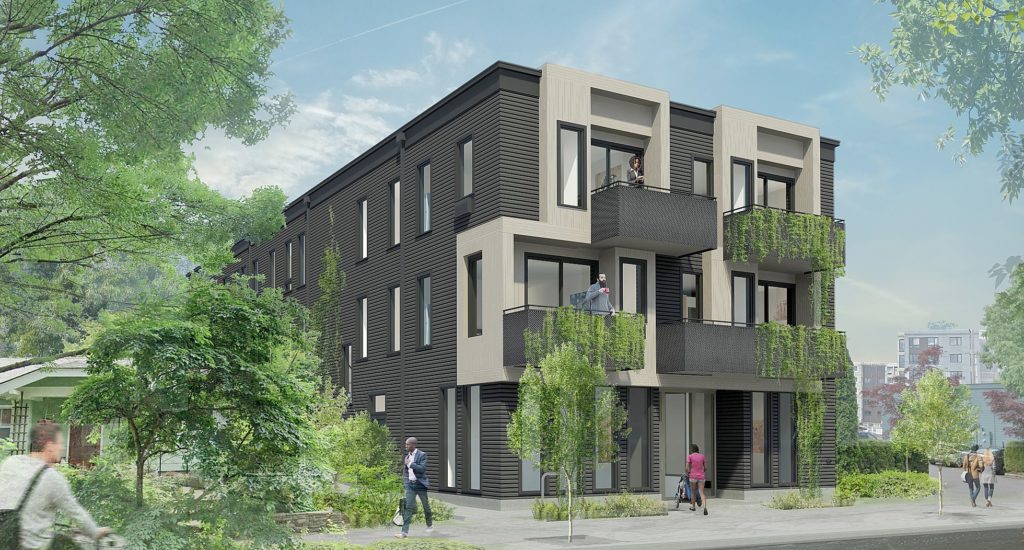 Every week, the Bureau of Development Services publishes lists of Early Assistance applications, Land Use Reviews and Building Permits processed in the previous week. We publish the highlights. This post covers July 20th, 2020 to July 26th, 2020.
Early Assistance has been requested for a project at 3335 SE 124th Ave:
Development of 30-unit apartment building with parking. Storm water to drywell or planter/trench.
Early Assistance has been requested by McGuirl Designs And Architecture for a project at 6928 N Maryland Ave:
The project involves 3 separate tax lots that are adjacent to one another. The project will have one building across all three properties with four stories above grade and a partial basement. Building use is R2 Multi-family with 105 dwelling units and will include inclusionary housing. No off street vehicular parking, interior bicycle storage, interior trash room. Site to utilize on-site drywell.
The Oregon Park apartments at 823 NE 29th Ave has been submitted for building permit review by Wright Architecture:
PDOX PS – new 3-story 19 unit apartment building with associated site work
The Rosewood Family Health Center at SE 88th & Powell has been submitted for building permit review:
ROSEWOOD FAMILY HEALTH CENTER – New three story medical clinic with first floor consisting of medical clinic and pharmacy, 2nd floor consisting of a dental clinic and third floor administrative space.
A building permit was issued to Allusa Architecture for a project at 1545 NE 41st Ave (previously 1535 NE 41st):
New 3 story, 19 unit apartment building and associated siteworks. Trash inside the building. Includes 5 units on ground floor and 7 units on 2nd and 3rd floor.
A building permit was issued Brett Schulz Architect for a project at 6290 N Montana Ave (perviously 6234 N Montana Ave):
New 3 story 11 unit apartment building with associated site work, no on-site parking, mechanical permit separate