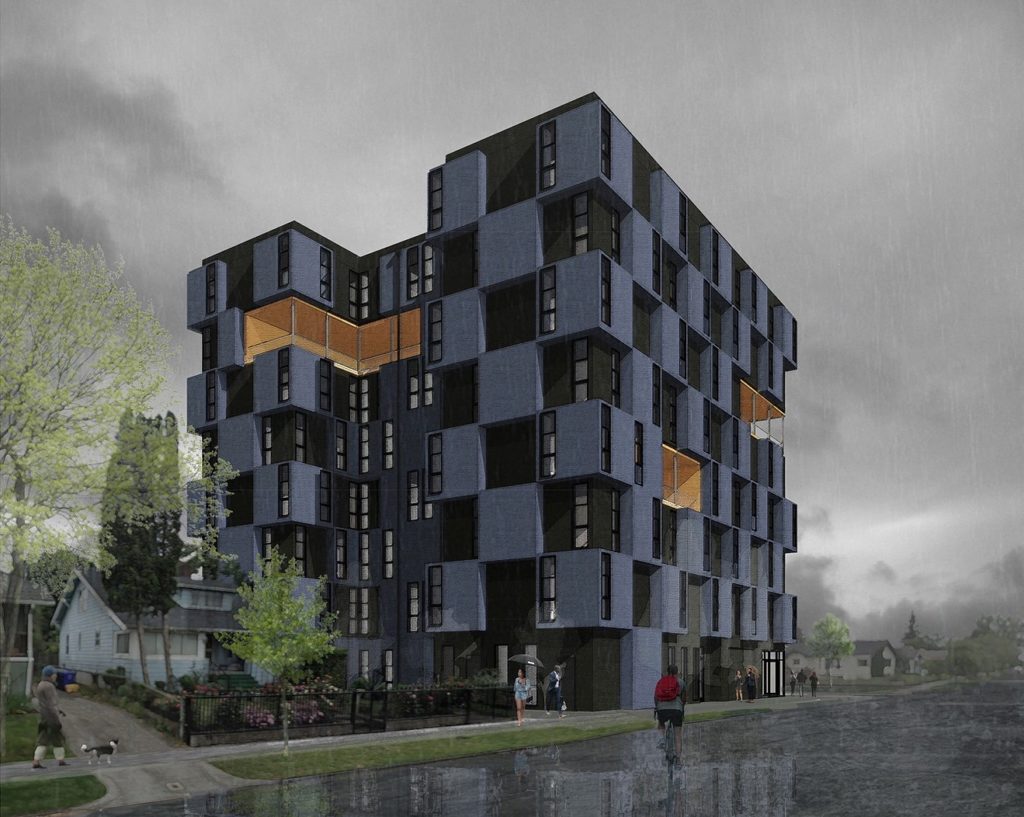 Every week, the Bureau of Development Services publishes lists of Early Assistance applications, Land Use Reviews and Building Permits processed in the previous week. We publish the highlights. This post covers August 24th, 2020 to August 30th, 2020.
Design Advice has been requested by Wright Architecture for a Minnesota Places at 1208 N Jessup St:
54,000 SF affordable housing building on a 1/4 block site in the North Interstate Plan District, primarily residential use, modular constructed mass timber structure using MPP, includes on-site stormwater facilities.
Early Assistance has been requested for a project at 8736 N Willamette Blvd:
Construct a new apartment building (24-30 units total).
Early Assistance has been requested by Works Progress Architecture for a project at 751 N Prescott St:
New Multi-Family Residential Project with 40 proposed dwelling units (including ground level units & Inclusionary Housing); no vehicle parking; 60 long term bike parking spaces; stormwater managed via Drywell or Infiltration Planter (TBD). These are contributing structures in the Mississippi Conservation District.
A project at 7365 SE Foster Rd has been submitted for building permit review:
PDOX PS – new 3-story 18 unit apartment building with associated site work w/20-178474-MT
A project at SE 17341 SE Powell has been submitted for building permit review:
PDOX PS – construct new 1 story steel building for new convenience store w/20-167750-CO (fuel canopy) & 20-177196-CO (trash enclosure)
A project with three buildings at 14603 E Burnside St has been submitted for building permit review:
146 EAST – BLDG 100 – This project consists of 70 total new affordable apartment units. The units are located in (3) detached three story buildings with on-site parking spaces, user amenities, covered bike parking, and trash enclosure. Unit counts are 30 in Building 100, 24 in Building 300, and 16 in Building 200. Both the bike shelter and trash enclose will require separate permits. ** No Mechanical with these permits *****review w. 20-173847/51/71/72-CO

146 EAST – BLDG 200 – This project consists of 70 total new affordable apartment units. The units are located in (3) detached three story buildings with on-site parking spaces, user amenities, covered bike parking, and trash enclosure. Unit counts are 30 in Building 100, 24 in Building 300, and 16 in Building 200. Both the bike shelter and trash enclose will require separate permits.**No Mechanical with these permits****review w. 20-173775/851/871/872-CO

146 EAST – BLDG 300 – This project consists of 70 total new affordable apartment units. The units are located in (3) detached three story buildings with on-site parking spaces, user amenities, covered bike parking, and trash enclosure. Unit counts are 30 in Building 100, 24 in Building 300, and 16 in Building 200. Both the bike shelter and trash enclose will require separate permits.***review w. 20-173775/847/871/872-CO