A Design Advice Request posting notice [PDF] shows the first image of a proposed 15 story building in Downtown Portland. The project, by Core Campus, includes 30,000 SF of retail at the first floor, and 14 floors of apartments, aimed at the student market. Two levels of underground parking are proposed, with 192 spaces, for the use of both the residents and the grocer. Outdoor amenity spaces are provided on the 2nd floor courtyard and on a roof deck at the 15th floor.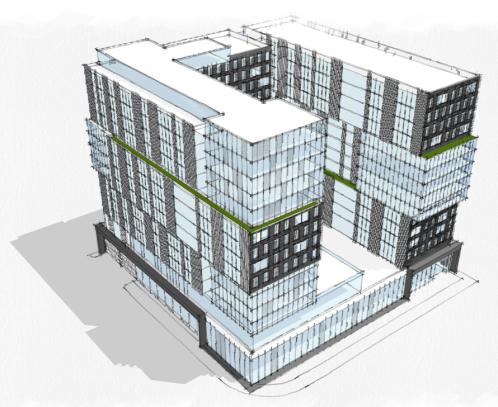 The project is located at SW 4th & Harrison, which is currently a surface parking lot owned by the Goodman family. The project borders the Halprin Open Space Sequence, which is listed on the National Register of Historic Places. One block to the north is the Cyan apartment tower, which was also developed on land owned by the Goodmans.
A Design Advice Hearing before the Design Commission is scheduled for December 11th.