Emerick Architects have applied for a Historic Resource Review [PDF] for exterior alterations to the Overland Warehouse Company building at 205-219 NW 4TH Ave in Old Town / Chinatown. The alterations are part of an adaptive reuse project by Urban Development Partners that will see the upper floors of the building converted into 18,300 sq ft of office space. The ground floor will be leased to retail tenants.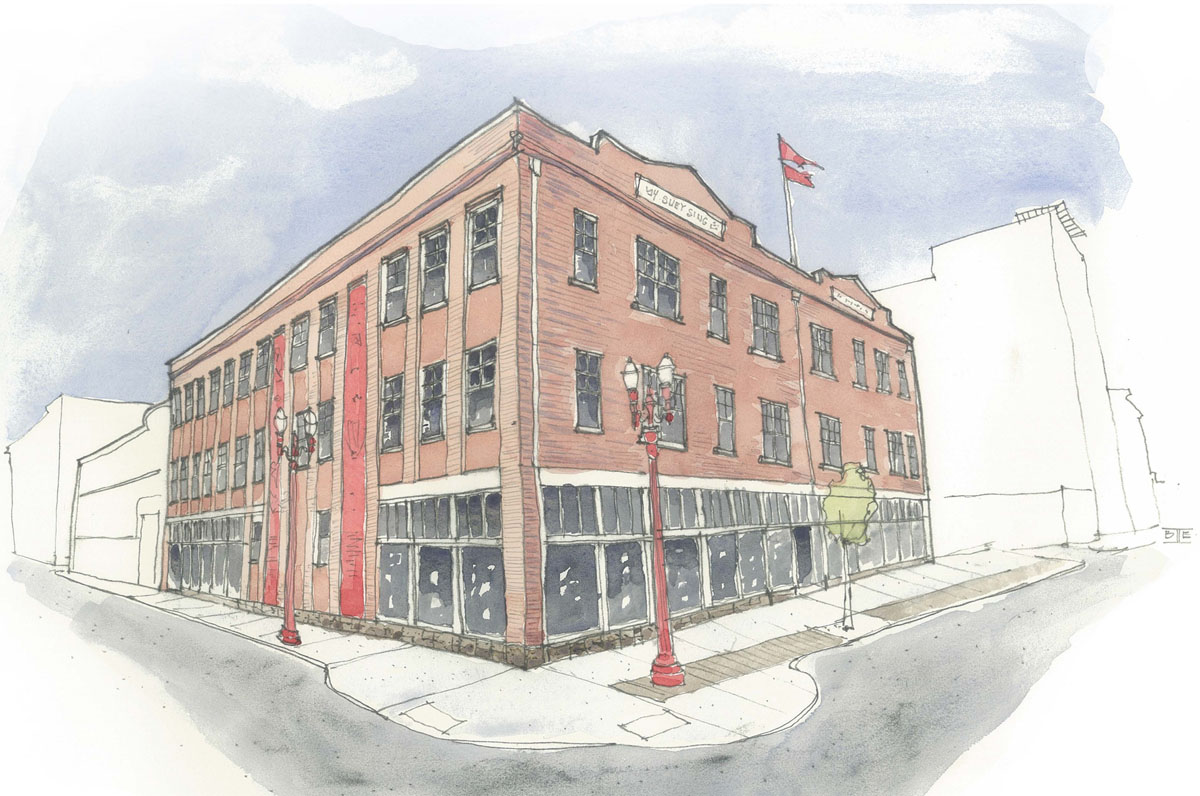 The 1892 building is a contributing structure in the New Chinatown/Japantown Historic District, and is perhaps best known for having been the home of the Magic Gardens strip club. The club announced it was closing in October 2014, and had its last night on December 31st.
As noted in the Historic Resource Review, the building is currently in a general state of disrepair. Stucco is missing from the south facade, exposing the brick substrate underneath. Numerous windows are boarded up, or missing entirely. A red "U" is prominently displayed above the main building entrance, an indiction to firefighters that the building is unsafe.
The proposed exterior work to the building includes installing new aluminum clad wood windows and repairing / replacing the existing stucco. New windows will be added on the North elevation at the property line; these will be removed in the future if the adjacent lot is ever developed. The existing storefronts facing NW 4th Ave will be renewed with new windows and doors, and two new storefronts will be created facing NW Davis St. Seismic, energy and ADA upgrades of the building will be performed.
The office spaces are being marketed as creative/loft spaces. The third floor will have exposed timber trusses, and an atrium will be located at the center of the building, bringing natural light down to the second floor.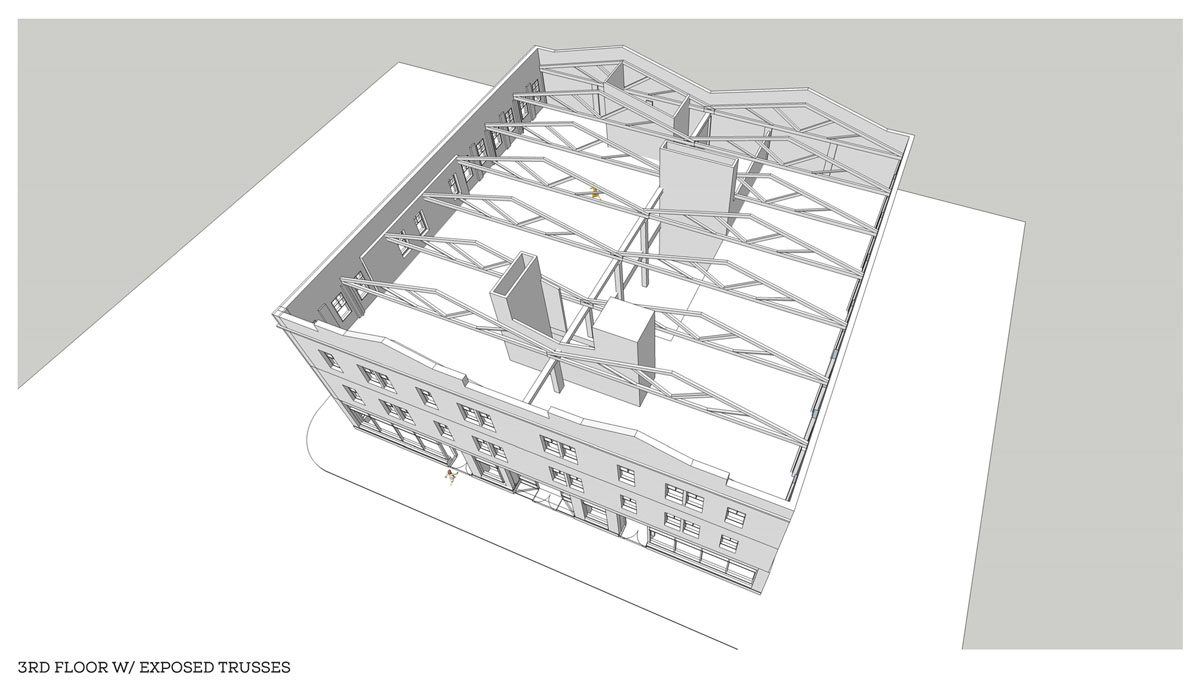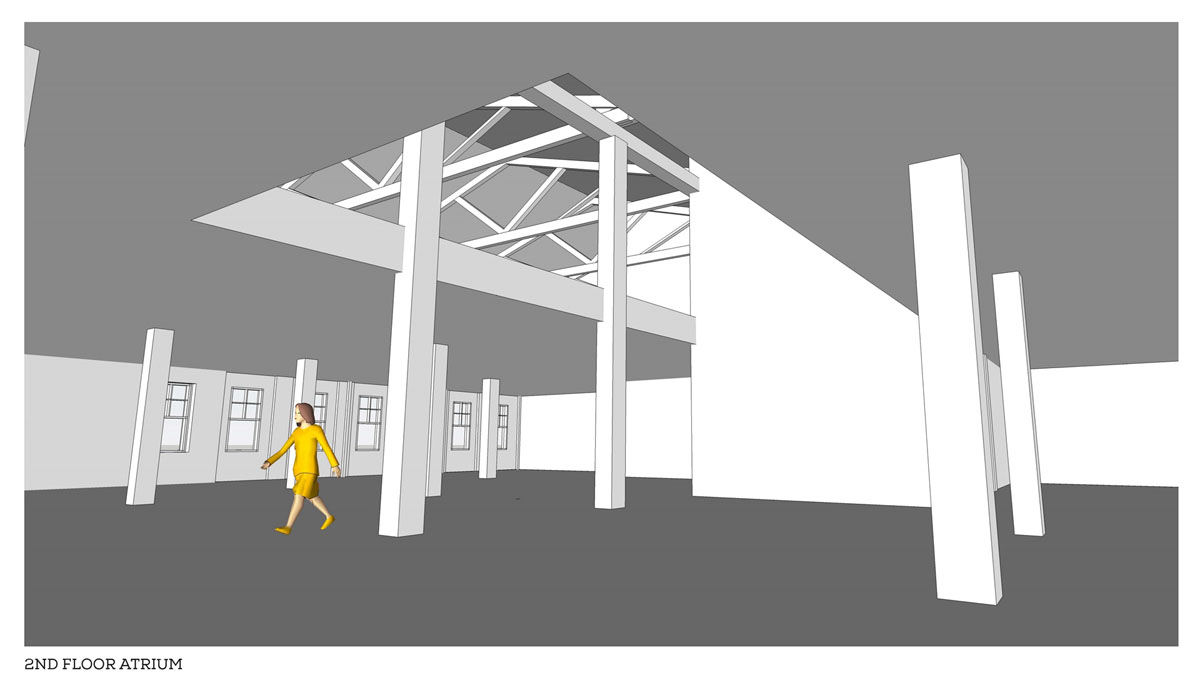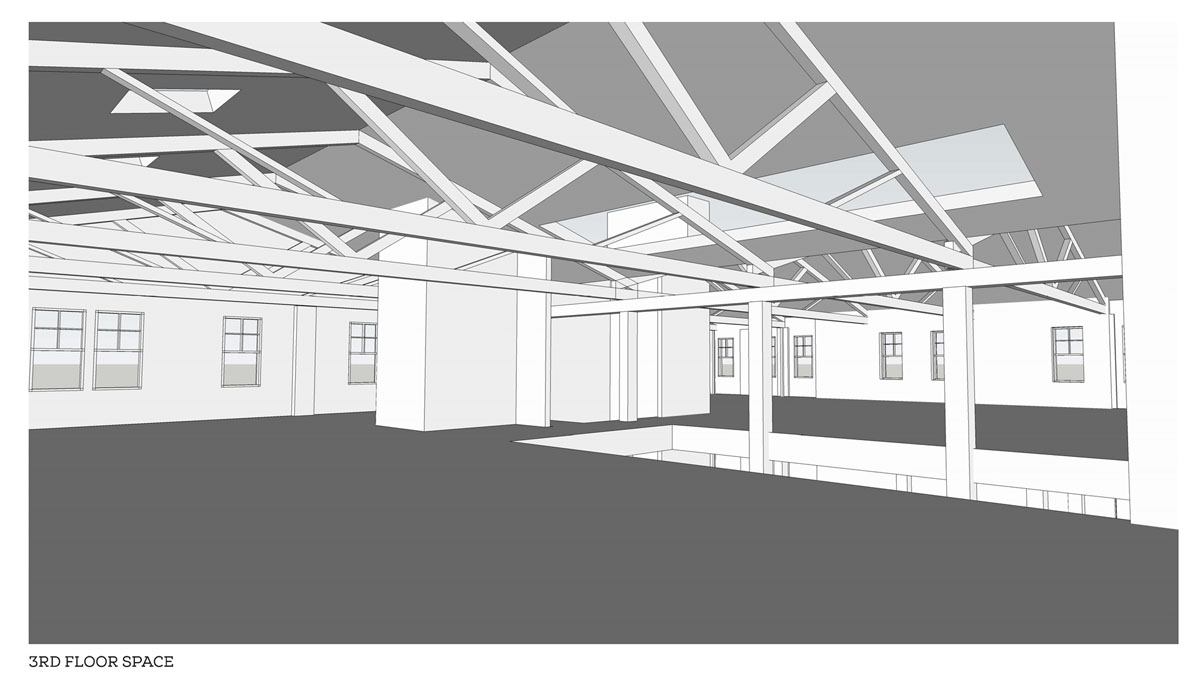 The Overland Company Warehouse is just one of a number of vacant buildings in Old Town set to be brought back into use. The conversion of the Mariner's Home Building into the Society Hotel is currently under construction, while adaptive reuse projects are planned for both the Whidden & Lewis Building and the Mason Erhman Building Annex.
Leasing of the office spaces is currently underway, with a September 2015 availability date.
Plans and Elevations