A development at N Greeley & Killingsworth by Works Partnership is currently under review for building permit. The project for Jacobsen Development Group consists of two 3-story buildings on an 11,1163 sq ft lot in the Overlook neighborhood. The building facing N Killingsworth will include 11 residential units and 1,680 sq of retail space at the ground floor. The building behind it will contain 15 residential units. No on site car parking is proposed. 29 long term and 2 short term bicycle parking spaces will be provided for the residential units, along with 2 long term and 2 short terms spaces for the retail spaces.
The site at 2730 North Killingsworth Street currently has a single story restaurant building on it, for which a demolition permit has been issued. The parking lot was formerly used as the North Station food cart pod, visible below in 2011. The closure of the cart pod was reported in April 2014.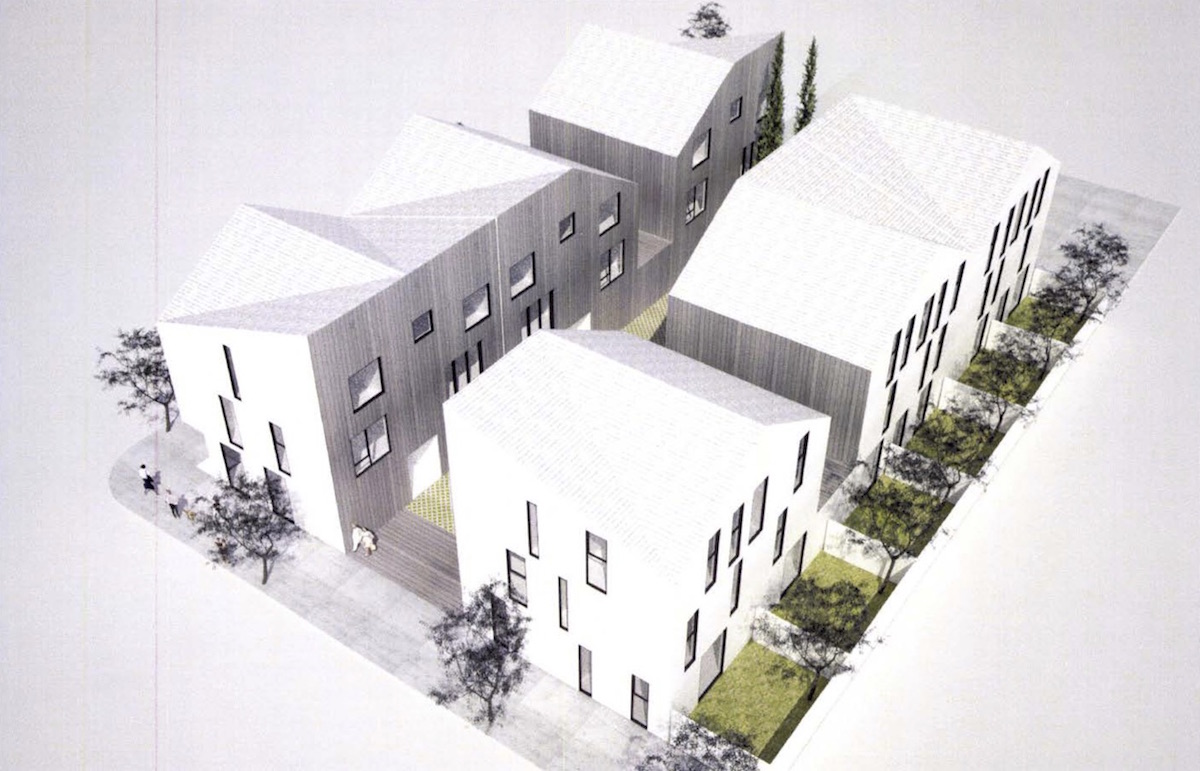 The site has a height of limit of 30′, measured to the top of a shed roof and to the mid point of a pitched roof. The proposed roof forms include a mix of roof forms, at a maximum height of 39′-6″ at the shed roofs and 34′-4″ at the pitched roofs. An Adjustment Review [PDF] was approved in May 2014 to allow the additional height. The review concluded that the proposal met the approval criteria, partly because the development is less intense than what would be allowed by right in the Zoning Code:
The applicant has requested one Adjustment to the maximum height standard of the CN1 zone in association with a planned mixed use development at this site. The proposal meets the relevant approval criteria for several reasons. First the proposal is designed with approximately 17% less building coverage than is allowed by right in the CN1 zone. Second, the floor area on the second and third floors is less than that on the first floor which reduces the massing of the building. Third, the increased 4 feet 3 inches of building height (if measuring the height of the rear portion of the building) requires an additional 3 foot set back from the property line shared with the residentially-zoned lots. This is almost one foot in additional setback for every additional foot in height. Finally, the social spaces of the dwelling units on the second and third floors face the internal courtyard. This reduces impacts on privacy for the residential lots to the south of the project. The proposal is also consistent with the classification of adjacent streets and, on balance, supportive of relevant zoning characteristics, the plan district purpose statement and policies of the Albina Community Plan. The project appropriately mitigates for impacts through the dwelling unit layout on the second and third floors and pitching the roofs appropriately toward surrounding residential development. With conditions of approval, this proposal meets the approval criteria and should be approved.
Plans and Elevations