The Design Commission has approved designs for the St Francis Park Apartments by MWA Architects. The building will include 106 units of affordable housing, including for women transitioning from homelessness and victims of domestic and sexual violence. The project is being delivered as a partnership between government agency Home Forward and nonprofit Catholic Charities.
The project site is a full city block bound by SE 12th, Stark, 11th and vacated Oak. It is currently developed as the privately owned St Francis Park, a rare block of outdoor space in the Central Eastside. The park was previously owned by the adjacent St. Francis of Assisi Catholic Church, who sold the property for $1.9 million in min-2014. When first announced the loss of the open space resulted in some opposition by neighbors in the Buckman neighborhood.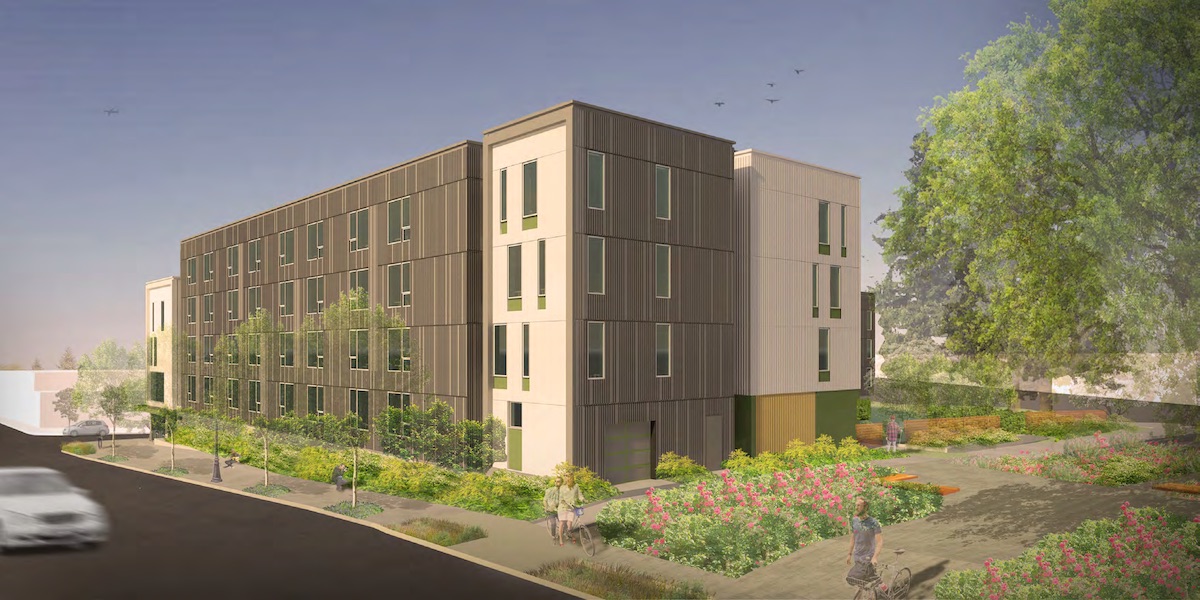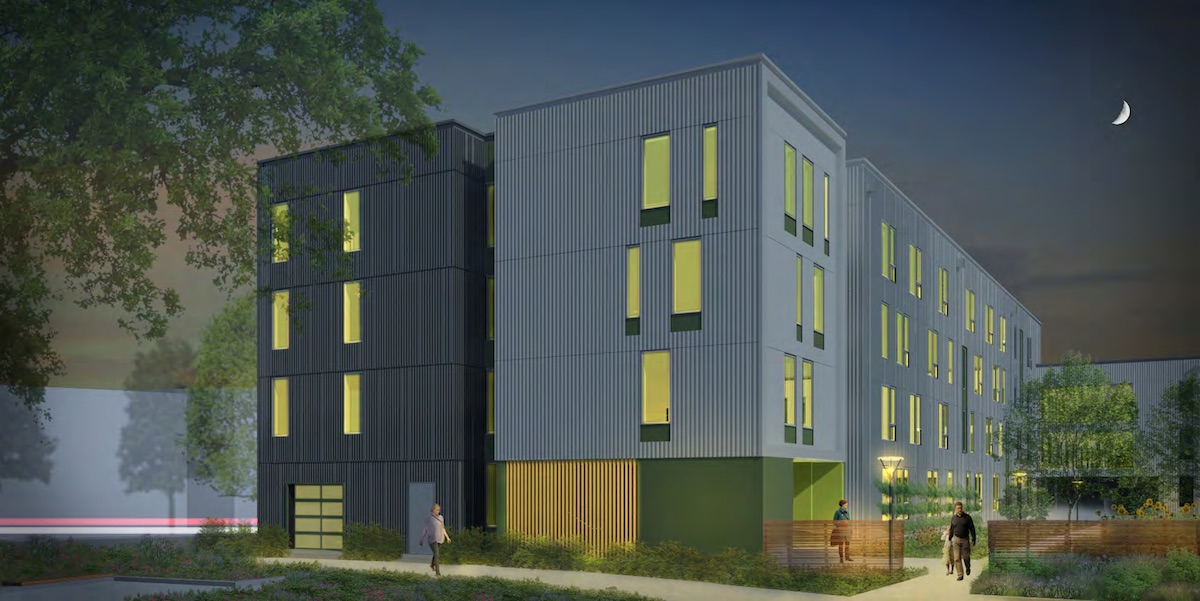 The building is arranged in a "U" shaped plan, split into two wings wrapping around a community garden. The taller wing is faces SE 12th Ave, while the lower wing fronts on SE Stark and 11th Ave. Linking the two will be a glazed bridge section.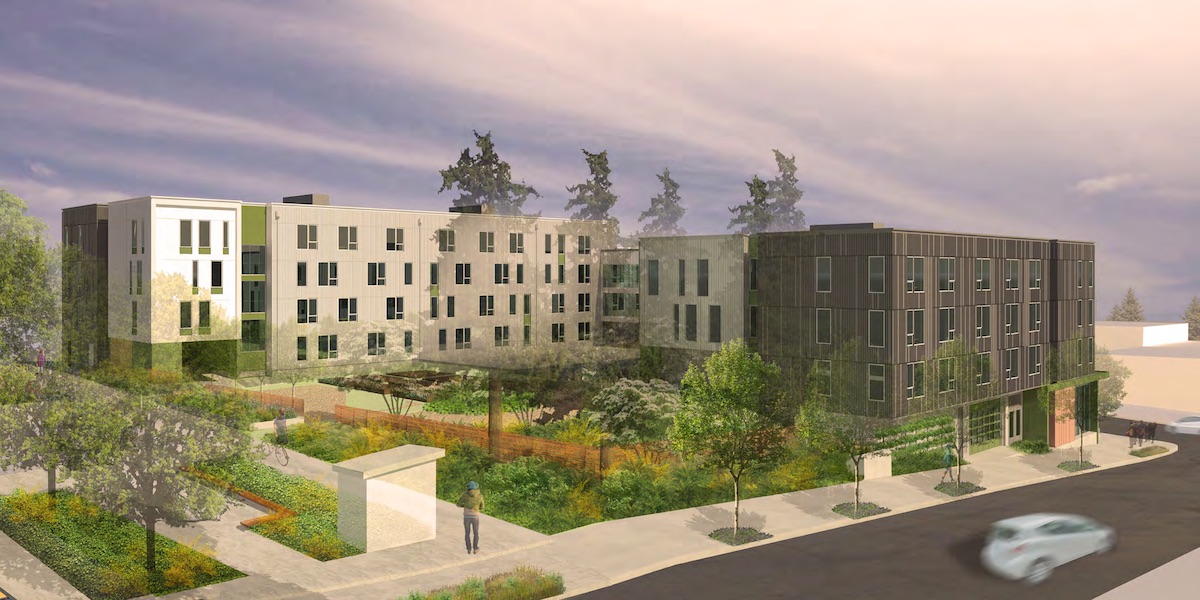 When the project first received Design Advice in December 2014 the primary exterior material proposed was a fiber cement board and batten system. Based on feedback from the Design Commission the cladding was changed to a ribbed metal panel system, in white and weathered zinc colors. Other materials proposed include vinyl windows, tongue and groove cumaru wood siding, Alucobond metal panels and galvanized metal guardrails.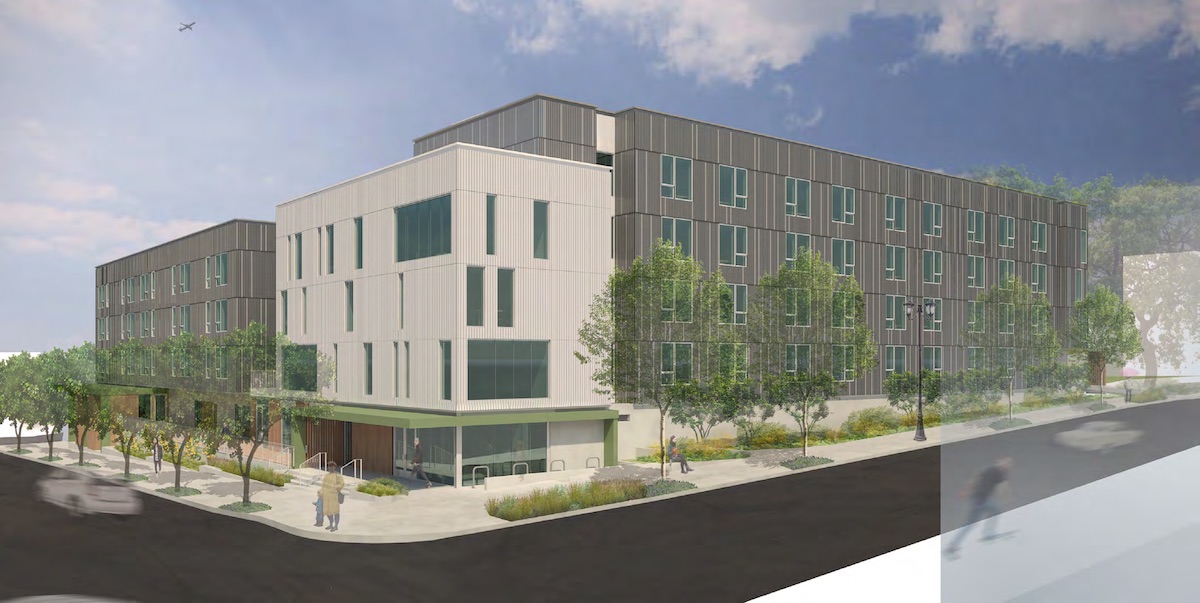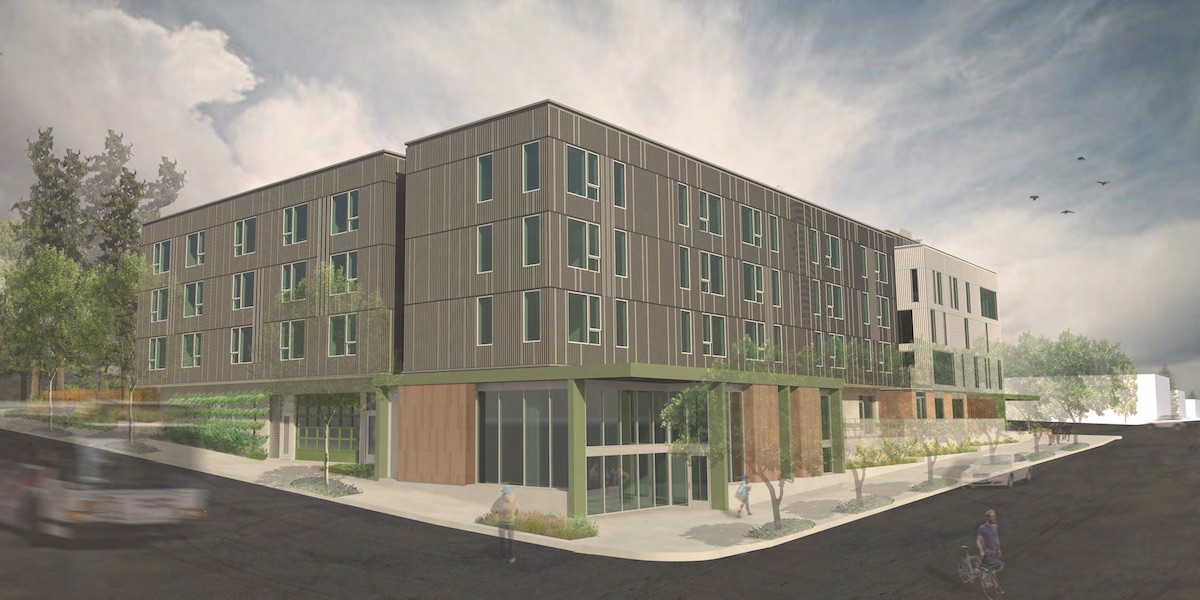 The project was approved at its second Design Review hearing before the Design Commission, where the Staff Report [PDF] was approved 4-1. The dissenting vote came from Commissioner Savinar, who had concerns about the number of blank walls at the ground level. Before his vote to approve it Commissioner Kaiser offers his thoughts on the conflict between delivering high quality and long lasting architecture, and housing affordability:
This came in a long time ago, as I'm sure you guys recall. Probably better than we do. And I have to say that I think it has improved remarkably over that time span. As you may also know this case got somewhat political. We were down with the Mayor and Saltzman last week in a meeting, discussing how it sometimes takes projects to go through Design Review, and also kind of how onerous the process can be and sometimes the costs that are incurred both in the process and what is sometimes asked to be applied to a building, in terms of quality of materials, presence in neighborhood, active storefronts. So the discussion came up that for affordable housing projects is there something that can be differently applied going forward? And as Rick—the person who came in today to testify—it's really interesting, and we brought this up, David [Wark] and I did in this meeting, of course we all want affordable housing projects. But the neighbors around these affordable projects want them to last for 100 years and look as good as the non-affordable projects. And so do we as city members. And so do we as Design Commission. So it's this struggle, and I just want everyone to know it's always a struggle. We've discussed, because affordable housing projects, as you guys know, in 10 years that horizon comes and they're no longer affordable projects. They return to market rate rent and all sorts of variations of what that means. So we're kind of stuck. We look at these things as just projects, and almost turn a blind eye to what the motive or budget is. Because that's what the neighbor Rick would want. He doesn't care if it's an affordable project. He wants something that raises the value of his property and is pleasant [and] safe to walk by forever. We're in an affordable housing predicament here in Portland, but we collectively want to solve that.

And that also goes to outlying parts of Portland as we consider adding more design overlays to outer regions of Portland. We've struggled for the 8 years I've been on here: out in the farther reaches of Portland construction costs are the same, but rents are 25 to 40% lower. So do we have this gradation of quality of materials, design expectations going out? Well that's unfair to people in Lents, you know? So it's this struggle.

I just want you guys to be aware, because sometimes it's painful sitting in that seat. I know it personally. What are these guys doing up here? Do they not know our motives? Do they not know what we're out to accomplish? Well we're hopeful for all of your accomplishments to come to fruition, but it's also difficult because people, understandably, like Rick come down in his time and says "please, just make it a good building forever." So that's the balance we're always weighing. And I think this turned out well. I appreciate the struggle, and I'm sorry… listening to the tapes I could hear the tension building, you guys were like "for God sakes man, just let us…" But again, I think the end product is fantastic. And that was a struggle, but it will be here for 100 years. So the last year you were in this painful position I think will benefit everybody else for the next 99. Or 200, as I think I saw on one of your metal finish estimates. So, really well done and nice work. Thanks for your patience in getting through this.
Building permits are currently under review for the project.
Plans, Elevations and Sections