SERA Architects have gone before the Design Commission to receive Design Advice on the Modera Davis, a 12 story mixed use building in the Pearl. The 130′-4″ tall building for developer Mill Creek Residential Trust would include 150 residential units and approximately 4,000 sq ft of retail. Parking for 94 vehicles is proposed in two levels of below grade parking.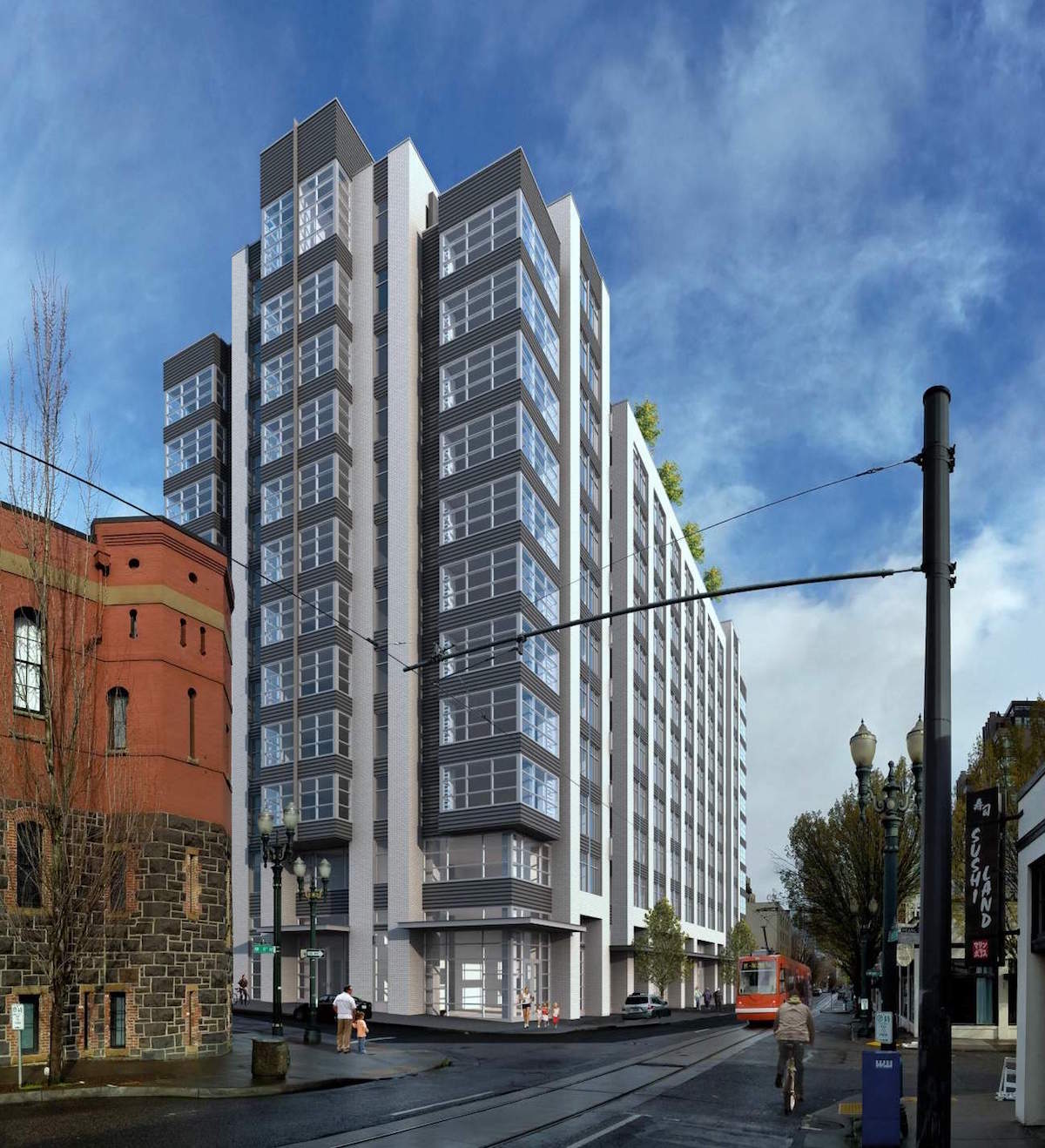 The site for the proposed building is the eastern half of the Pearl District block bound by NW 10th Ave, Davis St, 11th Ave and Everett St. The site includes four buildings, built between 1919 and 1941. Although none of the buildings are listed on the National Register of Historic Places, the buildings at 201 NW 10th Ave (designed by Morris H. Whitehouse) and 229 NW 10th Ave were ranked during the 1984 Historic Resource Inventory as potentially eligible for listing on the National Register as part of a Historic District. The building at 221 NW 10th Ave is currently home to jazz bar Jimmy Mak's, which will be relocating to make way for the development.
Materials proposed for the building include a light colored brick and dark colored box rib metal panelling. VPI vinyl windows would be used at the residential units, and aluminum storefront glazing at the ground floor.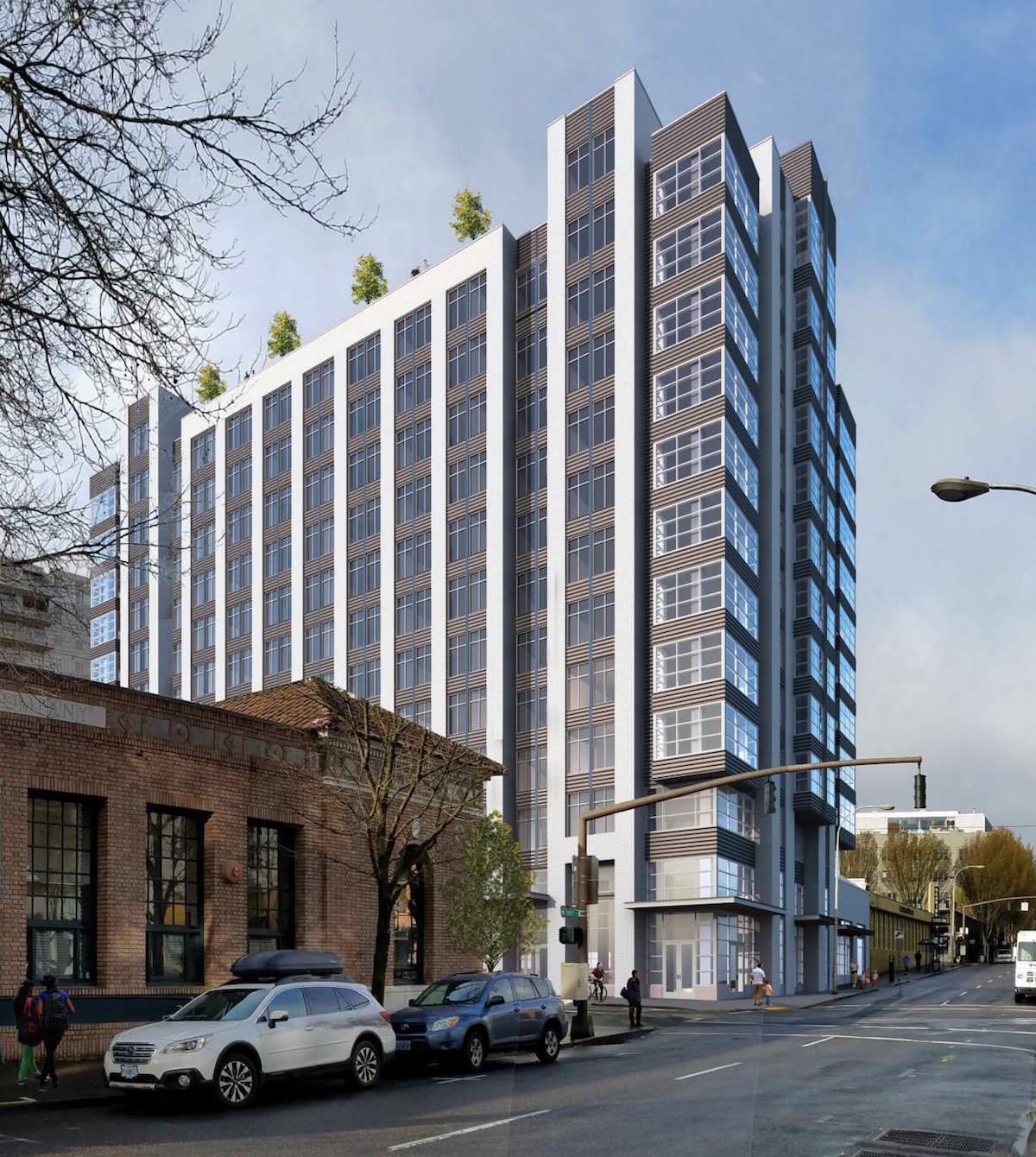 At the 12th floor the building would include four 2 bedroom penthouse units, each of which would have private terraces at the corners. The 12th floor would also be home to the building's amenity features, including a fitness room, clubroom and two large exterior terraces.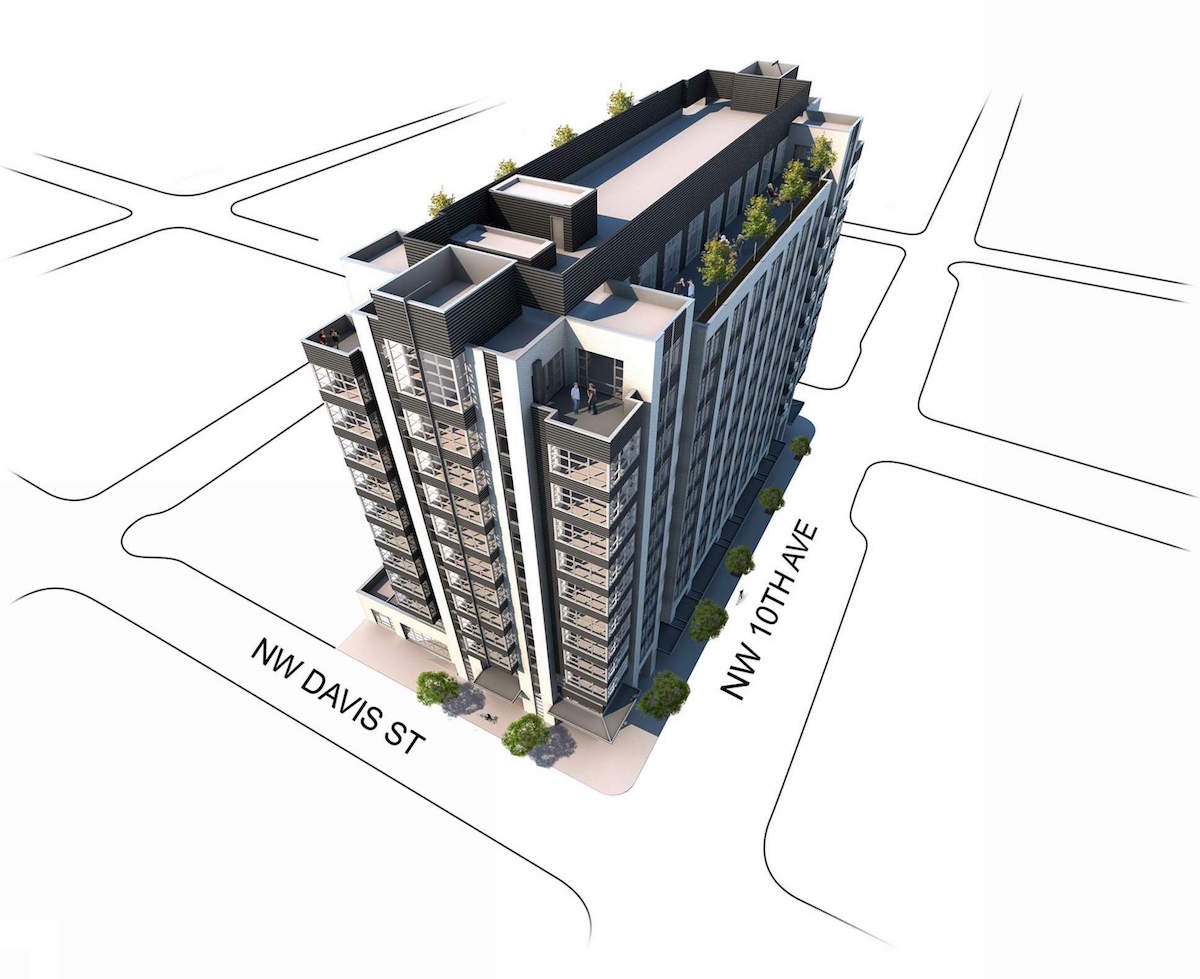 A memo [PDF] to the Design Commission, published before the April 7th advisory hearing, outlined potential areas for discussion. These included the residential lobby location, the elevation materials, and the desired location for utility transformers. The Design Commission generally supported the project, though expressed some concern about the amount of the box rib metal panel. A suggestion in the staff memo that the residential lobby be located on the more pedestrian-active NW Everett St, rather than NW Davis St, led to some debate about the best location for the lobby. The applicants explained that they were trying to add as much retail to NW Everett as possible, which a residential lobby could compromise. Commissioner Livingston suggested placing the lobby on NW 10th Ave, facing the streetcar line. Commissioner Wark expressed concern that would affect the retail continuity along NW 10th. Commissioner Livingston countered that the "Golden Age of the Pearl" buildings by Ankrom Moisan, including the Gregory, the McKenzie Lofts and the Elizabeth, all have mid-block residential lobbies with retail either side.
The applicants have the option of returning for a second Design Advice hearing, though are not required to do so.  In order to gain approval the Modera Davis will need to go through a Type III Design Review with public hearings before the Design Commission.
Drawings