The Design Commission has approved a five story residential apartment building in the Gateway Plan District. The 52 unit building by Ankrom Moisan Architects will be located at 10506 E Burnside St, and within a couple blocks of the E 102nd Avenue MAX station. Affinity Property Management are acting as the developer, on behalf of owner Urban Green Investments. 15 tuck under car parking spaces will be provided at the rear of the building. Bike parking will be provided in a secure bike room at the room floor, as well as in the units.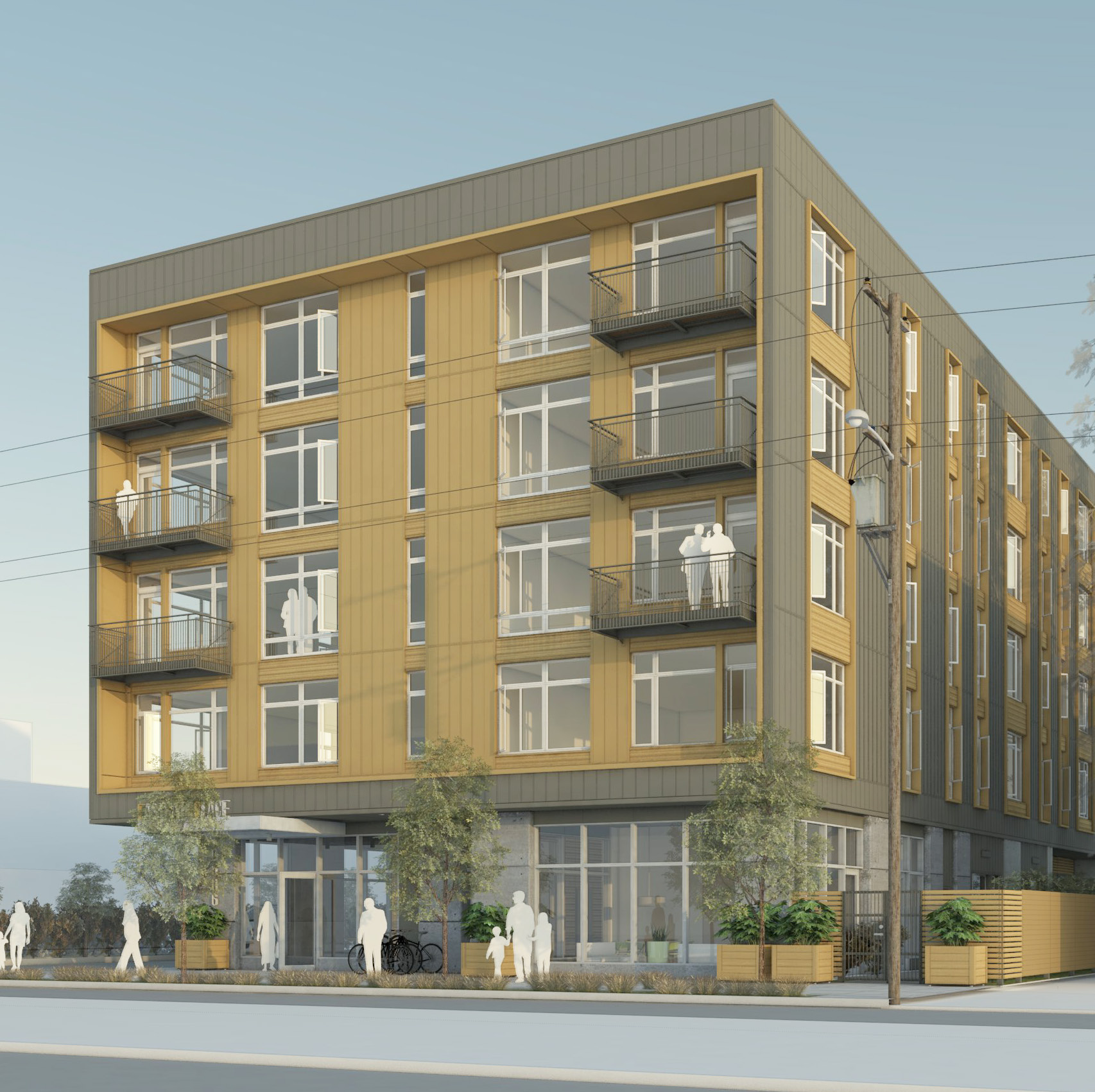 The project site is an 18,500 sq ft parcel at 10506 E Burnside, in the Hazelwood Neighborhood. A single family house was formerly located on the site, but was demolished in early 2015. The site is within the Gateway Plan District, which has a requirement that all major new developments must be reviewed by the Design Commission.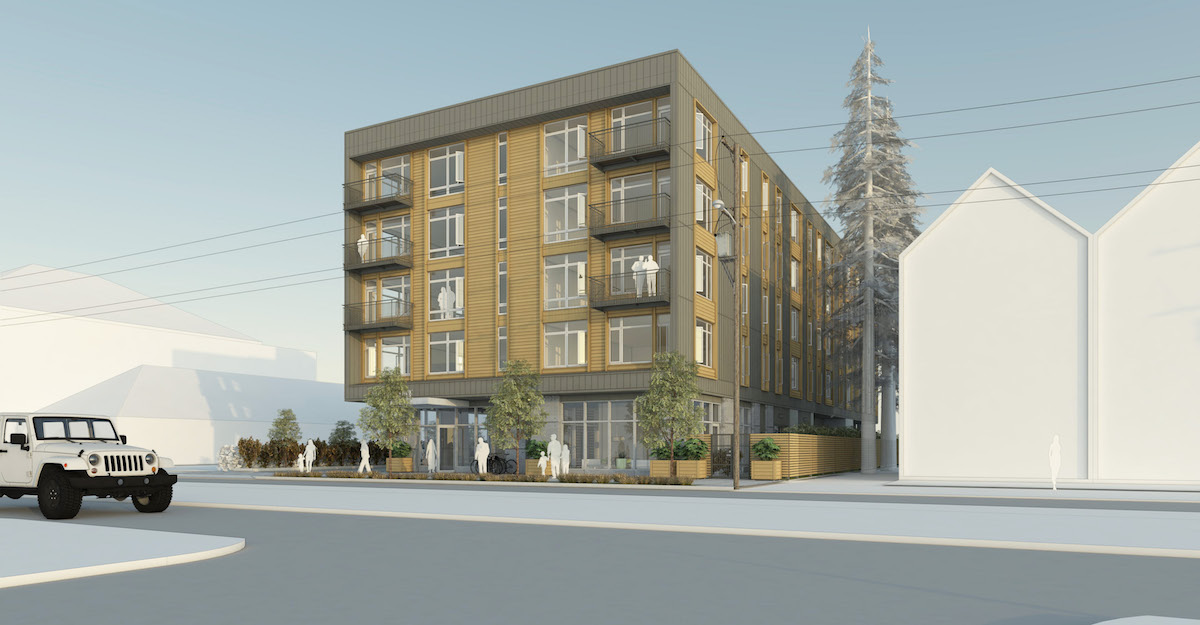 Primary materials for the building include cast in place concrete at the ground floor, and ribbed and flat metal panel systems at the upper floors. At the north elevation, as well as above and below the window at the other three elevations, a horizontal aluminum "Longboard" panel system will be used. The panel will be prefinished with a wood grain color and pattern.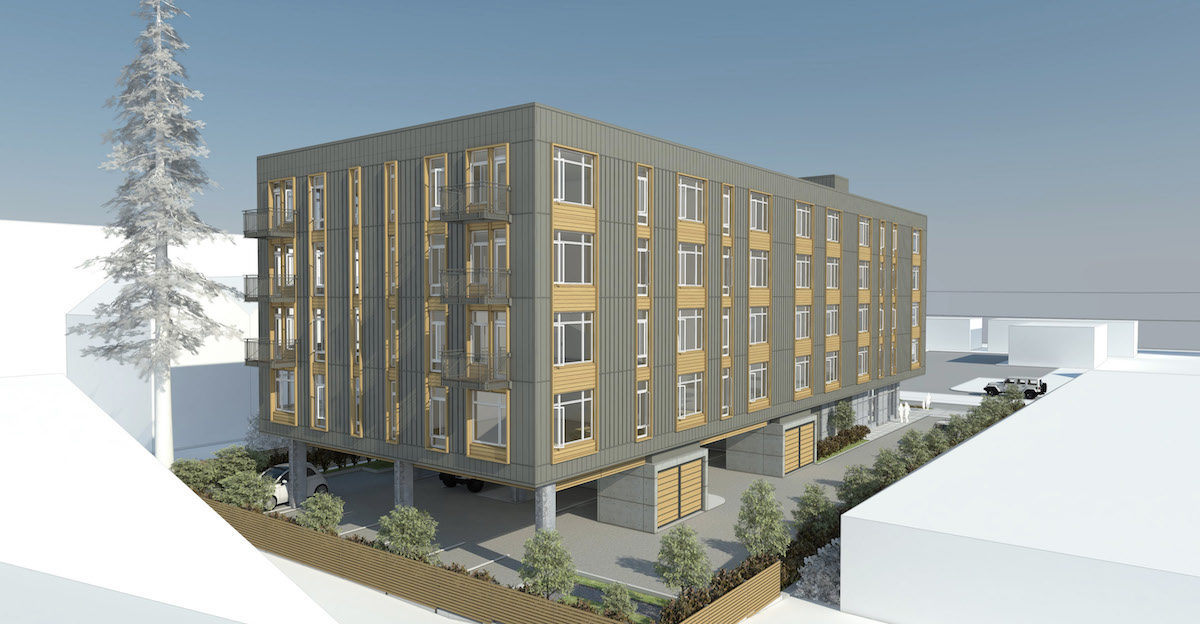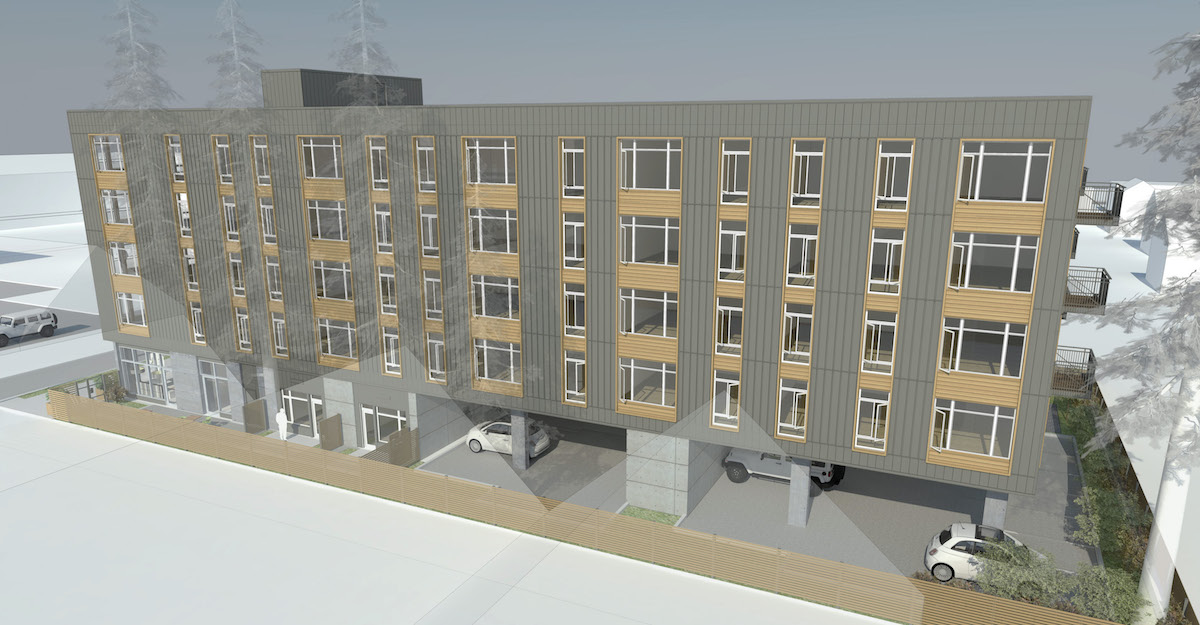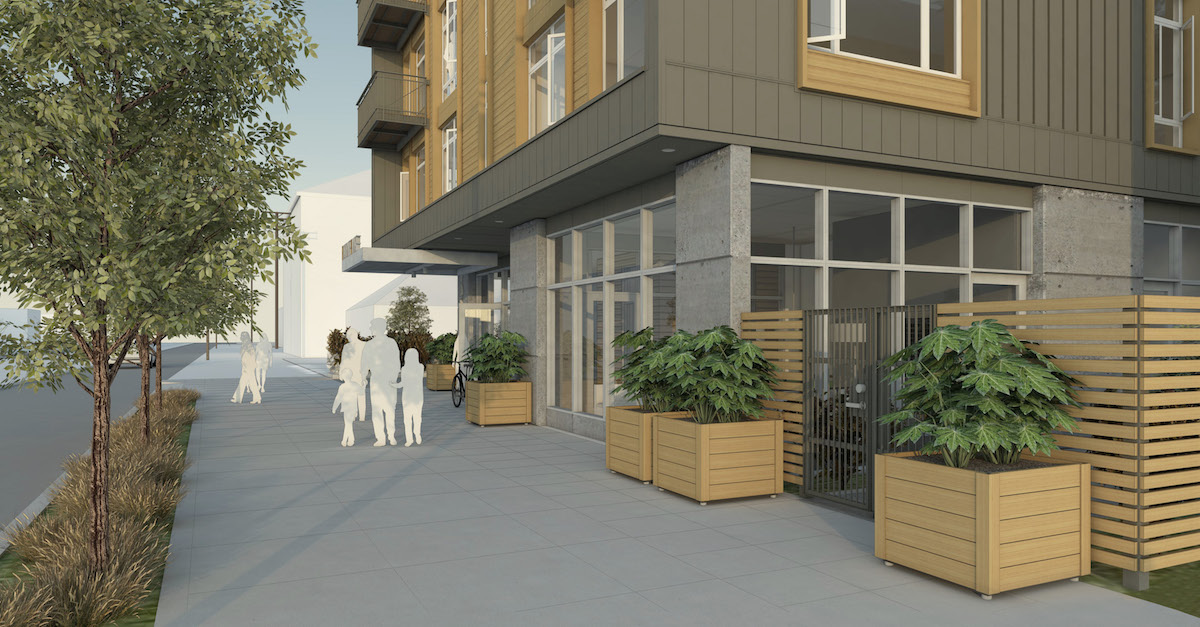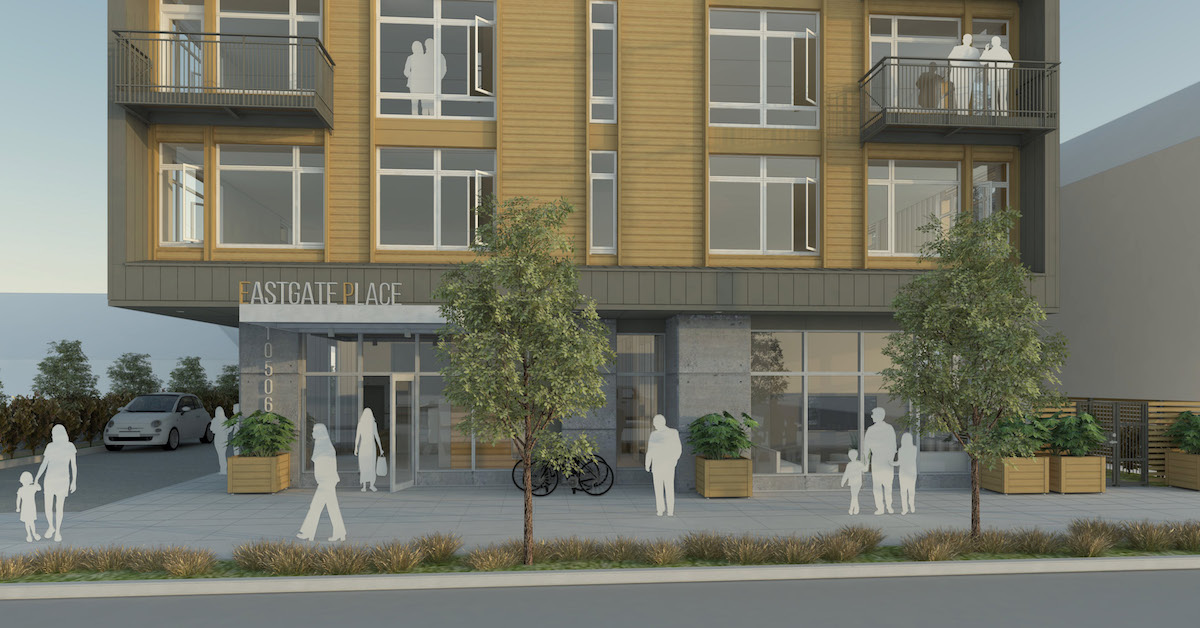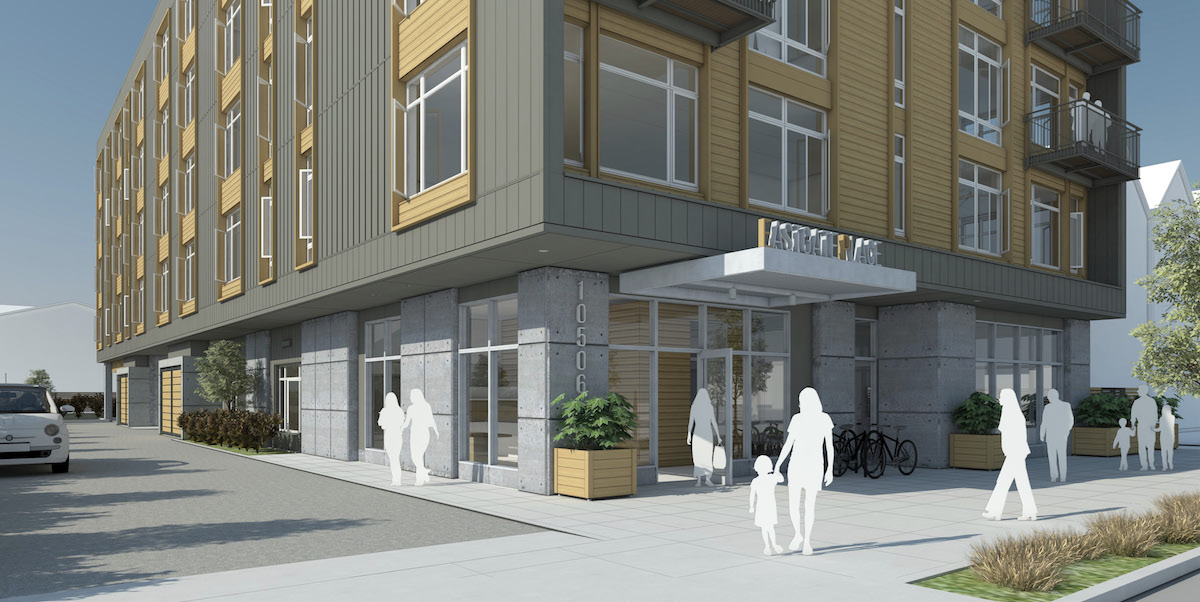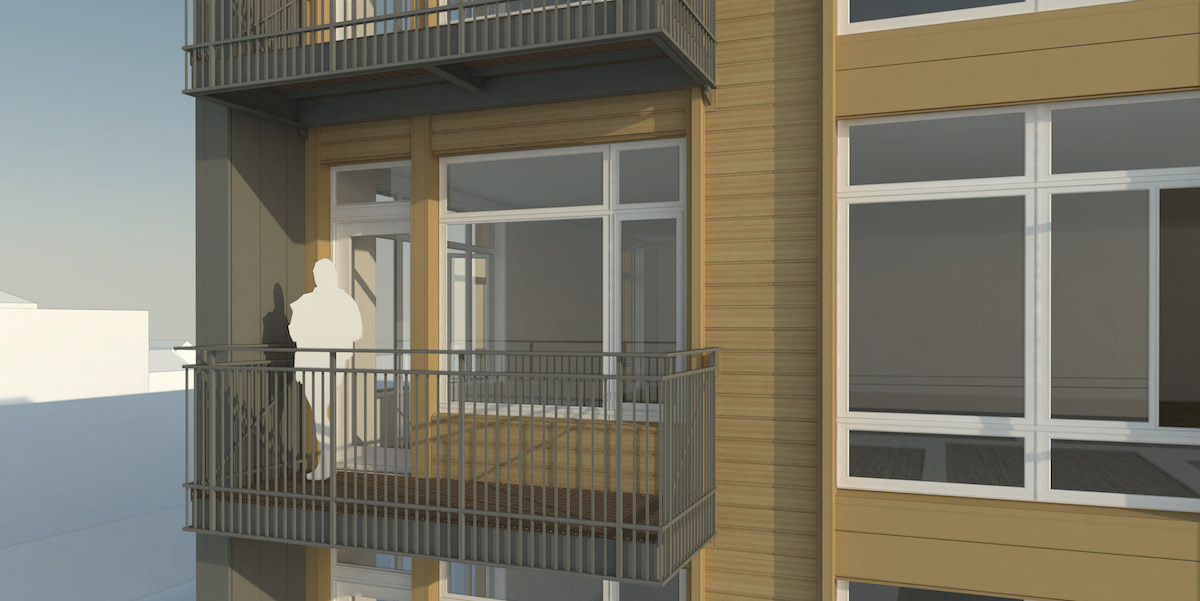 A Pre-Application Conference was held in March 2015 for an earlier iteration of the project, by different architects. The scheme that was submitted for Design Review kept the same basic layout on the site, but significantly altered the architectural expression of the building.
The project went before the Design Commission twice: once on May 19th 2016; and once on June 2nd 2016. Issues raised at the first hearing primarily related to the fence at the property line and to the composition of the north elevation. At their June 2nd meeting, the Design Commission voted to uphold the Staff Report [PDF] and approve the project, with conditions that the north elevation be revised as presented at the second hearing [shown in the first image of this post]. Before casting her vote, Commissioner Livingston complimented the project:
I think you've done a really nice job with a fairly dense building on this site, and that it will be a great benefit to the neighborhood. I like the fact that it does not mimic… it's not a large multifamily structure that is mimicking a small single family structure. So thank you for that. I think it's a good addition to the neighborhood.
Commission Chair Wark added to Commissioner Livingston praise, drawing positive comparisons between this project and others that have been approved in the area:
I would say relative to the other development that we've seen in Gateway, this is a really tightly organized and disciplined response. I think it elevates the quality of the Gateway projects, so well done there.
Building permits will need to be applied for before work can begin on site.
Drawings