This is an updated version of a post originally published on December 4th 2015.
Construction is underway on a new 10 story hotel in the Pearl District by ZGF Architects. The hotel will be operated by PM Hospitality Strategies under the Canopy brand, a new addition to the Hilton portfolio of brands. The developer for the project is the Buccini/Pollin Group. The 128'-8" tall building will include 153 guest rooms. No vehicular parking is proposed.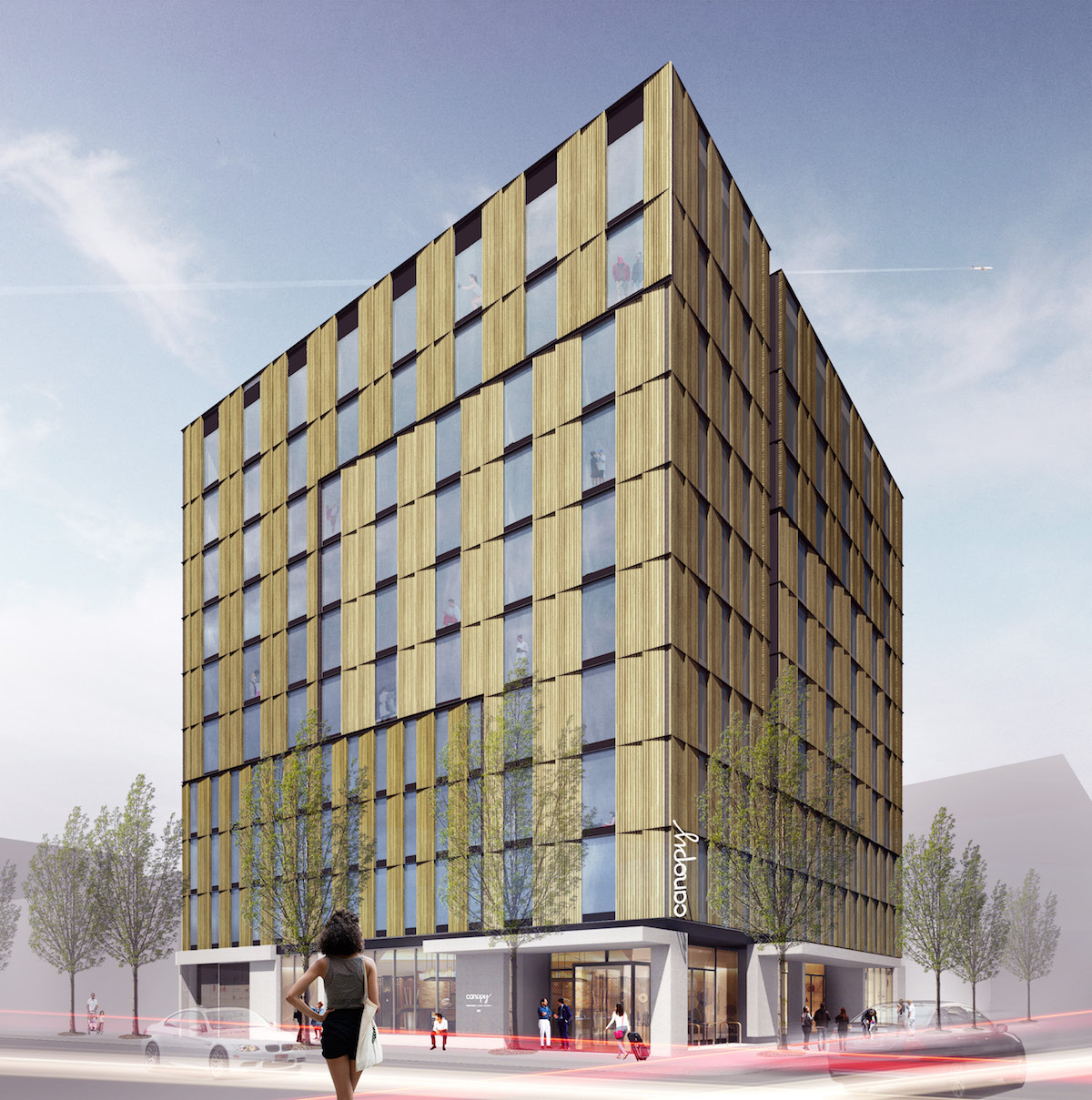 The location for the new hotel is at NW 9th and Glisan. The quarter block site was previously occupied by a single story warehouse building, built in 1938 and owned by Menashe Properties. The building was most recently occupied by the Partners in Time store. The quarter block immediately to the west of the project is the site proposed for Framework, a 12 story wood building by Lever Architecture that is currently going through Design Review.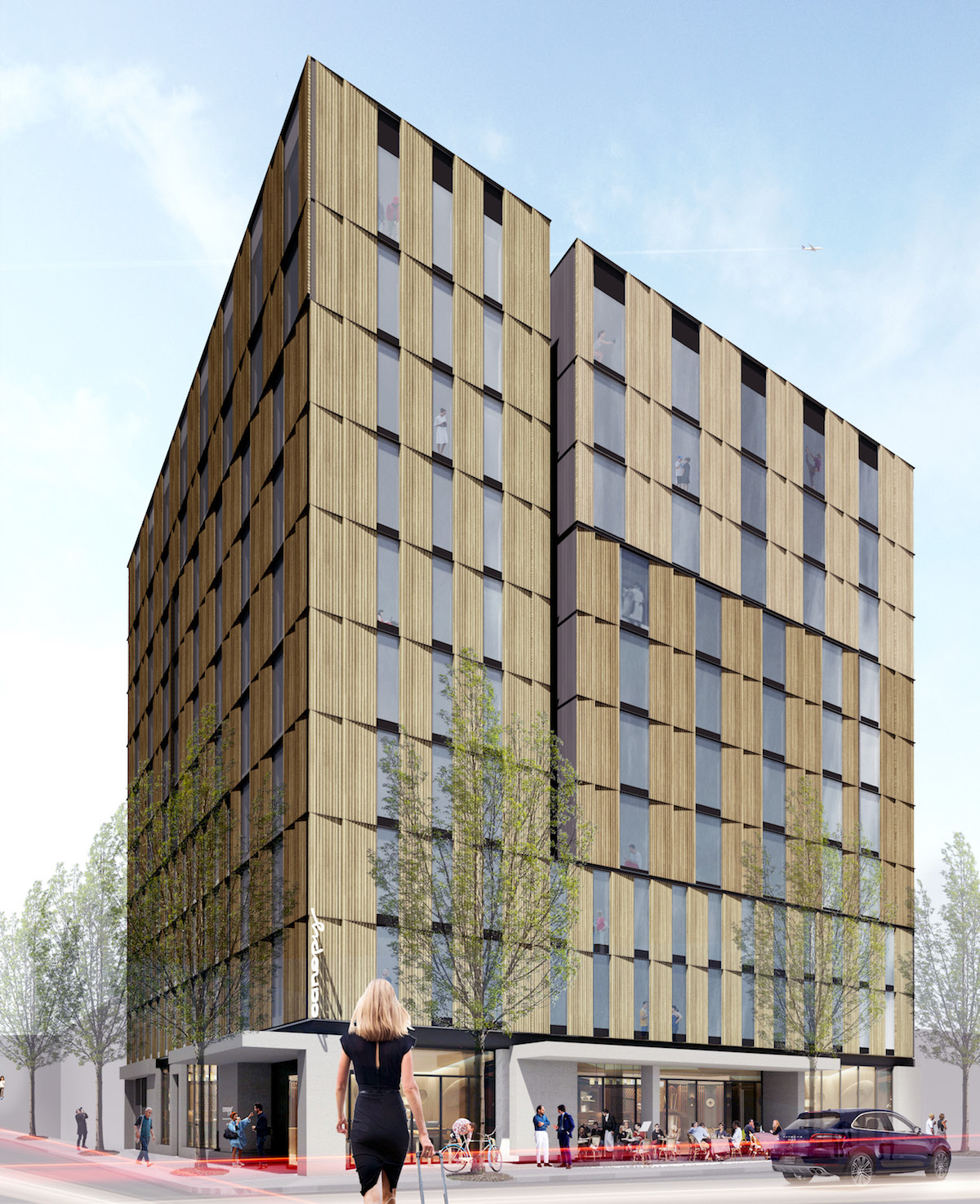 At the ground level the hotel will include the lobby and a cafe/bar, with exterior seating facing NW Glisan St. A wide staircase will lead down from the cafe into a double height "winter garden" at the basement, with adjacent meeting rooms. Back of house functions such as the kitchen and housekeeping are also proposed for the basement. When presented to the Design Commission in June the project had a locker room and fitness area at the ground level facing NW 9th Ave, which drew strong criticism. In response the fitness room has been moved to the roof, and a "gallery" created facing NW 9th Ave, intended to the respond to the Pearl's art gallery row.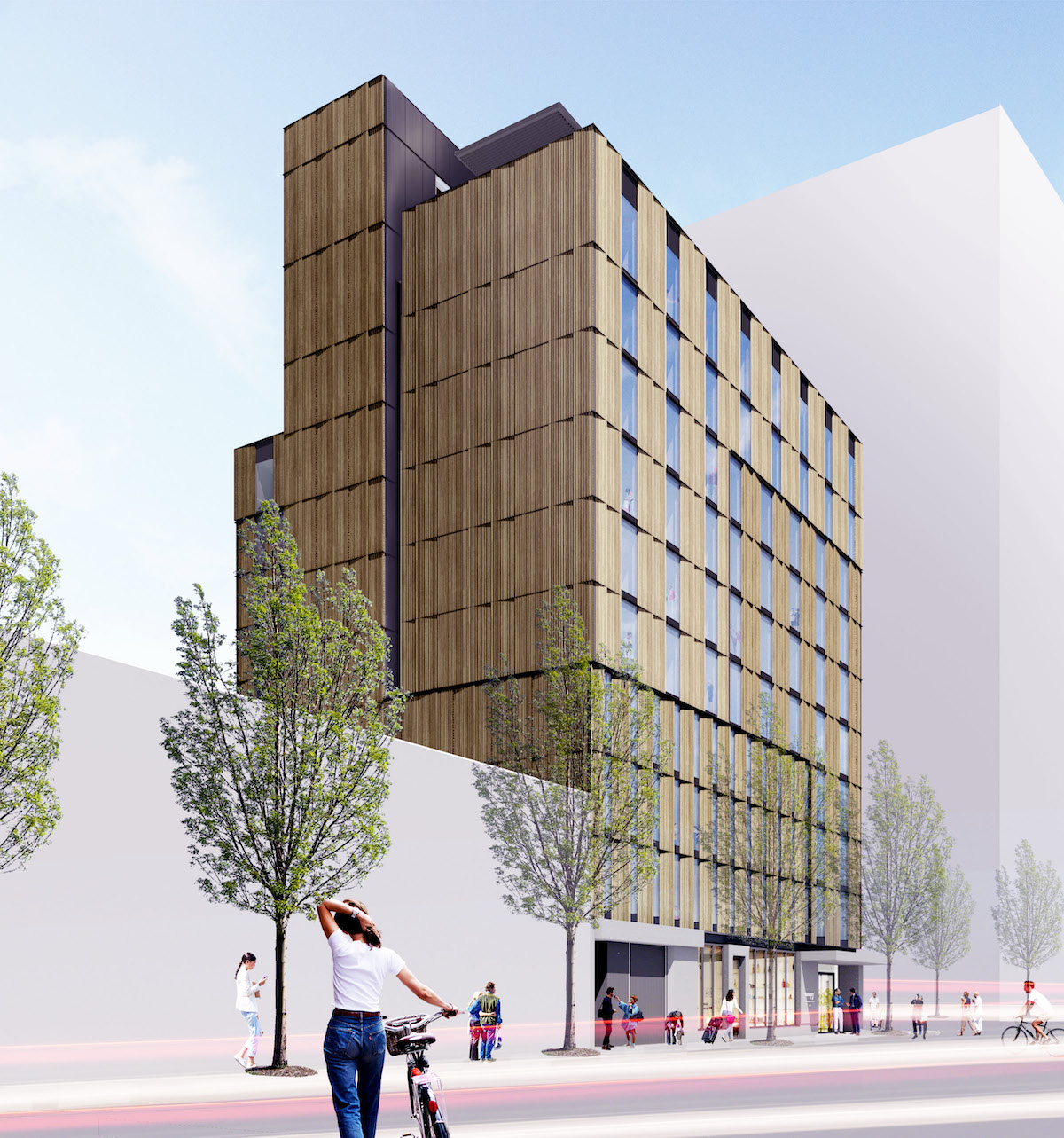 The primary material for the project will be a custom coated folded metal panel by Japanese manufacturer Pure + Freeform. Aluminum windows are proposed for the ground level and fiberglass windows for the hotel rooms. A ribbon of cast-in-place concrete will wrap around the ground floor storefront windows and form the canopies over the street.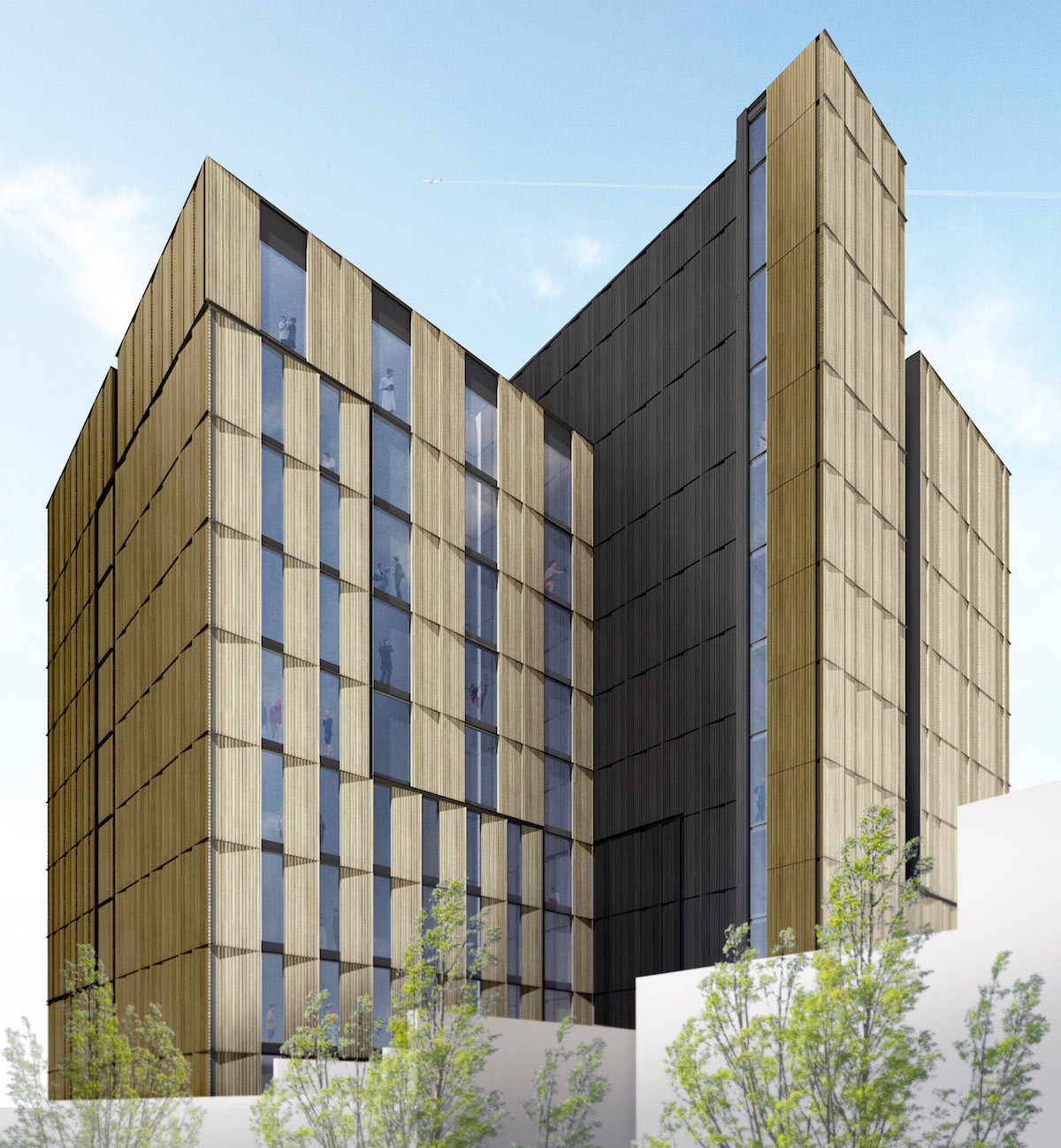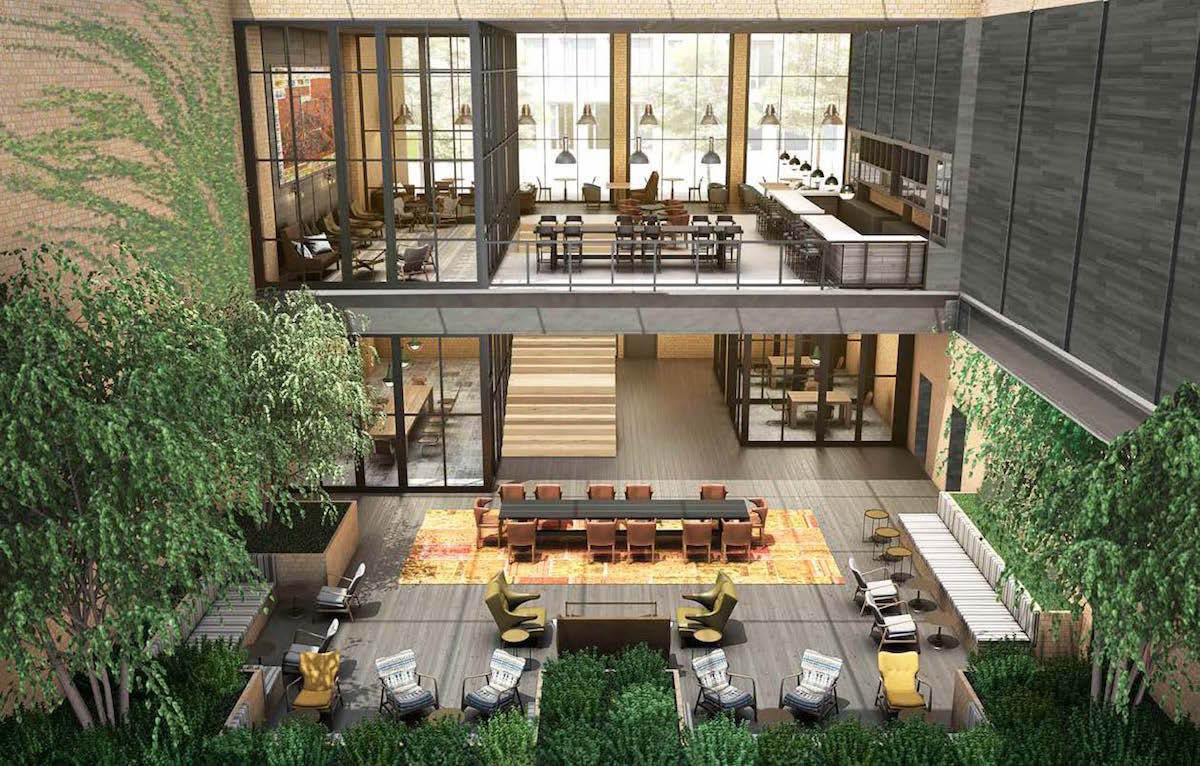 At the Canopy Hotel's first Design Review hearing on November 19th the Design Commission voted 4-0 to uphold the Staff Report [PDF] and approve the project. Conditions were added requiring a door to the street from the ground level gallery; that a 5′ wide canopy of the same material and depth as the other canopies be added along NW 9th Ave; and that the bronze metal panel be used on the west elevation behind the staircase. At the applicants request a condition was also added that allows a less expensive metal panel to be installed on the west property line elevation, as long as the proposed Framework building is under construction with an approved design that will entirely mask the wall.
The existing building on the site was demolished in June 2016. A building permit for the Canopy Hotel was issued later the same month. The estimated opening date for the hotel listed on Hilton's website is "late 2017".
Plans and Elevations