This is an updated version of a post written by Kurt Sevits, and originally published on December 3rd 2015.
Construction has started on the NW 21st & Irving Apartments, a 4-story mixed use building by Emerick Architects for Urban Development Partners. Plans call for 57 residential units over 10,722 sq. feet of ground-floor commercial space. Being situated in the historic Alphabet District of Northwest Portland, the development required a review by the Historic Landmarks Commission.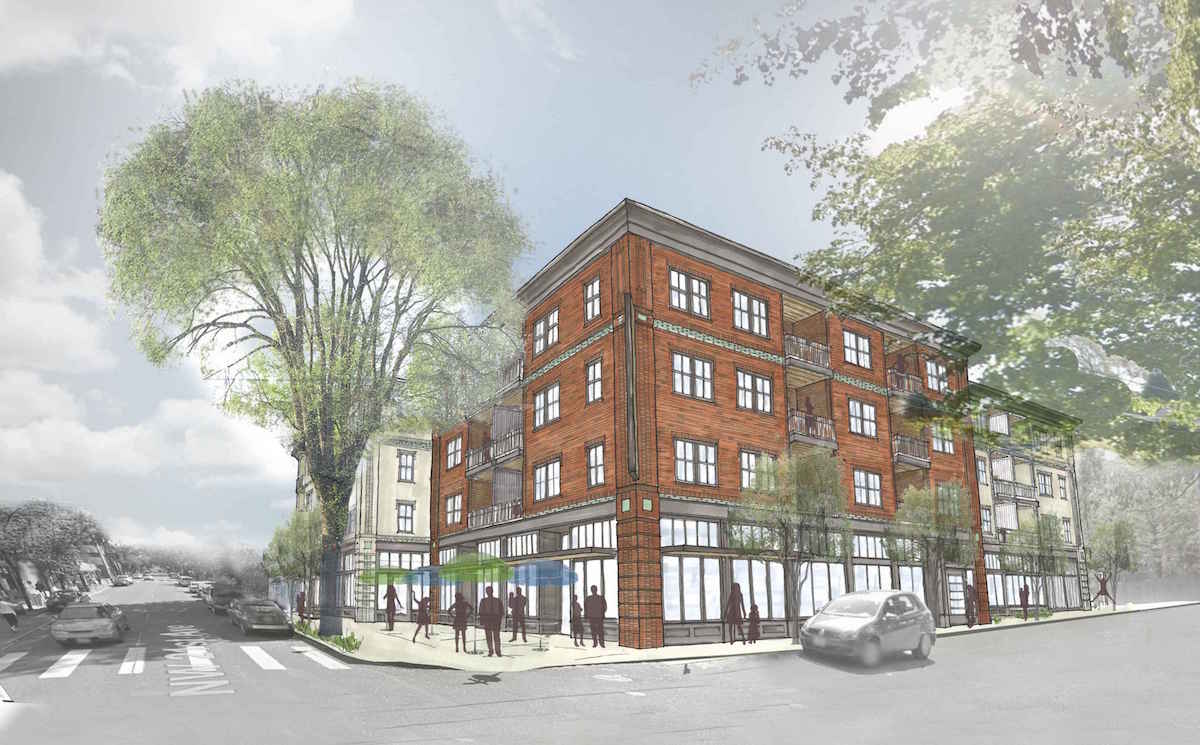 The building will be located at 635 NW 21st Ave, a lot that most recently housed a vacant 1-story building that once served as the Gypsy Restaurant and Velvet Lounge. The lot also includes a surface parking lot that surrounds the current building, as well as two undeveloped parcels to the west.
The NW 21st & Irving Apartments development comprises three distinct but connected structures that will contain a total of 57 residential units. The corner section of the building will be set back along NW 21st Avenue to preserve an Elm tree between the sidewalk and the street. This setback is intended to serve as a patio space for outdoor dining or another similar use. The developers have requested the use of historic cobblestones for the patio space, which totals 784 square feet.
The portion of the building that sits on the corner will be clad in brick, while the other two sections will be clad in concrete plaster.
Though parking is not required for the development, the building will include below-grade parking that will be accessed from the westernmost point of the building. The parking garage will include 40 standard spaces, 15 compact spaces, 6 spaces specifically for smart cars and 2 for motorcycles.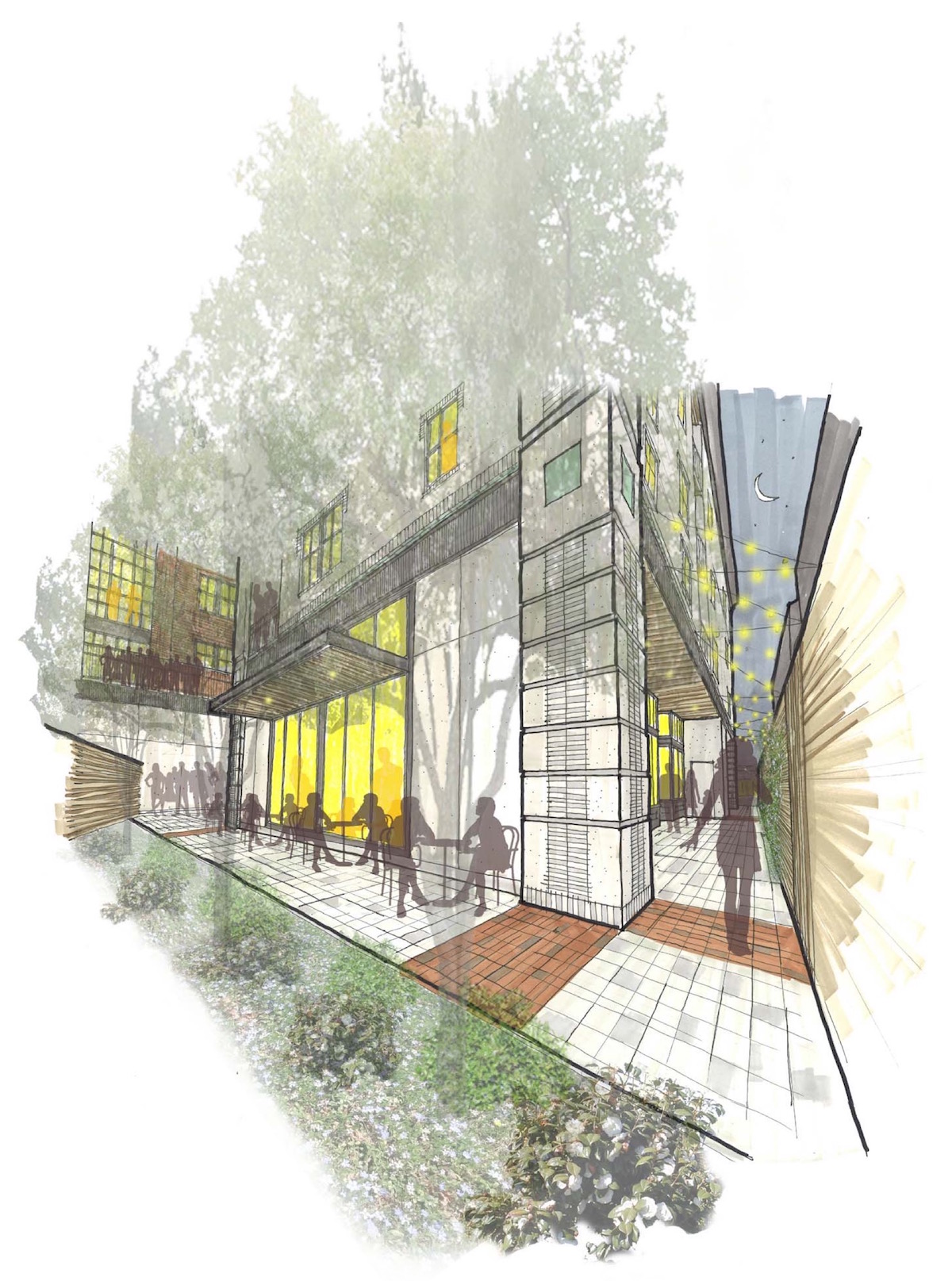 The developers have also proposed a 51-square-foot sign on the northeastern corner of the building. Bureau of Development Services staff initially requested revision to make the sign smaller, but the Historic Landmarks Commission found that the sign, though large, is high quality and of an appropriate scale for the neighborhood.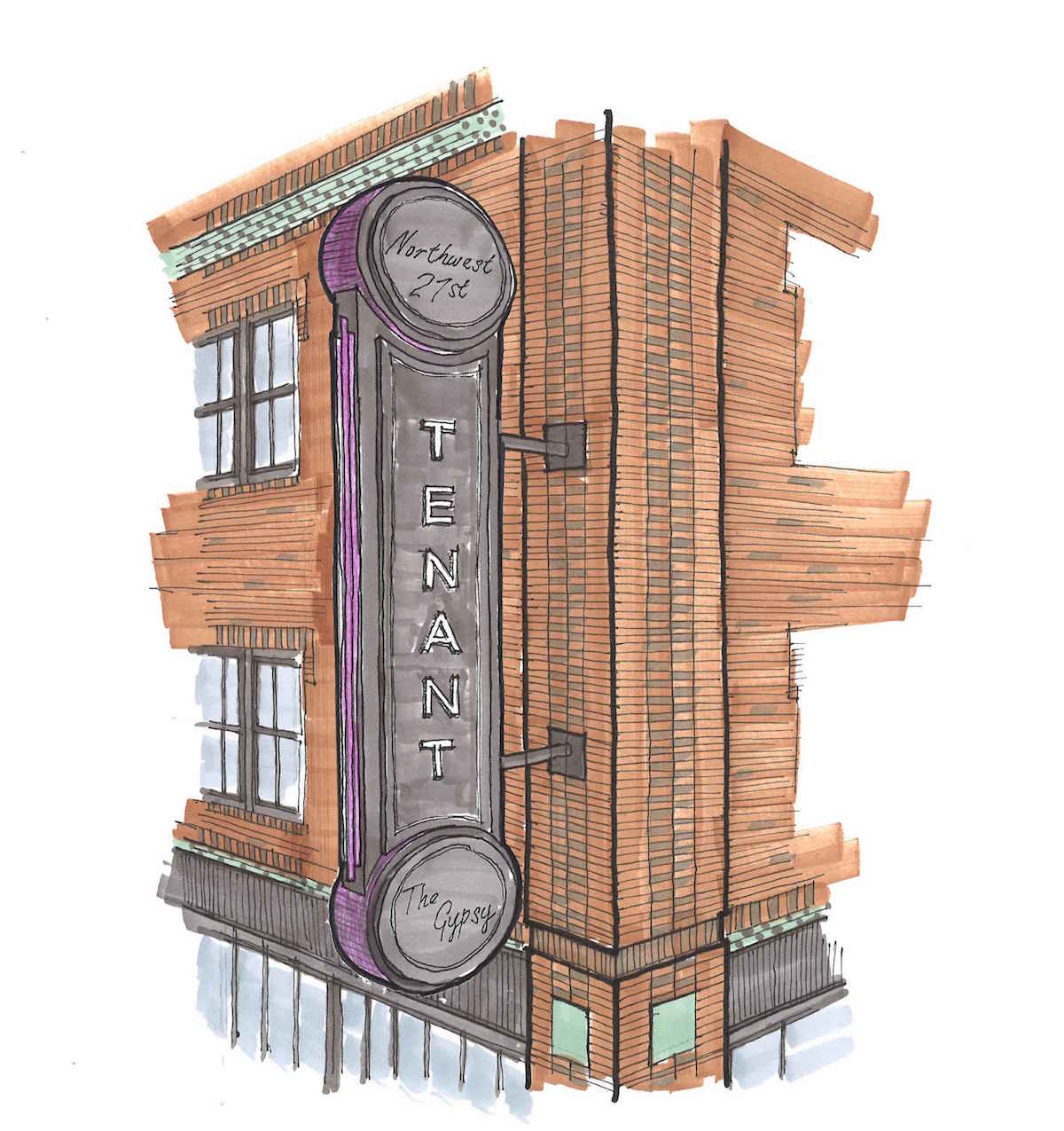 In its approval decision in November 2015, the Historic Landmarks Commission said the NW 21st & Irving Apartments proposal is styled in such a way that it complements the district and doesn't stand out much from the other buildings in the neighborhood, with a proposed height that matches that of surrounding buildings and materials that blend in:
The proposed building is properly scaled with regard to the historic district and will provide a built example of how to design a new building on a larger site to be compatible with the scale of the historic district.
A building permit for the project was issued on August 4th, 2016.
Plans and Elevations