A mixed use development on Old Town Chinatown Block 33 has gone before the Historic Landmarks Commission to receive Design Advice. The project by William Kaven Architecture for developer Guardian Real Estate Services would include retail, residential and offices uses, over three levels of below grade parking. The ground floor of the building would be almost entirely retail, while the four stories above it would be occupied by office space. The top five floors would include approximately 167 apartments units, with a mix of affordable and market rate units.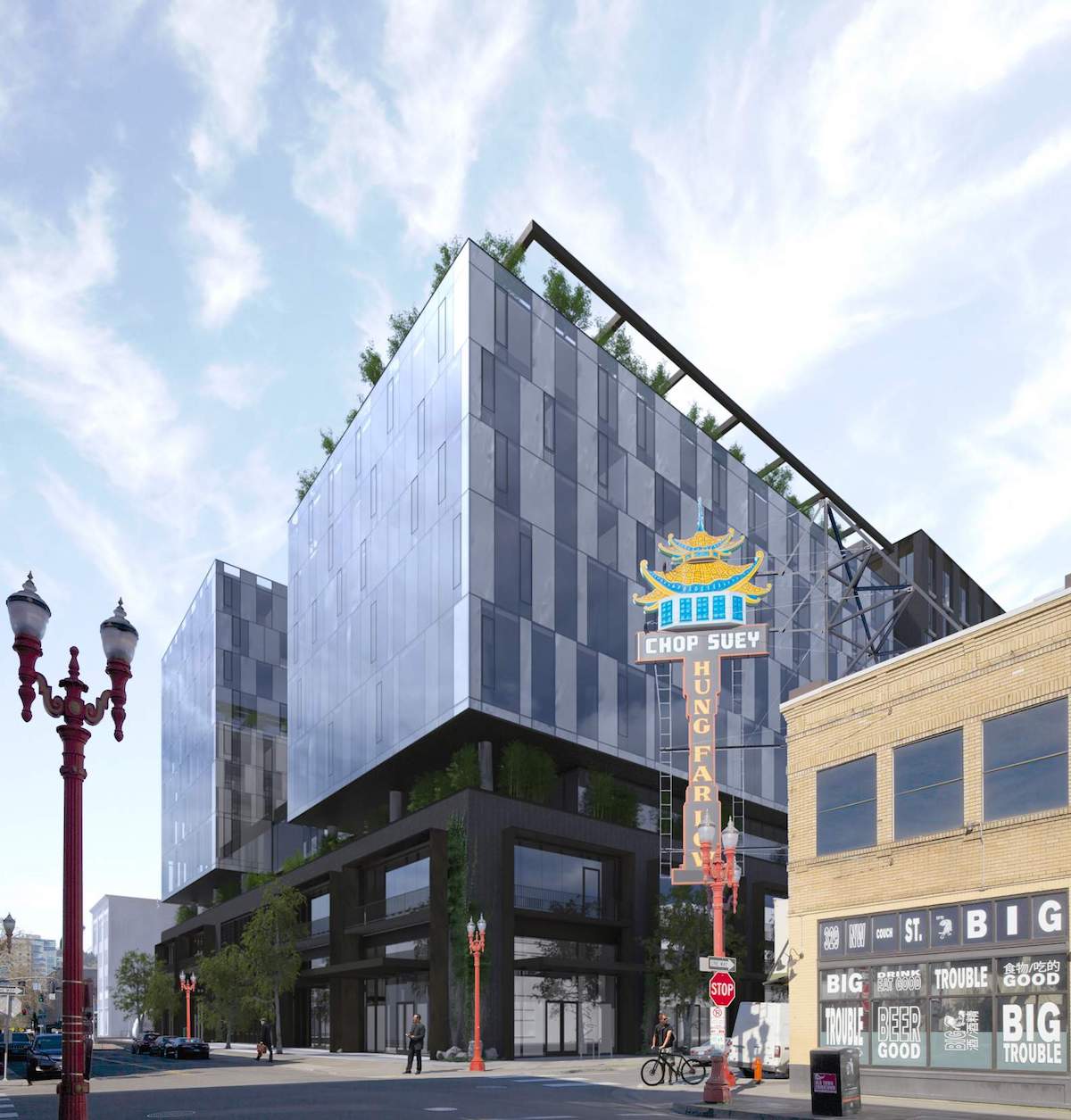 The project site is a full block, bound by NW 4th Ave, Davis St, 5th Ave and Couch St. It is located inside the New Chinatown/Japantown Historic District, which has been listed on the National Register of Historic Places since 1989. The site has been used as surface parking for decades.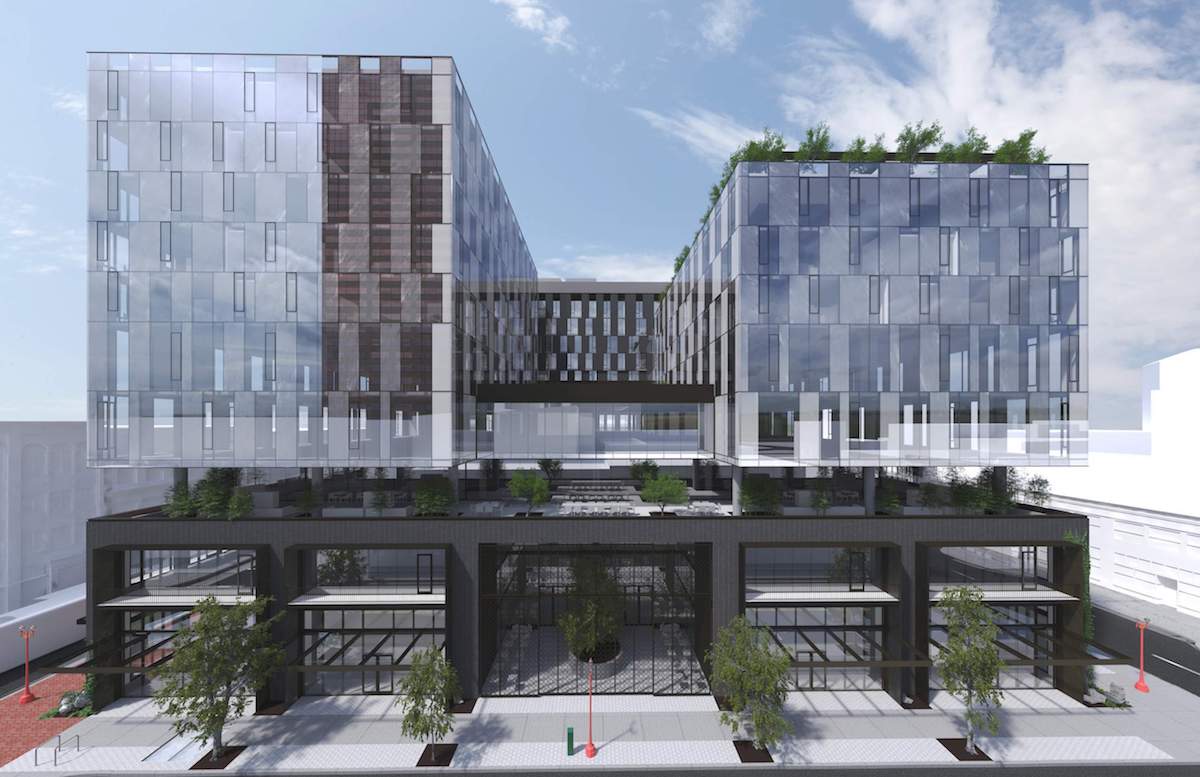 The building would be arranged in a U shape, with a south facing courtyard at level 5. Exterior landscaping, designed by Lango Hansen, is proposed at levels 1, 3, 5 and 9. Proposed exterior materials include brick, aluminum curtain wall, aluminum storefront, and metal panel.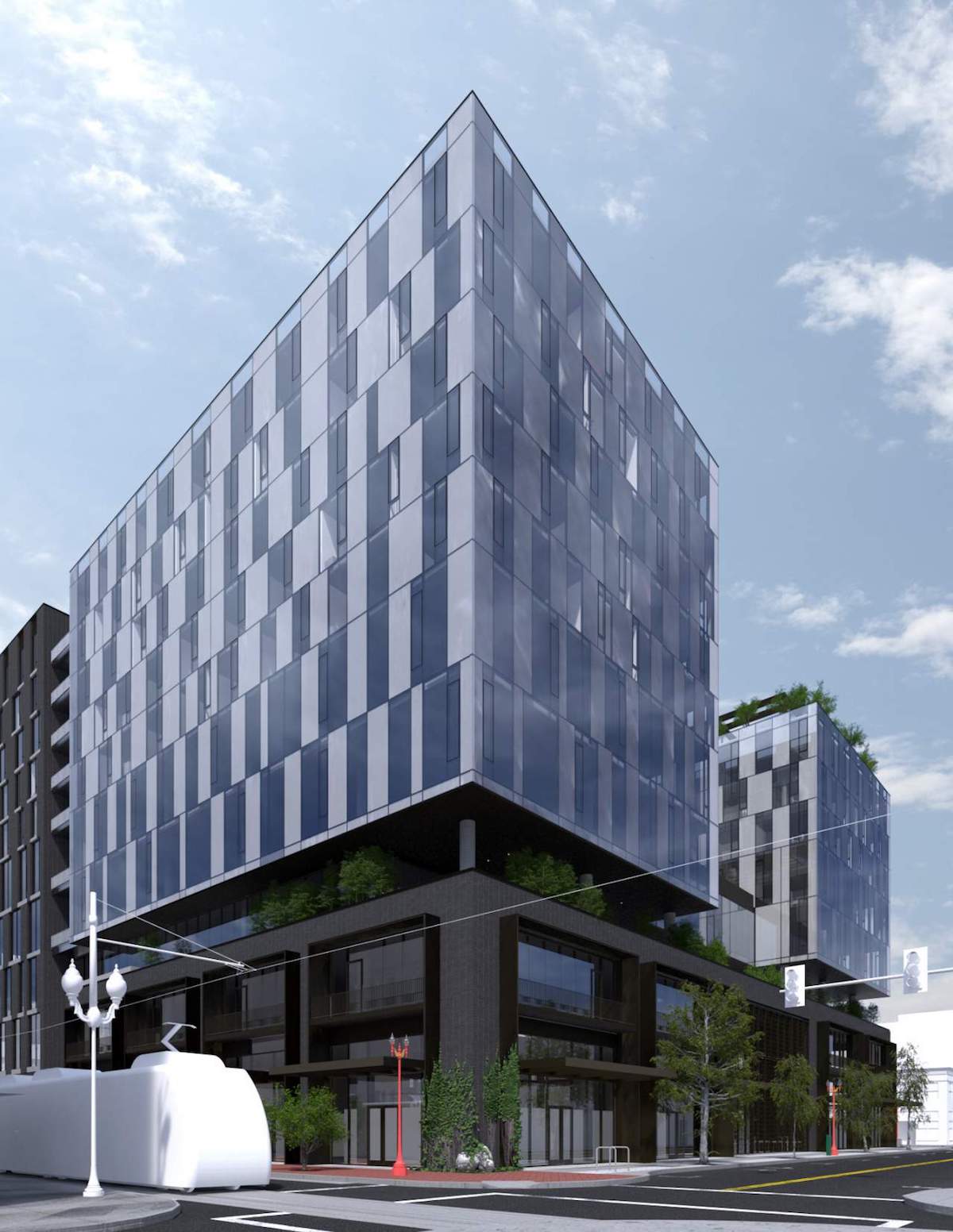 As currently proposed the project reaches a height of 125′, which exceeds the 100′ maximum height currently allowed on the site. Under the proposed Central City 2035 Plan—currently at the Planning and Sustainability Commission and set to go before City Council this spring—the allowable height on Block 33 would rise to 125′. For the project to make use of that increased height it would need to be submitted for review under the new code, which is set to come into effect in 2018. If the project is reviewed against the current code it would be limited to 100′ in height.
At the corner of NW 5th and Davis one of the commercial lease spaces is being designed by accommodate a restaurant, with a recessed outdoor seating area facing the transit mall.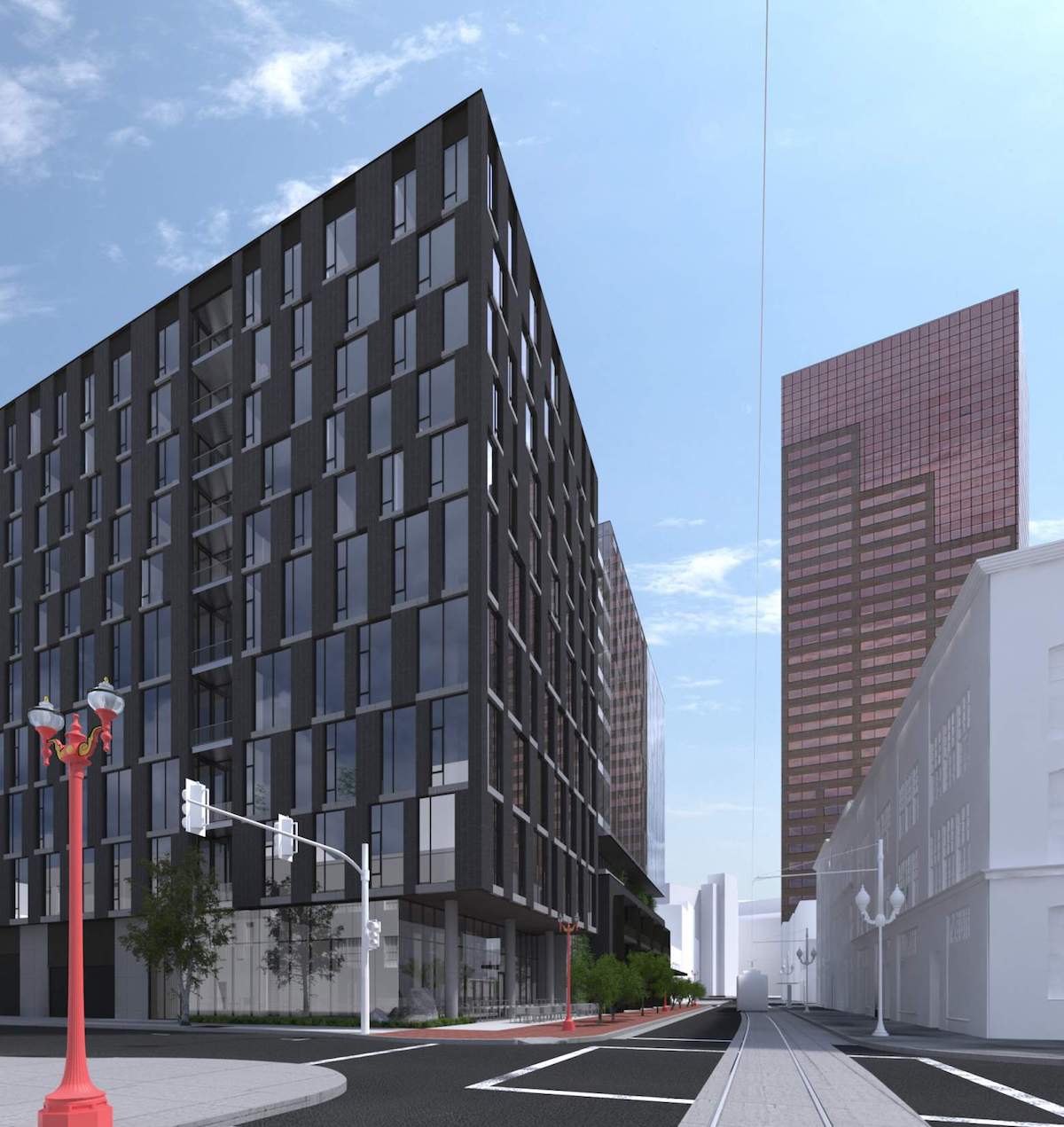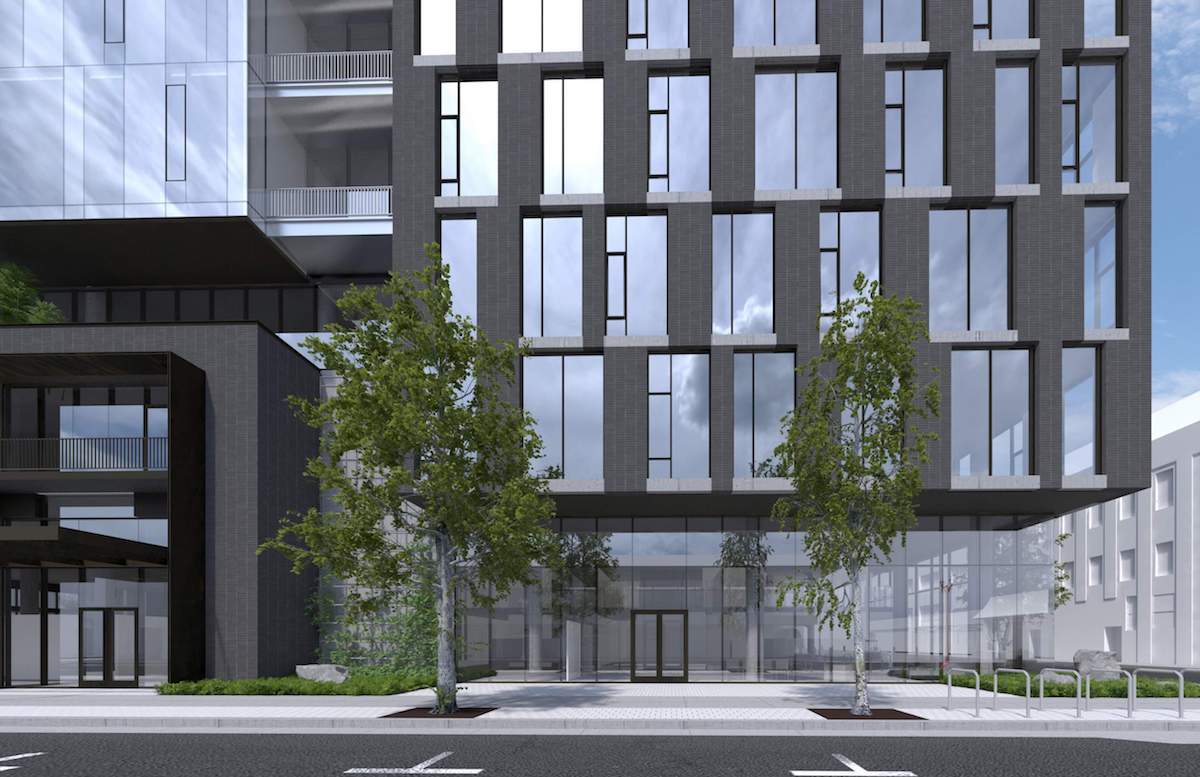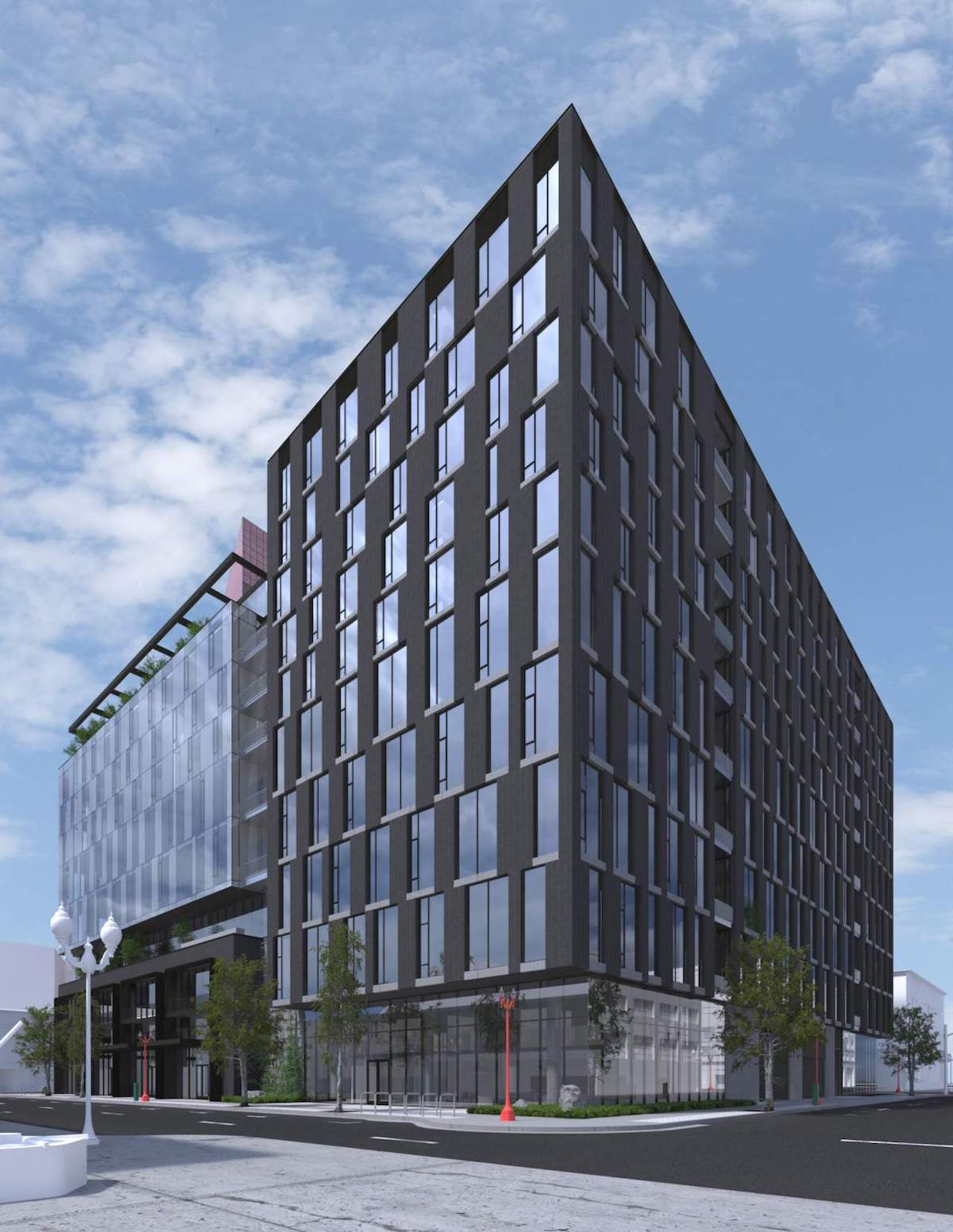 A memo to the Historic Landmarks Commission, published before the January 13th advisory hearing, outlined potential areas for discussion. These included: the compatibility with the historic district, which is primarily comprised of shorter, partial block buildings; the materials proposed; and the ground level treatment. Much of the discussion centered around the scale and massing of the building, with Commissioners noting that although there are some building that reach the 100′ maximum height (including the Grove Hotel, approved by a split decision) none of them occupy a full block. During the hearing Commissioner Minor offered her thoughts on the scale of the project:
I guess I have some comments just about massing, and that does include height, obviously. It's part of our discussion about compatibility. I would definitely counsel the applicant to look more carefully at the forms in the district, especially those of the contributing buildings. They're pretty simple. They're blocky. The historic lot divisions were generally no more than about a quarter block, although historically I know that there were at least a couple half block buildings. I certainly wouldn't be opposed to seeing a mass that is up to a half of a block. But I am not convinced right now by the massing that tries to divide the building up into a plinth with then some kind of pieces overhang in some cases, or are at least coplanar with that lower plinth. If you are going to try to push the height limit envelope here–and I'm trying to re-gauge down to 100′–there is one contributing building which is at 90′ [the Mason Ehrman Building / PDC building]. I think you have an opportunity there to make a fairly direct relationship, and get yourselves perhaps that 100′, and have it look like you've really studied that building. You do need to do a lot more context study. You need to come in and show us, one-to-one, these are the size of storefront bays, for instance, instead of showing these kind of gargantuan bays. It's not reflective of the district. You need to have a much more fine grained understanding of the scale and proportion of the building at the ground level especially.
Old Town Chinatown Block 33 is currently scheduled to return in front of the Historic Landmarks Commission for a second Design Advice Request Hearing on April 10th.
Drawings