The Design Commission has approved a mixed income residential development at SW Park and Columbia. The 7 story building by GBD Architects for developer BPM Real Estate Group will include 73 residential units. One third of the units will be designated as affordable to those earning 80% of area Median Family Income (MFI) or less. Parking for 11 cars and 111 bicycles (including 2 oversize bicycles) will be provided.
The quarter block site, seen below in November 2015, is currently owned by the Goodman family controlled Downtown Development Group. Until recently it was used as surface parking, and is today being used as a staging area for the construction of the adjacent Broadway Tower.

In order to gain approval for the Floor Area Ratio (FAR) transfer used at the Broadway Tower, BPM Real Estate Group agreed to build an adjacent residential building of at least 60 units, with 33% of the units being reserved for people earning up to 80% of Portland's MFI. The affordability requirements will remain in effect for at least 40 years.  The developer also agreed to donate $375,000 to the Parks Foundation by June 1st 2017, to be used exclusively for the development of a South Park Blocks master plan. This will identify improvements to the existing Parks Blocks, such as vegetation management, ADA improvements, and lighting.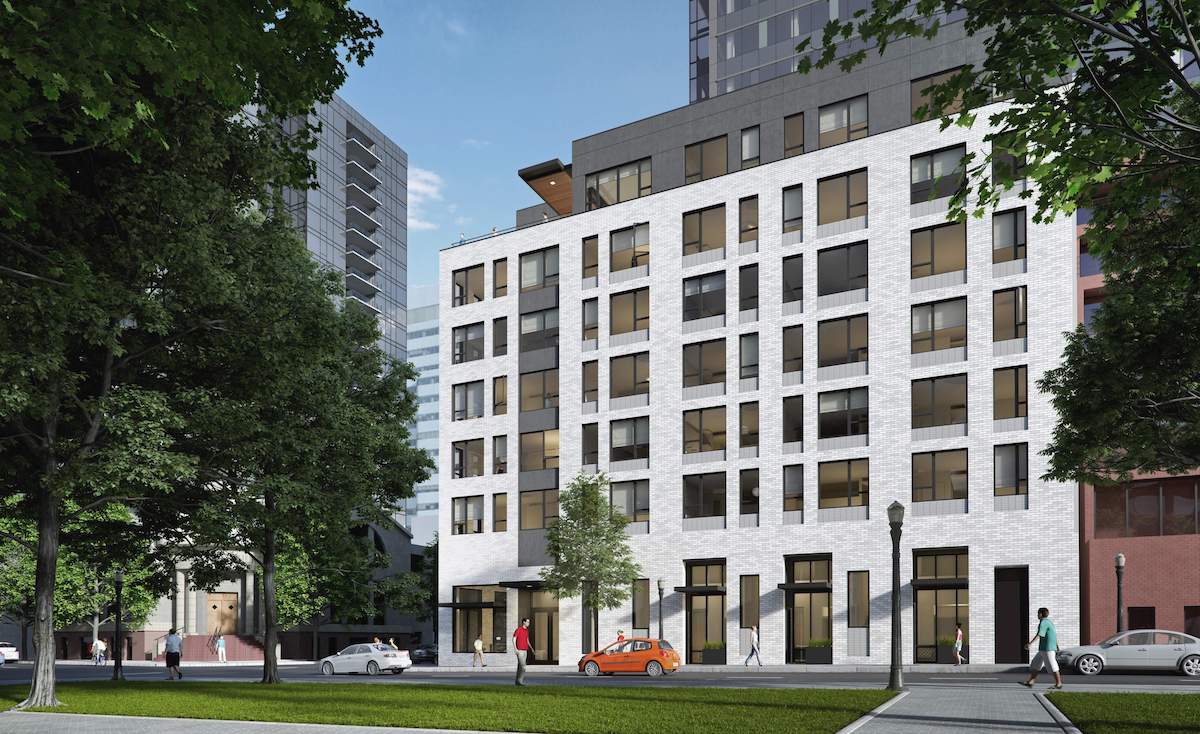 Materials proposed for the building include: white and grey brick, in a running bond pattern at the main body of the building, and in a stacked bond pattern below the windows; dark grey precast concrete panels; painted steel canopies; aluminum clad wood windows; and aluminum storefront windows.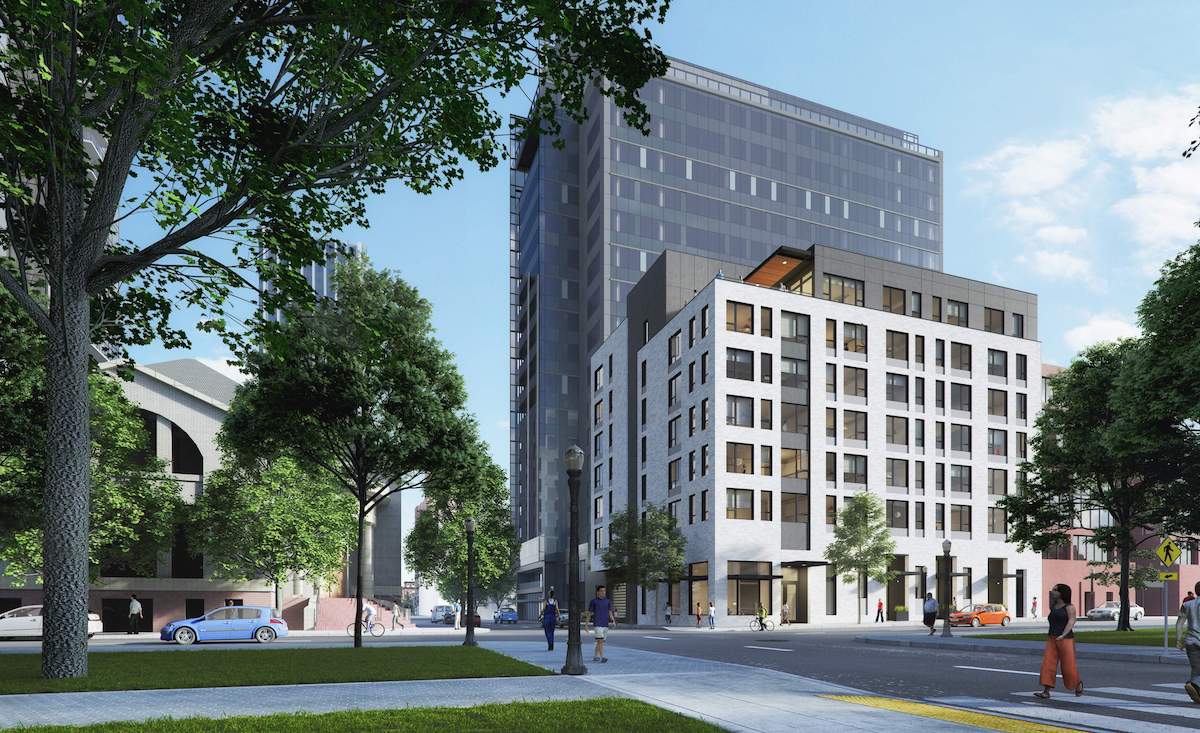 At the corner of the building on level 7, where the dark concrete form steps back, a rooftop deck and community room will be provided for the use of the residents.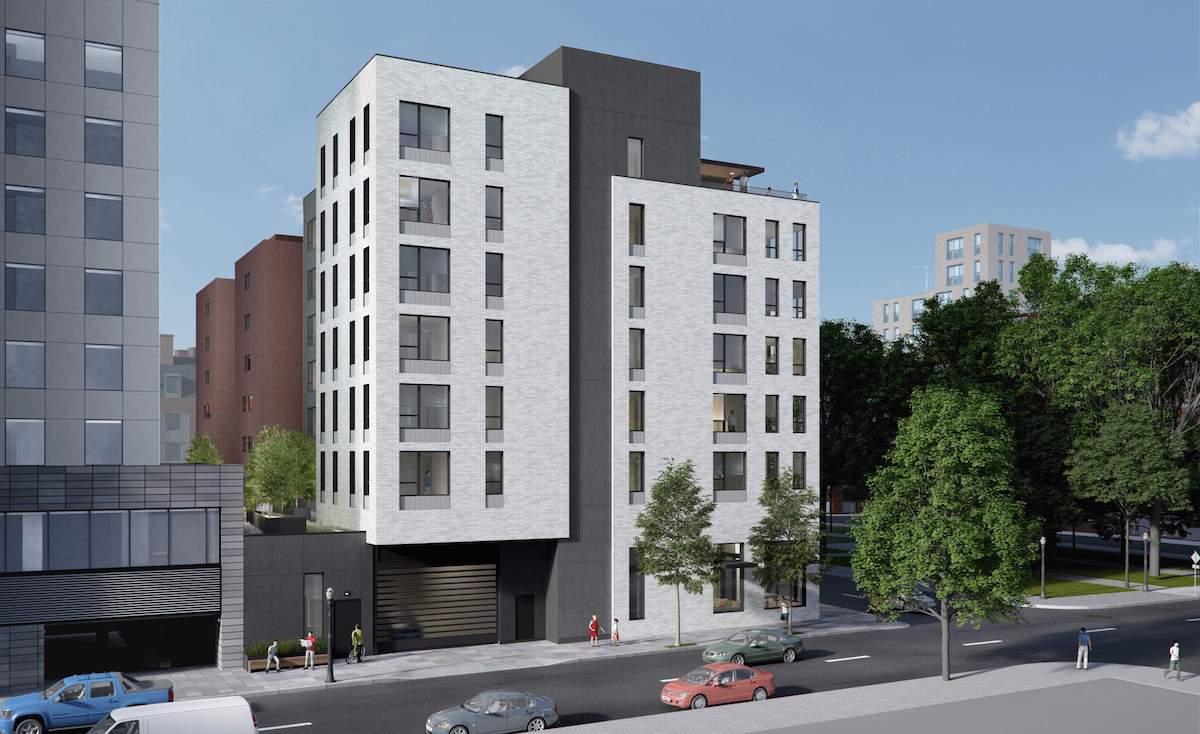 The project was unanimously approved at its first Design Review hearing, held on February 16th 2017. As summarized in the Final Findings And Decision By The Design Commission [PDF] the project as a whole drew strong praise from the Commission, tempered by reservations about the ground level:
The Design Commission unanimously praised the elegant massing, material palette and overall contextual response to the Park Blocks location. However, they had concerns about street-level residential units and whether they would contribute to a vibrant pedestrian environment. Additional concerns centered on the inactive midblock condition on SW Columbia resulting from the location of the proposed parking garage entrance beside the previously approved parking garage entrance at the adjacent Broadway Tower. The Commission (5-0) accepted the staff report of approval with conditions and added two conditions; two members of the Commission [Wark and Savinar] abstained.
Under the terms of the approval for the Broadway Tower, construction permits for the SW Park and Columbia residential building need to be obtained before the Certificate of Occupancy is obtained for the tower. The residential building is required to be substantially completed by June 30th 2020.
Drawings