A proposed hotel at SW 10th & Alder has gone before the Design Commission to receive Design Advice. The 11 story hotel, designed by DLR Group for Graves Hospitality, will be operated as a Moxy Hotel, a new brand by Marriott International. The building will rise to a maximum height of 136′, and will include 179 guest rooms. No vehicular parking is proposed.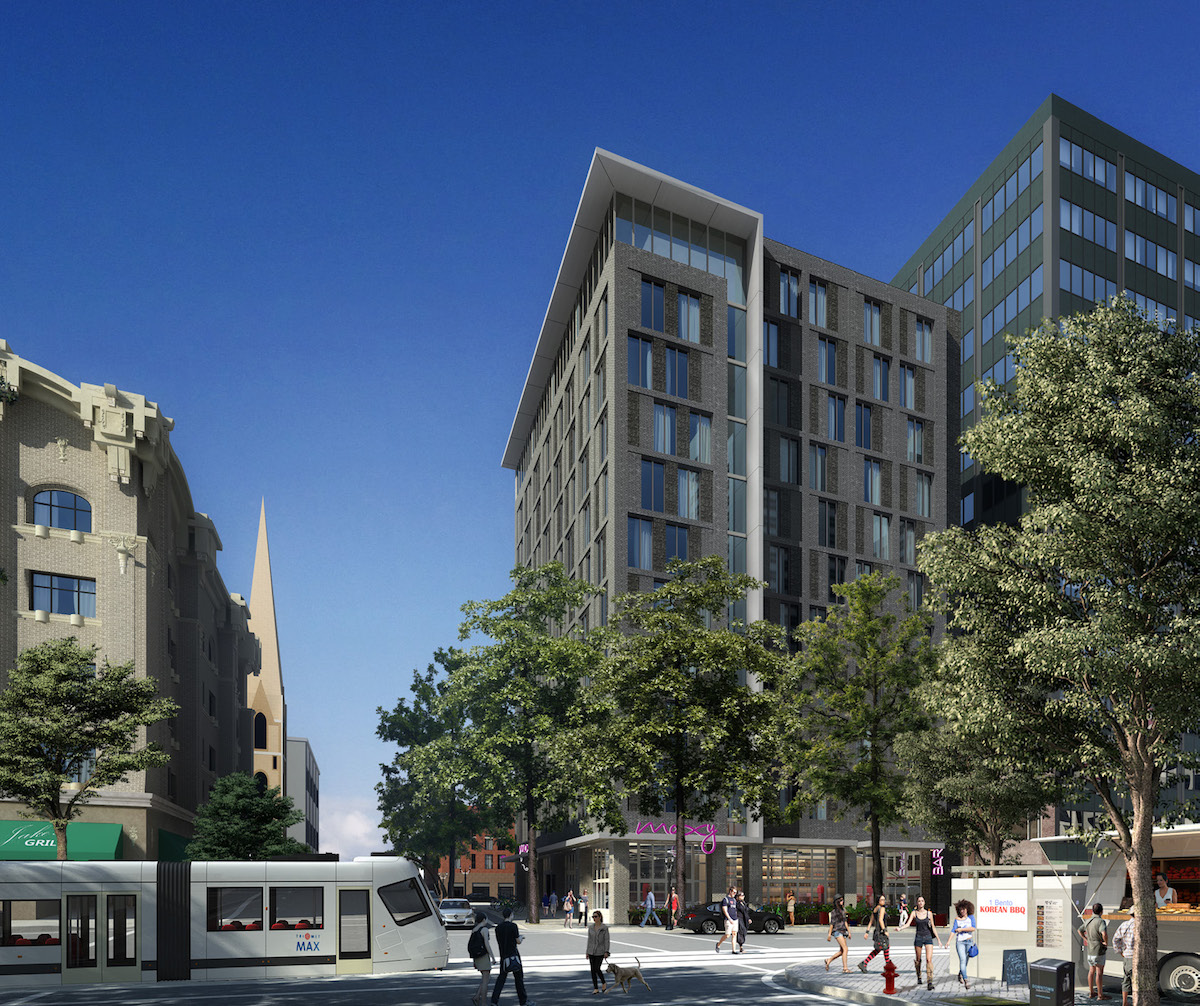 The project will be located on a site occupying slightly less than a quarter of a block at 539 SW 10th Ave. The site, owned by Downtown Development Group, is currently used for surface car parking with food carts lining the perimeter of the site.
Two other hotels are currently proposed in close proximity to the site along Alder: the SW 11th & Alder hotel, which was approved earlier this year; and The Woodlark Hotel, which is currently under construction.
Exterior materials proposed for the building include manganese iron spot brick, aluminum metal panel, window wall, aluminum windows and vertical bifold glass doors.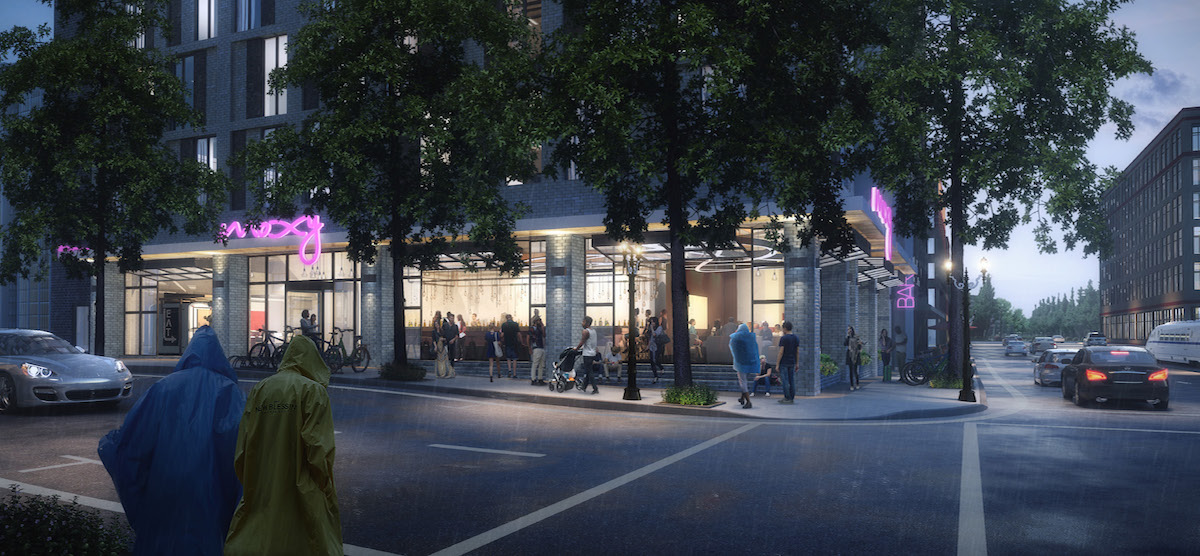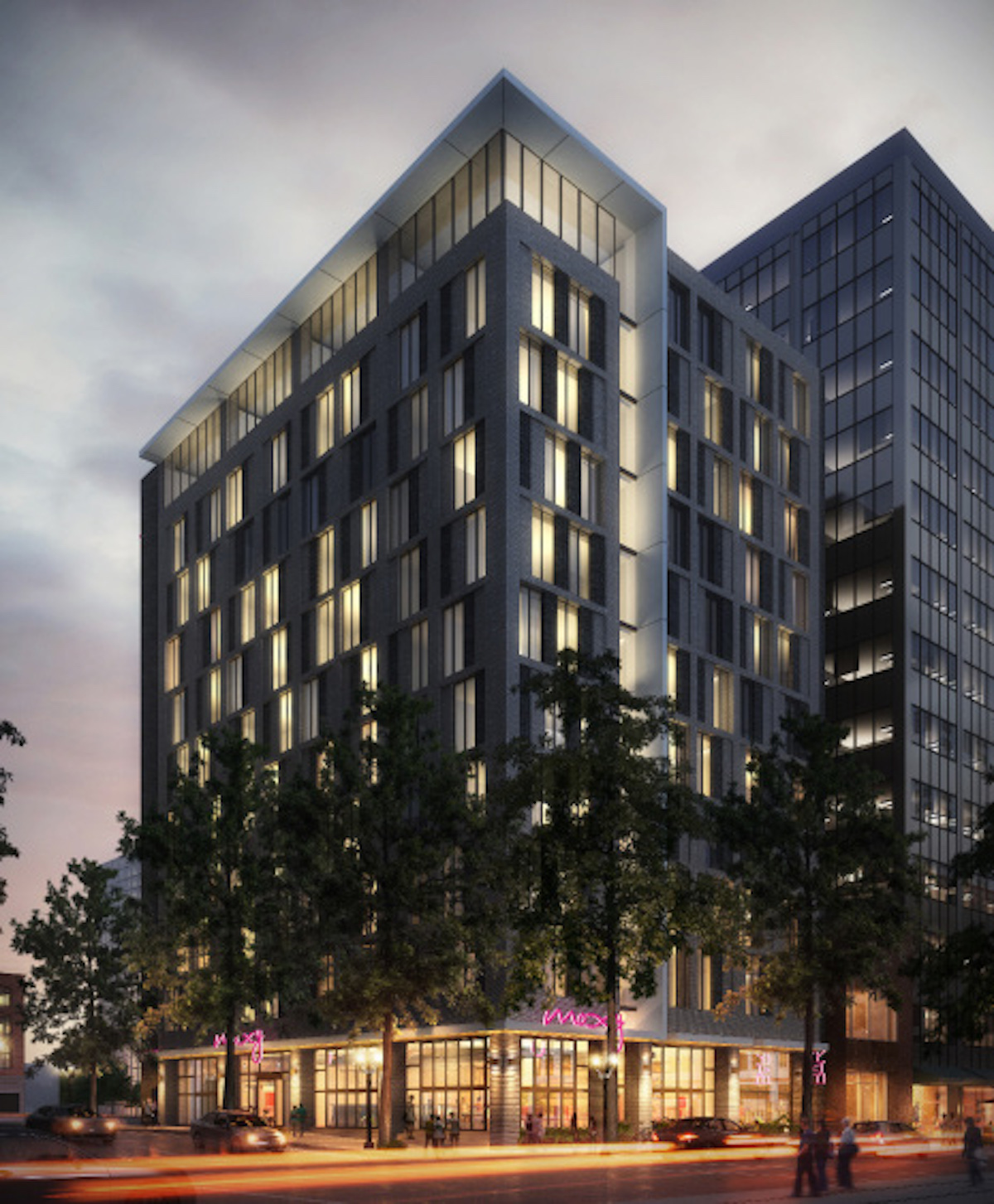 The hotel would not have a traditional full service restaurant, but instead proposes to have four cart stall located adjacent to the code required loading dock. Use of the dock for loading purposes is proposed to be limited to early mornings, enabling it to be used for seating during the daytime. Hotel check in would be performed at the bar, which will face SW Alder St.

The project was presented to the Design Commission at hearings held on August 9th and October 5th, where it was well received. The Commission praised the exterior expression and the ground floor layout of the building. Much of the discussion at the second hearing focused on issues raised by staff in a memo, including the fact that the ground floor is elevated relative to SW 10th Ave and does not have an entrance facing that street. The applicants were encouraged to study ways to improve the building's ground floor presentation to 10th Ave, which by city code is a higher priority street than Alder due to the presence of the streetcar line.
In order to gain approval the Moxy Hotel will be required to go through a Type III Design Review, with public hearings in front of the Design Commission.
Drawings