The Design Commission has approved a new building on the Oregon Health Sciences University (OHSU) Marquam Hill campus. The five story OHSU Elks Children's Eye Clinic will be connected to the existing Casey Eye Institute on SW Campus Drive. The project is being designed by Seattle-based architects NBBJ with Portland based landscape architects Mayer/Reed.
The OHSU Elks Children's Eye Clinic will be built on land that was formerly home to the 1956 OHSU School of Dentistry.  Demolition of the existing building was recently completed.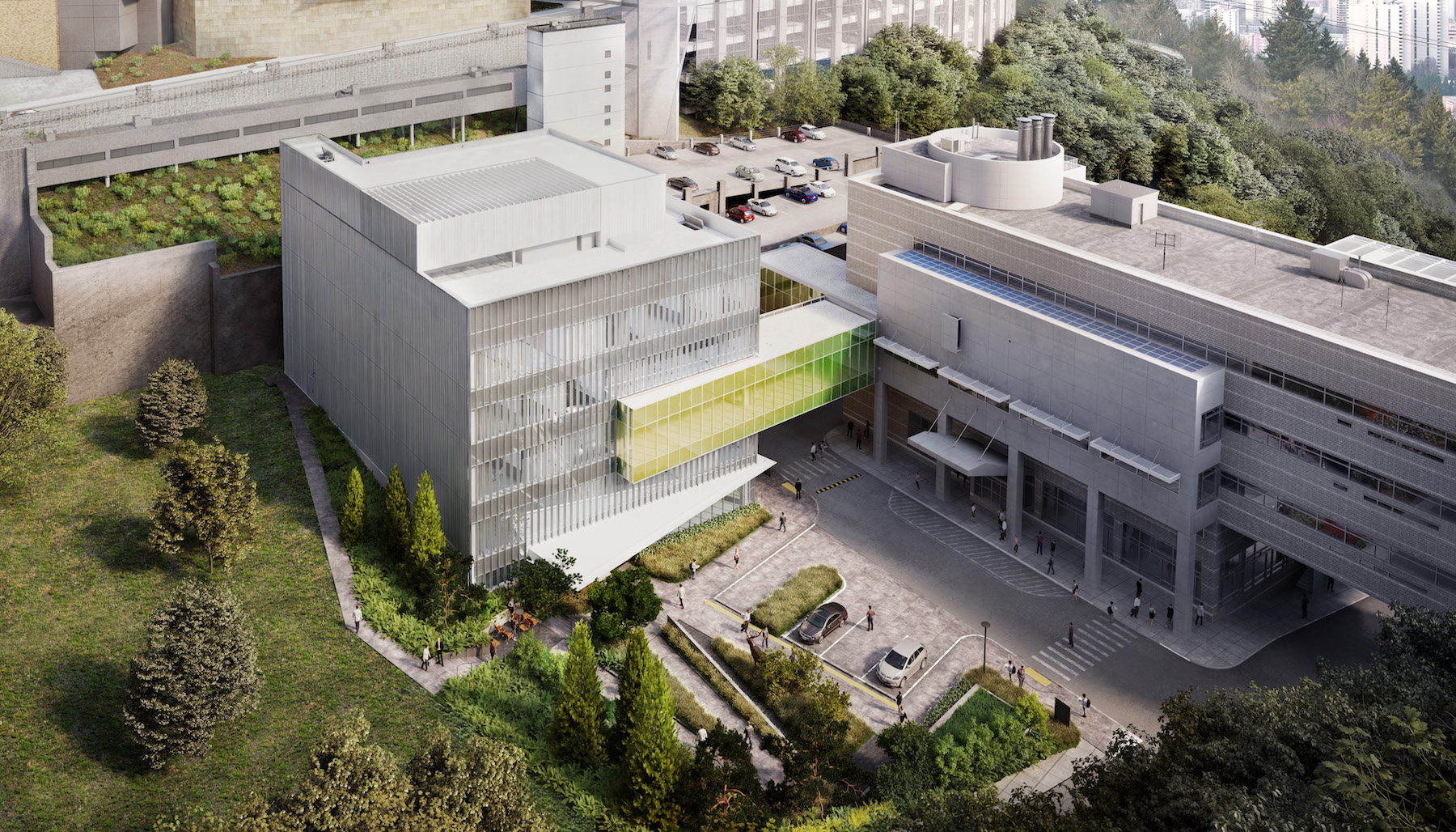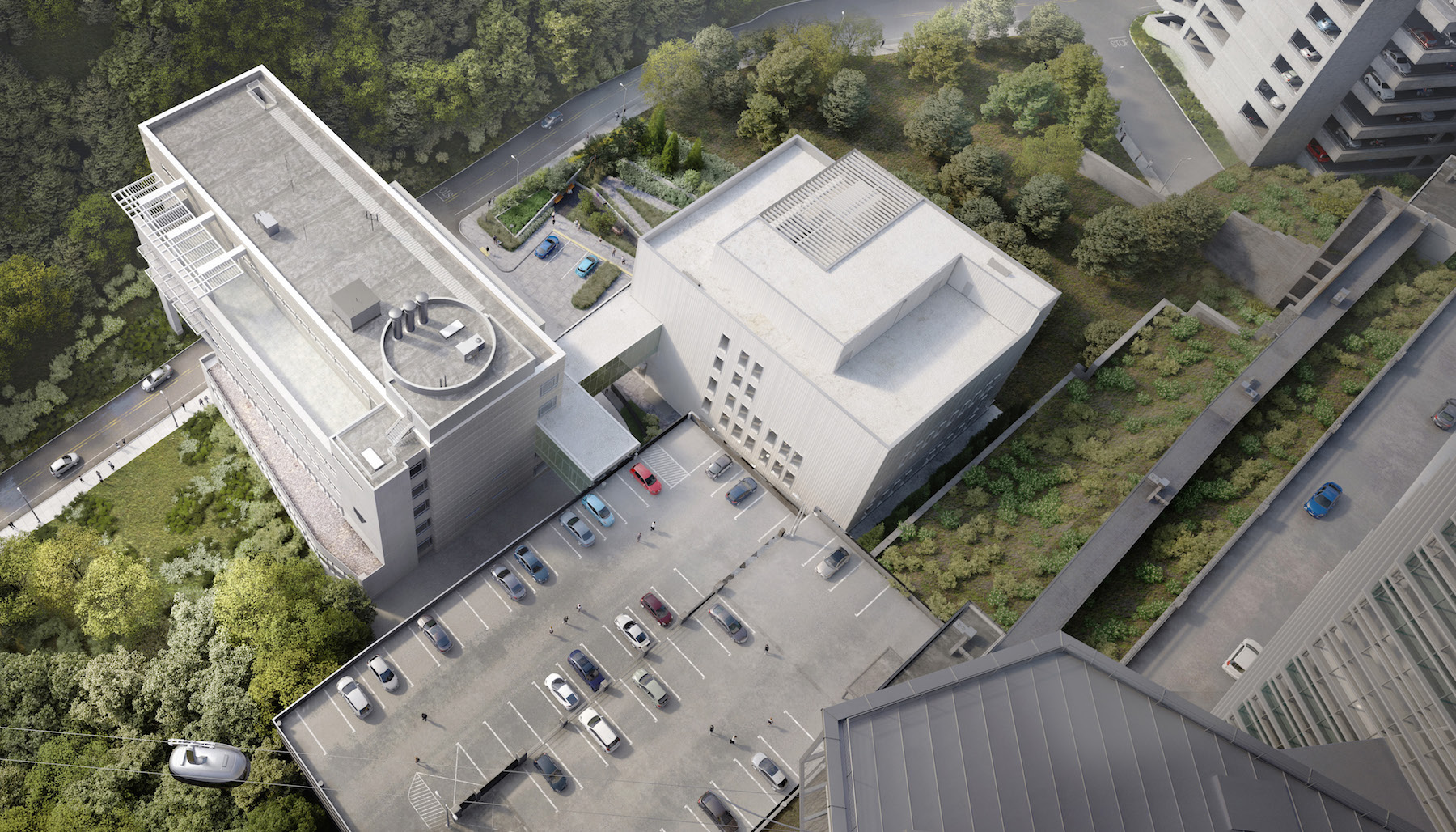 The project has a simple rectangular massing, with a projecting sky bridge element that connects the building to level 4 of the Casey Eye Institute and its parking garage. The primary entrance to the new building will be at level 2, where there will be an entry court with vehicular drop off area, an exterior cafe courtyard, and a sensory garden. According to the designer's narrative the sensory garden will "is largely focused on scent, texture and bold forms of vegetation as well as natural and tactile materials" and will include a "site wall with colored glass [which] significantly enhances the sense of wonder and enjoyment of people with limited eyesight."
At the interior of the building level 2 will house the lobby, a cafe, an optical shop and staff lounge; level 3 the Elks Children's Eye clinic; level 4 a retina clinic; level 5 clinical trials and retina work; and level a genetics clinic and low vision clinic.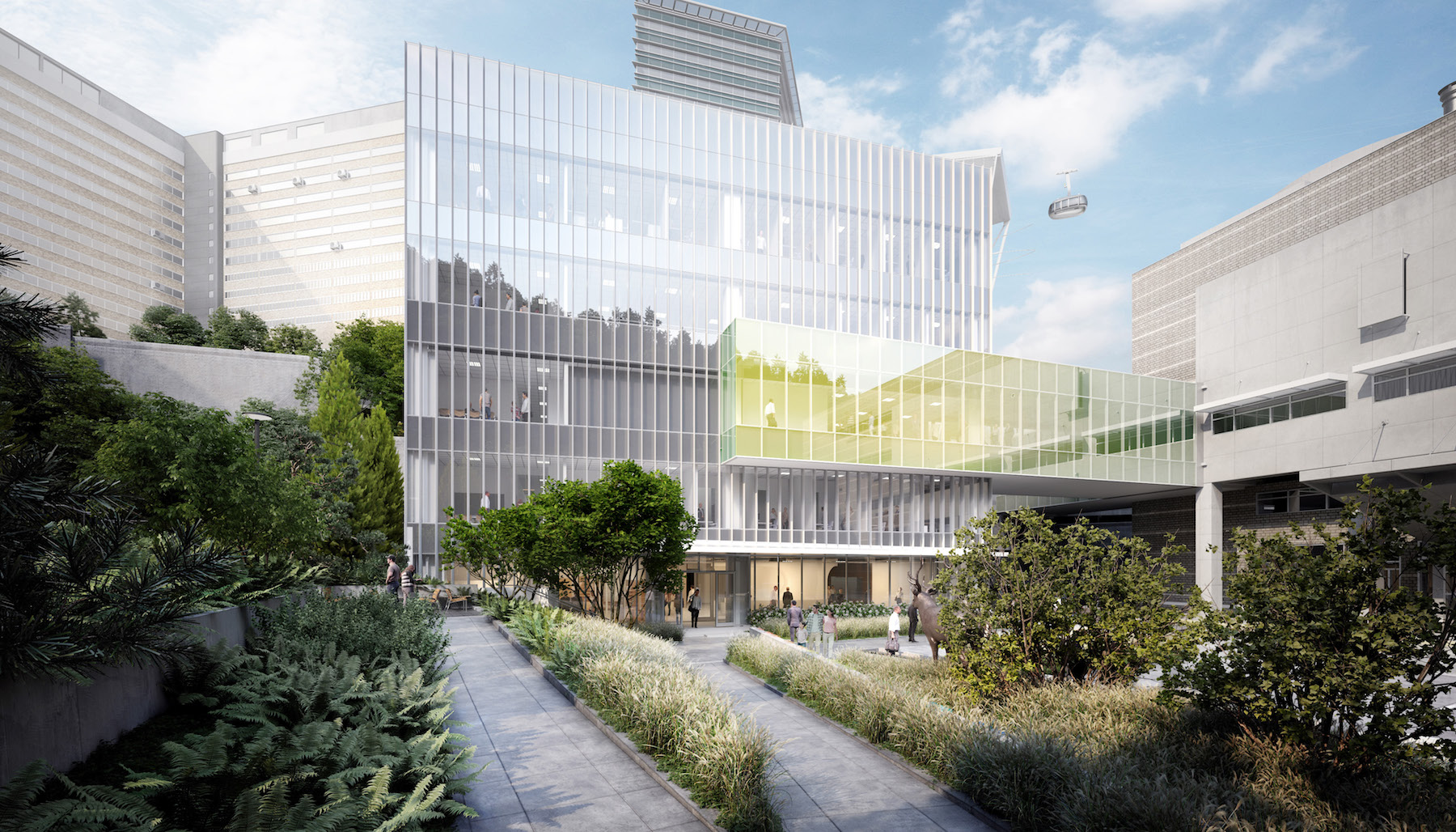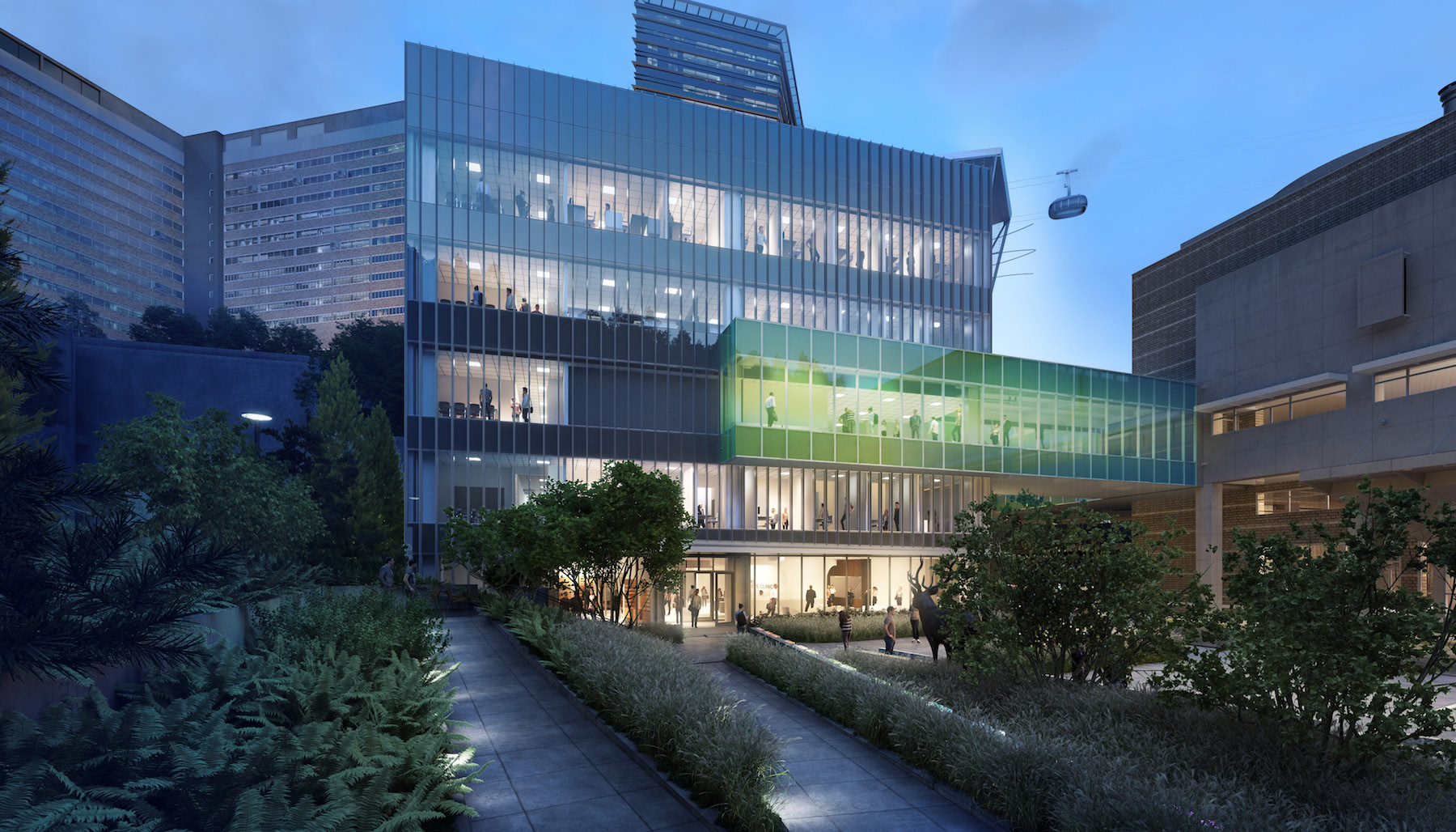 The primary exterior materials for the building are curtain wall glazing and metal panel with a chevron profile. The skybridge will be clad with dichroic glass, which will change color depending on the time of day and the angle at which the glass is viewed.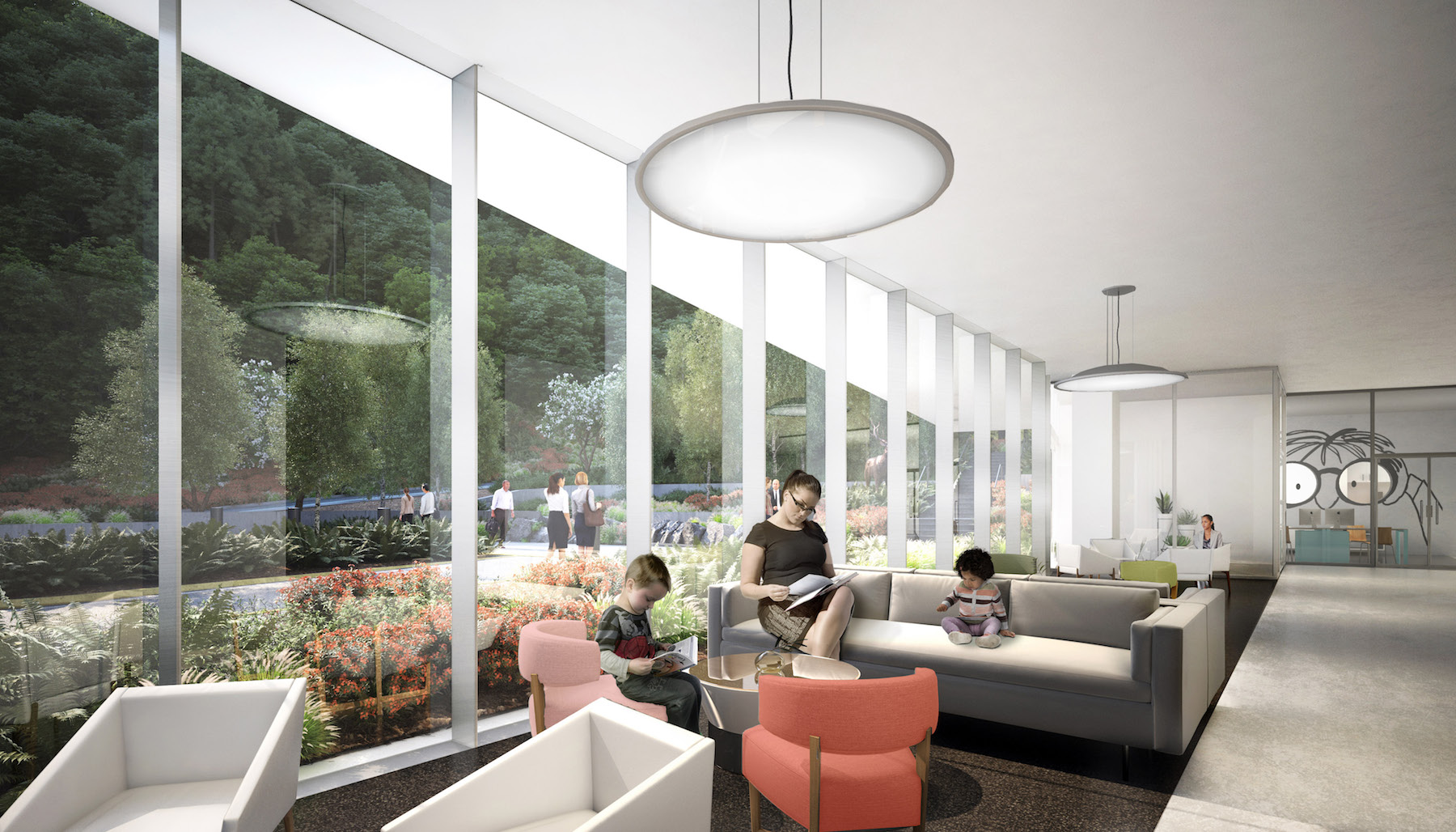 The OHSU Elks Children's Eye Clinic went in front of the Design Commission twice, for a Design Advice Request hearing on November 16th 2017 and for its Type III Design Review hearing on May 3rd, 2018. The project was approved by a unanimous vote of the Commission. In the Final Findings and Decision by the Design Commission the building was found to complement the character of Terwilliger Boulevard, which is the major consideration when developed on the OHSU Marquam Hill Campus is reviewed:
Although only a small portion of the proposed building will be visible from Terwilliger Boulevard (during a limited time of year) the scale and style of the building is consistent with other adjacent OHSU buildings. The proposed vertical lines of the metal cladding provide a subdued and complimentary background to the existing established native vegetation in the Terwilliger Parkway while helping to evoke "romance to the drive or walk" when viewed.
A building permit is currently under review for the new building.
Drawings