Design Advice has been offered to ESG Architects and developer Mortenson for a proposed hotel at NW 14th & Everett in the Pearl District. The 13-story, 131′ tall building would include 221 guest rooms. No vehicular parking is proposed.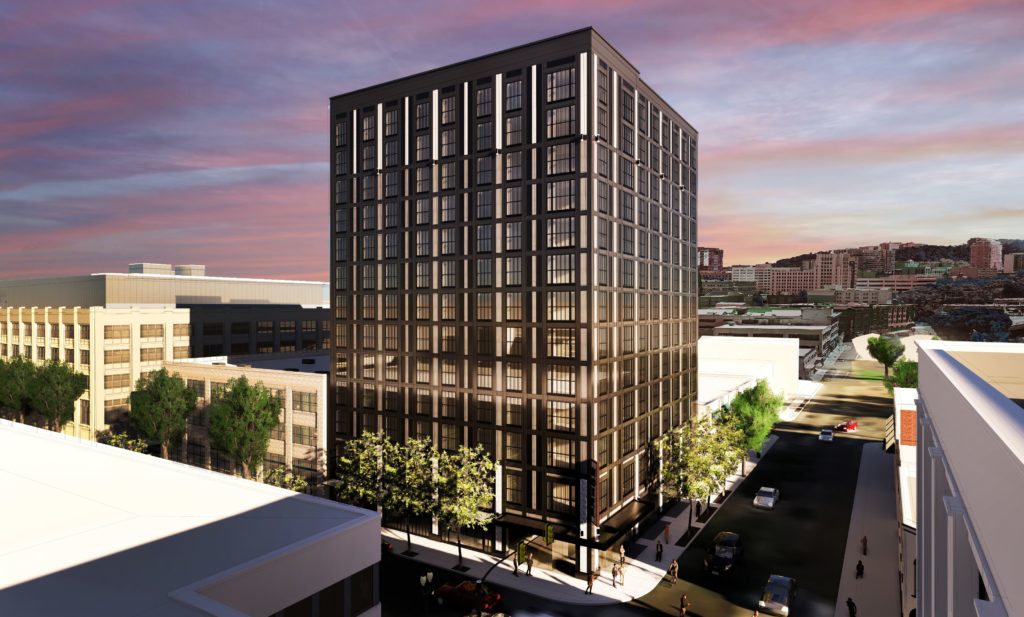 The project site is a quarter block at 234 NW 14th Ave. The site is currently occupied by a single story warehouse building, built in 1922.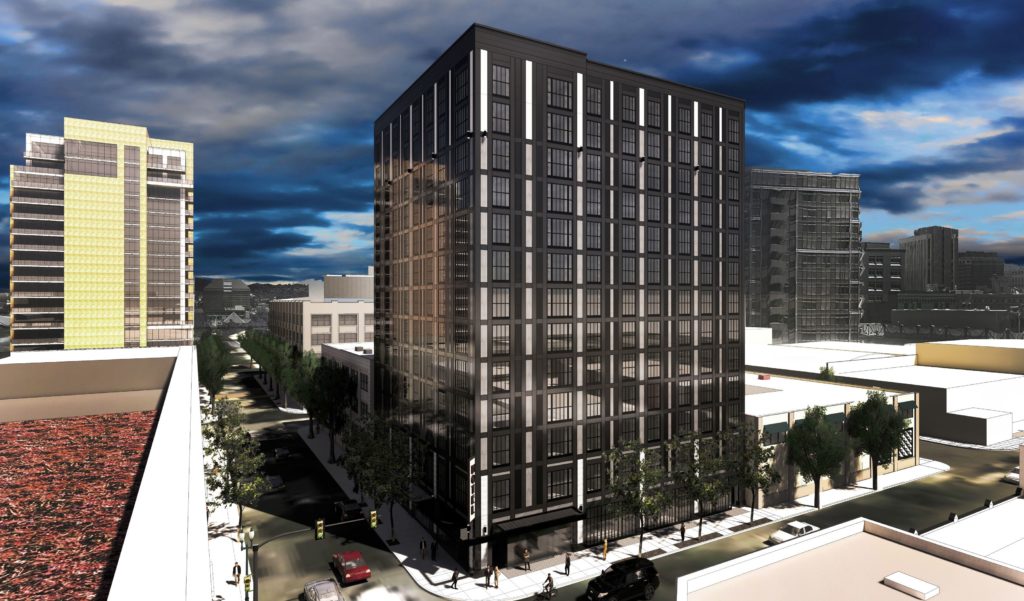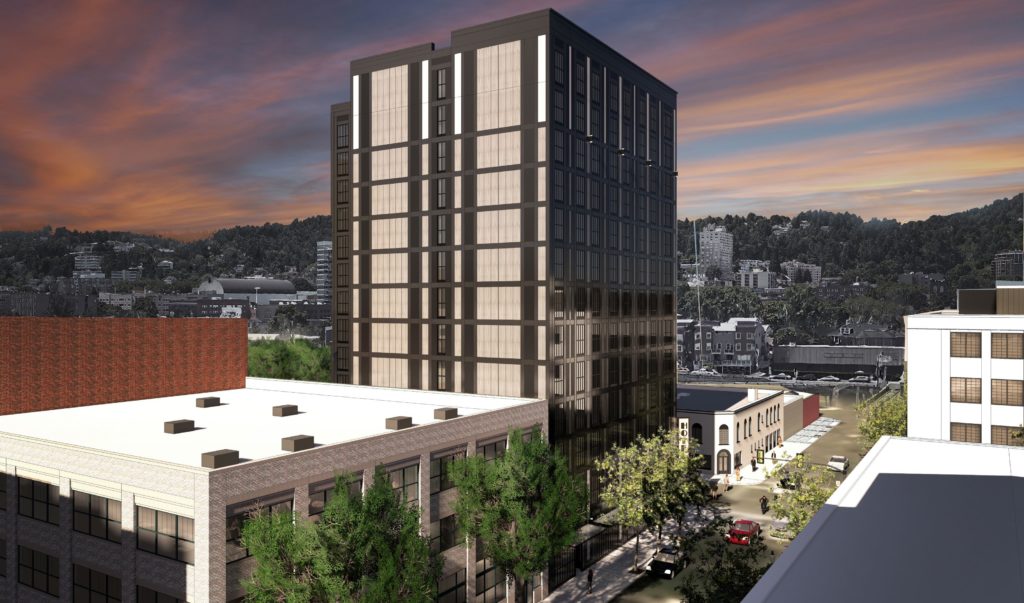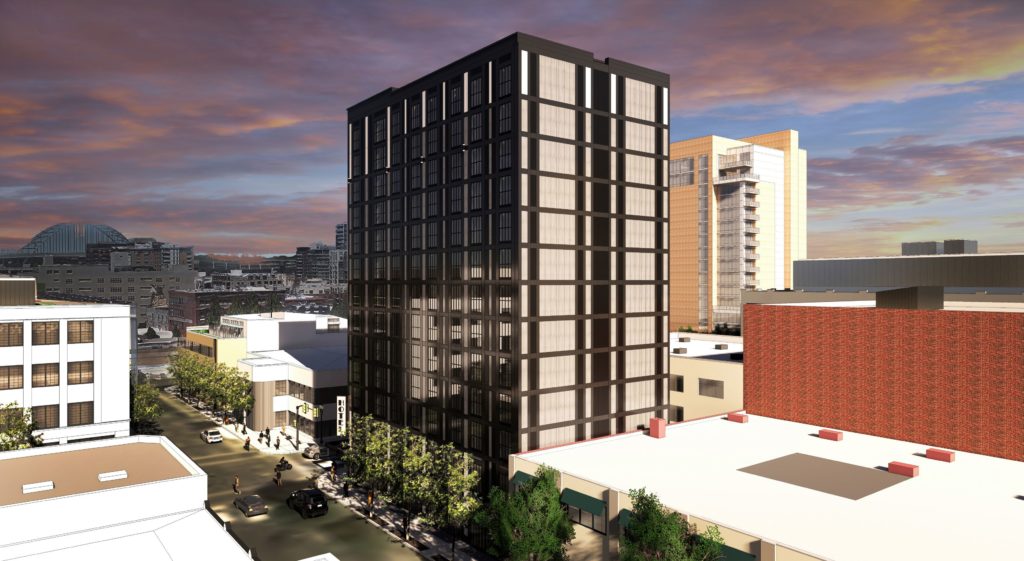 At the ground level the building would include the hotel lobby and lounge, a meeting room, and a bar and market area. Guest rooms would be located on levels 2 to 13, with a fitness area on level 13.
The primary material for the building would be pre-finished metal panels. Brick veneer would be used at the piers of the lower two floors. Other materials proposed include metal canopies, aluminum storefronts and gridded windows.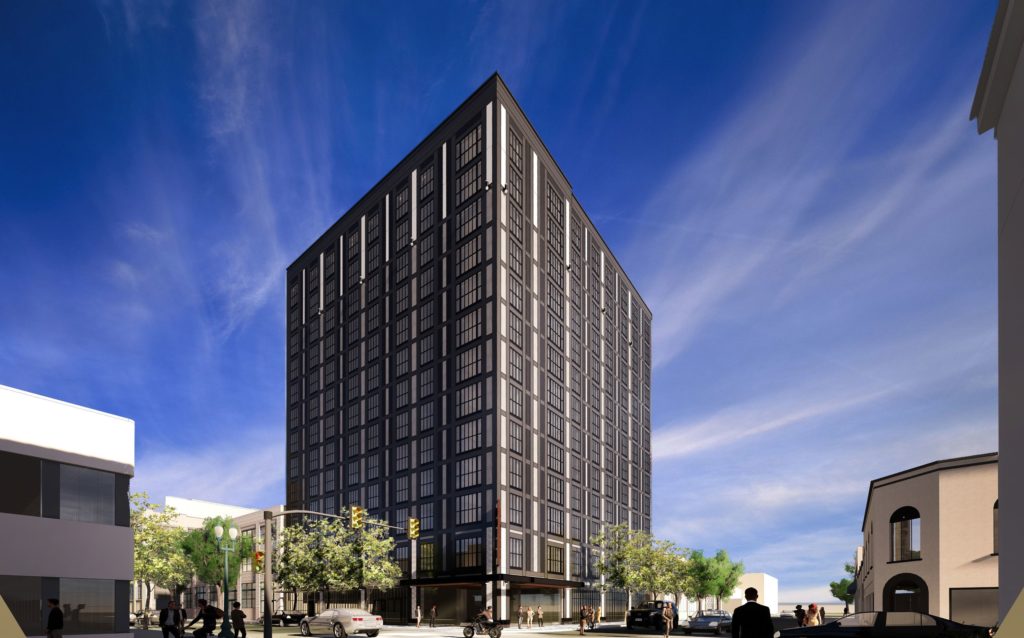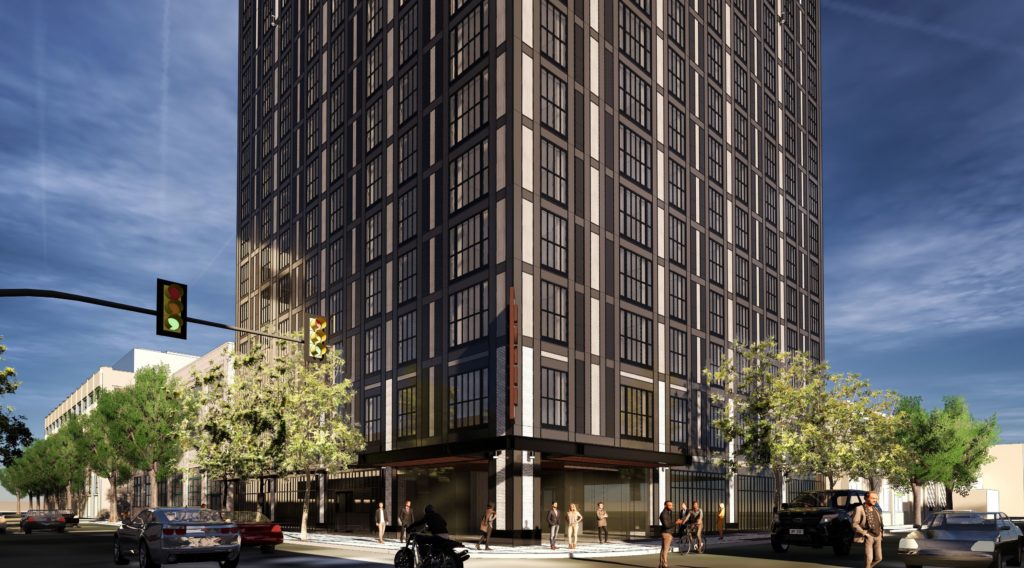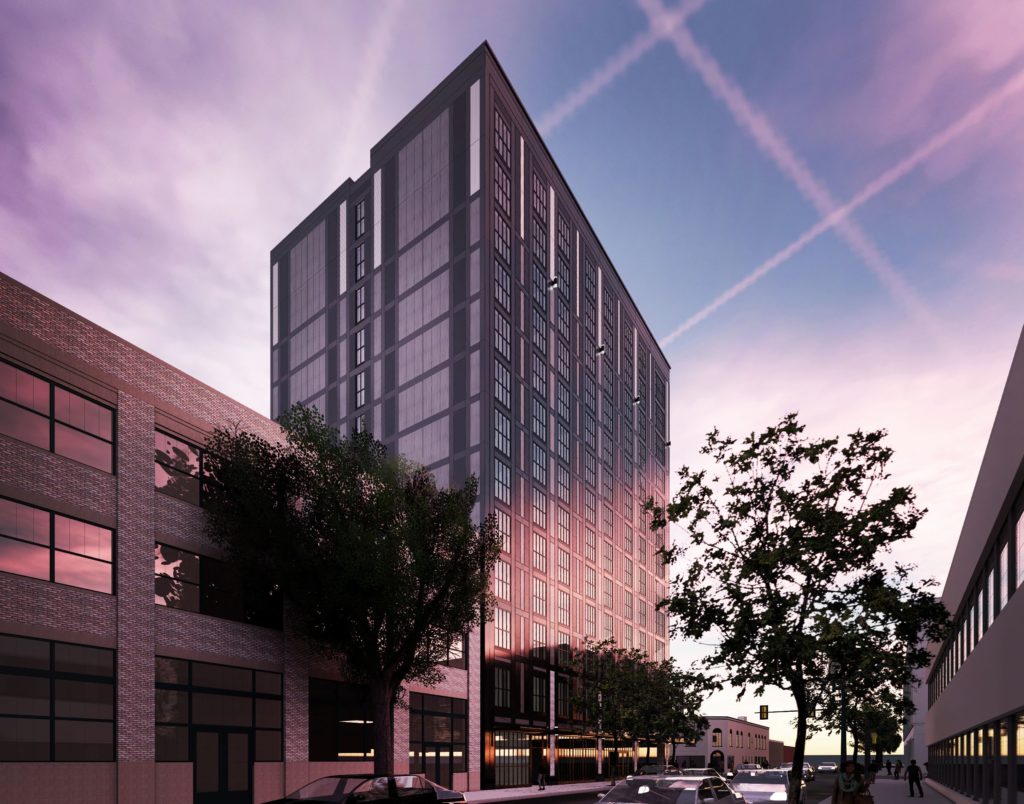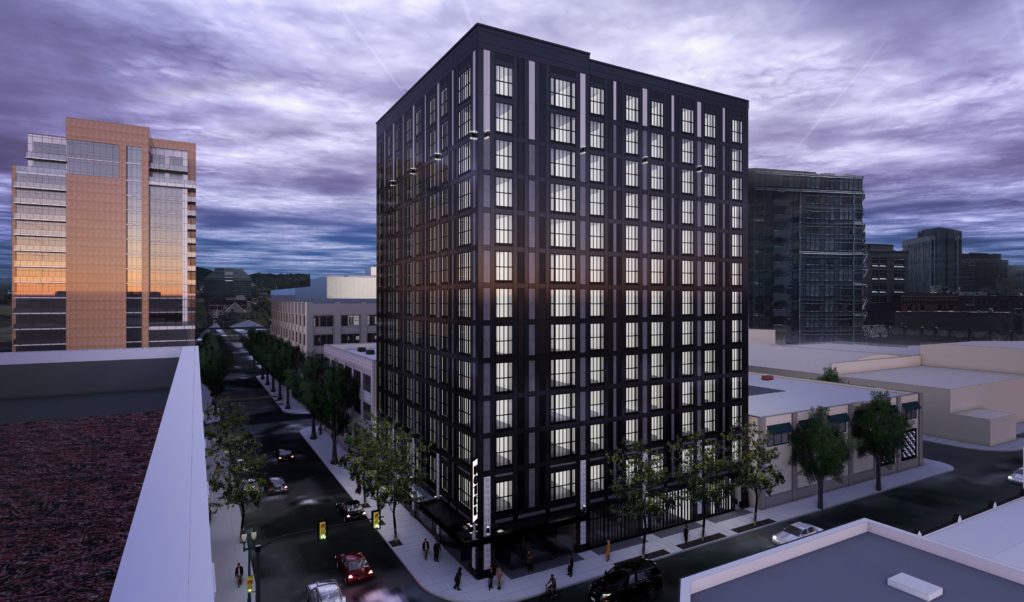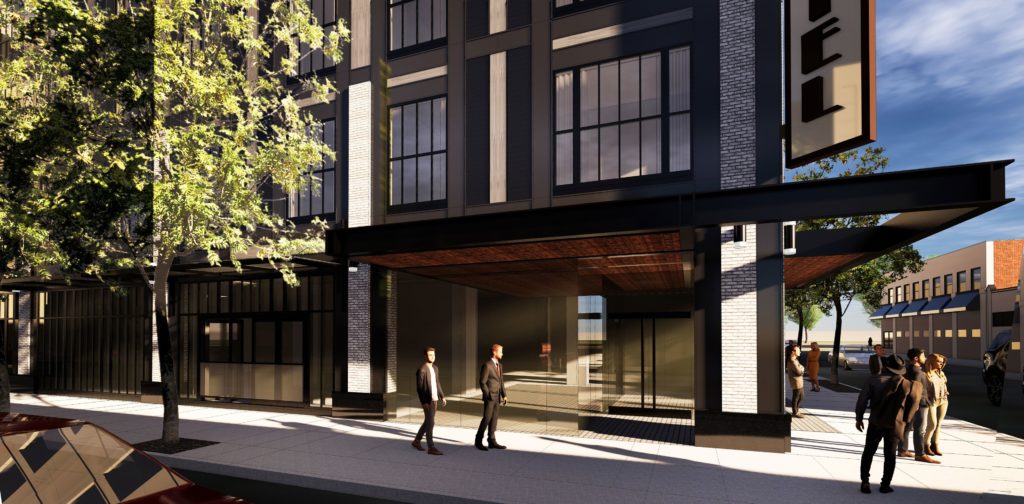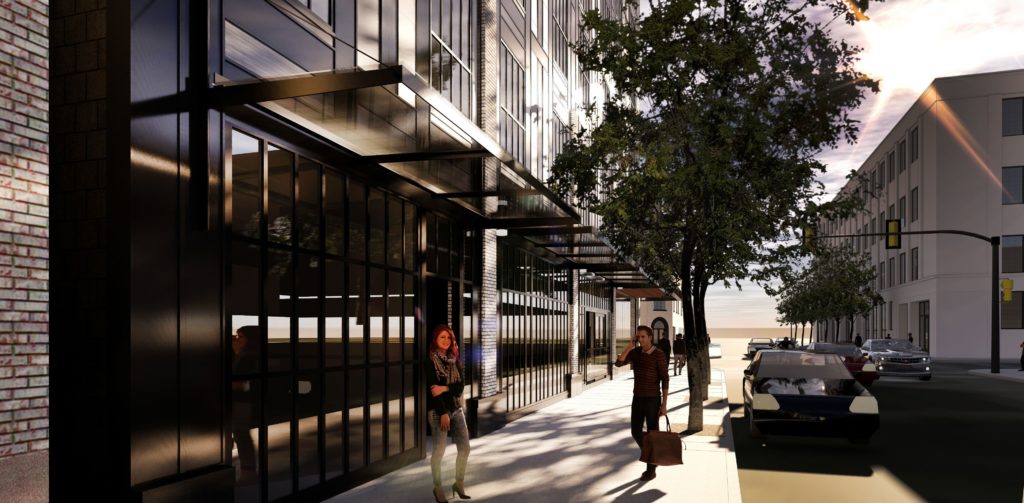 The Everett Hotel went in front of the Design Commission for a voluntary Design Advice on August 8th, 2019. As noted in a summary memo much of the discussion focused on the design of the facade:
• The Commission agreed that a flat-skinned metal panel building proposed at the meeting is a non-starter.

Commissioners noted that the flatness of the building – also referencing the flatness of expression in the materials provided ten days prior to the hearing – is not a contextual response to the area.

• The majority of Commission agreed that a metal material can work, however, the detailing is critical and cannot be a flat-skinned metal building in order to meet approval criteria.

Heavy steel members as shown in the precedent images would be an appropriate response, such as the precedent image provided of 10 Bond Street in New York.

The simple buildings of the past in this area have a large degree of richness of their material use.

Avoid using faux-wood print on metal; be authentic to the material.

Avoid using shiny metal finishes and be thoughtful in your color pallete.
In order to gain approval the project will be required to go through a Type III Design Review with public hearings in front of the Design Commission.
Drawings
Plan | Ground

Plan | Level 2

Plan | Levels 3-12

Plan | Level 13

Plan | Roof

Elevation | North (NW Everett)

Elevation | West (NW 14th)

Elevations | South and East

Secion