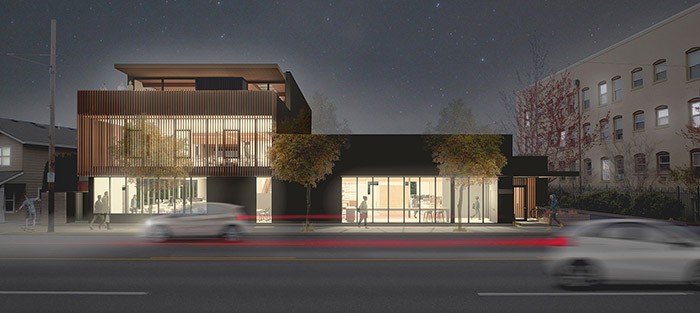 Local tech entrepreneurs Christine and David Vernier have given Portland State University $4.5 million to support a major renovation of Science Building One, reports the Oregonian.
The Portland City Council was given an update on the Broadway Corridor last week. The Portland Business Journal wrote about the Healthy Communities Coalition's efforts to ensure social benefits, including wage standards and diversity. The Oregonian reported that Portland Parks and Recreation will soon develop the block in front of PNCA, as a first step in the extension of the North Park Blocks.
OPB wrote about Nesika Illahee, a first of its kind affordable housing development for Native Americans that opened last week.
The Daily Journal of Commerce wrote about architecture firm Scott Edwards' plan to expand its headquarters* at 2525 E Burnside St so that it can fit all of its staff in one location.
Apple plans to take space ($) in the recently completed 7 Southeast Stark, reports the Portland Business Journal.
The Oregon Court of Appeals has upheld a ruling that Portland officials to need better justification for allowing 200′ tall buildings in parts the Chinatown-Japantown historic district, reports the Oregonian.
Hotels near the Block 216 construction site are handing out earplugs to their guests, reports Willamette Week.
*This article will be unlocked for the rest of this week. After this week it will only be viewable by DJC subscribers.