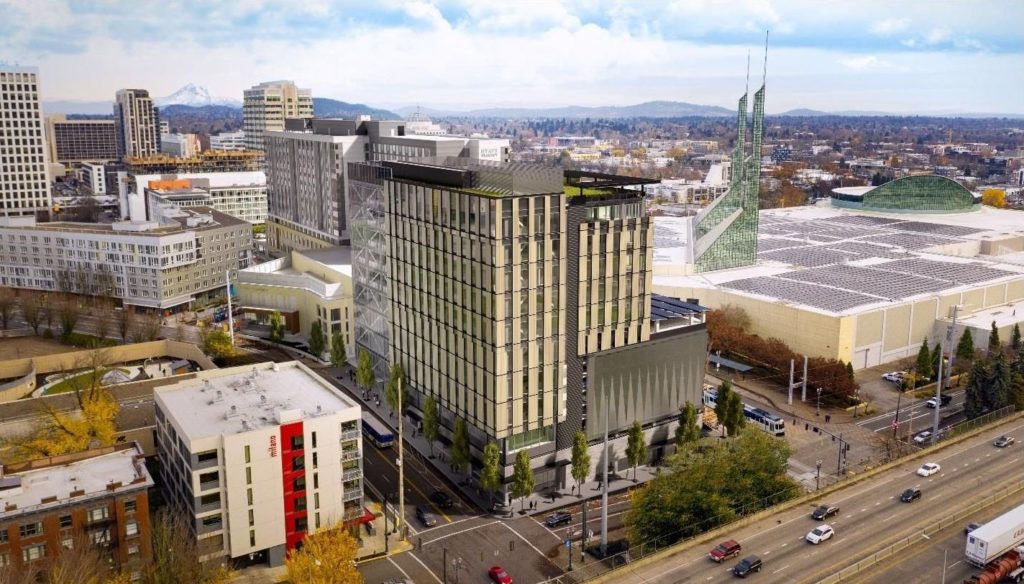 Prosper Portland intends to move forward with an office building on top of the garage adjacent to the Convention Center Hotel, reports the Oregonian. The 100 Multnomah office building would add 118,000 square feet of rentable office space on top of the currently under construction parking garage.
The Daily Journal of Commerce wrote about the Pearl Neighbors for Integrity in Design,* who are fighting the proposed Hyatt Place at NW 12th and Flanders.
Bloomberg wrote about Portland's opportunity zones, which include most of Downtown, the Pearl and the Central Eastside. A part of the 2017 federal tax overhaul, the zones allow investors to reduce taxes on capital gains—with investments held for 10 or more years exempt from capital gains tax.
The Portland City Council approved financing for the N Williams Center, reports the Portland Mercury. The 61-unit apartment building will include 40 units for renters who earn less than 30 percent of area median income (AMI) and 20 units for those earning less than 60 percent AMI.
The charter investors backing the Portland Diamond Project were revealed.
The Ecotrust has completed work on the Redd on Salmon Street, reports the Portland Business Journal. The food business incubator and last-mile distribution warehouse already serves more than 170 food businesses and five core tenants.
Multnomah County intends to purchase the Modish Building at 333 SW Park, for use as a mental health and addiction resource center. A previous proposal for the 4-story building would have seen it converted into creative office space.
The Portland Business Journal took a first peek at the Rood Family Pavilion, the "cool new guest house for OHSU Doernbecher families".
*This article will be unlocked for the rest of this week. After this week it will only be viewable by DJC subscribers.