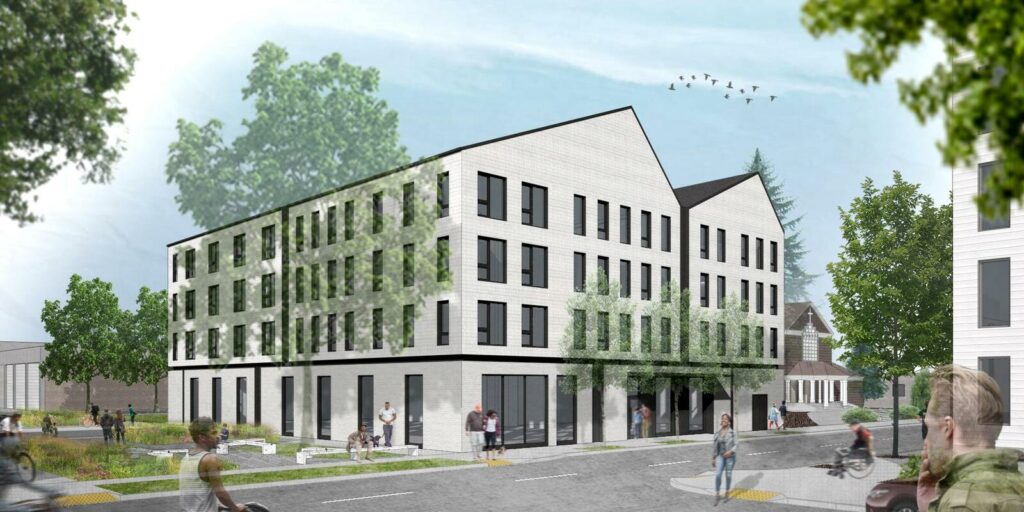 Metro Reports have moved to Portland Maps Reports. Next Portland covers the highlights of the Early Assistance applications, Land Use Reviews and Building Permits processed each week. This post covers March 21st, 2022 to March 27th, 2022.
Early Assistance was requested by Edge Development for a project at 3816 SE Gladstone St: 
Construct a new 3¿story, 16¿unit residential apartment building. 
Early Assistance was requested by Ankrom Moisan Architects for a project at 4045 NE Martin Luther King Jr Blvd: 
Four story, wood frame, affordable housing with 51 units ranging from studios to 3-bedroom. Roof will be pitched with gutters and downspouts. Plan to primarily manage stormwater on site. May provide 0-8 parking stalls, TBD. Ground floor building uses fronting MLK are common spaces such as Office, Lobby, Resident Services.
Design Advice was requested by Holst Architecture for the Francis + Clare Place apartments at 1131 SE Oak St: 
DZ HEARING – Design Advice Request for a new 4-story building including 61 units of supportive/affordable housing, site improvements, and surface parking for 22 vehicles in the Central City Plan District, Central Eastside Sub-District.¿Ground floor uses include offices, classrooms, trash room, laundry room, residential unit, and lobby.¿No Modifications or Adjustments are currently proposed.
A project at 1269 SE Tenino St was submitted for building permit review:
PDOX PS: new 4 story- 19 unit apartment building with retail on ground floor and associated siteworks. w/ 22-123180-MT.
A building permit was issued for the adaptive reuse of The Aircraft Factory at 3320 NE Broadway:
Redevelopment of an existing building (aircraft factory) to include ground floor retail and preschool with floors 2nd & 3rd as apartments (w/ 21-019932-MT).