A Pre-Application Conference has been scheduled to discuss a new office building on Station Place Lot 5 in the Pearl. Drawings submitted to the City of Portland show a roughly triangular building, with retail at the ground floor. Structured parking for 64 cars would be provided. The 9 story building is being developed by Williams and Dame, who recently completed the Marriott Residence Inn one block to the south. The design team includes a partnership between THA Architecture and GBD Architects, who also collaborated on the under construction Pearl West office building.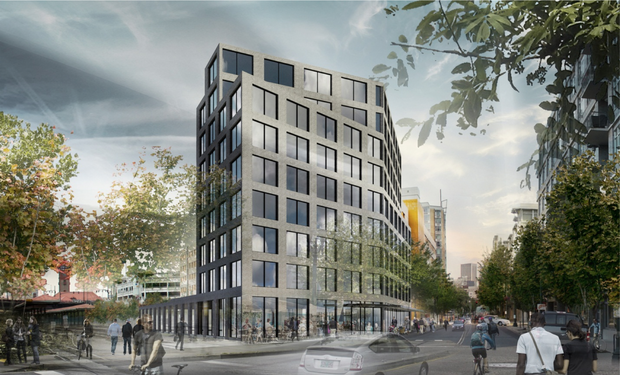 The site is bound by NW 9th Ave, NW Northrup Street and the BNSF railway tracks. It is currently vacant and covered in gravel. The board of the Portland Development Commission voted in April to sell the land to Williams & Dame for $7.4 million.
The Pre-Application Conference [PDF] is scheduled for June 18th 2015. A Type III Design Review with hearings before the Design Commission is expected to be required.
Plans and Sections