A Design Review has been approved for renovations the Stagecraft Building in the Pearl District. The project by Mackenzie will enable the building to be used as for retail or offices, with 28,000 sq ft of divisible space available. The exterior alterations will include replacing the existing windows with aluminum windows; lowering of the ground floor windows at the north and east elevations; replacing an existing canopy with a new canopy; and the replacement of the existing entries with new roll up doors. The existing loading dock on NW 13th Ave will remain, with a new guardrail added.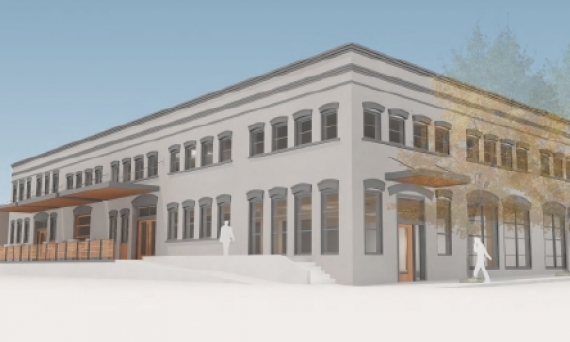 The warehouse at 1302 NW Kearney St was built in 1895.  Though not protected by any historic designation, the building was identified [PDF] in the City of Portland's 1984 Historic Resources Inventory as "eligible/contributing" for inclusion in the National Register of Historic Places.
Most recently the Stagecraft Building has been used by PNCA as fabrication labs for ceramics, wood and metal. With the shift in their campus towards the 511 Building the Stagecraft Building is no longer required by them. Across NW 13th Ave demolition is currently underway at PNCA's former home, the Goodman building. The building will be replaced by the Block 136 apartments and office development.
The Design Review was approved [PDF] by Bureau of Development Services staff on July 24th 2015. The building is currently being advertised for lease by Urban Works Real Estate, with an estimated availability of early 2016.
Plans and Elevations