The Portland Development Commission has identified a preferred concept for the redevelopment of the main Post Office site in the Pearl, as part of their ongoing Broadway Corridor Framework Plan prepared by ZGF Architects and Skidmore, Owings & Merrill. The redevelopment of the 14 acre site could accommodate up to 3.8 million sq ft of development, with space for 4,000 jobs and 3,100 residents. The plan assumes that 25% of the housing built will be publicly subsidized affordable housing.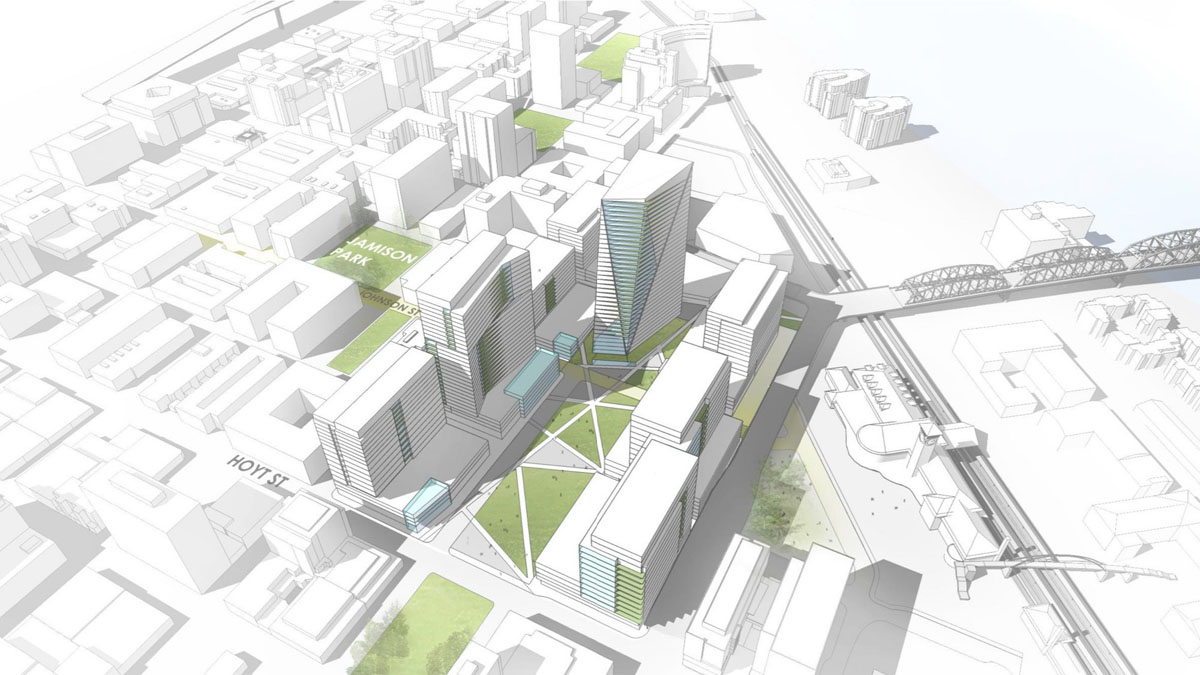 The entire site is currently taken up by USPS operations, which were originally located in the area for the proximity to the now gone rail yards. The PDC is looking to acquire the site, for a cost currently estimated not to exceed $80 million. The sale price will allow the Post Office to build a new facility to serve Portland. The location has not yet been determined, though sites in the City of Portland and outside are currently being explored. The Post Office intends to continue to operate a retail operation in the area.
The preferred concept takes ideas from concepts shown to the public during an earlier phase of the framework plan, and assumes that the North Park Blocks would be extended through the site, and terminated by an iconic tower up to 500′ tall. The overall site would be developed at a Floor Area Ratio of 6.7:1, with lower heights immediately adjacent to the future North Park Blocks.  NW Park Ave and NW Johnson St would be function as the primary streets through the site. The Green Loop would extend down from the Broadway Bridge "Y", and would connect into bike routes on NW Flanders and Johnson.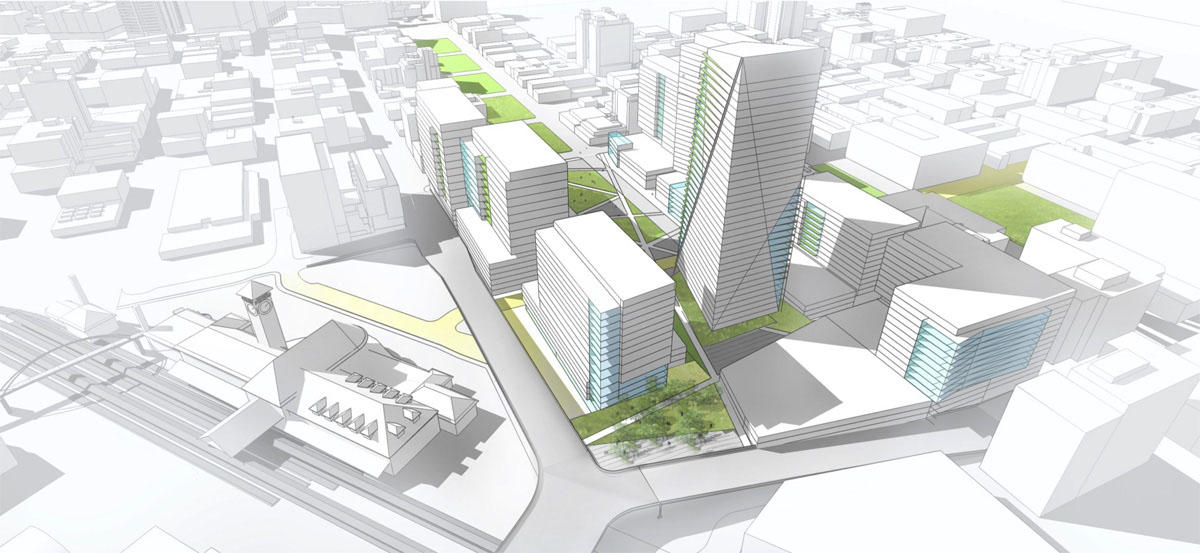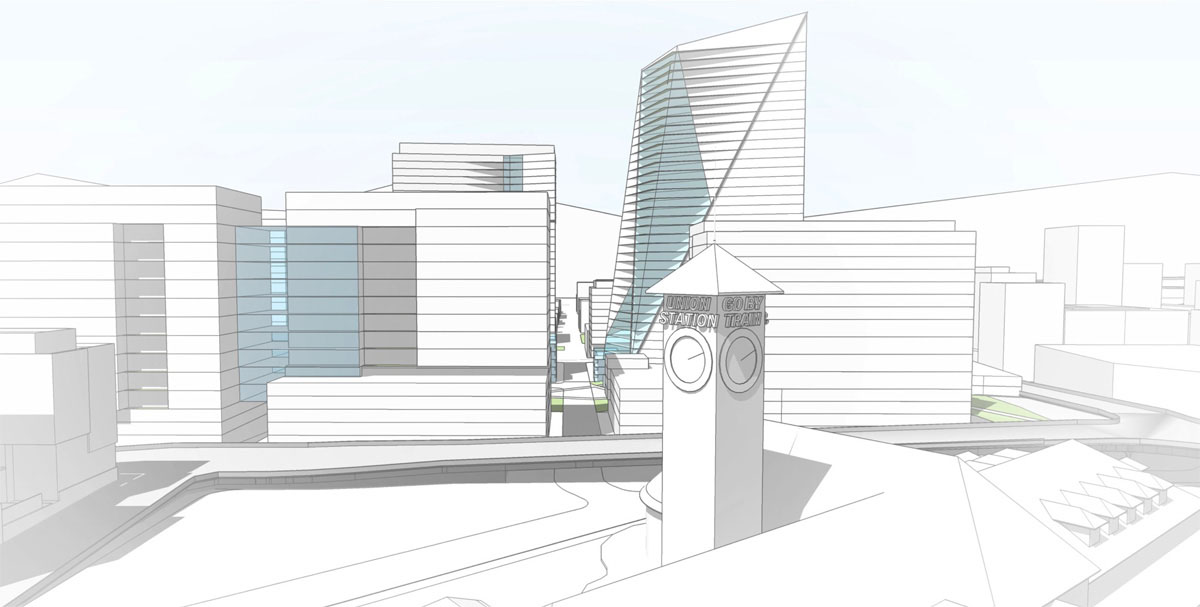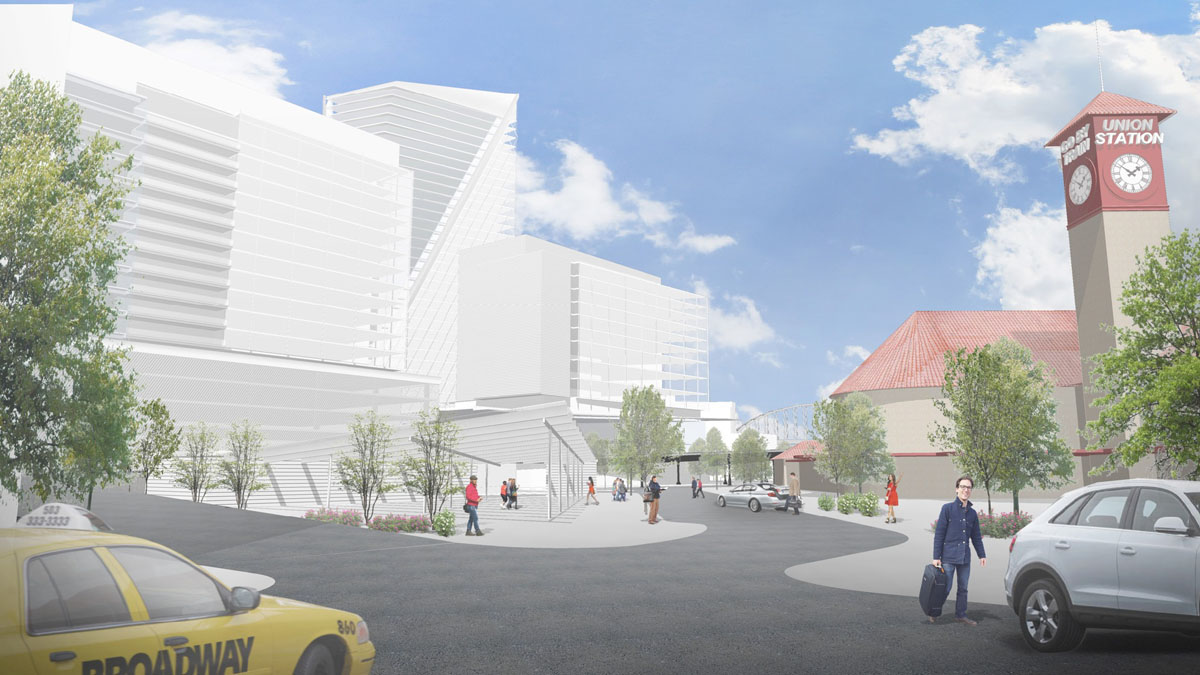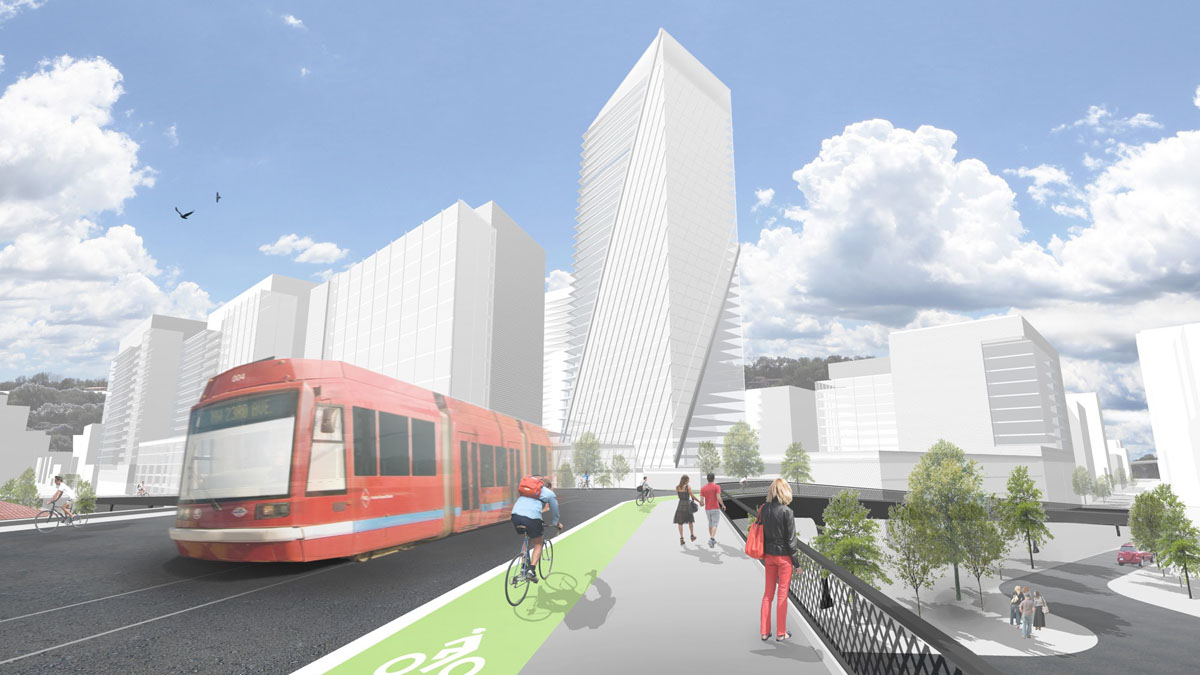 Rather than create one giant public space at the center, the plan envisions three distinct public spaces. A new "Exchange Place" plaza could be created in front of Union Station, of a similar quality to the plaza recently built at Denver Union Station. A "Cascade Walk" would bring people on foot and on bikes down from the Broadway Bridge to the level of the site, and could be built over structured parking. The "North Lawn" would function as the extension of the North Park Blocks, and could include landscaping extending right up to the edge of the new buildings.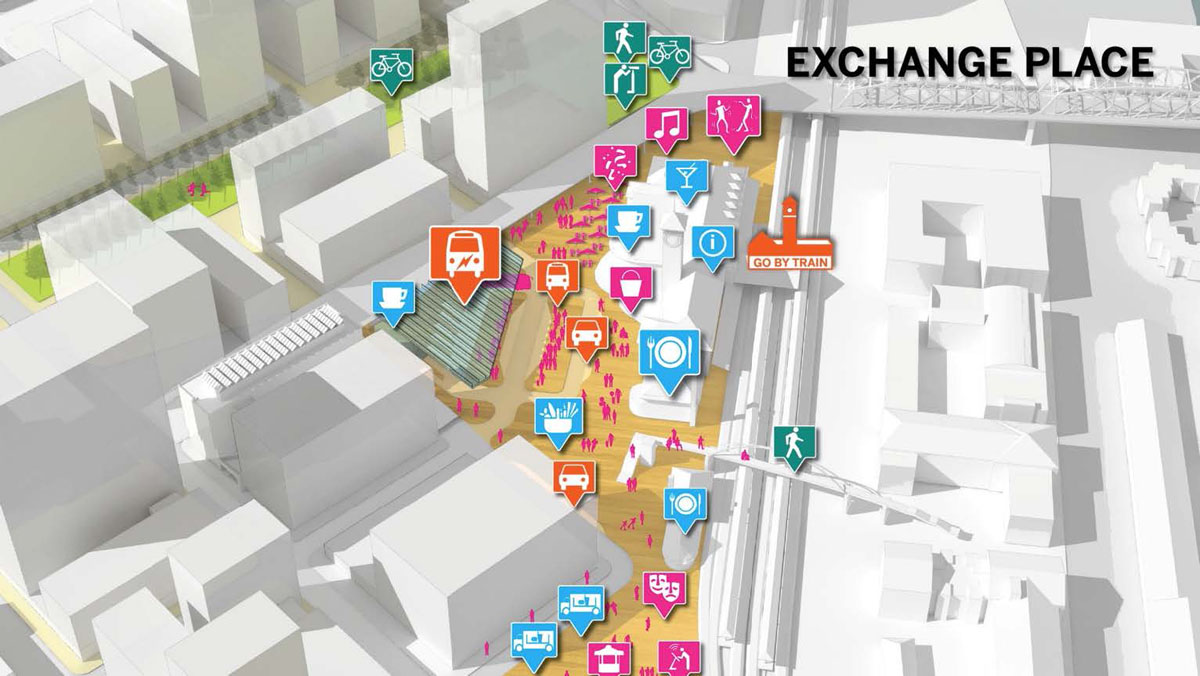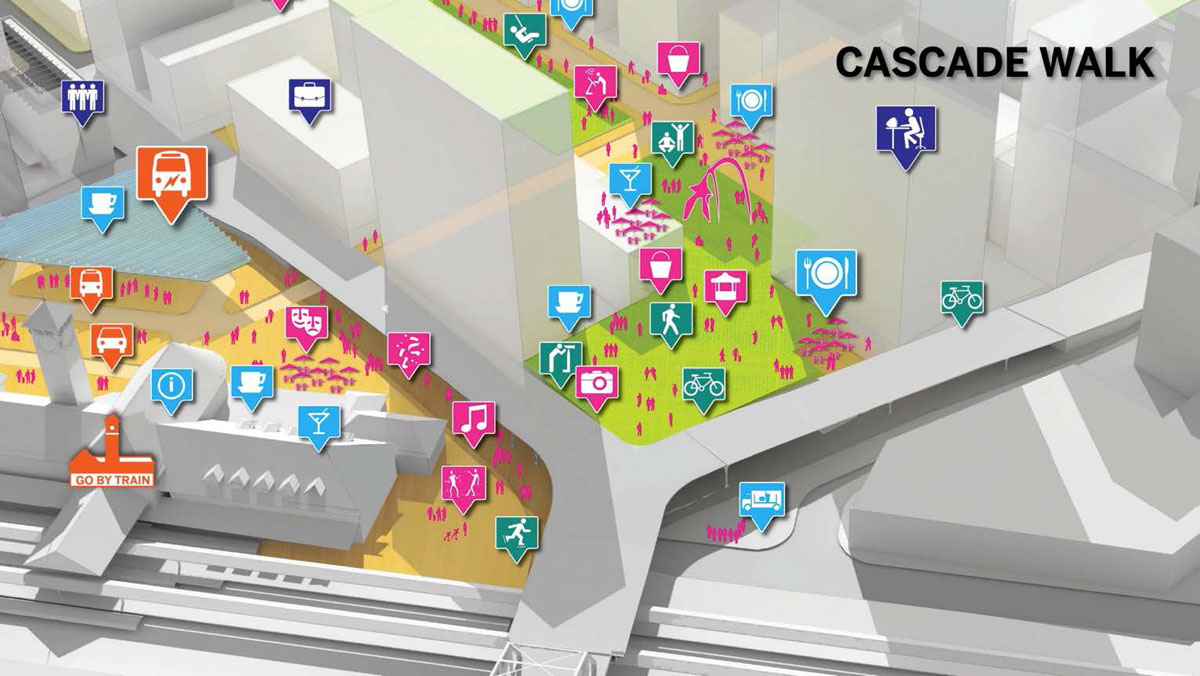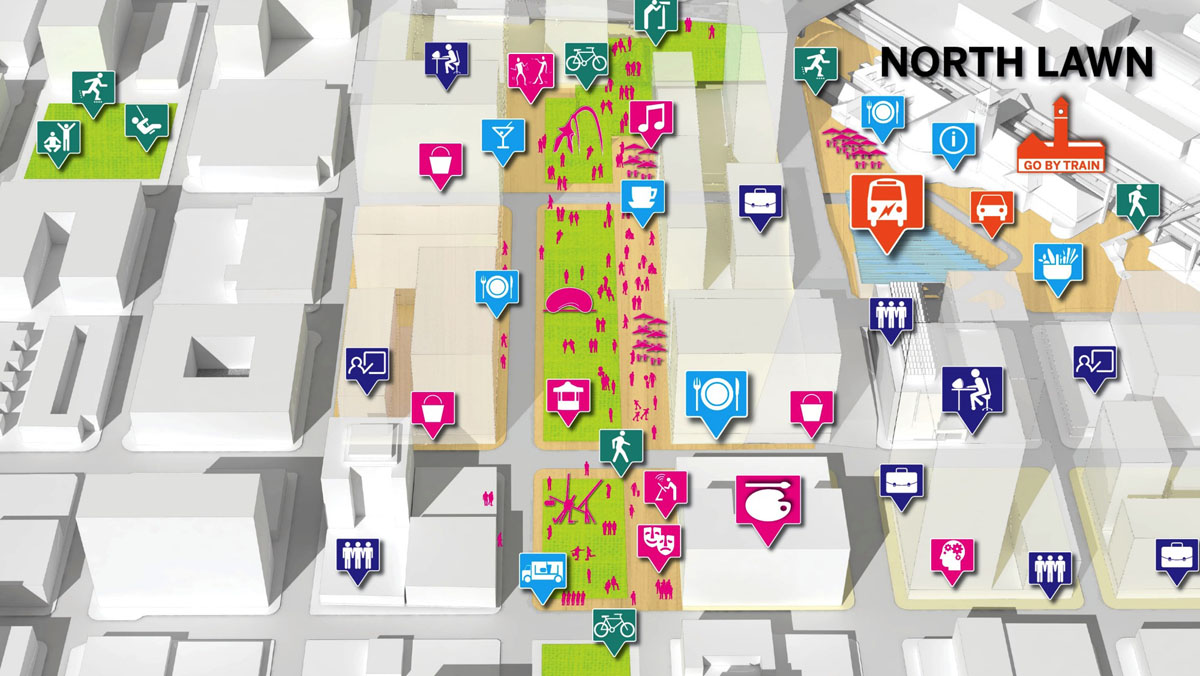 The primary purposes of the Framework Plan were to articulate a strategic vision, and identify a preferred development concept. The development concept is being used to test the financial viability of acquiring the site. Should the acquisition of the site move forward, a more detailed masterplan with specific design standards and rules will be developed. The final draft of the Broadway Corridor Framework Plan, as well as Purchase and Sale Agreement for the USPS site, is expected to go before the PDC Board and the City Council in October.
Plans and Sections