The Historic Landmarks Commission has approved designs for a proposed WorldMark on SW Naito Parkway. The 6 story project by SERA Architects would include a mixture of studio, one and two bedroom units, available to members of the WorldMark by Wyndham vacation ownership program. The project will include a retail space fronting on Naito Parkway. No vehicular parking is proposed.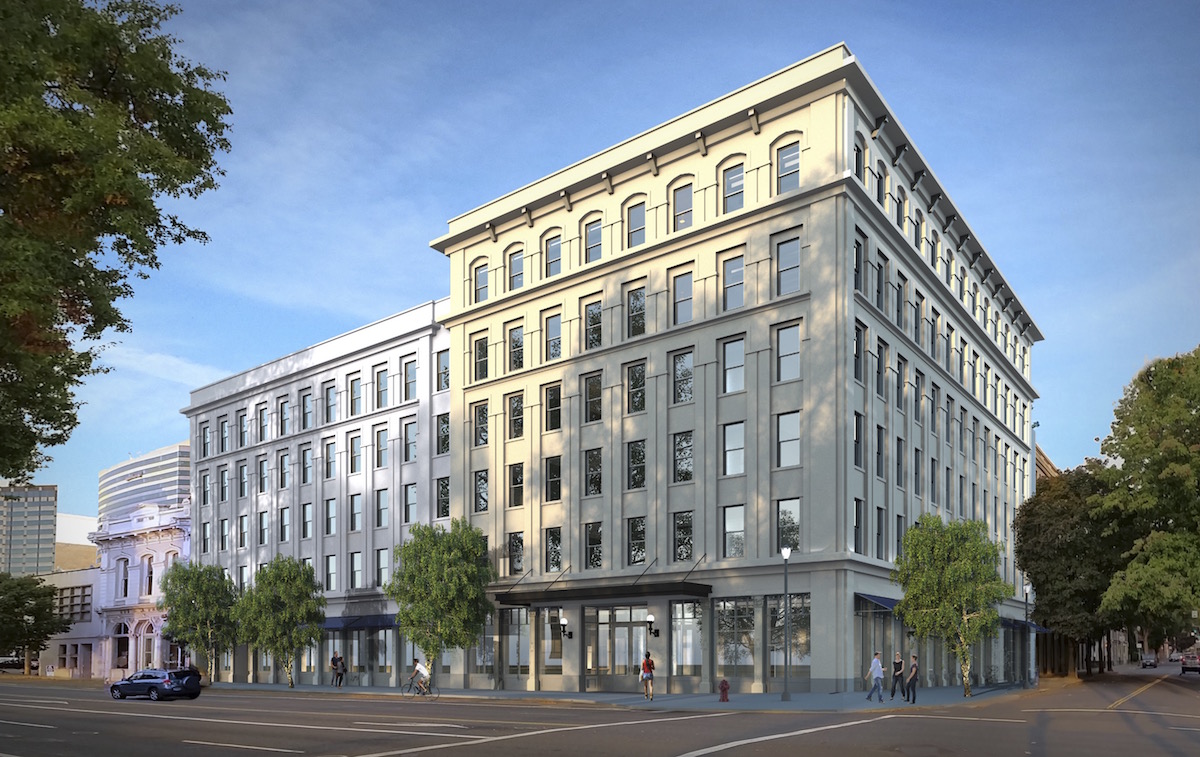 The site at 221 SW Naito Parkway is currently a surface parking lot, until recently owned by the Goodman family controlled Downtown Development Group. The site was sold to Wyndham Resort Development Group in June 2015 for $3,575,000. The parcel is located within the boundaries of the Skidmore/Old Town Historic District, a National Historic Landmark listed on the National Register of Historic Places. The district is noted for its collection of cast iron facade buildings and its importance in the early history of Portland.
The project has been significantly revised since it was last presented to the Landmarks Commission in February 2016. The donut shaped plan and multiple volumes have been replaced with a scheme that presents a solid street wall to SW Naito Parkway. In response to concerns about the height of the building against the two story Hallock & McMillen and Fechheimer Buildings on Naito the building mass is now expressed as two volumes: a 6 story volume on SW Pine; and 5 story volume at southern wing on SW Naito. An exterior terrace at the interior block will provide an amenity space for guests, as well as preserve the light to the property line windows on the adjacent 208 SW 1st Avenue building.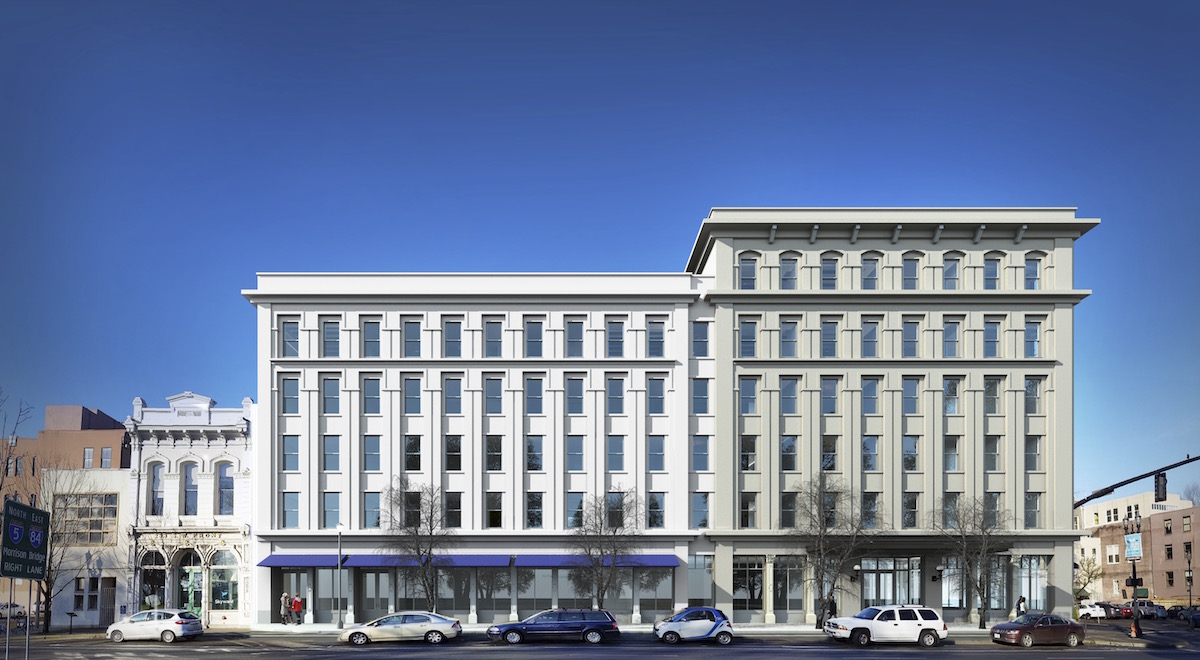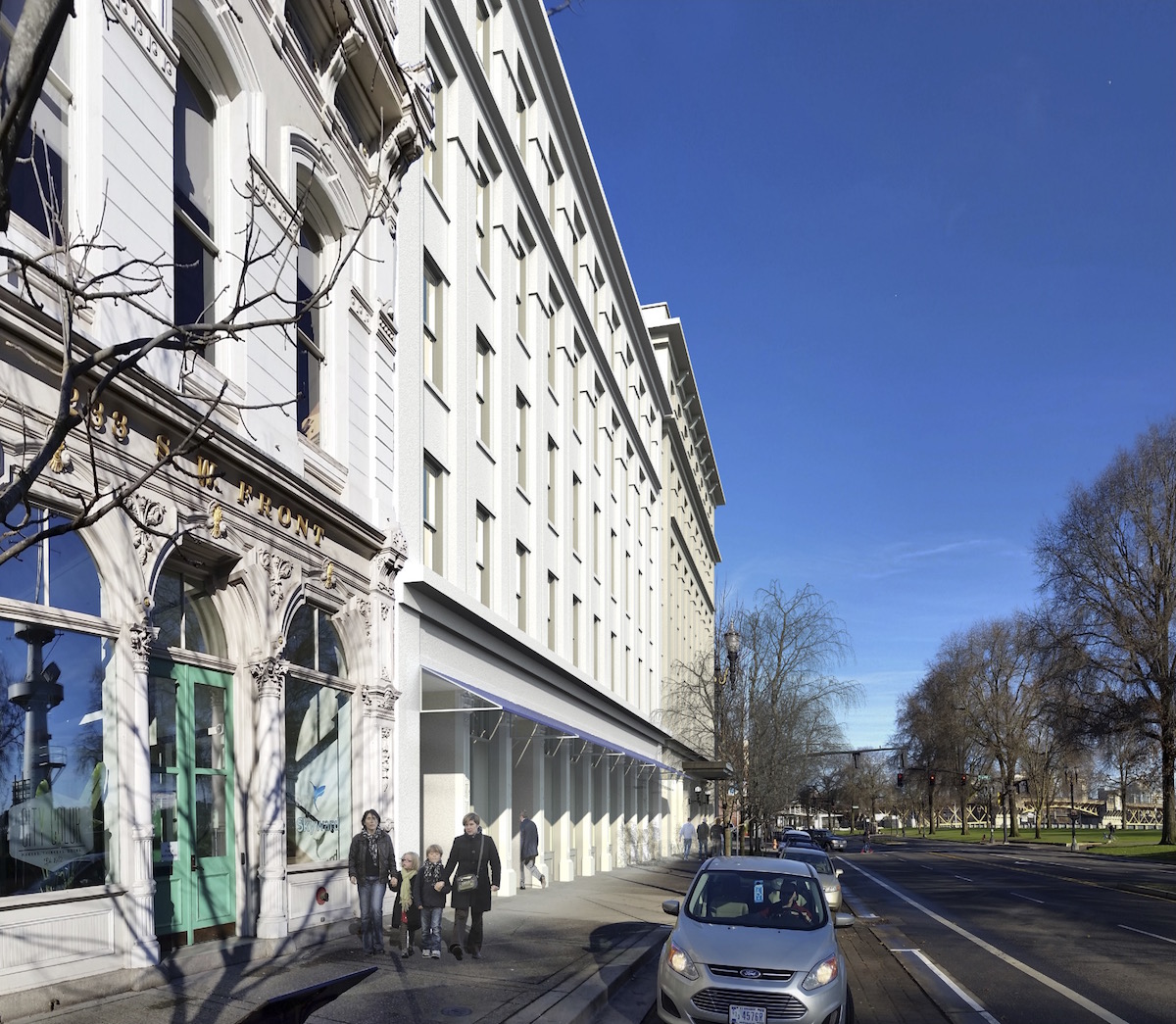 The primary material for the building will stucco, in two different colors. At the ground level the building will use aluminum-clad wood storefronts. Fiberglass windows will be used at the upper levels. Both will have a bronze finish.
Since the first Design Review hearing the architects have worked with William Hawkins, architect and author of the Grand Era of Cast Iron Architecture in Portland, on how best to incorporate cast iron from the collection started by Eric Ladd and currently owned by the PDC. At the ground level the building will include pilasters salvaged from the Wasserman & Weil Buildings, which once stood on the site of one of the Morrison Bridge ramps.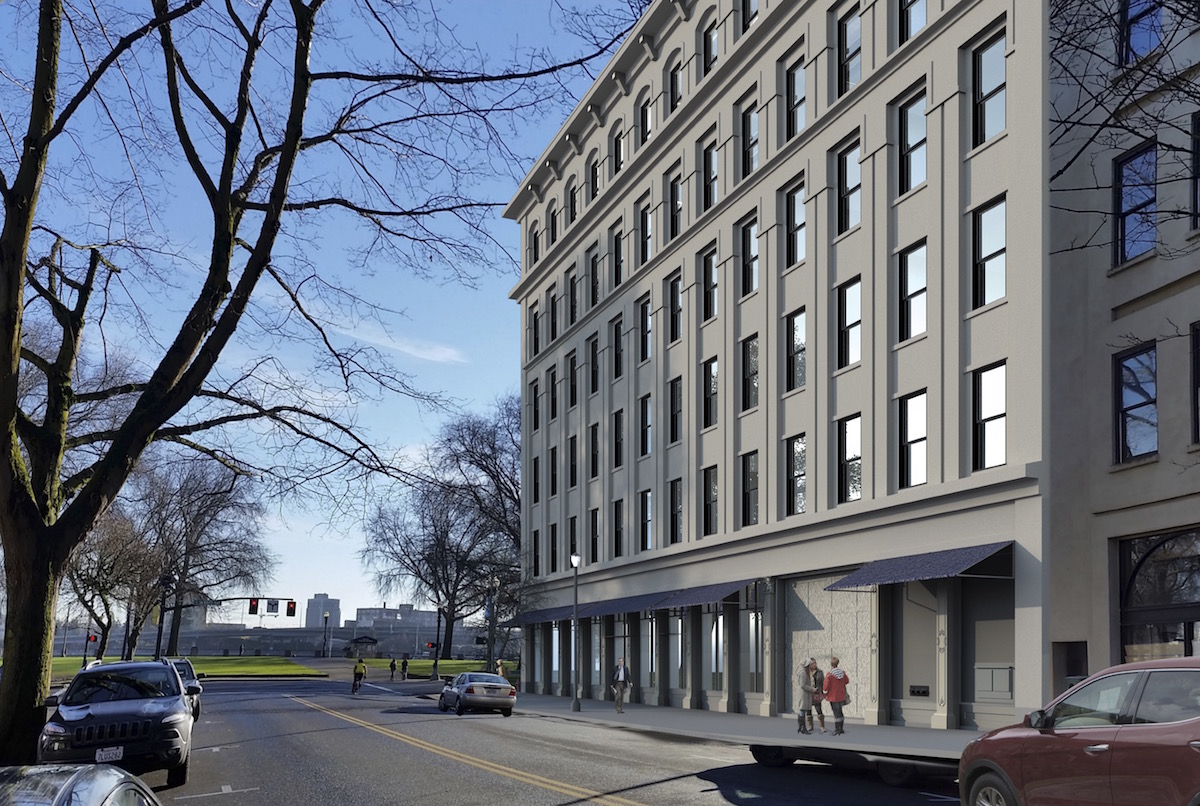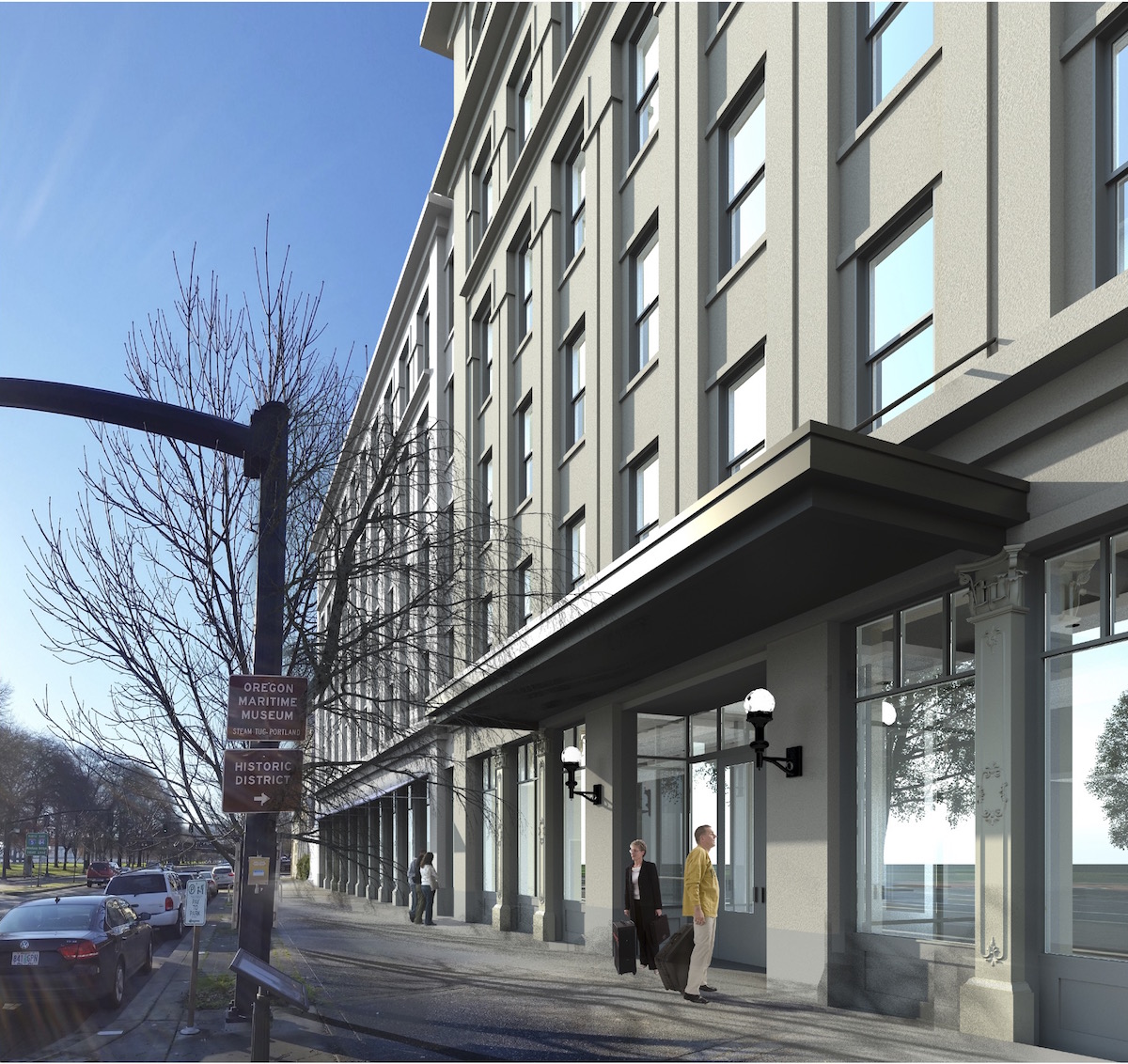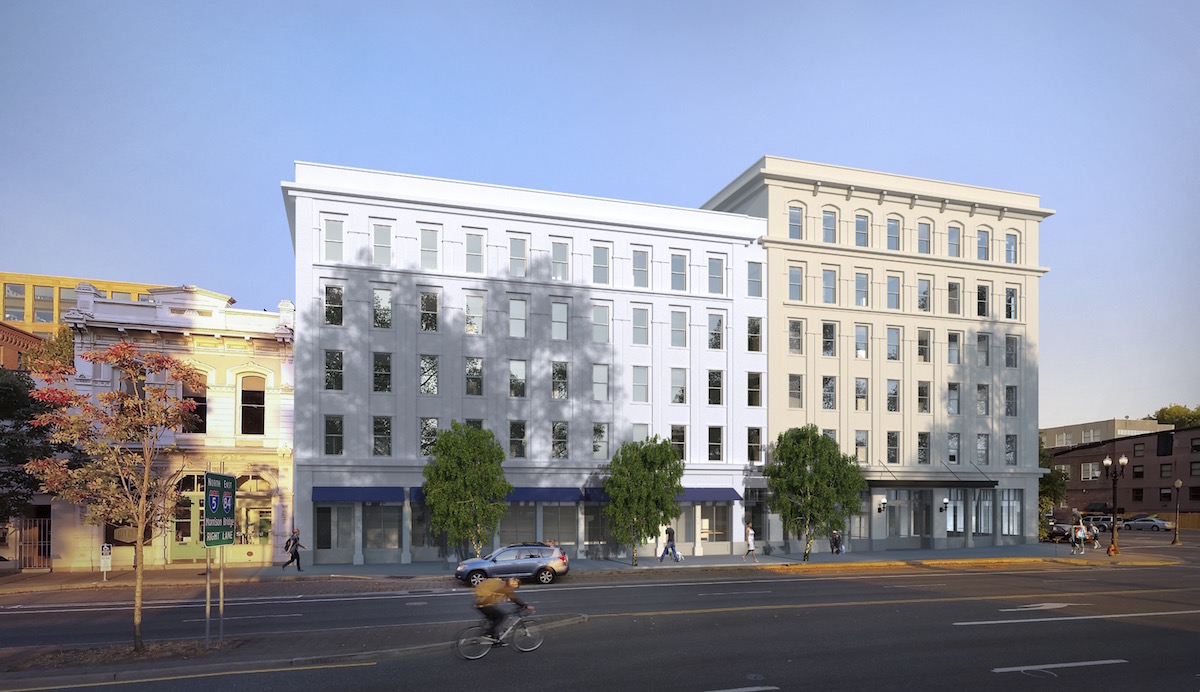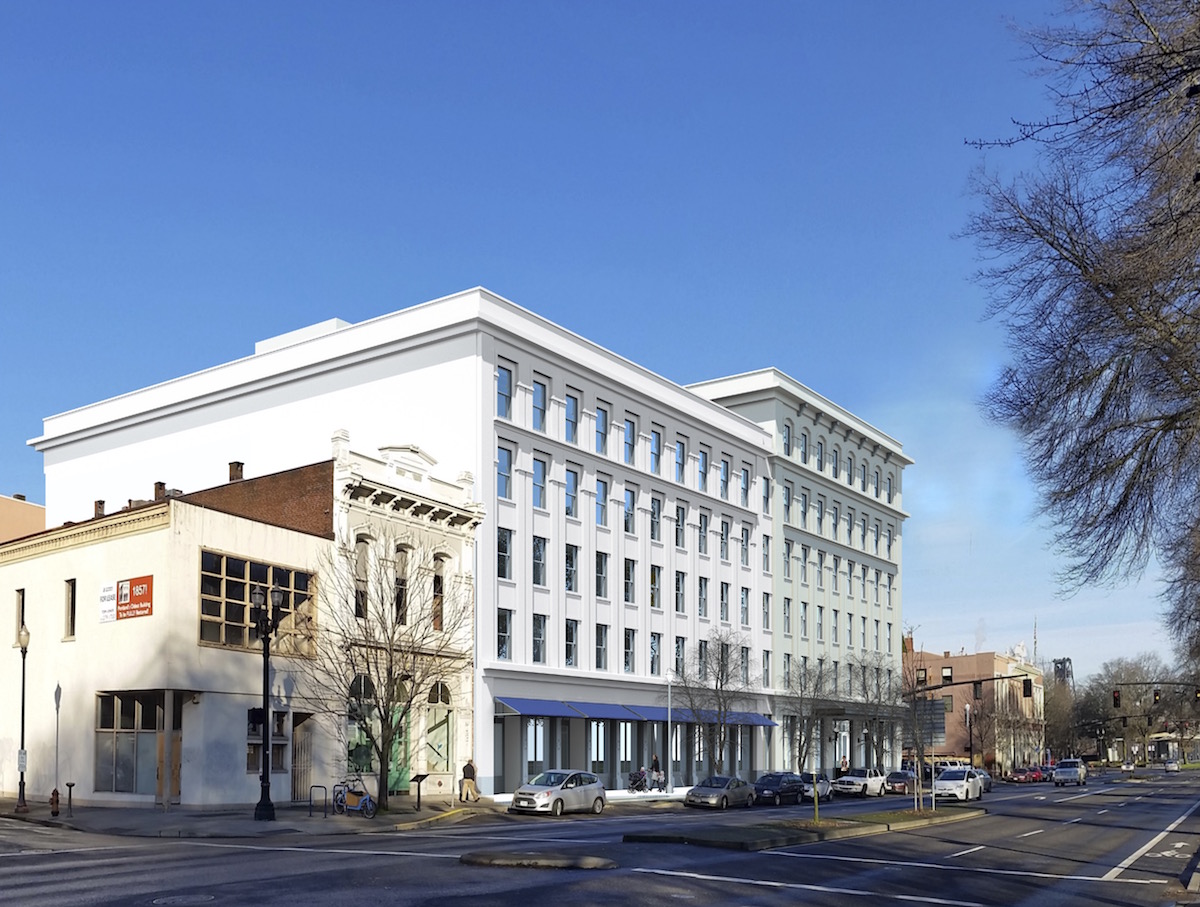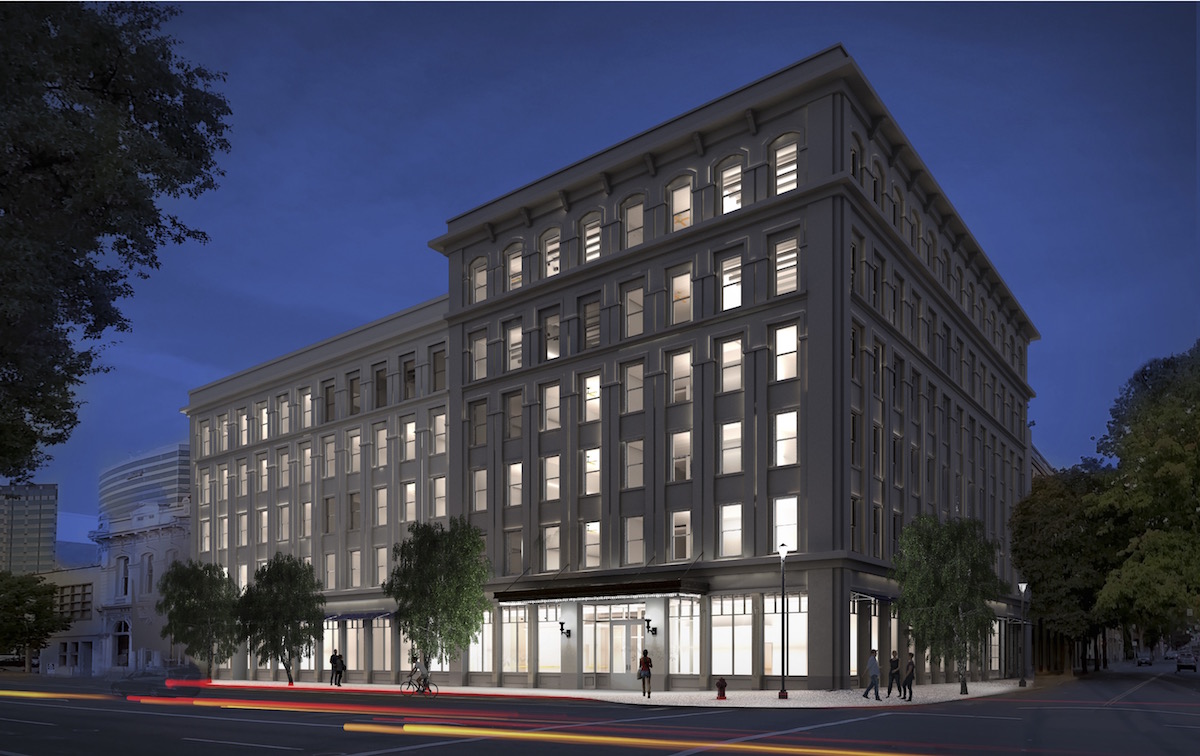 The significant changes to the building were warmly welcomed by the Landmarks Commission, who unanimously voted to adopt the Staff Report [PDF] and approve the project at their April 11th meeting.
The applicants will need to apply for and receive building permits before work can begin on site.
Drawings