The Design Commission has approved the OHSU Knight Cancer Research Building. The 7 story, 332,000 sq ft building by SRG Partnership and Mayer Reed landscape architects will include a conference center, research laboratory space, research support functions, ground level retail, and offices. Two levels of below grade parking will be provided.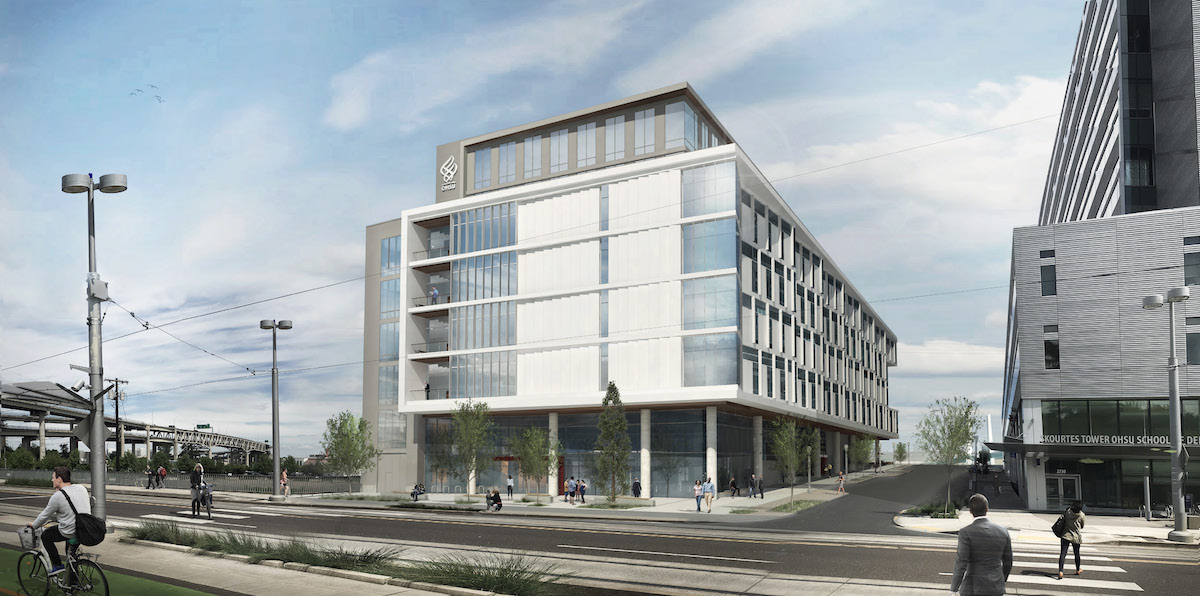 The Knight Cancer Research Building will be the second building in the OHSU Schnitzer Campus, following the Collaborative Life Sciences Building which was completed in 2014. The building will be located on the southern half of a block bound by SW Moody, Meade, a future promenade and the future SW Arthur. Another building will ultimately on the northern half of the block, likely 5-10 years after the completion of the KCRB. To the east of the building a green open space provisionally called the "OHSU Commons" will eventually be built. OHSU also recently gained approval for the Center for Health and Healing South, which will be located further south along SW Moody Ave.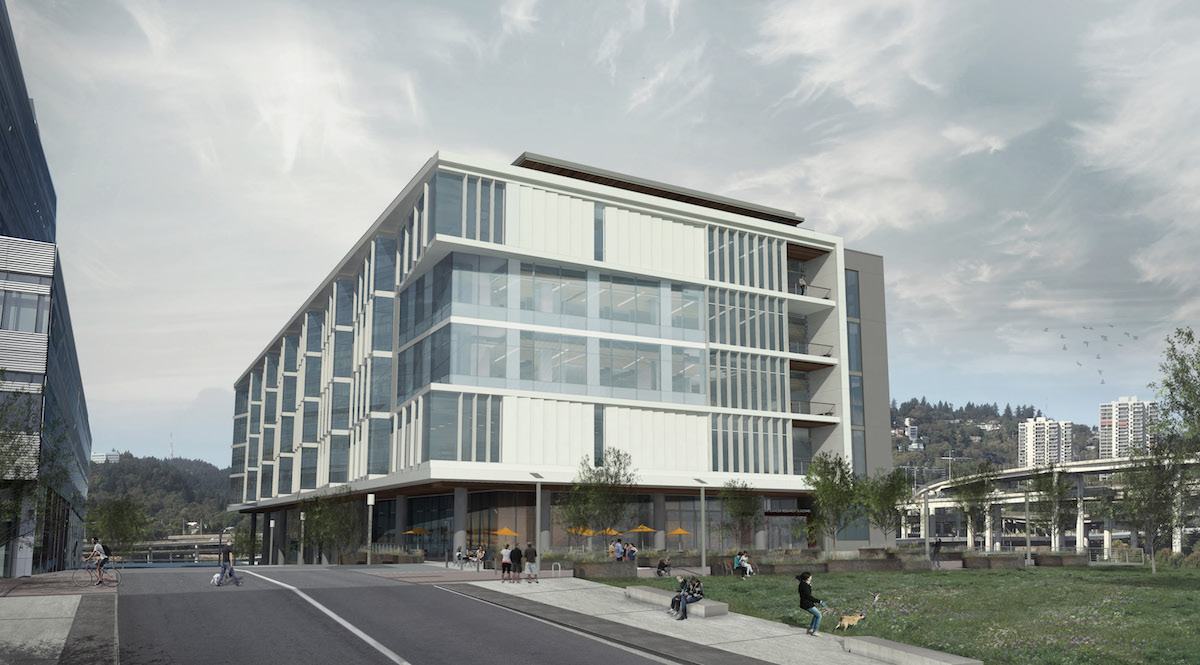 Along SW Meade St the main volume of the building, between levels 2 and 5, will have a series of saw-toothed oriel windows that provide views towards the Willamette.  A roof terrace, also with views to the river, will be located at the 6th floor.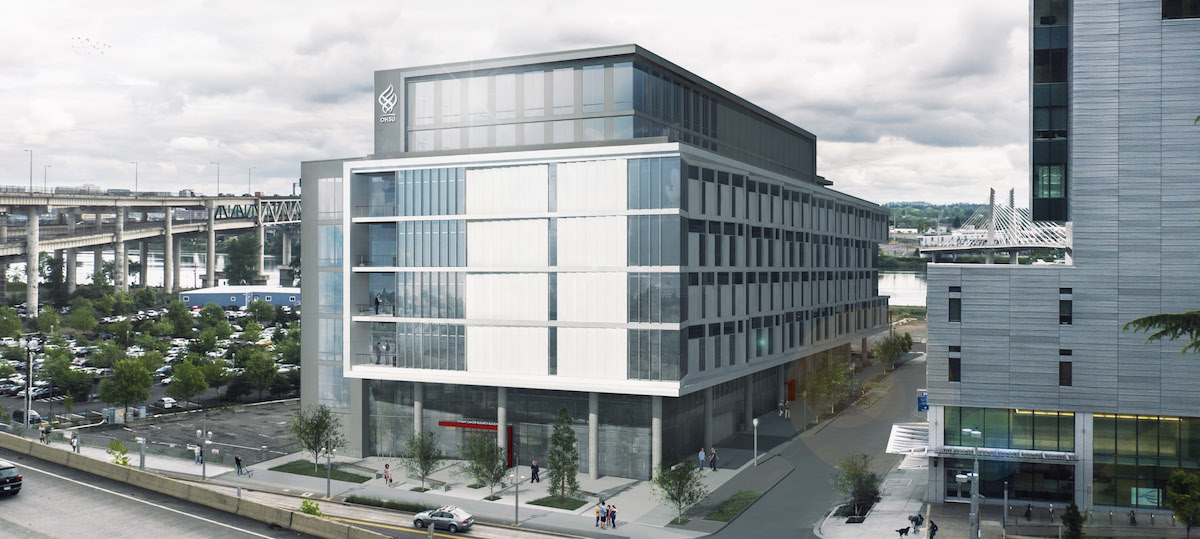 The proposed building will only occupy half of the block shown in the campus masterplan. A future building will eventually be built against the north wall of the KCRB, and the building has been laid out in plan to allow for an atrium space at the center of the two buildings.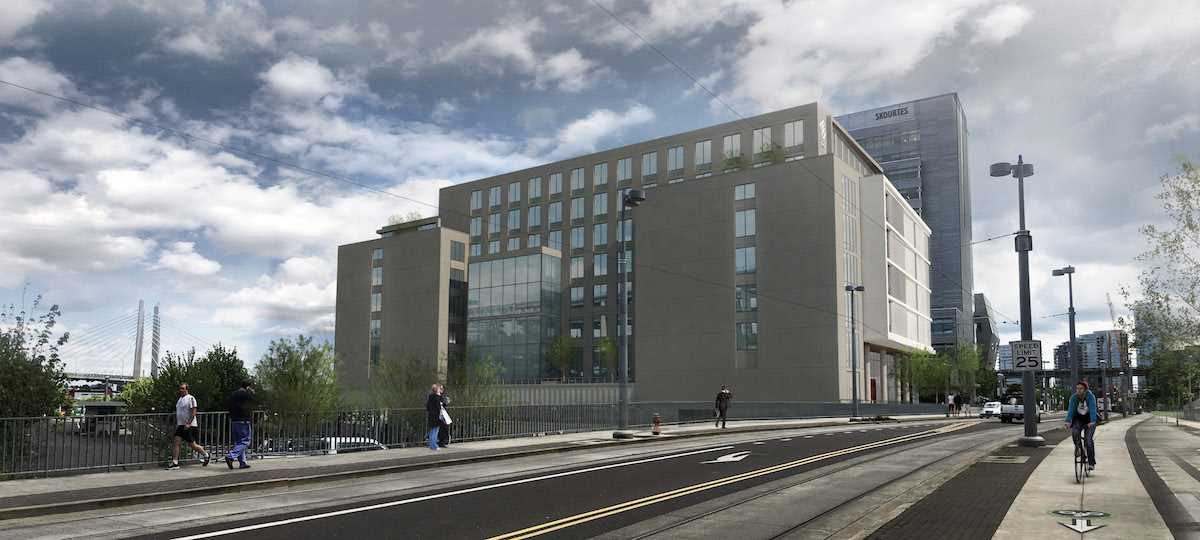 Primary materials for the building will be flat metal panels, shaped metal panels and aluminum framed glazing systems. Wood will be used as an accent at soffit locations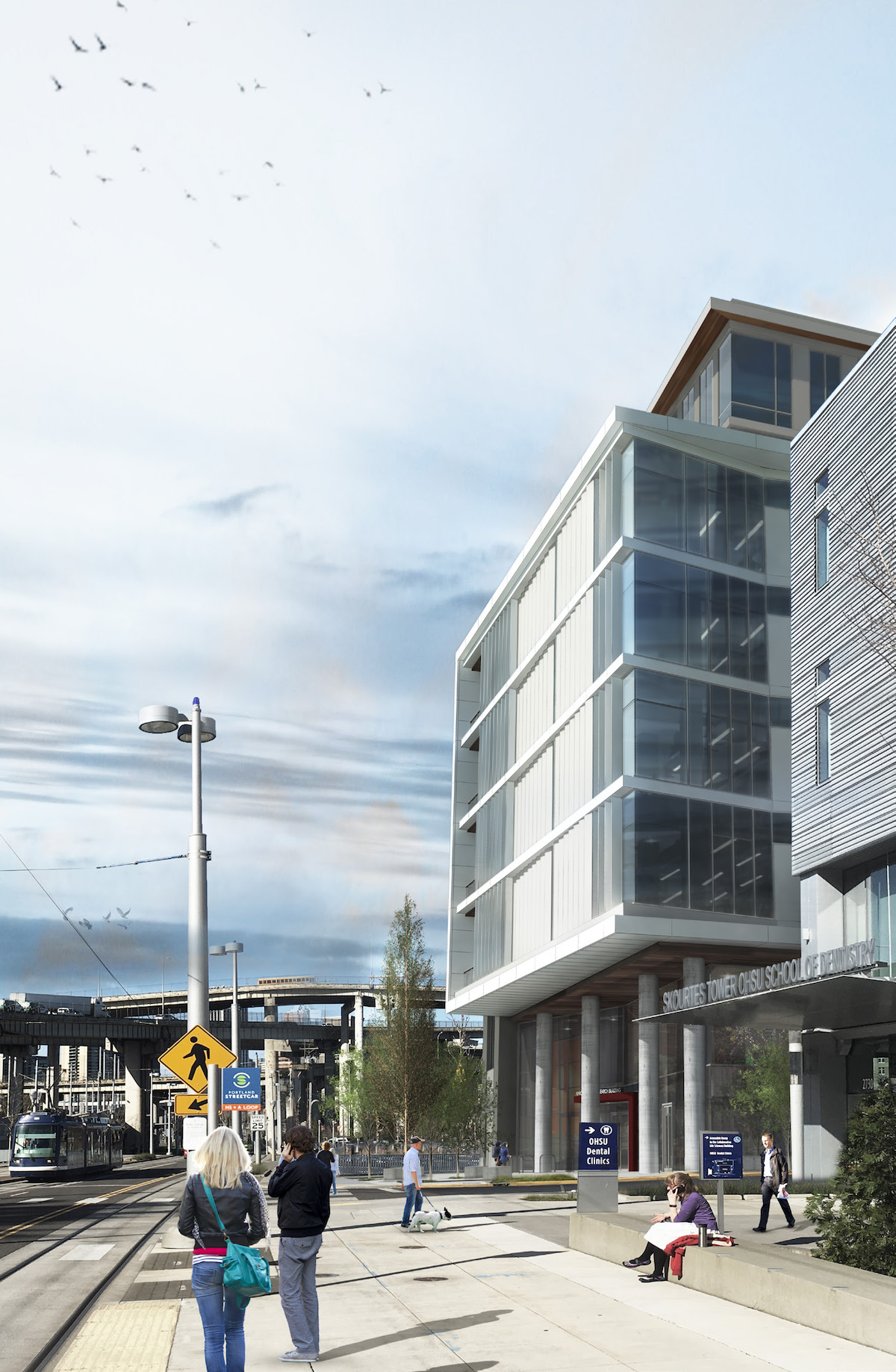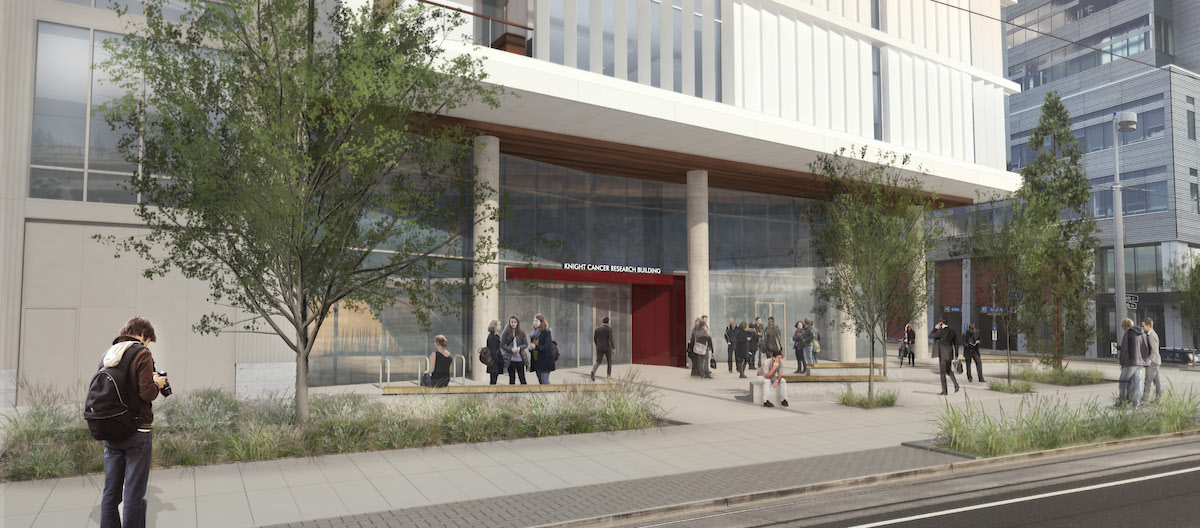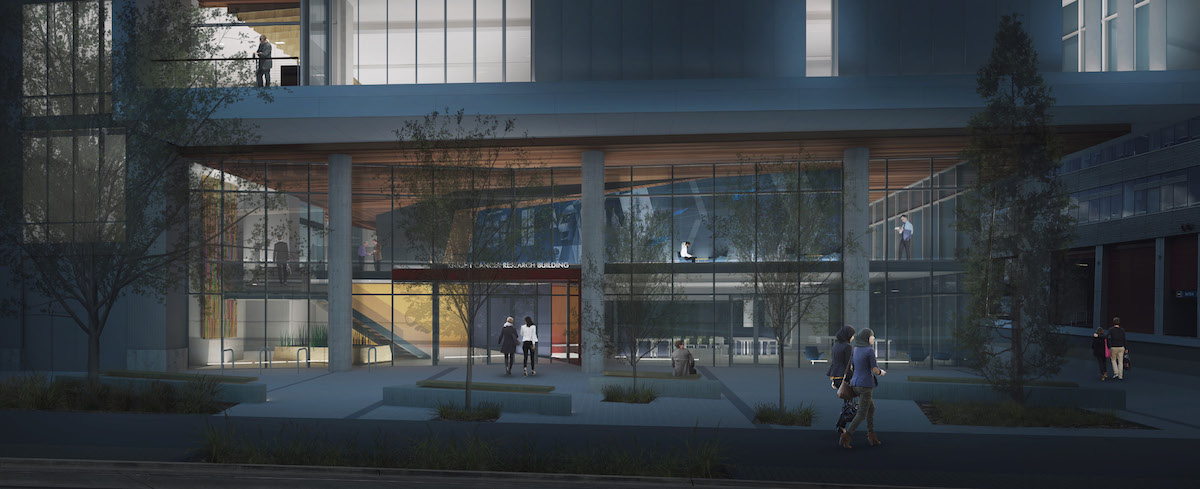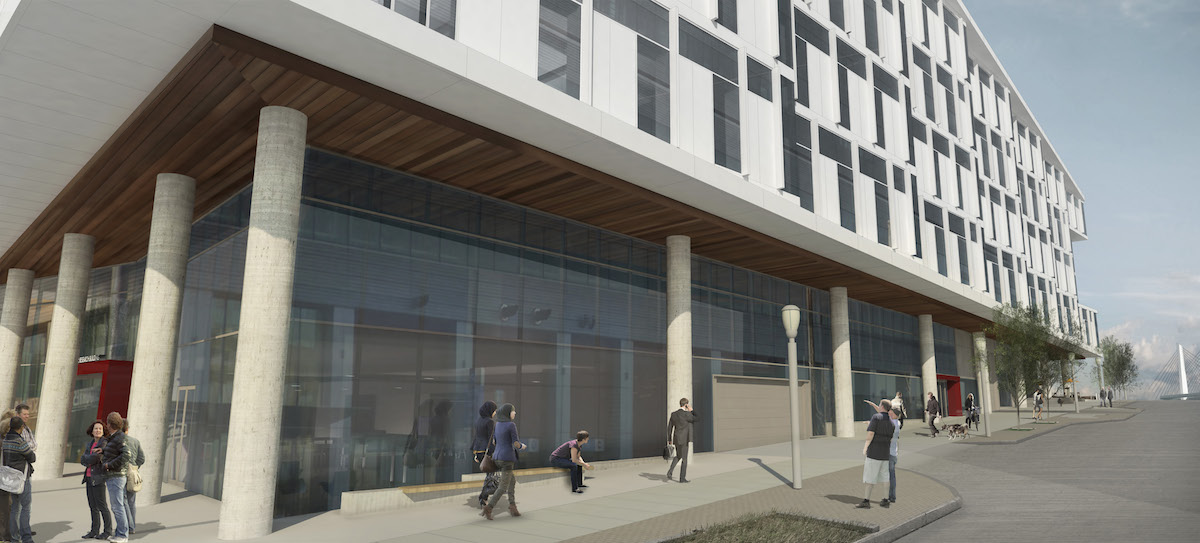 The OHSU Knight Cancer Research Building went before the Design Commission four times: twice for Design Advice, in May 2015 and September 2015; and twice for Design Review in April 7th 2016 and May 19th 2016. At the first Design Review hearing the project was not yet recommended for approval. Following revisions to the ground floor along SW Meade St, a Staff Report and Recommendation to the Design Commission [PDF] recommended approval. In the conclusion to the report the building was praised for the contribution it will make to OHSU's growing campus:
The Knight Cancer Research Building will be at the heart of the growing OHSU Schnitzer Campus, and will face the future OHSU Commons to the east, giving this building a distinct urban presence and an opportunity for views and connection to the Commons, the Greenway, the Willamette River and views beyond.

The building is as impressively detailed with high-quality materials, as is compositionally expressive of the critically important cancer research functions that will be going on within.
At their May 19th meeting the Design Commission voted 5-0 to uphold the Staff Report and approve the project, with one abstention. Building permits are currently under review for the project.
Drawings