Gerding Edlen development have scheduled a Pre-Application Conference to discuss a 17 story tower at 5 SE Martin Luther King Jr Blvd, the current home of Fishels Furniture. Preliminary drawings by GREC Architects of Chicago show an "L" shaped building occupying the entire block. Buildings plans show a main entry to the building at the corner of SE MLK and E Burnside, with retail spaces fronting SE MLK and SE 3rd Ave. Levels 2 to 5 of the building would include approximately 100,000 sq ft of office floor space. Above that the building would include an estimated 220 residential units. Around 180 car spaces, serving both the residential and office uses, would be located in three levels of below grade parking.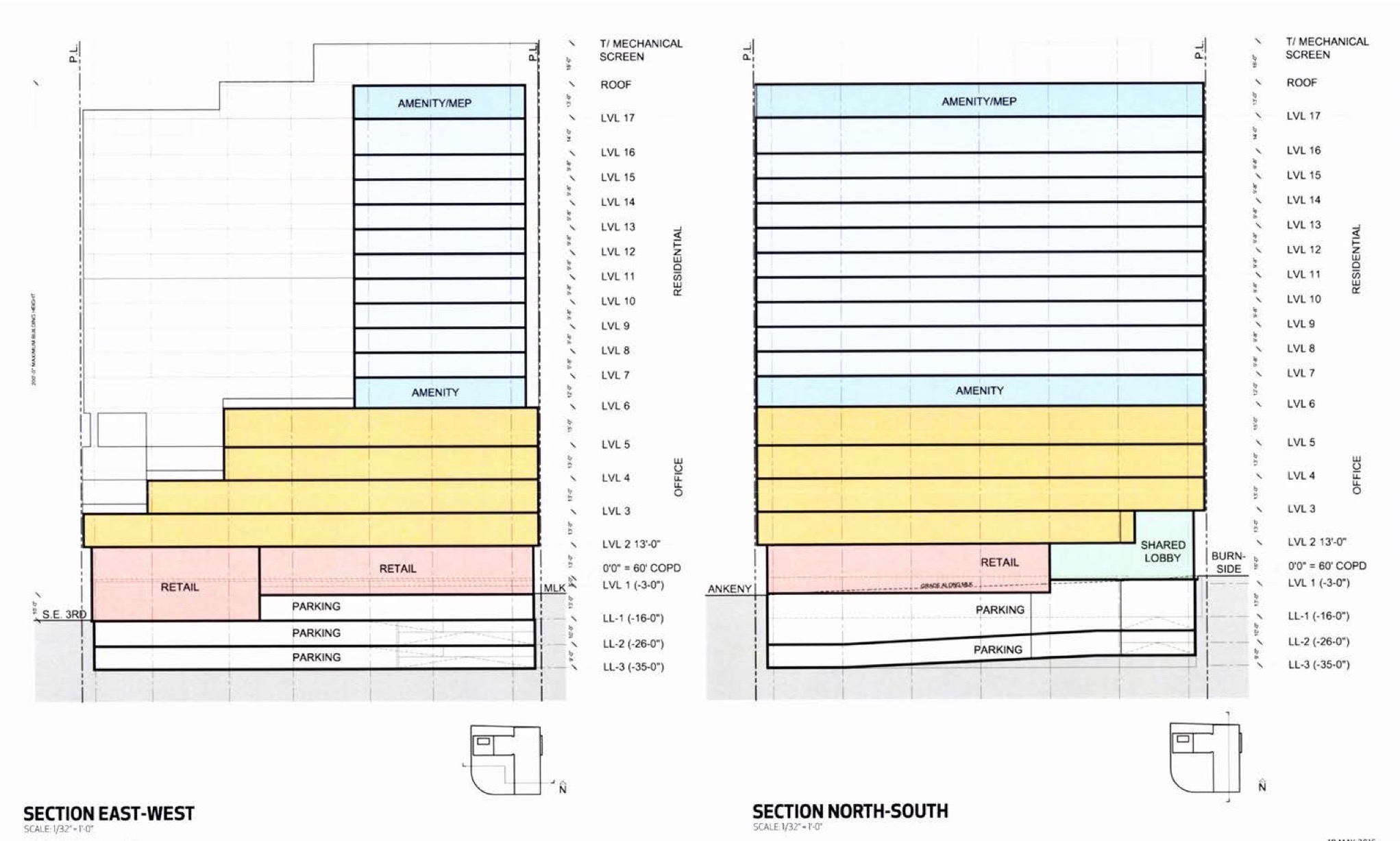 According to a 1988 survey [PDF] the existing quarter block building at 5 SE Martin Luther King Jr Blvd was built circa 1900, to designs by an unknown architect. The building is described as "typical of others of its type which consist of a first floor retail space with offices above". Other buildings on the same block, also used by Fishels Furniture, are listed on portlandmaps.com as constructed in 1920, 1941 and 1953. Fishels Furniture was founded in 1921, and announced in April 2016 that they would be closing following a liquidation sale.
The surrounding area at the east end of the Burnside Bridge is growing rapidly. Nearby projects under construction include Yard, Slate, 419 E Burnside and the renovation of the Towne Storage Building. Planned buildings in the lower E Burnside area include the Fair Haired Dumbbell, Block 75 Phase II, the Jupiter Hotel Expansion, 710 E Burnside and the Burnside Delta.
The Pre-Application Conference [PDF] will be held on June 15th 2016 at 1:00 PM. The project will be required to go through Type III Design Review with public hearings before the Design Commission. It is possible that the project will also require Type III Central City Parking Review.
Drawings