The Design Commission has approved the Burnside Delta, a new six story mixed use building at E Burnside and 12th Ave. The project by Vallaster Corl Architects for developer Urban Development Group will include 85 residential units above 2,500 sq ft of retail. At the 6th floor the building will include a community room and exterior deck on level 6. Parking for 18 cars would be provided in a mostly below grade garage. Bicycle parking for 75 bikes will be provided in the basement, with the remainder of the required spaces provided in the units.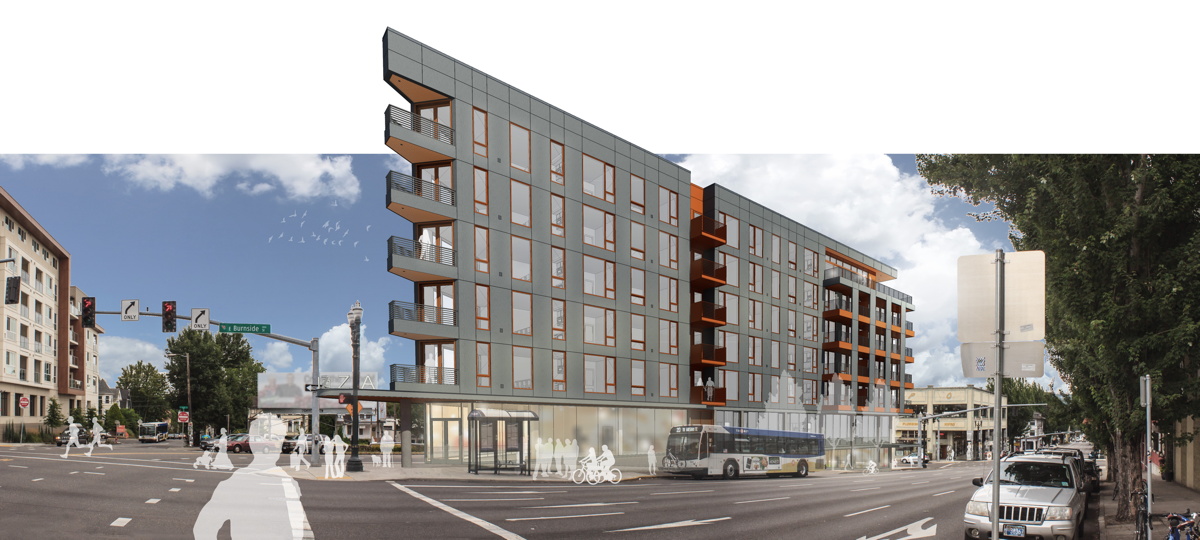 The site for the project is bound by E Burnside, SE 11th Ave and SE Sandy Blvd. A large Clear Channel billboard is currently located on the triangular block. Michael's Italian Beef and Sausage Company occupies a small portion of the block, and will remain. Another Vallaster Corl building, the Lower Burnside Lofts, were recently completed one block to the west.
The proposed building is roughly triangular in plan, in response the shape of the block which is diagonally cut by Sandy Blvd. At the intersection of Burnside and Sandy the two major facades will come together at an acute angle, expressed by balconies accessed from the corner residential units. The primary material for the building will be TAKTL Ultra High Performance Concrete Panels, which are being used instead of the metal treadplate proposed in earlier iterations of the design. The balconies, soffits and vinyl windows are proposed as orange colored accents on the facade.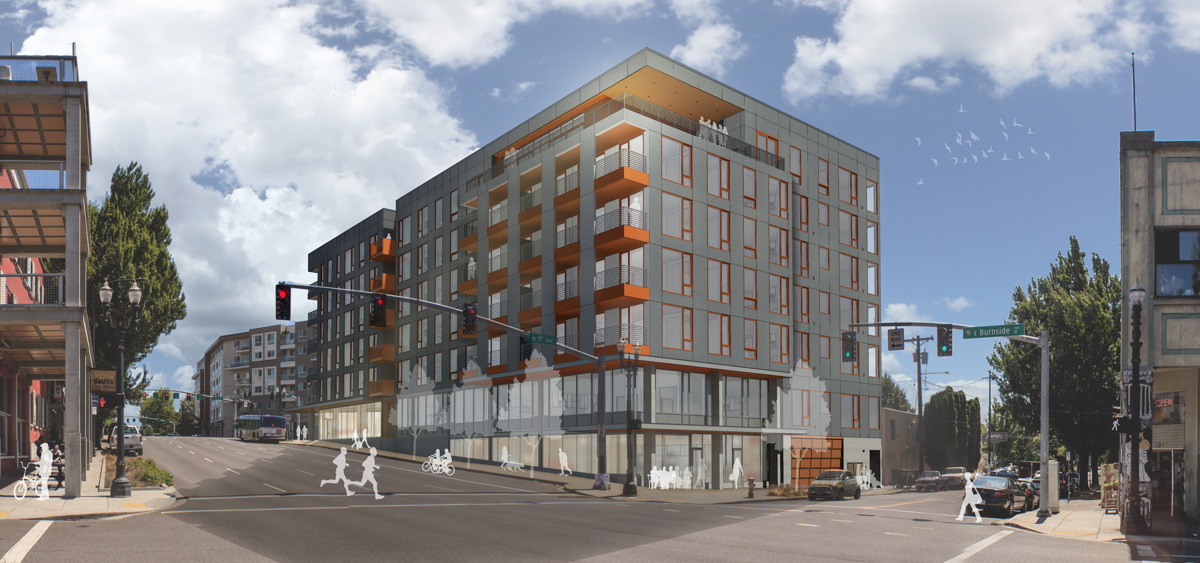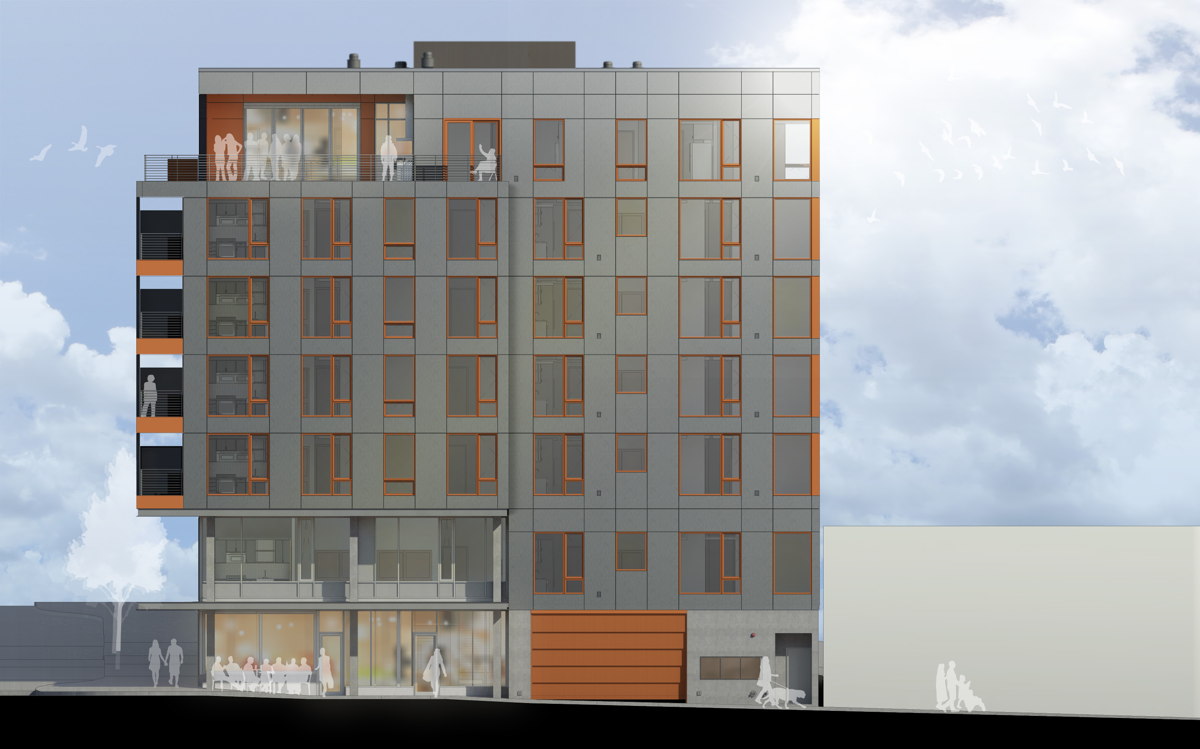 The Burnside Delta has gone before the Design Commission twice before: once for Design Advice in September 2015; and once for an initial Design Review hearing in February 2016. At both hearings the largest issue identified by the Design Commission was how the project should respond to district guideline which call for buildings to "reinforce the effect of sidewalk arcaded buildings fronting on East Burnside Street". In response the applicants revised the design to create an 8′ deep projection over the sidewalk at the southwest corner of the building. The projection will include both interior living space and exterior balconies.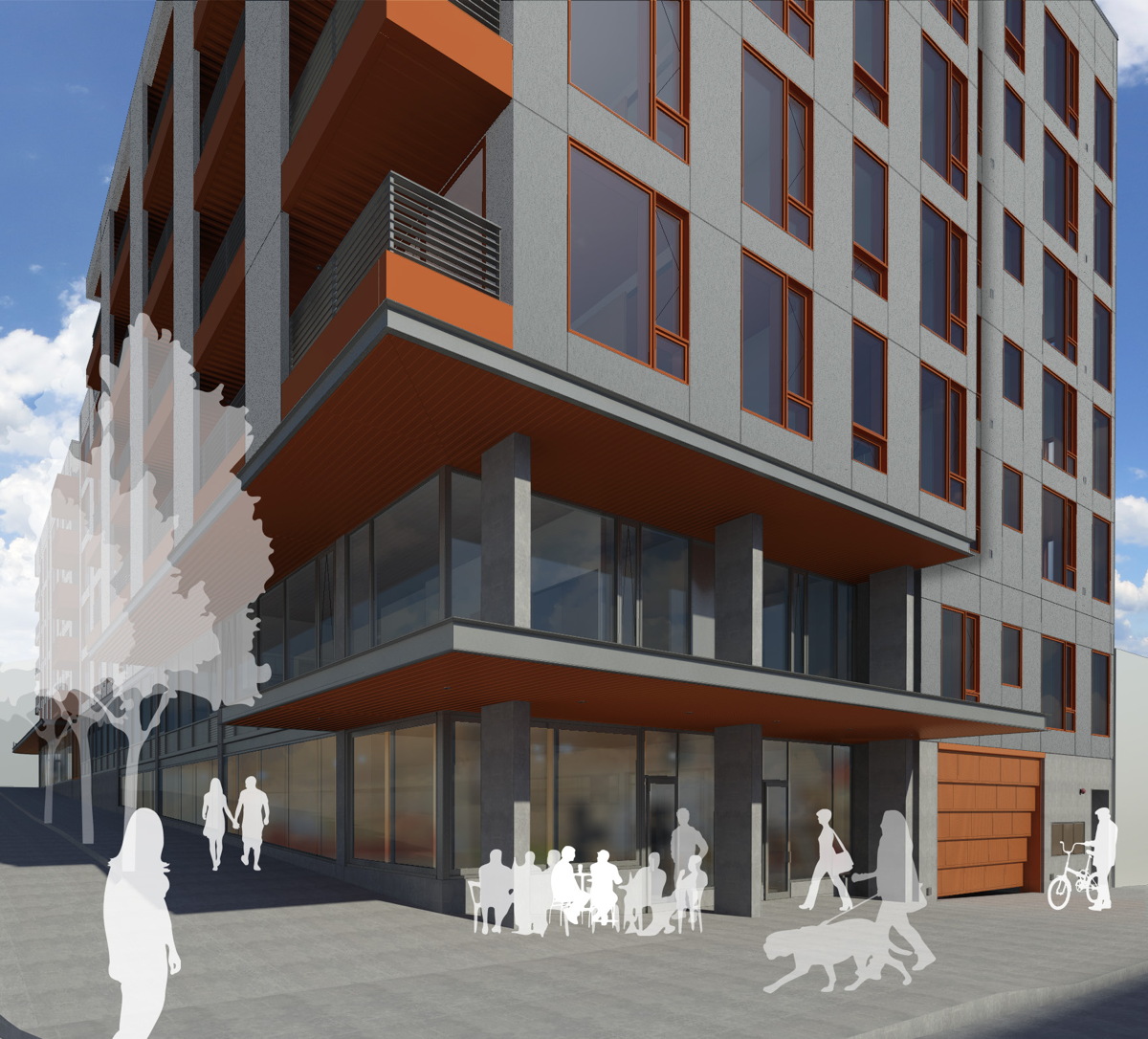 At their April 14th meeting the Design Commission unanimously voted to adopt the Staff Report and Recommendation to the Design Commission [PDF] and approve the project. As he cast his vote in favor, the newest member of the Design Commission, Andrew Clarke, praised the building design:
I think this is a great building for the intersection. I think it's going to activate the area quite a bit, and it's much needed.
Building permits will need to be obtained before work can begin on site.
Drawings