A six story building at E Burnside and 12th has gone in front of the Design Commission for its first Design Review hearing. The Burnside Delta by Vallaster Corl Architects 85 residential units above 2,500 sq ft of retail. The project for developer Urban Development Group would also include a community room and exterior deck on level 6. Parking for 18 cars would be provided in a mostly below grade garage.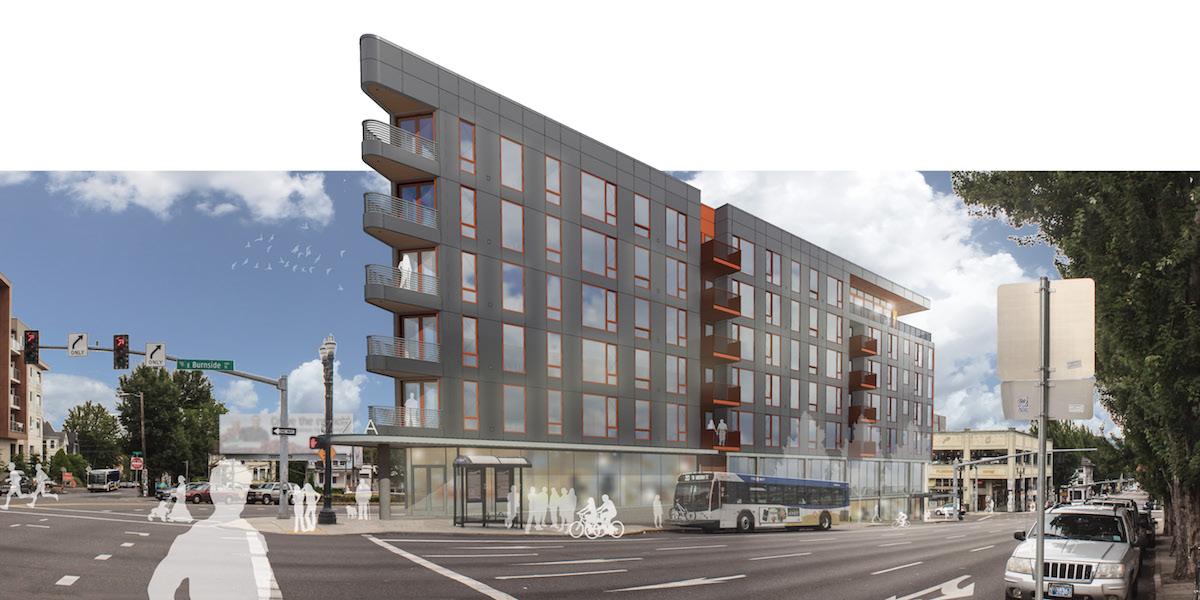 The site for the project is bound by E Burnside, SE 11th Ave and SE Sandy Blvd. A large Clear Channel billboard is currently located on the triangular block. Michael's Italian Beef and Sausage Company occupies a small portion of the block, and will remain. Another Vallaster Corl building, the Lower Burnside Lofts, were recently completed one block to the west.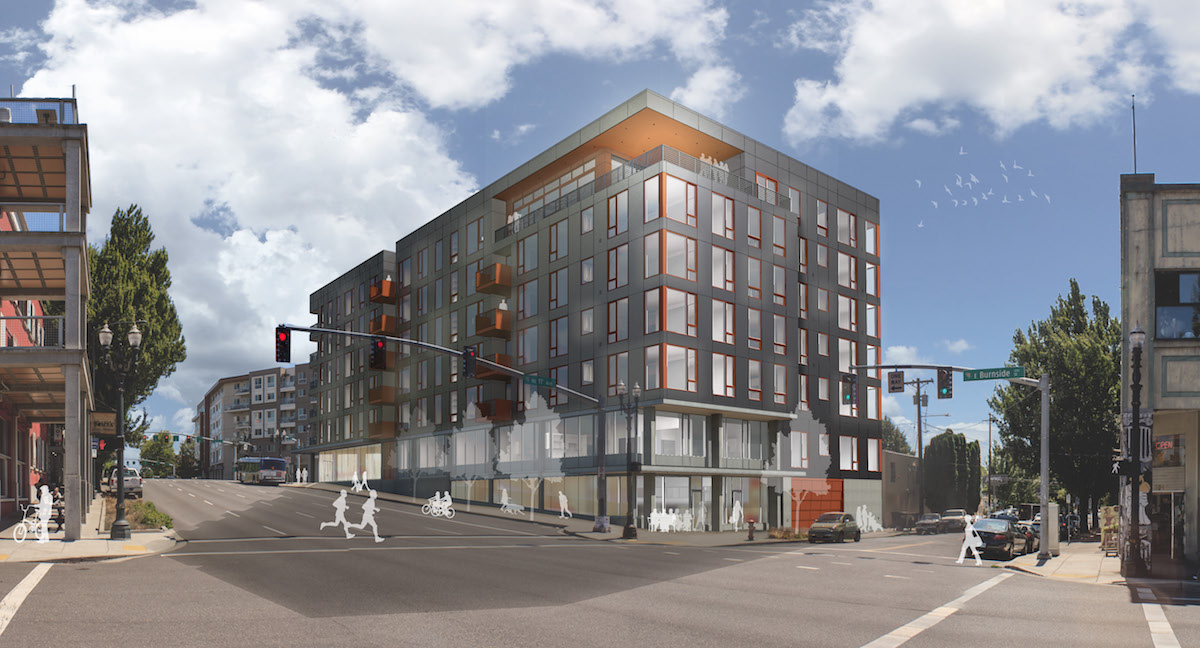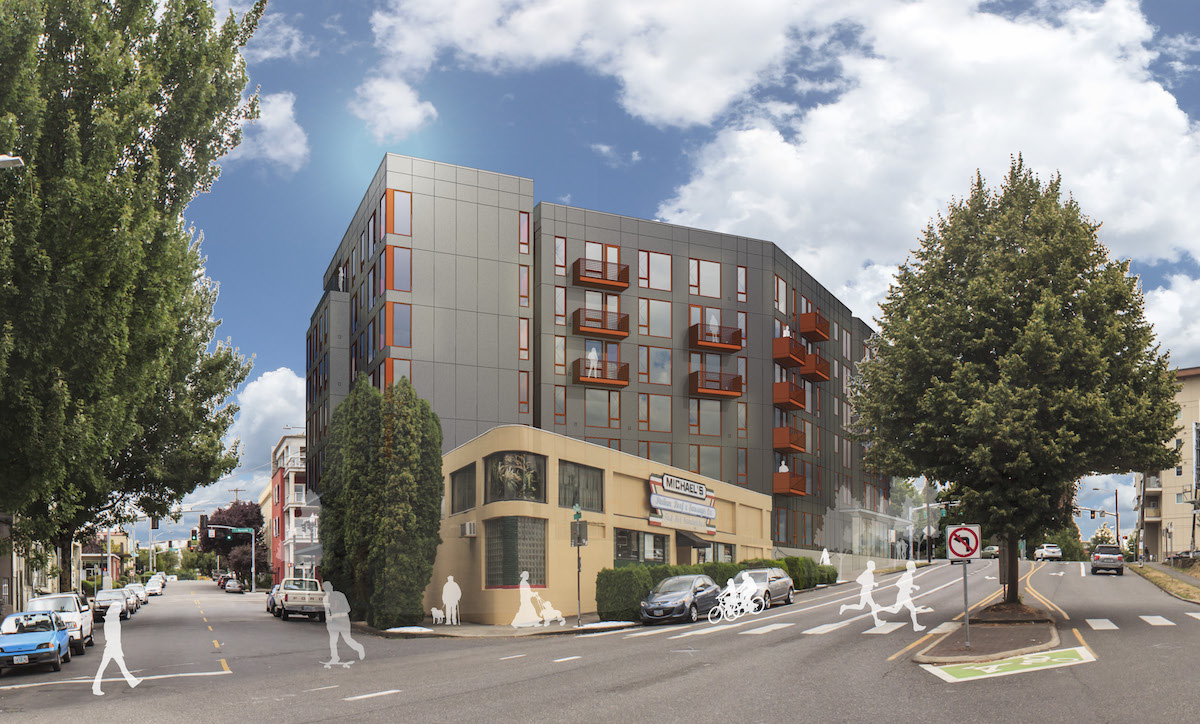 The proposed building is roughly triangular in plan, in response the shape of the block which is diagonally cut by Sandy Blvd. At the intersection of Burnside and Sandy the two major facades will come together at an acute angle, expressed by balconies accessed from the corner residential units. The primary material for the building would be metal tread plate, coated in a liquid applied Kynar finish. The balconies, soffits and vinyl windows are proposed as orange colored accents on the facade.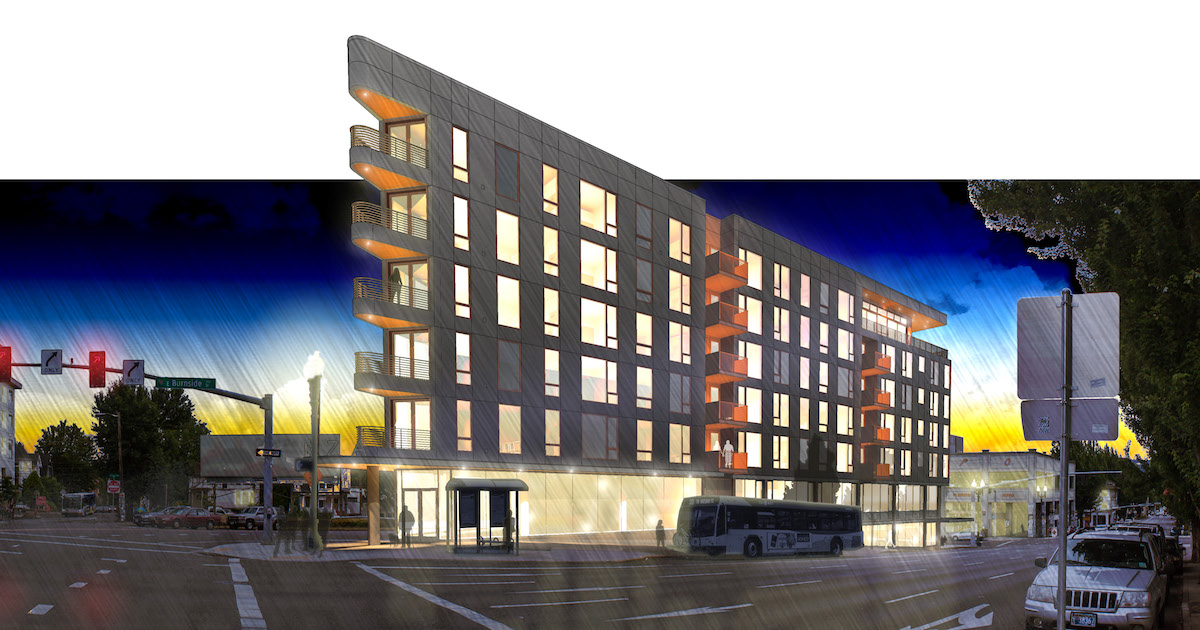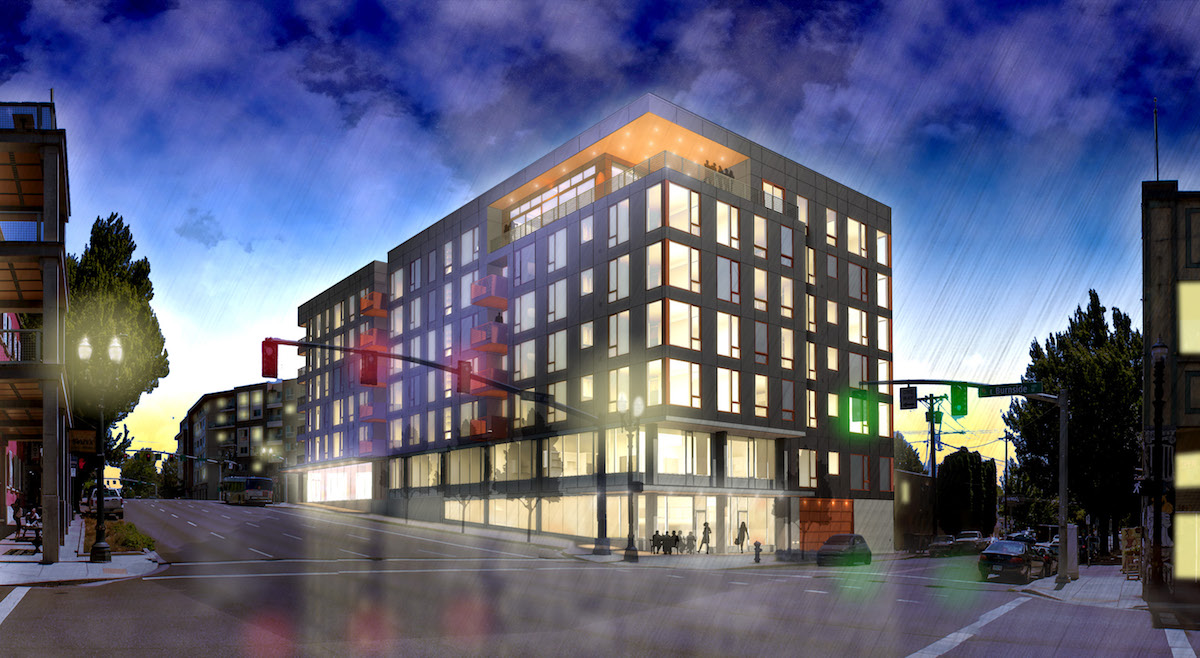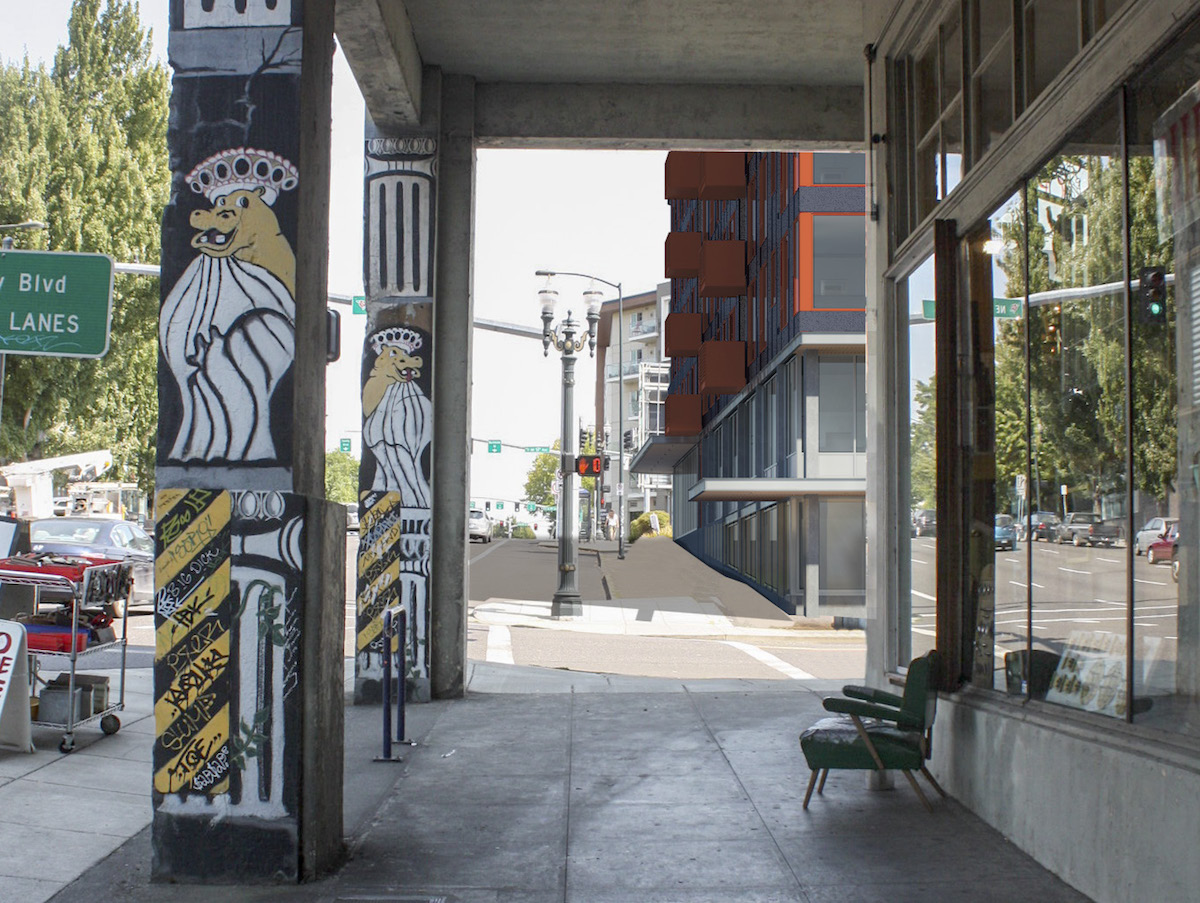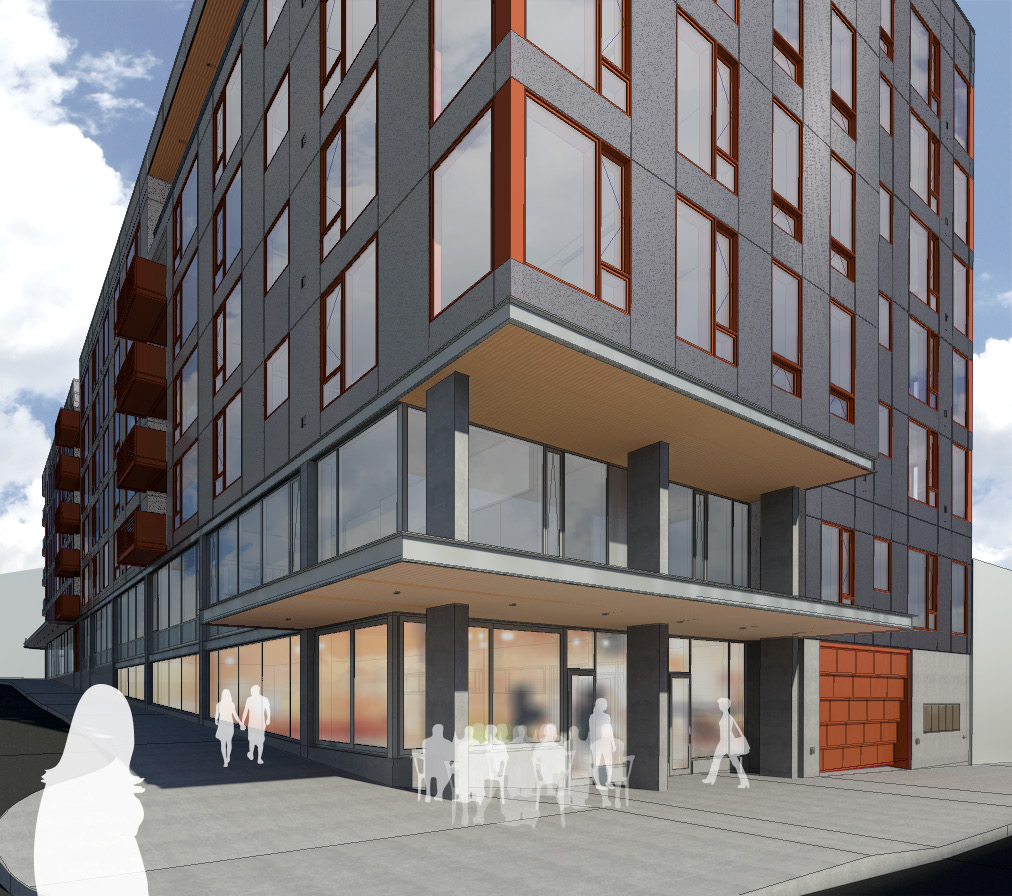 A Staff Report and Recommendation to the Design Commission [PDF], published before the February 4th hearing, did not yet recommend approval for the project. Staff expressed some concern about the use of tread plate as the major facade material, a worry that was shared by some members of the Commission. Despite his overall appreciation for the building, Commissioner Savinar considered the material a non-starter. Other Commissioners were more receptive to the material, particularly after having a seen a physical sample.
The major issued raised by the report was the lack of projection over the sidewalk, which is encouraged by the Design Guidelines in the Lower Burnside Arcade District. Noting that the issue was brought up at the previous Design Advice hearing, the applicants were encouraged to further study options building out over the right-of-way. Commissioner Simpson stated that he thinks "all the other moves are great… it's just, that's the one complete departure from the guidelines." The developer of the project stated that he believes that the lease rates charged by PBOT for a major encroachment would be prohibitively expensive, especially when compared to minor projections up for 4′-0″ deep for which the City doesn't charge. Commission Chair Wark agreed, stating that Lower Burnside is the only area in Porltand where buildings are encouraged to go over the sidewalk, and that the City should not create a requirement in its Design Guidelines and then charge money to development teams who meet the requirement.
The Burnside Delta is currently scheduled to return for a second Design Review hearing on March 17th.
Drawings