A Pre-Application Conference has been scheduled by GBD Architects to discuss a full block, high-rise, mixed-use structure at 140 SW Columbia St. Drawings show retail and residential at the ground floor, with retail spaces facing SW 1st Ave, Columbia St and 2nd Ave. Floors 2, 3 and 4 will be structured parking with 265 parking spaces, serving the residential uses proposed in the body of the tower.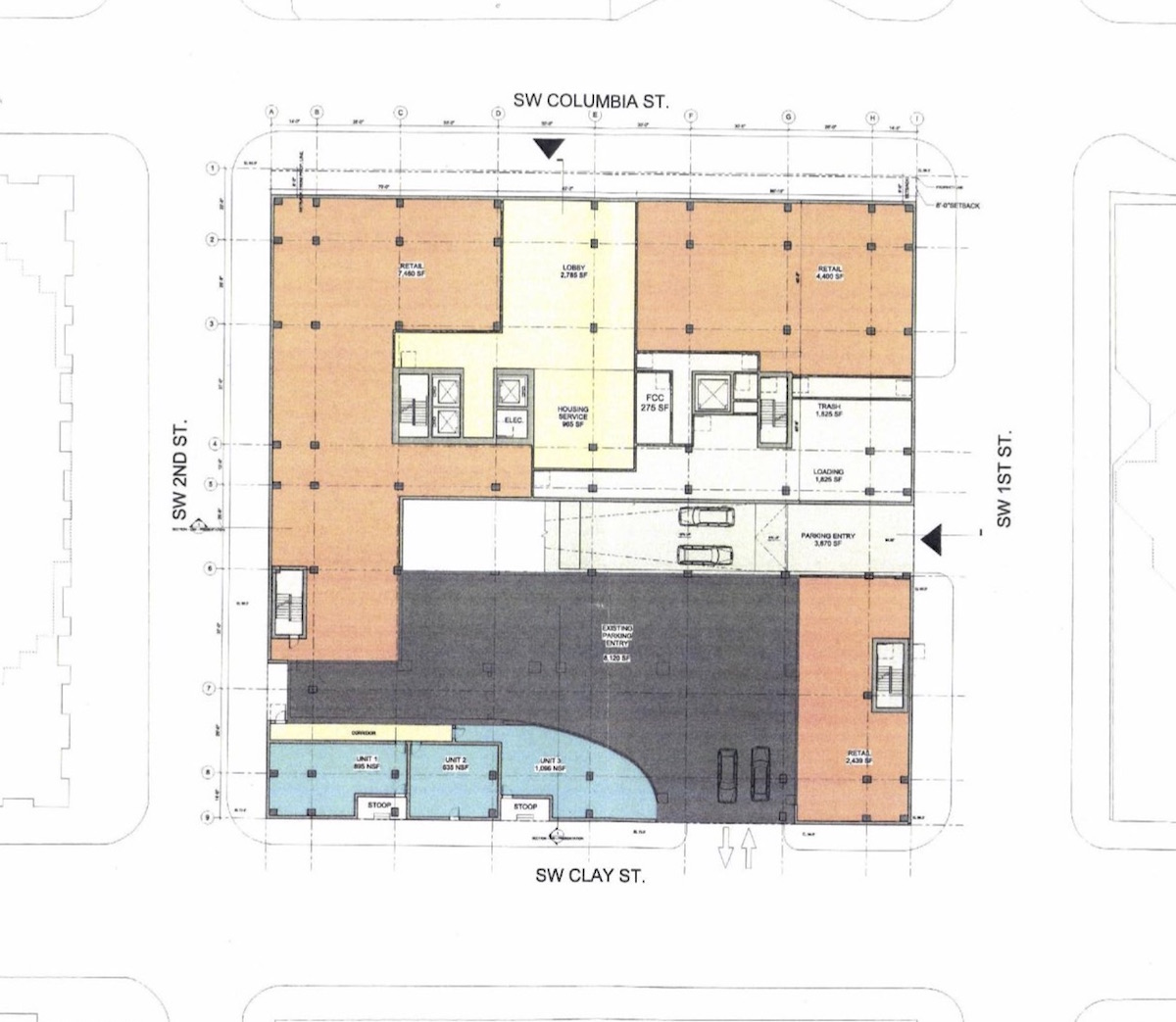 The full block site was once occupied by KOIN, who planned to sell their building to KOIN Tower developers Olympia and York, in exchange for the rights to move into the new tower being built one block to the west. Early 1980s plans envisioned construction of a 15-story office building to replace the demolished KOIN studios. Today, the southern portion of the block is used as the garage entrance to the KOIN Tower.  The northern portion of the block is used for surface parking.
In 1999 Louis Dreyfus Group, by then the owner of the KOIN Tower, announced plans to build a 15 story office building on the block. The site was eventually sold by KOIN's parent company to the Goodman family controlled Downtown Development Group in 2013. In 2015 it was one of the candidate sites for the new Multnomah County Central Courthouse. The site is currently zoned to allow 200′ tall buildings. Under changes contemplated as part of the West Quadrant Plan the height allowances could have gone up to 325′. In the current draft of the Central City Plan (which incorporates the West Quadrant Plan) the height allowance on the site is set to be increased to 270′, effective in 2018.
The Pre-Application Conference [PDF] is scheduled for September 15th 2016 at 10:30AM. A Design Advice Request for the project has also been submitted. For the project to gain approval it will be required to go through a Type III Design Review, with public hearings in front of the Design Commission.