The Design Commission has approved the Modera Buckman, a 7-story mixed use development in the Central Eastside. The building, by Leeb Architects for developer Mill Creek Residential Trust, will include 170 residential units and 6,621sf of ground floor retail space. Parking for 74 vehicles is proposed in a below grade parking garage. Long term parking for 255 bicycles is proposed, with 98 spaces in a secure bike room and the remaining spaces provided in the units.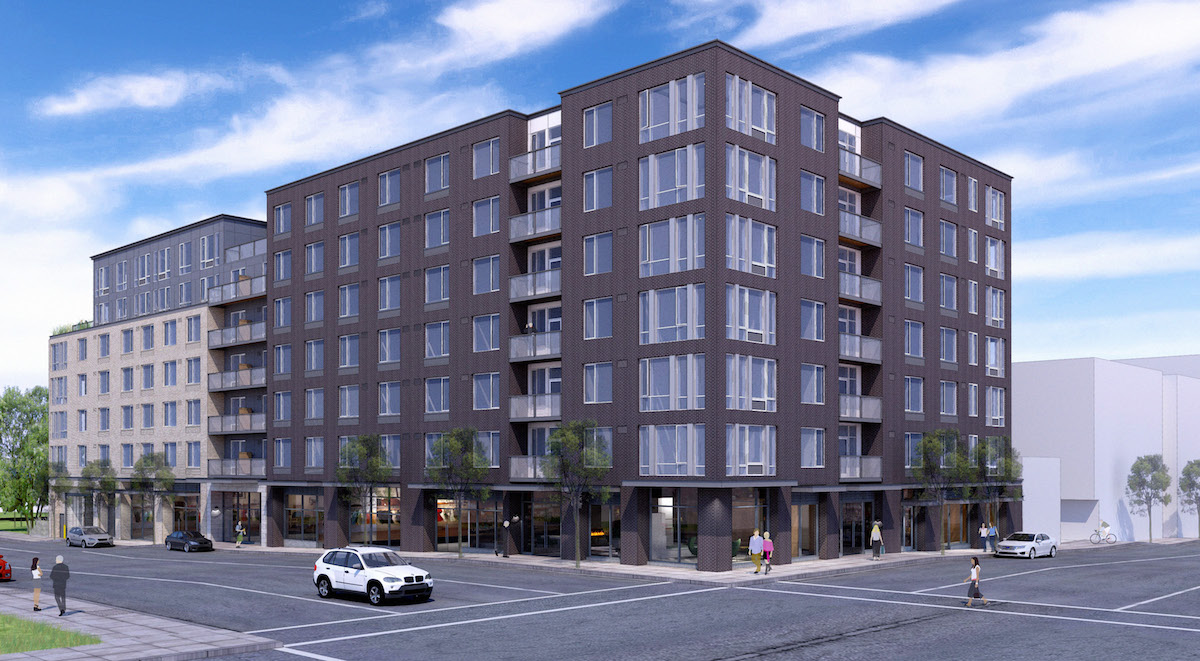 The 26,000 sq ft project site at 909 SE 12th is immediately to the east of the under construction Goat Blocks development. The site is currently occupied by low rise garage buildings, shown on city records as having been built in 1957 and 1985.
The bar shaped building would reach a height of 7 stories, with 5 levels of wood framed construction over 2 levels of concrete frame. Until recently wood frame buildings in Oregon have been restricted to 6 stories by the state building code. Under changes made to the 2015 edition of the International Building Code (IBC), upon which the state building code is based, 7 story wood buildings are now allowed. While this code update is not yet adopted by Oregon, the City of Portland Bureau of Development Services has recently started allowing this method of construction when approved through an appeal of the 2014 Oregon code currently in effect. The 2015 IBC is expected to form the basis of the 2018 Oregon code.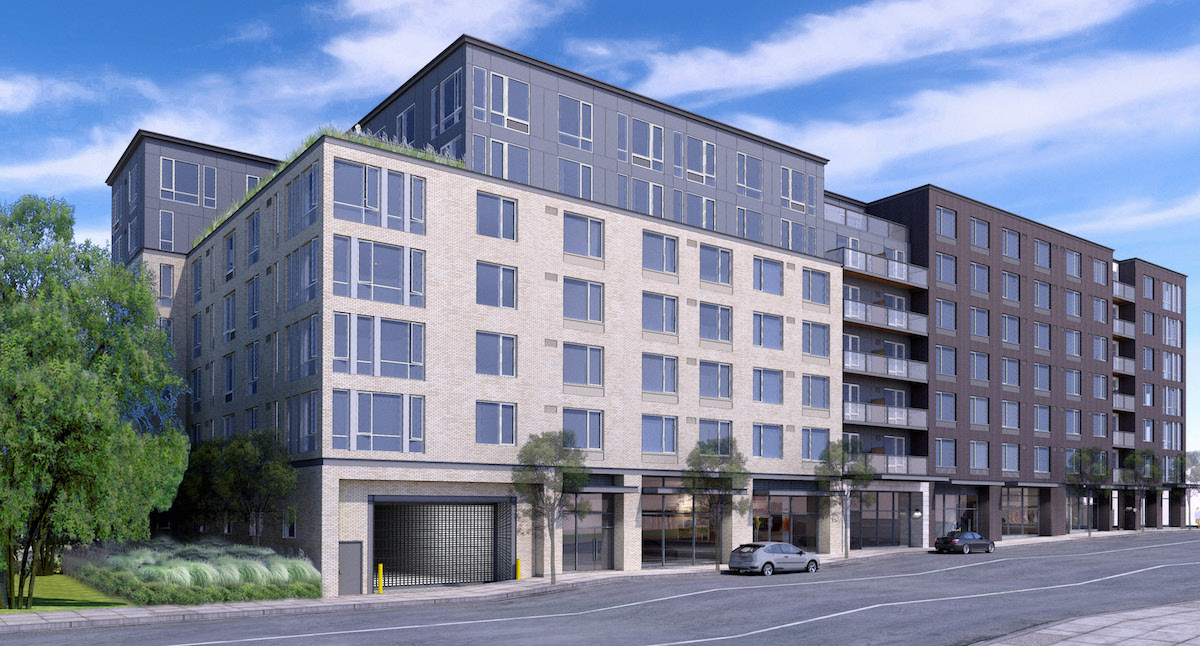 Exterior materials proposed for the Modera Buckman include brick in two colors, Equitone cement panel, concrete, concrete masonry units, aluminum storefront, vinyl windows, steel and aluminum railings, and steel canopies.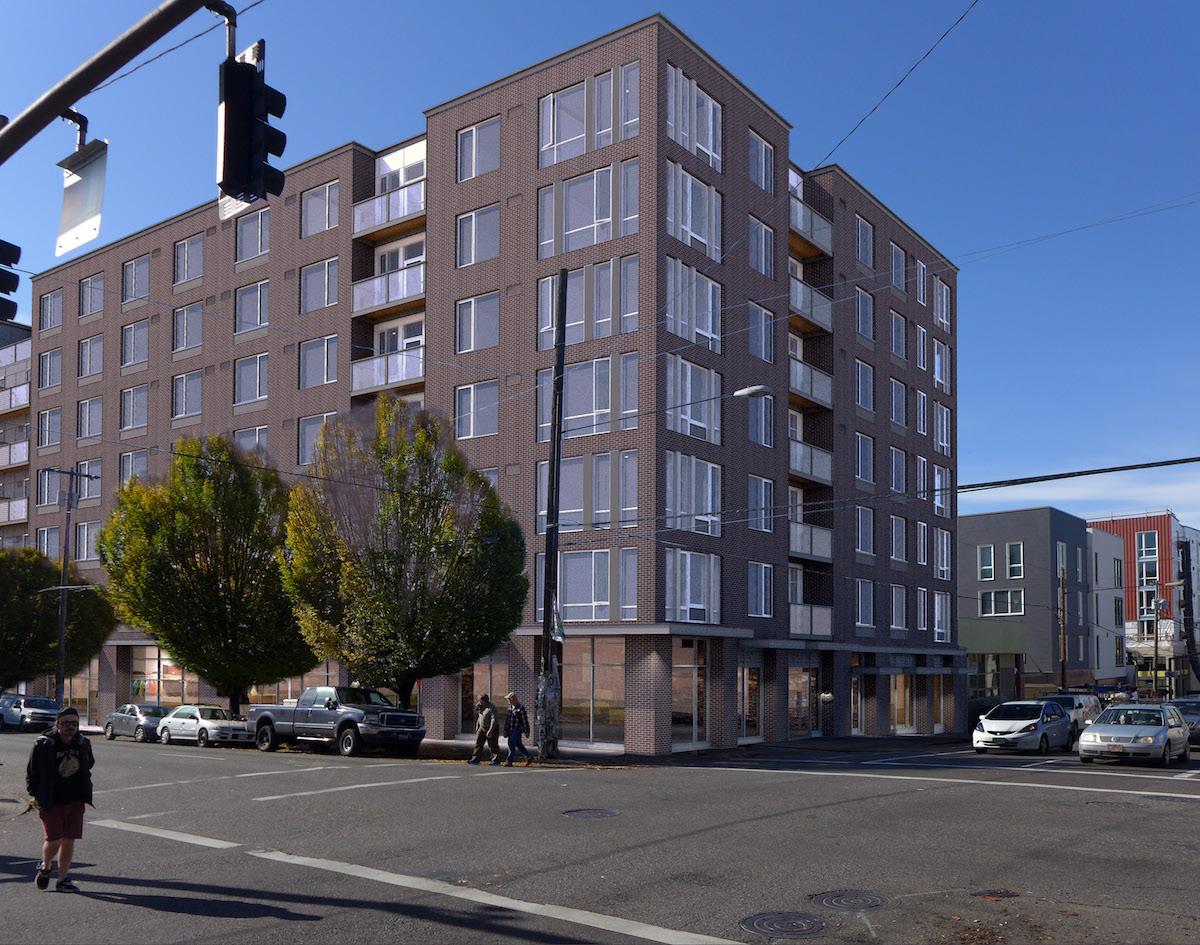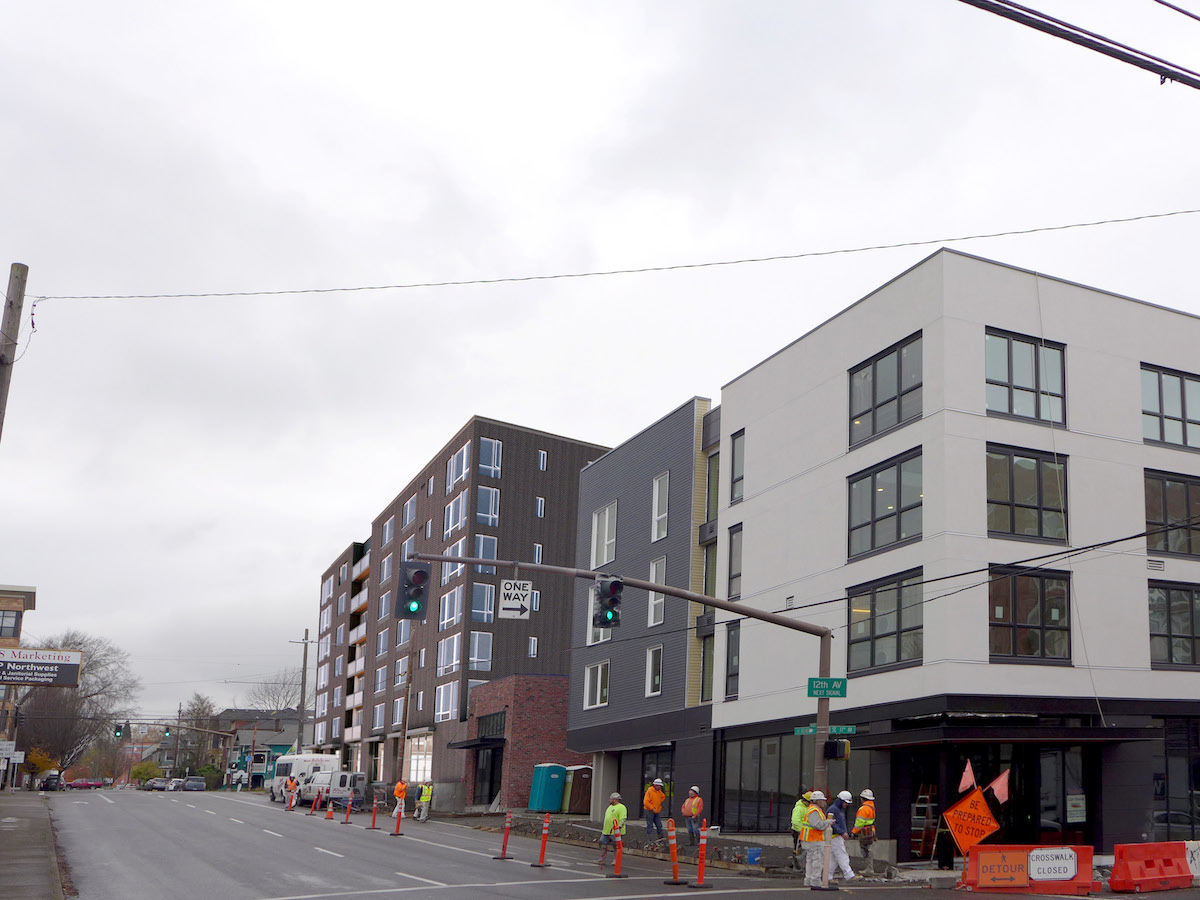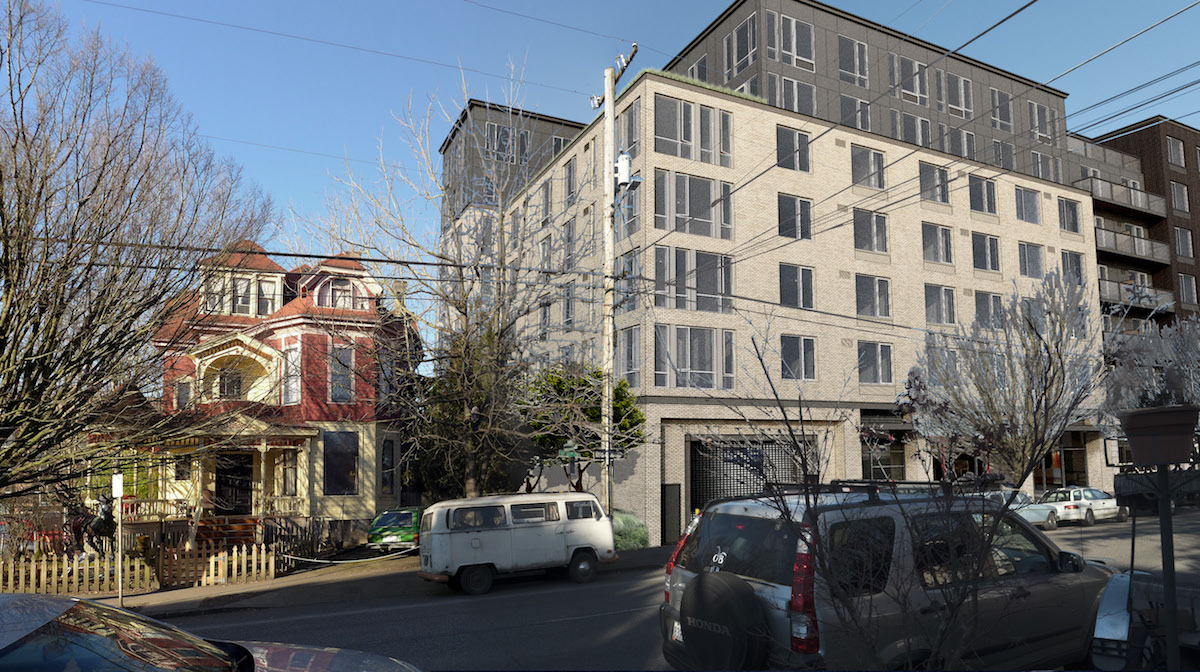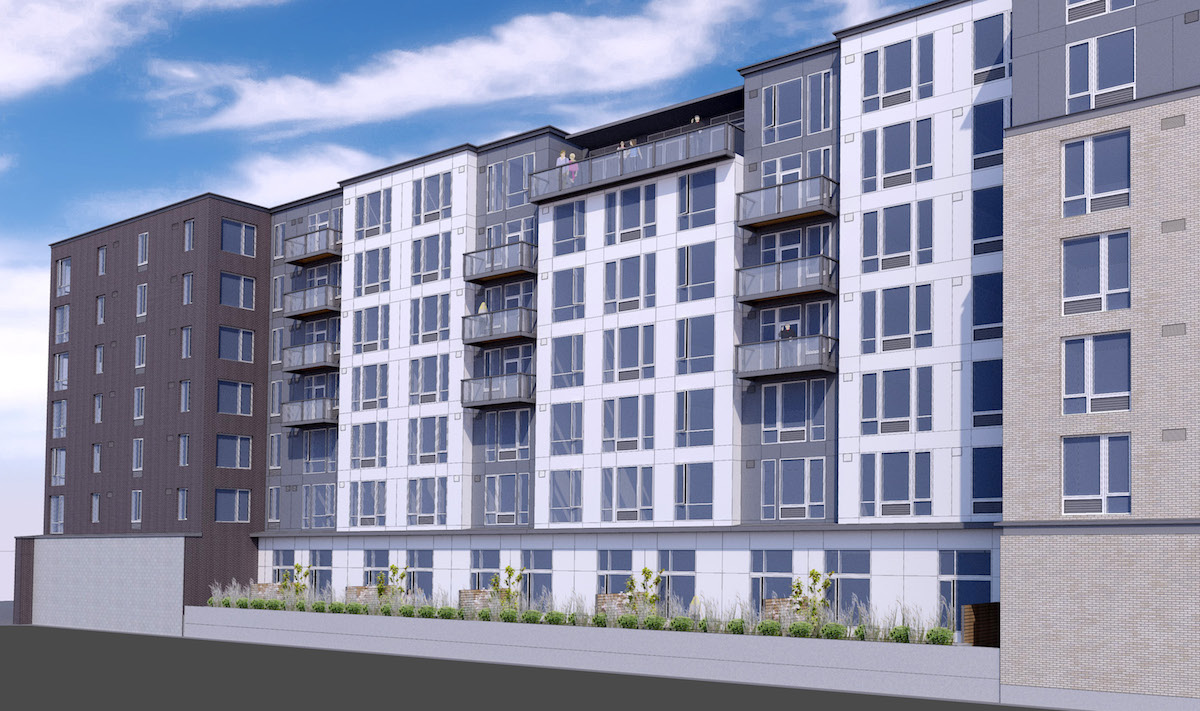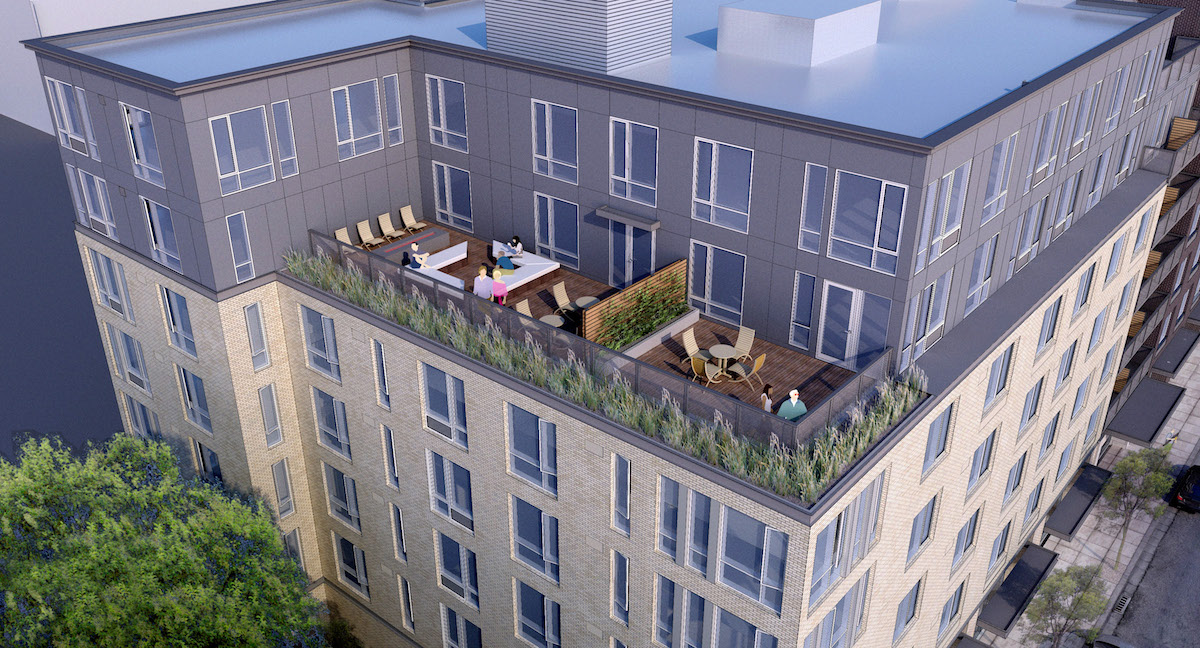 The Modera Buckman went before the Design Commission three times in total: for an initial design review hearing in November 2016; a second hearing in January 2017; and a third and final hearing on February 9th 2017, where it was approved by a unanimous vote. During the Design Review process significant changes were made to the massing and facade composition of the building, which were complimented in the Final Findings and Decision by the Design Commission:
The proposed building is much improved from the original design. While significantly larger than its neighbors to the east and south, the proposed building is now more complementary to the existing context of both the adjacent Landmark to its south, as well as to the ever- increasing newer and larger residential developments to the west. The revised design is more coherent and simplified with regard to materials, massing, and composition. Like many of the newer developments in the Central Eastside, the introduction of the proposed residential units and commercial space will provide additional vitality in the area, supported by the building's active ground floor spaces.
Building permits will need to be obtained before construction can begin on site.
Drawings