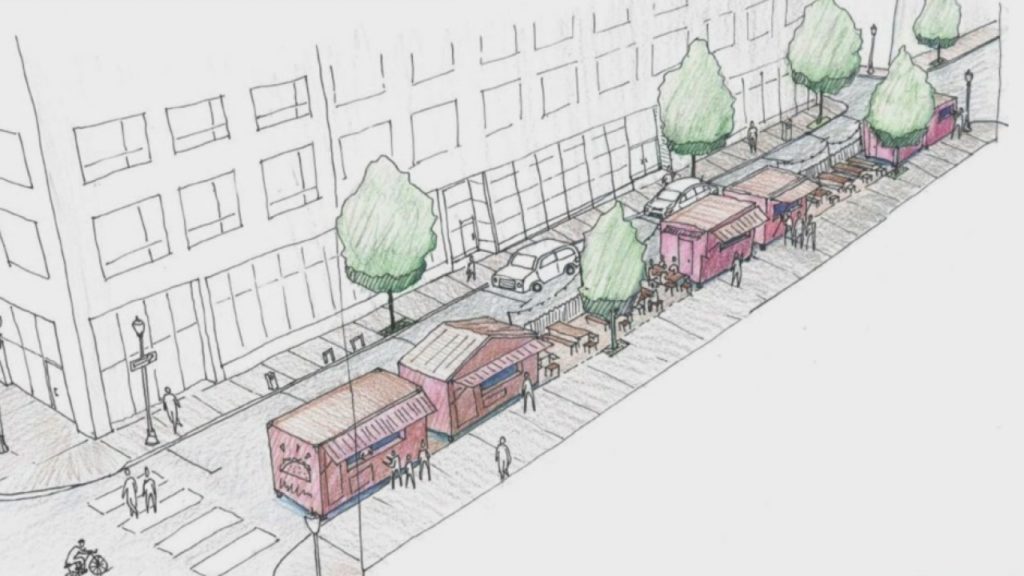 A private/public partnership, led by the Friends of the Green Loop, is moving forward with the 'Culinary Corridor', a concept for how to accommodate food carts in the right-of-way. An initial trial will see carts from the 10th & Alder pod placed in the North Park Blocks this summer.
The 10th & Alder pod is one of Portland's oldest, largest and most popular food cart pods. The pod will close at the end of the month to make way for the Block 216 development. The pod has 40 vendors that employ between 200 and 300 people. A significant number of the owners and employees are people of color, and many of them are immigrants.
As surface parking lots redevelop an alternative model is needed for siting food carts in downtown. In the long term Friends of the Green Loop hope to establish a Culinary Corridor along the Midtown Park Blocks, between Director Park and Ankeny Square on SW 9th Ave. 
Planning for this concept is proceeding, however there are enough details left to be resolved that carts will not be able to move to SW 9th by the end-of-month deadline.
The Culinary Corridor team studied placing carts on O'Bryant Square, however the structural condition of the underground parking garage prevents this from happening in the needed timeframe.
In the immediate term the City of Portland has agreed to allow around 37 carts to relocate to the North Parks Blocks, between W Burnside and NW Davis. Three layouts have been developed by Hennebery Eddy Architects, with Option 1 currently favored. The carts would remain on the North Park Blocks until the end of their season, in October. Work on the Culinary Corridor concept will proceed in parallel, so that at the end of the season there will be a more permanent place for the carts to go. 
The Friends of the Green Loop are currently accepting donations at GoFundMe, to help cover the costs of towing and providing electrical service to the North Park Blocks.
Drawings
North Park Blocks | Option 1

North Park Blocks | Option 2

North Park Blocks | Option 3