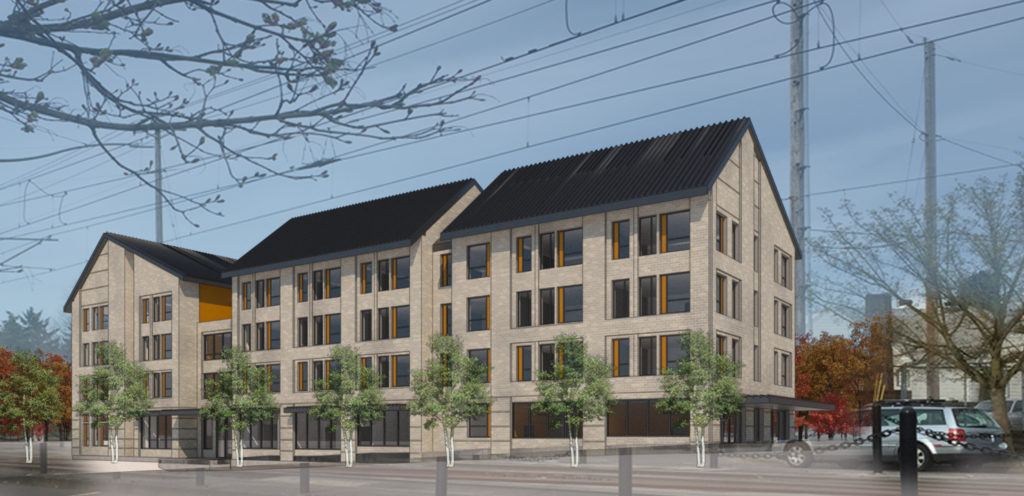 Every week, the Bureau of Development Services publishes lists of Early Assistance applications, Land Use Reviews and Building Permits processed in the previous week. We publish the highlights. This post covers February 8th, 2021 to February 14th, 2021.
Early Assistance has been requested by Dao Architecture for a project at 5403 SE 122nd Ave:
Proposed building is a single 4-story, wood-framed structure, providing 65 units of affordable housing and approx. 11 covered, but not enclosed parking spaces. R-2 Occupancy, Type V-A, NFPA 13R sprinklered. Building is U-shaped, ground floor common room and support spaces, surrounding an interior court/garden
Early Assistance has been requested for a project at 5415 SE Milwaukie Ave:
Consolidate properties into the RM4 zone and design and develop three multifamily buildings
A project at 751 N Prescott St has been submitted for a Type II Historic Resource Review by Works Progress Architecture:
The proposed development includes construction of a new wood frame 4 story multi family building with support spaces. There are 30 residential units varying in size. Two stairs access each floor with both extending to the roof. A single Elevator provides access to each floor and roof deck. The two existing lots will be consolidated into one single lot for development. The applicant proposes a modification to 33.130.230.B.4 ¿ Ground floor window and frontage standards for dwelling units.
A project at 1004 NE 31st Ave has been submitted for building permit review:
PDOX PS – construct new 3 story (4) unit apartment building with associated site work w/21-011538-MT
The Baldwin Apartments at 7656-7688 N Interstate Ave have been submitted for building permit review:
BALDWIN APARTMENTS – new 4-story low-income apartment building with 60 units, ground floor permanent supportive service offices, community room, and courtyards. ***Review w. 21-004823-MT
A building permit was issued to Open Concept Architecture for the conversion of the former Metropolitan Community Church at 2400 NE Broadway into the Steeplejack Brewery:
PDOX PS – TI for new tenant; change of occupancy from A-3, church to A-2, restaurant; site work to include removing retaining wall, install paving, bike racks, and landscaping; new walls in basement includes vestible, brewery, mill room, restrooms, kitchen, trash, and office; new walls on main floor to create taproom, lounge, storage, and entry. Recovering roof.