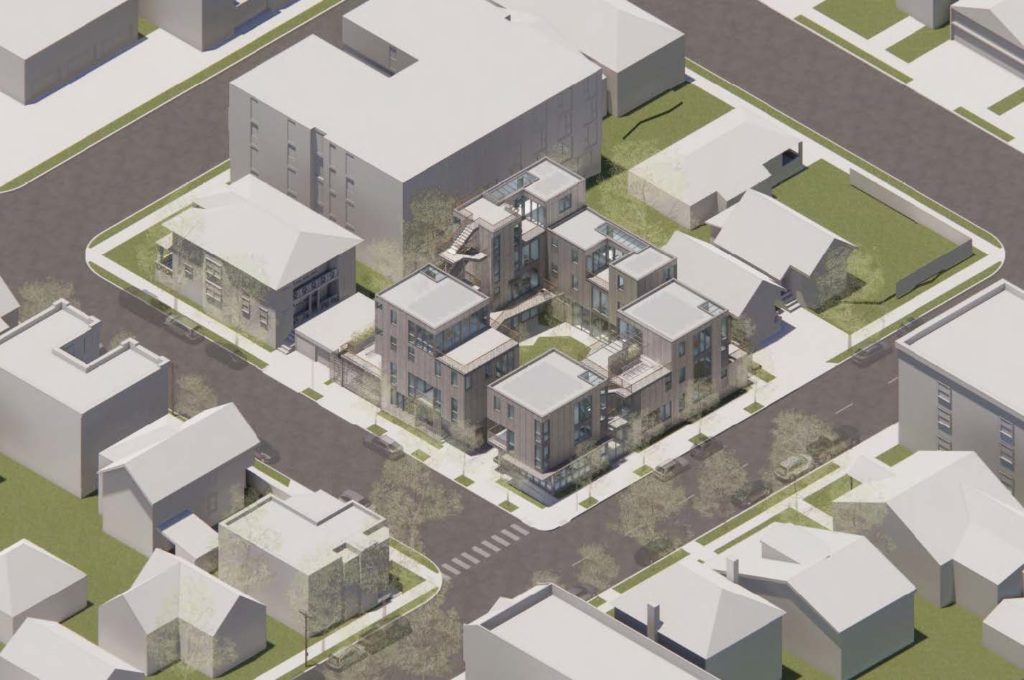 Metro Reports have moved to Portland Maps Reports. Next Portland covers the highlights of the Early Assistance applications, Land Use Reviews and Building Permits processed each week. This post covers December 20th, 2021 to December 26th, 2021.
Design Advice has been requested by DAO Architecture for Lincoln Court at 1121 SE Lincoln St:
DZ HEARING – Development of Lincoln Court, which is comprised of (8) residential units, one commercial space, and common and support areas surrounding a central courtyard. The residential units are a mix of townhouses and flats within structures varying in height from two to four stories, with approximately 4 – 6 covered, but not enclosed parking spaces. Primarily wood-framed structures, R-2 Occupancy, Type V-A, NFPA 13 sprinklered. Stormwater assumed to be primarily addressed with drywells. See more extensive project description enclosed with application documents.
A project at 4623 SE Division St has been submitted for a Pre-Permit Plan Check by All Hands Architecture:
Two new construction buildings with ground floor retail, market-rate multifamily and affordable cohousing units. Stormwater via drywell on site.
Early Assistance has been requested by Bora Architects for a project at 7705 SE Division St:
Approximately 100 apartment units are proposed, all affordable units (Low Income Housing Tax Credit ¿ LIHTC). Four stories, 45′ height maximum, surface parking of 30 or more spaces. Stormwater will be dealt with onsite per code.
The Powellhurst Apartments at 5415 SE 122nd Ave have been submitted for building permit review by DAO Architecture:
POWELLHURST APTS – new 4-story, 65 unit, 54643 GSF affordable housing project with 1&2 bdrm apts and amenities. *Review w. 21-113731-MT MT* The STR system includes concrete foundation and slab on grade with wood frame walls, pre-engineered floor joists & trusses. the low-slope build-up roof will have perimeter parapet walls, rooftop ventilation units, heat pumps and a photo-voltaic panel array. Exterior siding will be fiber-cement shingle panels w. STR and veneer brick. There will be 10 tuck-under parking spaces, indoor bicycle parking, outdoor courtyard, play area, seating, landscaping and lighting at ground level.
A building permit was issued for the Shift Apartments (previously Society Overlook) at 5680 N Montana Ave:
PDOX PS – construct new 5 story wood framed apartment bldg with 73 units with all of the associated site work w/20-196214-MT
A building permit was issued for a project at 1111 SE Tenino St (previously 8134 SE 11th Ave):
New 3-story, 19-unit apartment building with associated site work.