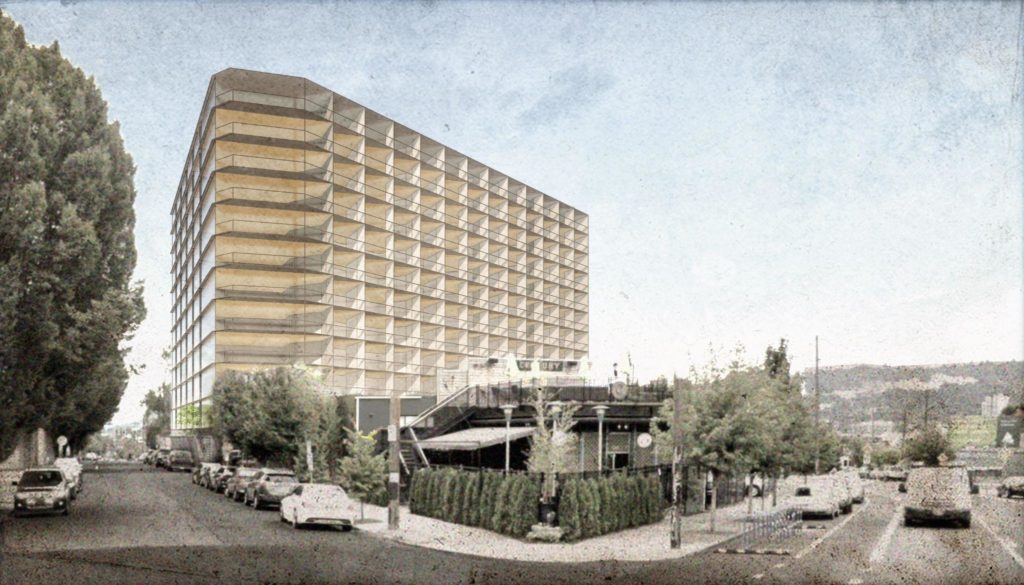 Every week, the Bureau of Development Services publishes lists of Early Assistance applications, Land Use Reviews and Building Permits processed in the previous week. We publish the highlights. This post covers September 20th, 2021 to September 26th, 2021.
Design Advice has been requested by Lever Architecture for Sandy Pine at 900 SE Sandy Blvd:
Construction of a new, 12-story, 250,000 sf mix-use high rise. The program will include split level retail with activated courtyards on the ground level, 1.5 levels of below-grade parking, and 271 dwelling units on levels 2 through 12. The residential levels will offer exterior balconies for each unit, and will also include a variety of amenities such as lounges, workspaces and fitness centers. Stormwater to be managed onsite.
Early Assistance has been requested by McGuirl Designs and Architecture for a project at 7246 N Mohawk Ave:
New Construction. Multi-family use. 1 Building. 3 Stories. 37 dwelling units. No off street vehicular parking. On-site drywell for stormwater disposal.
A project at 507 NE Jessup St has been submitted for a Pre-Permit Plan Check:
Two new 6-plexes (to create a total of 12 units on the lot).
A project at 5439 SE 89th Ave has been submitted for building permit review by McGuirl Designs and Architecture:
PDOX PS – new 3-story 24 unit apartment building with inclusionary housing. Asscoiated site work for parking lot. Trash enclosure permit separate. w/ 21-084943/6-CO and 21-084948-MT
The Modera Main at 1155 SW 19th Ave has been submitted for building permit review:
MODERA MAIN – New 17 story, 337 unit apartment building with 403 structured parking spaces, indoor and outdoor amenities, includes associated site work . ** Review w. 21-085043-MT, tunnel 21-085444-CO/21-085447-MT and connection of tunnel to existing Multnomah Athletic Club 21-085453-CO

MODERA MAIN – TUNNEL – New approximately 75′ concrete tunnel with 2-way drive surface and pedestrian walkway connecting new building to existing MAC parking garage to the north *** w/21-085032-CO/21-085043-MT new building /21-085447-MT Tunnel HVAC and 21-085453-CO MAC connection ***
550 MLK has been submitted for building permit review:
550 M L K – New 7 story (5 over 2) mixed use 132 unit apartment building with basement, parking and associated site work. w/21-084386-MT
A building permit was issued for a project at 7152 N Greenwich Ave:
Single PDF – new 3 story apartment building with 18 units.
A building permit was issued for a project at 4014 SE Holgate Blvd:
New 2 story, 4 unit apartment with landscaping