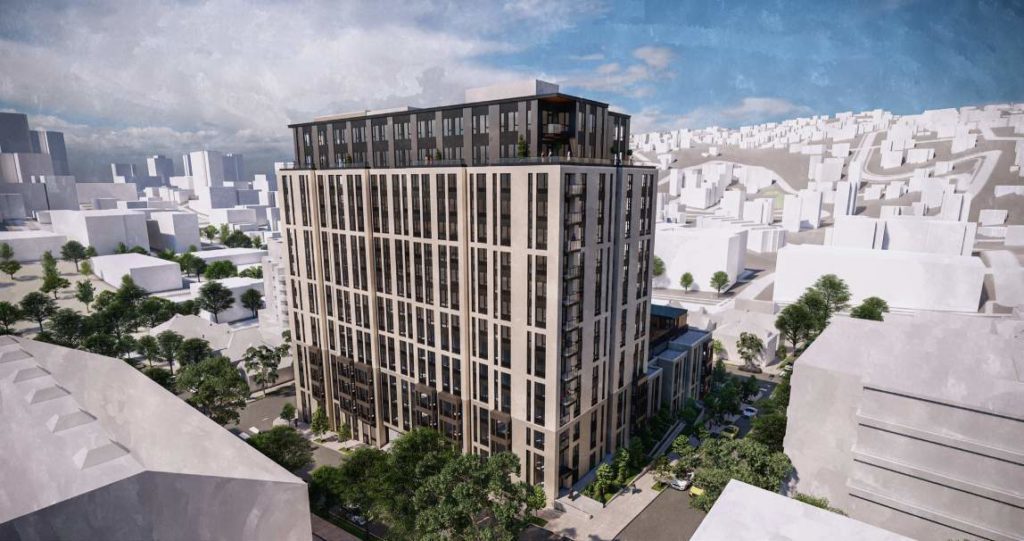 Every week, the Bureau of Development Services publishes lists of Early Assistance applications, Land Use Reviews and Building Permits processed in the previous week. We publish the highlights. This post covers April 12th, 2021 to April 18th, 2021 and April 19th, 2021 to April 25th, 2021.
A Pre-Application Conference has been scheduled by BAMA Architecture to discuss a project at 3836 N Vancouver Ave:
New 6-story, wood framed, flat roof, mixed-use building. 65′ height. Building to have ground floor parking and retail. partially occupied roof with eco-roof to meet landscape standards
Early Assistance has been requested by Deacon Development for a project at 1341 N Killingsworth St:
5-story apartment building with no off-street parking (70 units proposed). Stormwater to be mechanically treated, detained and then disposed to the City system.
A project at 5403 SE 122nd Ave has been submitted for a Type II Adjustment Review by Dao Architecture:
Proposed building is a single 4-story, wood-framed structure, providing 65 units of affordable housing and approx. 11 covered, but not enclosed parking spaces. R-2 Occupancy, Type V-A, NFPA 13R sprinklered. Building is U-shaped, ground floor common room and support spaces, surrounding an interior court/garden. Adjustment requested to allow vehicular access through the setback (33.130.215).
The Modera Main Street (MAC Block 7) at SW 19th & Salmon has been submitted for a Type III Design Review by Ankrom Moisan Architects:
17-story, 336 mixed unit, residential apartment building with 403 structured residential parking spaces and 504 long-term bicycle parking stalls.
A project at 4712 N Williams has been submitted for building permit review by Koble Creative Architecture:
PDOX PS – new 3-story 13-unit apartment building with associated site work; detached trash enclosure < 120 sf
A project at 3333 SE 87th Ave has been submitted for building permit review:
PDOX PS – construct new 2 story (10) unit apartment building with associated site work w/21-022634-CO & 21-022638-NT
3000 Powell has been submitted for building permit review:
3000 POWELL – 125,890 gsf new multi-family residential project consisting of 206 units of affordable housing and community space, outdoor amenity and play area, 26 surface parking stalls (including 2 ADA stalls) and 2 type B loading spaces ***review 21-025156-MT
A building permit was issued for a project at 5480 NE 18th Ave:
Construct new 4 story (7) unit apartment building with associated site work and parking on the ground floor
A building permit was issued for a project at 3014 SE 8th Ave:
New 3-story, 16-unit apartment building with associated site work. Trash inside. ***mechanical separate***
Building permits were issued for the Alberta Alley at 3001 NE Alberta St:
Single pdf – new single story building. Shell only no occupancy this permit. **with 20-159594-CO**

Single pdf – change of occupancy from M to A-2, B, S-1 and S-2. Remodel and demise to create 3 tenant spaces, shell only, no occupancy this permit.with 20-159584-CO
A building permit was issued for Cascada at 1130 NE Alberta St:
Construct new 5 story mixed use building with underground parking; main floor to include gym space and tenant space with no occupancy under this permit; 2nd fl gym and shell office spaces; 2-5fl hotel co-housing units