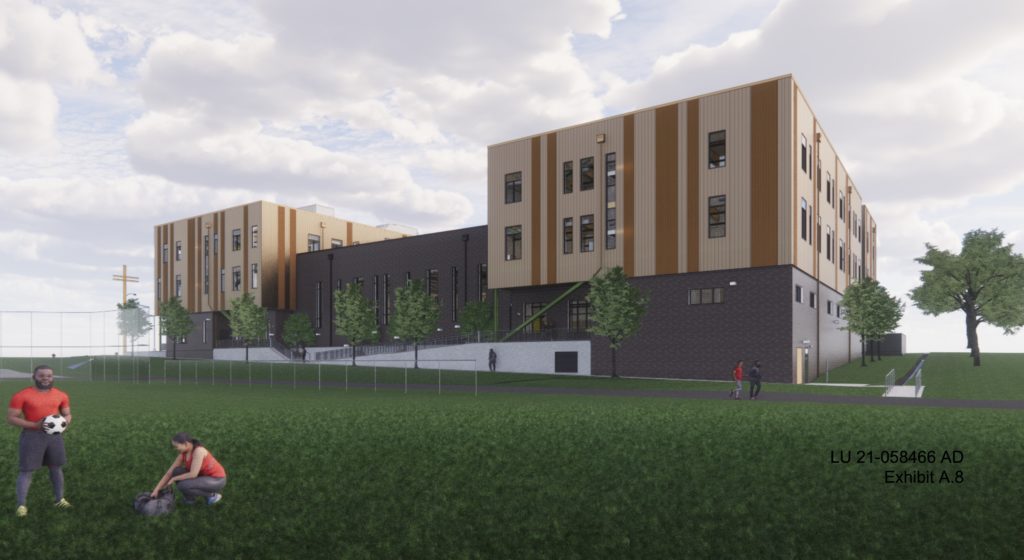 Metro Reports have moved to Portland Maps Reports. Next Portland covers the highlights of the Early Assistance applications, Land Use Reviews and Building Permits processed each week. This post covers February 28th, 2022 to March 6th, 2022.
Early Assistance was requested by Convergence Architecture for a project West of 7410 N Chicago Ave:
New 3-story walk-up residential with 24 units and on-site parking, with detached structures for trash and long term bike parking.
Early Assistance was requested for a project at 4102 SE Powell Blvd:
Proposed development is for a freestanding Panda Express restaurant with drive-thru and separate trash enclosure located at the combined 0.53 acre (23,278 sq. ft.) site at 4102 & 4132 SE Powell Blvd.
Timberview (previously known as the Glisan Tower) at 9919 NE Glisan St was submitted for a Type II Design Review by Access Architecture:
The applicant seeks Design Review approval for a proposal to build an eight-story, mixed-use affordable housing development on a site located on the corner of NE Glisan Street and NE 99th Avenue in the Gateway Plan District. The new building will have 105 dwelling units and a ground floor commercial space planned as a food hall / restaurant incubator space. The project will be located on a 10,356 SF site (after ROW dedications). The building footprint will be approximate 8,671 SF and the interior square footage excluding the basement will be approximately 72,342 SF. The building will be composed of a mass timber frame wrapped with prefabricated exterior walls clad with metal panels installed over a rainscreen. The primary structural system will utilize glulam columns and beams and cross laminated timber (CLT) floor/ceiling panels. These mass timber structural elements will be supplemented by steel brace frames. The building includes an eighth-floor community room and outdoor deck for residents. Loading will be located on the north side of the building and accessed from NE 99th Ave. Modification requests [PZC 33.825.040]:1.Reduce the loading area setback and perimeter landscaping standard to not provide the 5¿ of L4 landscaping required for loading located along the north property line (33.266.310.E, Table 266-8).Adjustment request [PZC 33.805]:¿Reduce the number of required Standard B loading stalls from 2 to 1 (33.266.310.C.2.a / 33.266.310.C.1.c). Design Review is necessary because the proposal is for exterior alterations in a Design Overlay Zone.
The Multiple Pathways to Graduation Building at 1530 NE Glisan St was submitted for building permit review by Bassetti Architects:
Construct 3-story building w/basement parking level, generator and related site work. **w/22-117848-CO, 22-117850-MT, 22-122725-ZP**
A project at 2375 NW Savier St was submitted for building permit review by Lever Architecture:
PDOX – new 4 story office building with exterior courtyard and parking lot, associated site improvements. w/22-116388-MT *demo separate*
A building permit was issued to LRS Architects for Con-way Block 290 at 2070 NW Quimby St:
BLOCK 290 – New 7-story, 200 unit mixed-use building with six stories of residential above ground floor retail and one story of below grade parking; includes amenity spaces and associated sitework *** w/ 20-182447 -MT ***