Design Advice has been offered to SERA Architects and Wood Partners for a proposed development at 1634 SW Alder St. The 7 to 8-story building would include 218 residential units and 3,700 sq ft of office / co-working space facing SW Morrison St. 15 vehicular parking spaces are proposed, accessed from SW 17th Ave.
The building will be subject to the city's inclusionary housing rules, which require the provision of affordable housing or the payment of a fee-in-lieu.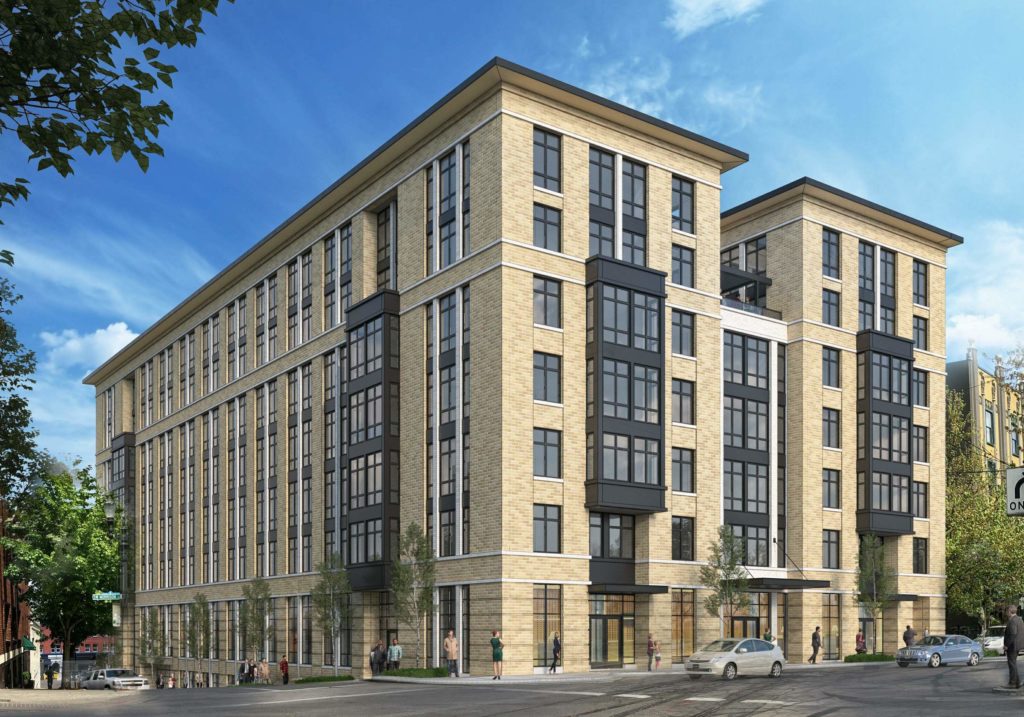 The project site is the western half of the block bound by SW Morrison St, 17th Ave, Alder St and 16th Ave. The site is currently occupied by a 2-story 1925 office building and associated surface parking. The development will abut the 1927 Commodore Apartments, which are listed on the National Register of Historic Places.
1634 SW Taylor would join two other development in Goose Hollow by Wood Partners: the ART Tower and the Alta Peak. Other projects planned nearby include the Press Blocks, Lincoln High School, 1715 SW Salmon St, 1440 SW Taylor and 1500 SW Taylor.
The building is arranged in an E-shaped plan, with two exterior courtyards facing the interior of the block. Due to the steep grade of SW 17th Ave the building will be 8-stories facing SW Alder St, and 7 stories facing SW Morrison St.
Exterior materials proposed include brick veneer in two colors, vinyl windows, aluminum storefronts and painted fiber cement panels.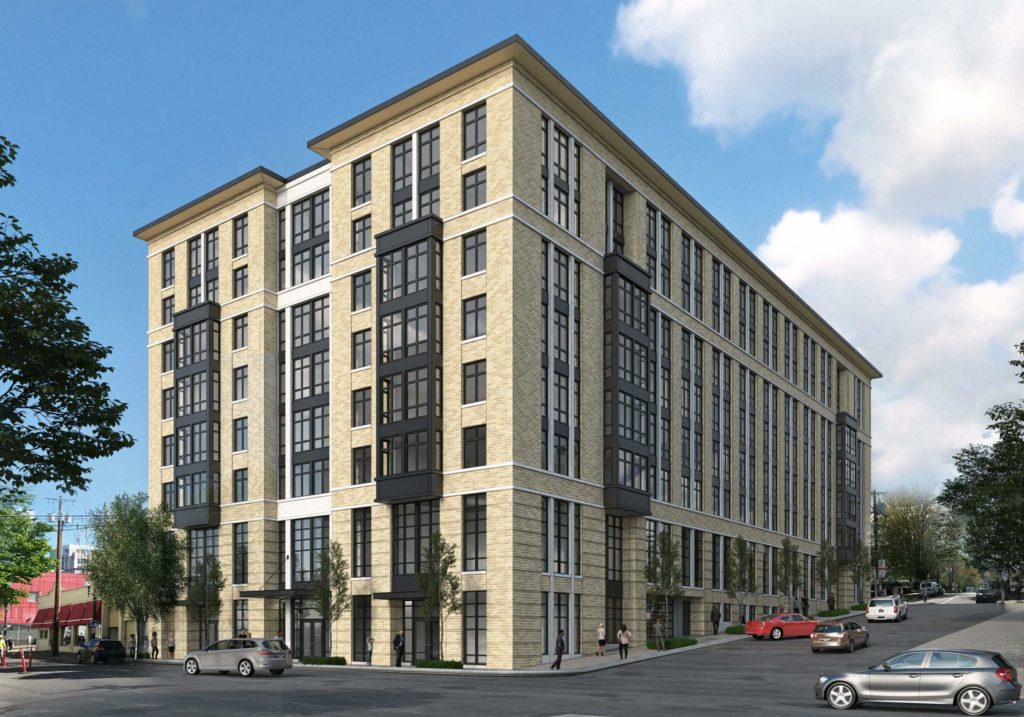 1634 SW Alder went in front of the Design Commission for an advisory meeting on May 23rd, 2019. As described in a summary memo, Commission feedback was mostly positive, with the largest issues relating to the pedestrian experience on the steeply sloped 17th Ave:
Overall, commissioners felt that the building was a very successful contextual response to the neighborhood and they applauded the use of brick as the primary material and the employment of a tripartite composition. They responded favorably to the general design direction and comments indicated that there was much more right with the design presented than wrong with it. Thus, they would not want to see large changes that could potentially move away from the things that were already successful about the design. The largest issue discussed was the scale of the building in relation to the pedestrian realm along the sloping 17th Ave frontage. While other options should also be explored, landscaping at the base of the building was supported by all commissioners present as a way to potentially mitigate this issue while not detracting from the building's design.
In order to gain approval the project will be required to go through a Type III Design Review, with public hearings in front of the Design Commission.
Drawings
Plan | Vicinity

Plan | Level P1 (SW Alder)

Plan | Level 01 (SW Morrison)

Plan | Levels 02-05

Plan | Level 06

Plan | Mezzanine Lofts

Elevation | South (SW Morrison)

Elevation | West (SW 17th)

Elevation | North (SW Alder)

Elevation | East

Section