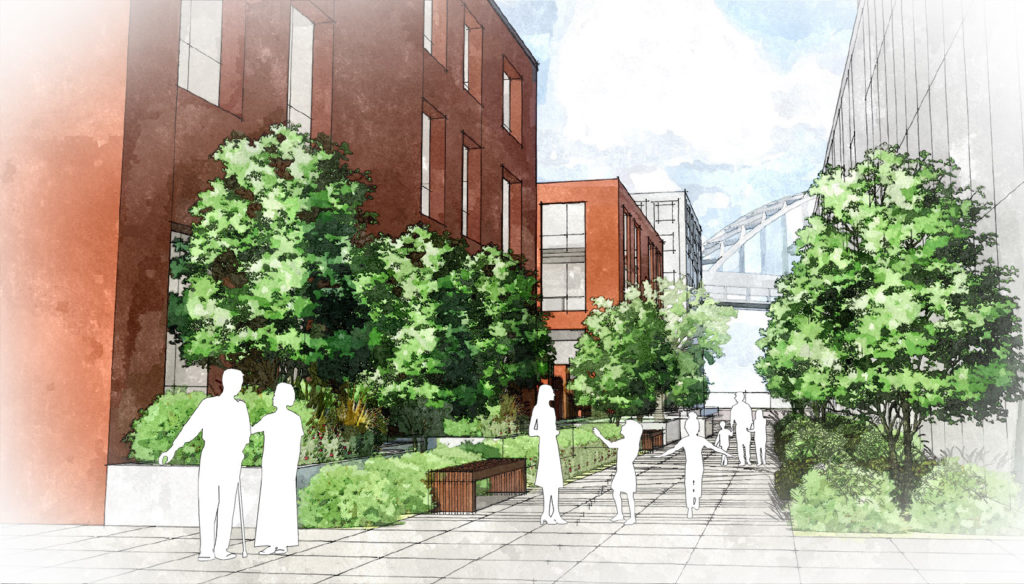 Every week, the Bureau of Development Services publishes lists of Early Assistance applications, Land Use Reviews and Building Permits processed in the previous week. We publish the highlights. This post covers April 15th to April 21st, 2019.

Early Assistance has been requested by Kōz Development for a project at 1430 N Killingsworth St:
New mixed-use commercial/multi-family building with 146 dwelling units. Infiltration assumed to be used for stormwater disposal a this point, but the civil-engineering is still to come.
A Pre-Application Conference has been scheduled by Ankrom Moisan Architects to discuss a project at 230 SW 2nd Ave:
Six story mixed-use building, 5 stories of residential apartments over ground floor retail, tenant lobby and amenity space, bike storage, loading/trash area and driveway ramp to below-grade parking. Stormwater disposal via a combination of green-roof and elevated flow-through planter. (Approximately 115 units).
A Pre-Application Conference has been scheduled by Guerrilla Development to discuss a project at 701 E Burnside St:
Three major components to this project: 1. Renovation of existing 10,000sf building on northern portion of the site. 2. New 35,000sf 5 story residential building with approximatel 46 one-bedroom units. Anticipated to be wood construction over 1 story concrete podium. 3. New separate building fronting Burnside which will have overhanging second story to continue the 'Burnside Arcade'
A Pre-Application Conference has been scheduled by LRS Architects to discuss Laurelhurst Village at 3060 SE Stark St:
A Pre-Application Conference to discuss a possible Conditional Use Master Plan for the Laurelhurst Village campus. A 2015 Conditional Use (LU 15-279171 CU AD) approved several new developments on the campus, which have not yet been built. Development approved in that review would be included in the requested Conditional Use Master Plan, as well as other potential expansions that are not yet identfied.
A project at 2525 E Burnside St has been submitted for Type II Design Review by Scott Edwards Architecture:
This project seeks to make exterior modifications to the building located at 2525 E Burnside St and build a new 3-story addition by replacing the existing, adjacent one story structure located at 2519 E Burnside St.
Holden of Pearl has been submitted for a Type III Design Review by Alliance Realty Partners and Ankrom Moisan Architects:
Senior living community with 110 units of R-2 occupancy independent senior living, 131 parking stalls in below-grade parking with total GSF of 296,500 with 42,000 of that amount being below-grade parking. Active uses will be provided along 13th Avenue (per 33.510.225). Those may be lobby, bistro, admin offices, salon or other similar uses complimentary to the community and to development objectives stated for NW 13th Ave.
The 100 Multnomah office building, which would be built on top of the Convention Center Hotel parking garage has been submitted for a Type III Design Review by ZGF Architects:
9-story office building addition to existing garage; served by deep stormwater drywells.
A project at 6705 SE 14th Ave has been submitted for building permit review:
Construct new 3 story (4) unit apartment building with associated site work
A project at 3723 SW Hood Ave has been submitted for building permit review:
Construct new 4 story (18) unit apartment building with associated site work ***w/19-150813-MT***
A building permit has been issued to Ankrom Moisan Architects for a project at 7545 and 7575 N Olin Ave:
New construction of one of two 3 story 6 unit apartment buildings, includes associated site work *** w/16-212381-CO, 16-212390-MT, & 16-212392-MT***

New construction of two of two 3 story 6 unit apartment buildings, includes associated site work *** w/16-212376-CO, 16-212390-MT, & 16-212392-MT***